Hope you had a great Father's Day weekend. We sure did! :o)
My Mama Kay's birthday was Saturday and of course Sunday was the day to spoil the Dad in our home. I made Johnny a yummy dessert (that I did NOT eat because it's not part of "the plan" ~ nor did I even have a TASTE ~ so there, Josh!). Johnny said it was goooood and gobbled it right up. I'll post the recipe this week, I still have to process the pics.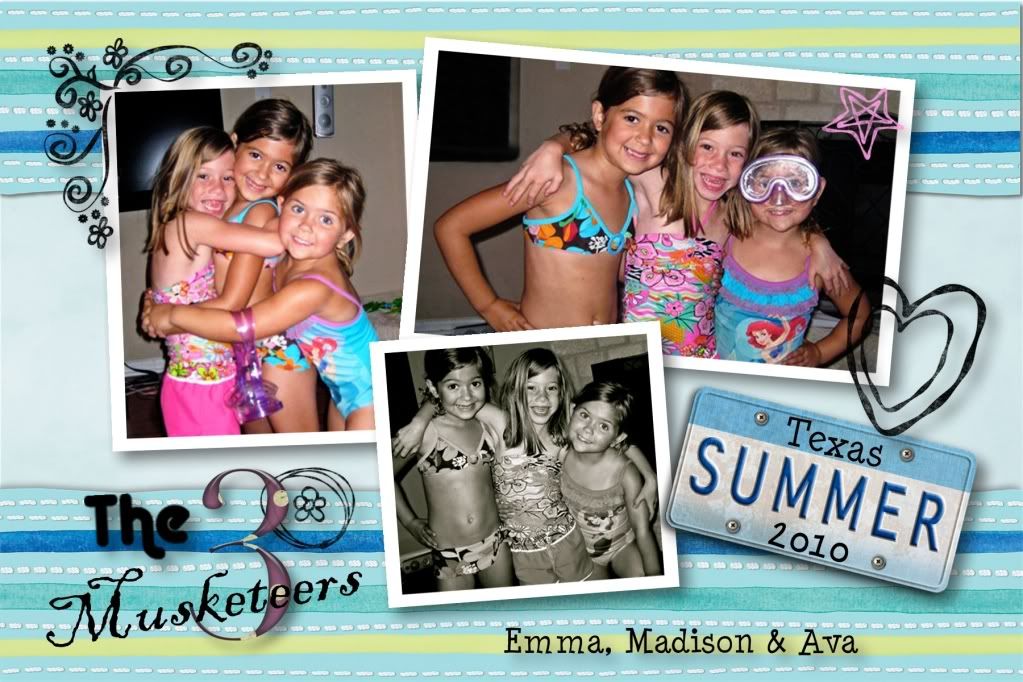 Woke up on this beautiful Monday morning to find these pics on my Facebook page. I just melted! So I decided to make a small scrapbook page while having my morning coffee to start off my day.
My niece is the cutie patootie on the far left in the pink shorts ~ the one with NO front teeth, haha. She's gone to the pool every single day since school has let out. She's a little dolphin and loves the water.
With her are her two buddies (sisters) Emma & Ava, they live just a few houses down from her. I miss Madison so much, she's my girl. I passed down my love for shoes and painted toe nails so we get along
just
fine
!
Time to get my butt in gear. I have a hundred things to get done today! I can't just sit here and scrapbook all day.....though I
want
to. Thanks for the pics, Kat. I can't wait to see you again and spend some time spoiling your (OUR!) little girl some more. :o)