I'm loving having my Josh home! I've been so busy I can't even tell ya! I've baked so many ginger cookies I won't even
bother
to tell ya....we've cooked and eaten so many yummies, I can't tall ya...and I've gained....never mind. I
WON'T
tell ya! Let's just say this...I'm
definitely
restarting my gym membership & Zumba classes after Josh leaves on the 3rd before
Waddle
becomes my first, middle and last name.
Mrs. Waddle Waddle Waddle.
Well, I was digging in some old boxes and I found an old 8mm film from
looooong
ago of our Christmas tree highlighting all of my cherished & treasured handmade ornaments that Josh made me long ago and thought I'd share it with you.....it's to sweet! The creaking is my wood floors, ha!
Cool, huh? I really only took that video about 15 minutes ago and loaded it directly to YouTube from my new iPod Touch 4 - which my sweetheart got for me and for Josh for Christmas. Yay! Great gift, Johnny! The app is called Nexvio 8mm and it's only $1.99. It allows you take old vintage video's like the one above, or create a 1920's or 1970's style video. It also has different color films; black & white, sepia, sakura/pinkish, burned film, etc. Very fun.
Josh & I have been having so much fun with our iPod Touch's. Mainly, Johnny got them for us because of the new feature "Facetime" that's already installed and he wanted us to stay more connected when Josh went back to his barracks soon. It's live face to face chat and I can't wait to use it when he's away...It's like Skype, but on our tiny hand held iPod.
Josh really likes the fact that I "practice" and video call him when I'm in the living room and he's in the kitchen. Or when I'm in the basement and he's in his bedroom. Or when I'm in the kitchen and he's....you get the picture. And NO ~ he hasn't blocked me yet. YET, being the operative word.
My second favorite part; I get to have Facetime with my sister. I "phoned" her right afer I got my new Ipod and scared her half to death, we both screamed out loud, ha! I caught her leaving for work and she was in the most darling little Santa hat. She's so stinkin' cute! It was great "seeing" her while we talked.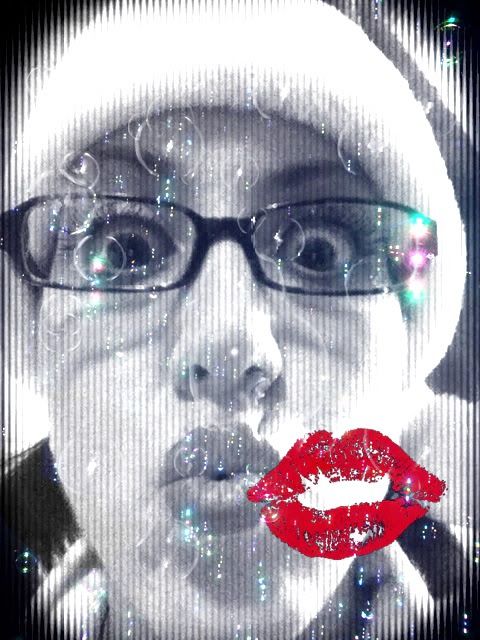 "Blooop! Blooop! Can you hear me now?"
It's fun rendering pics in the
PhotoStudio
app! (only 99 cents)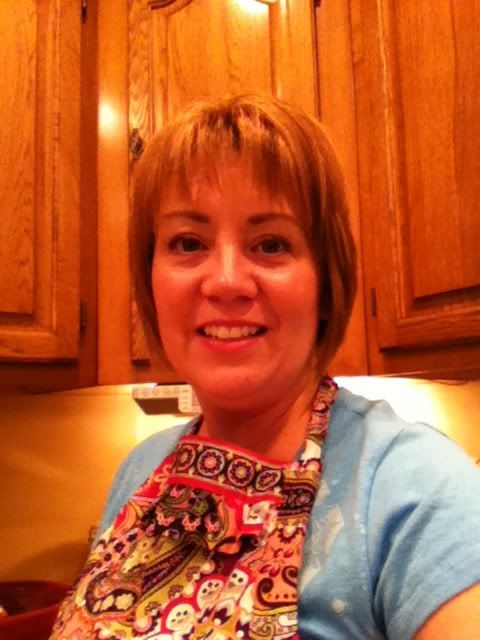 The camera "flips" around so that you can either film/take pics in front of you or take a fabulous self portrait like the one above.
Yikes. Wear makeup much?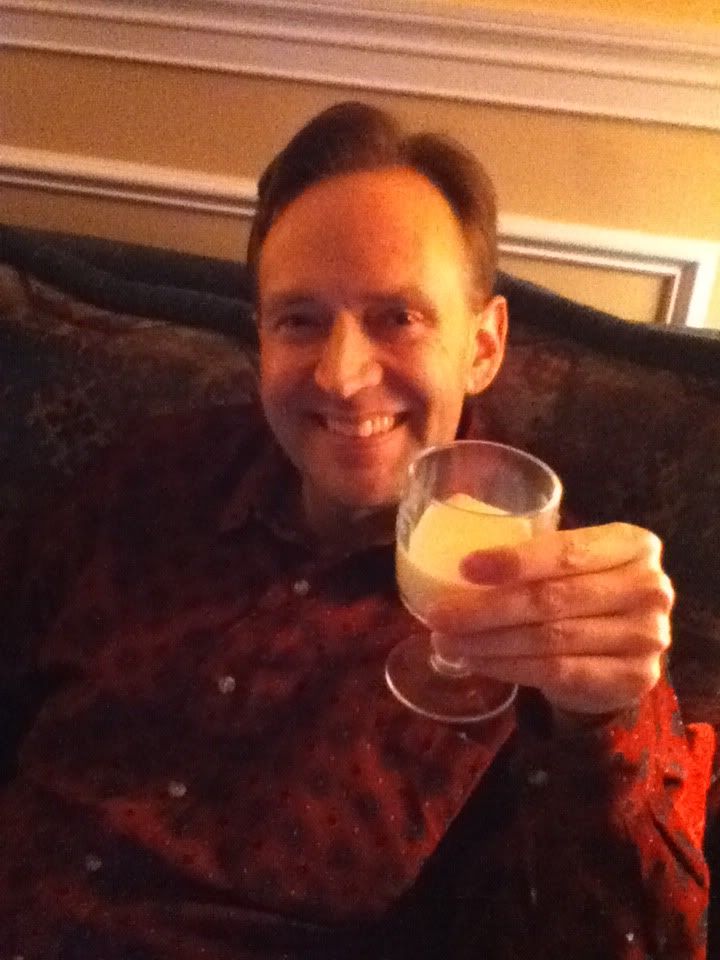 No one is off limits when I have a new gadget in my hands!
Caught ya swiggin down the spiked egg nog, Mister! Give me some.
(Insert ad for Christian Brothers Brandy Egg Nog here. Oh my...it's simply the best)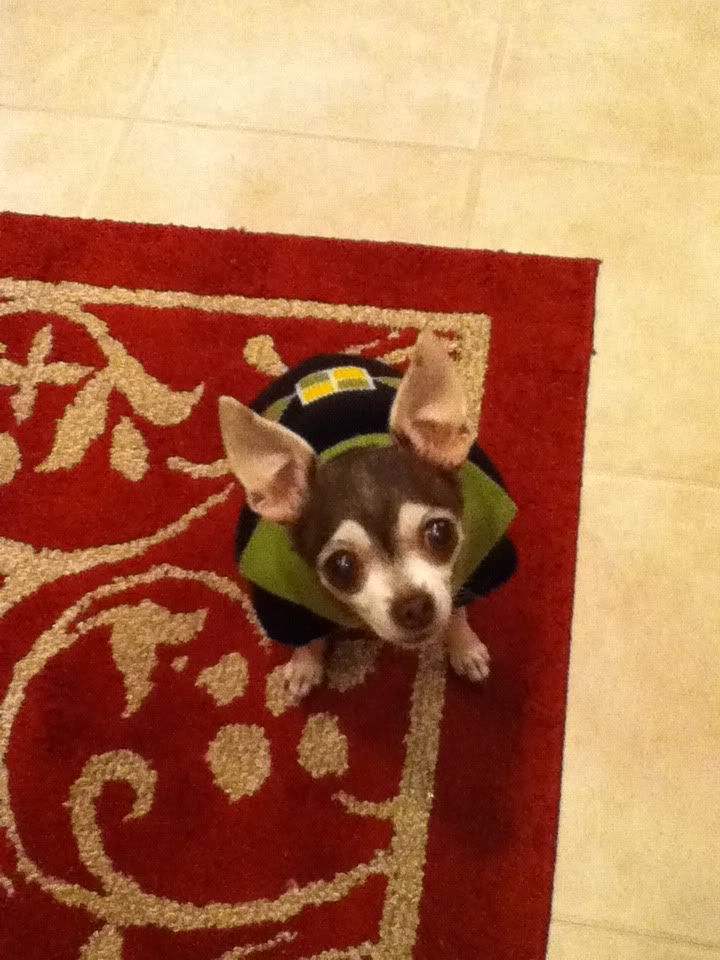 My cute little stalker... Piper was very interested in my new toy.




Very, very interested.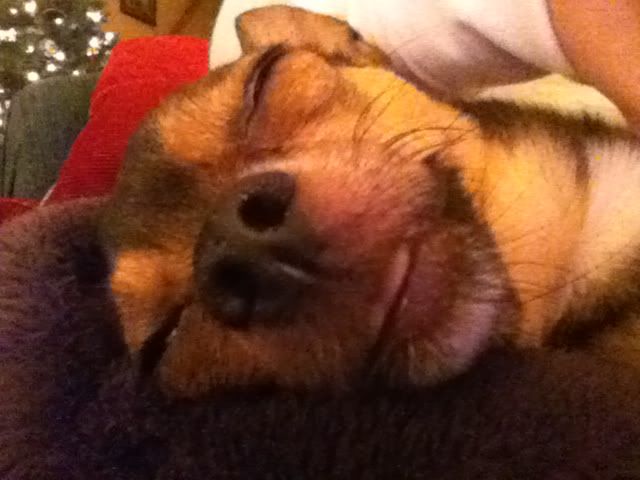 Peanut....not so much.


See? I flipped it around for another self portrait. Josh, thrilled as usual.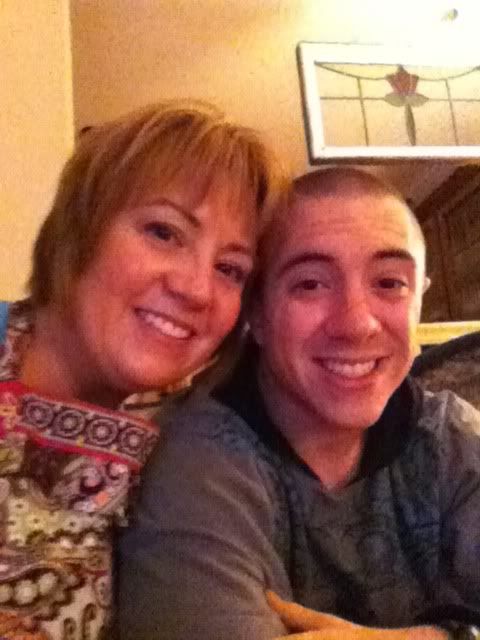 But he knows I won't leave until I get a smile. So he gave in :o)
Did I tell you that you can get all of the apps ~ the same that you'd get on the iPhone 4. I play checkers (and it beats me every time), and all kinds of games. It's very addicting. I can't praise it enough. In case you're wondering, I would get an iPhone, however where we live AT&T is not quite optimum so I will stick with Verizon until such time as they unlock the phones or let other servers support it. Ahhhh...so the iPod Touch is my next best thing.
I'm going to love this new little camera/toy/ipod/facetime/app/game playing toy. Thanks Johnny xoxo
Well, I just wanted to check in. I haven't even downloaded all of my pics from my camera I've been so busy.....but in the good I-don't-want-this-to-end kind of way. I'm plugging through Josh's list of things he wanted me to cook and tomorrow we'll go to a movie together and then we'll go to one of the restaurants on his list. The time is flying by! I'll check in again sooooooon!!