Happy (day after) Mother's Day!
I hope all of my Mommy friends had a wonderful day with your kidlettes or like me, thinking about your kidlett. I feel so blessed to be a Mom. I am missing my son so much these days. My GI Josh has been deployed to Afghanistan for 3 months now and not an hour goes by where I don't think of him, send up prayers, and worry...Some days my mind simply won't settle down so I keep myself busy by cooking.
An itty bitty bit of history: Almost a year ago now (June 1, 2011) I went back to eating a vegetarian diet. I feel so much better since going back to plant based eating. The Summer was the easiest time for me to make the transition as all of my volunteer groups & women's clubs are on hiatus so I'm not off once a week (or more!) at a lunch, field trip, book club or party. I was able to focus on recreating recipes, shopping differently and reprioritizing my health & wellness.

I ate plant based all Summer and then on September 16th I ate my first, (since going back veg) and last turkey dog at Ben's Chili Bowl ~ a Washington DC landmark that I had read about in the papers and had wanted to go to for 10 years. I tried some of the chili fries and ate about 1/2 my dog, had a great time with my military wives friends and checked Ben's Chili Bowl off my bucket list.

The funny thing is; on my way out the door I read on the wall that Ben's served vegetarian chili dogs! What a trip. Now I've added THAT to my bucket list ;o) Wish I'd have known before I ordered.....oh well, c'est la vie.
My son & I were vegetarians for 5 years before I met my husband in 1997....began dating....made my fiancé tofu-spinach enchiladas when all he wanted was a hamburger....got married....madly in love, I cooked all of his favorite foods....dedicated my life to making my son & my husband's belly's happy....didn't want to make TWO dinners every day....long story short: after 14 years of eating HIS way, I've gone back to eating MY way and it feels like 'coming home.'
And guess what? This time he likes my food. He's totally on board, eats my plant based meals and is 100% supportive. He eats what he wants at work and at restaurants, but at home he gobbles up my lentil stews, eats tofu, drinks soy milk and tries new things; like tempeh, lettuce & tomato sandwiches :o) Is that love or what?
For Mother's Day I thought I'd post my pesto pasta recipe that I created ~ it only has 1 tablespoon of oil (which CAN be eliminated completely if you choose, but I love the taste of the toasted sesame oil and feel it adds a certain depth to the flavor).
Also, I don't use dairy cheese in my pesto (at home I don't use any dairy milk products: no milk, cheese, sour cream, yogurt, cottage cheese, etc.) Instead I use 1/4 cup nutritional yeast for that "nutty cheesy" flavor, but you can substitute parmesan if you want to. My husband sprinkles it in his bowl afterwards. He likes cheese :)
I will post the full recipe at the bottom of this post, but here are the ingredients that I use:
Fusilli (spiral) pasta of your choice, toasted pine nuts, toasted sesame oil, juice of 1/2 fresh lemon, 4-5 cloves garlic, 1/3 cup nutritional yeast, 1 container of fresh basil leaves, 1 can garbanzo beans (chickpeas), 1 qt. container cherry tomatoes, 2 avocados, Himalayan pink sea salt & freshly ground pepper to taste. (Also, 3-4T water to blend)
Optional: *Set aside 1T toasted pine nuts and a sprig of basil for garnish*
Note: I use organic pasta, fruits, veggies, beans/legumes & grains whenever available.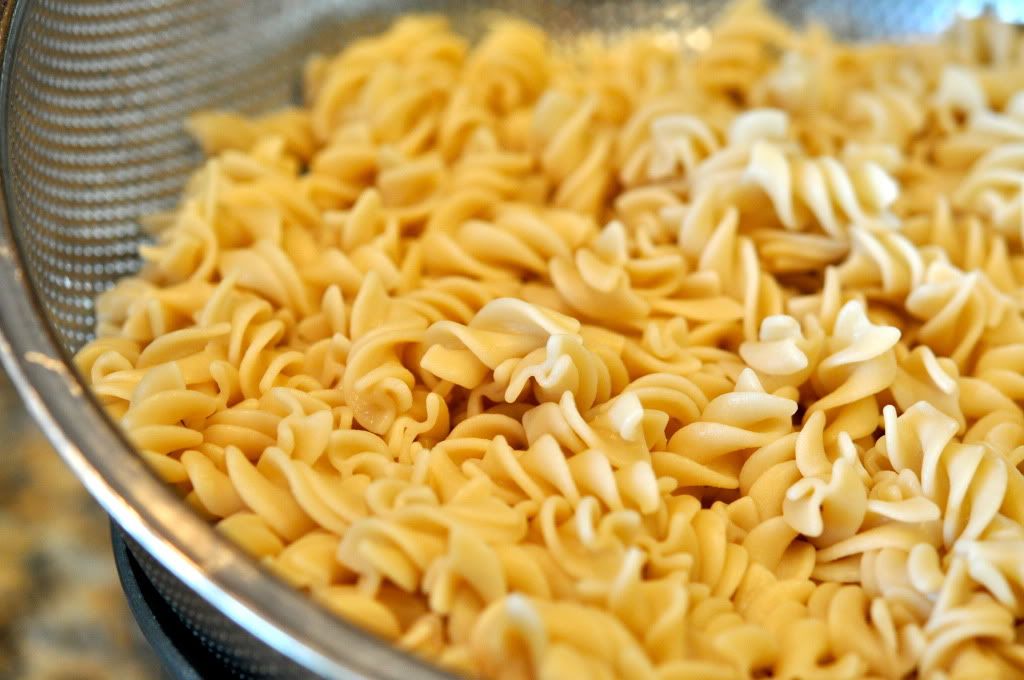 Cook pasta according to package directions.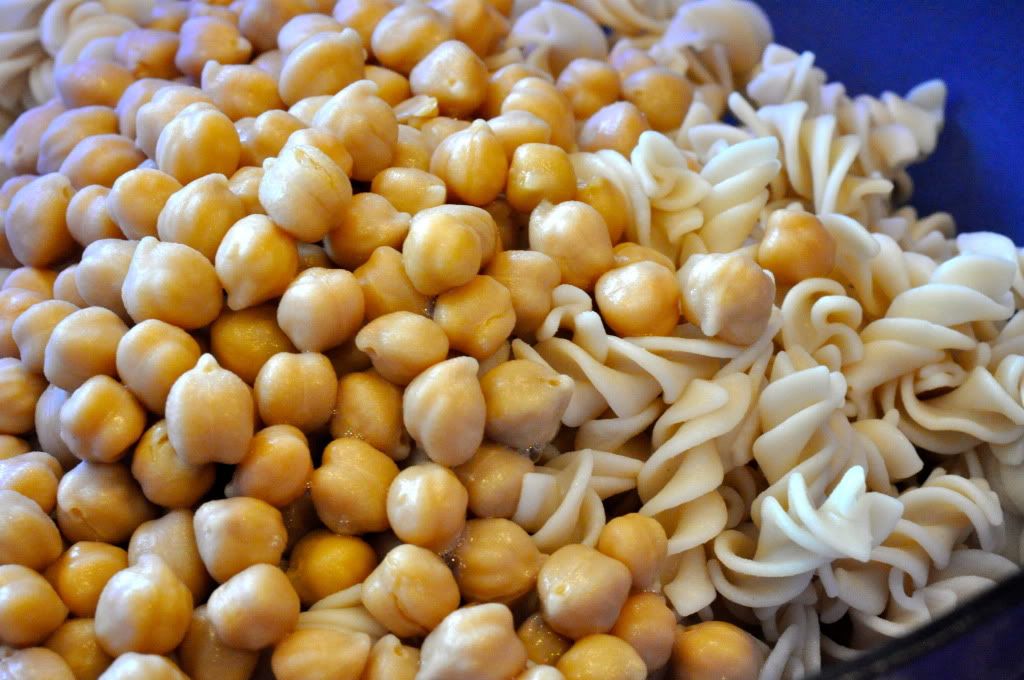 Drain & rinse the garbanzo beans. Add to pasta. Set aside.
Put 1/2 cup pine nuts in a nonstick skillet on medium heat and keep a watchful eye.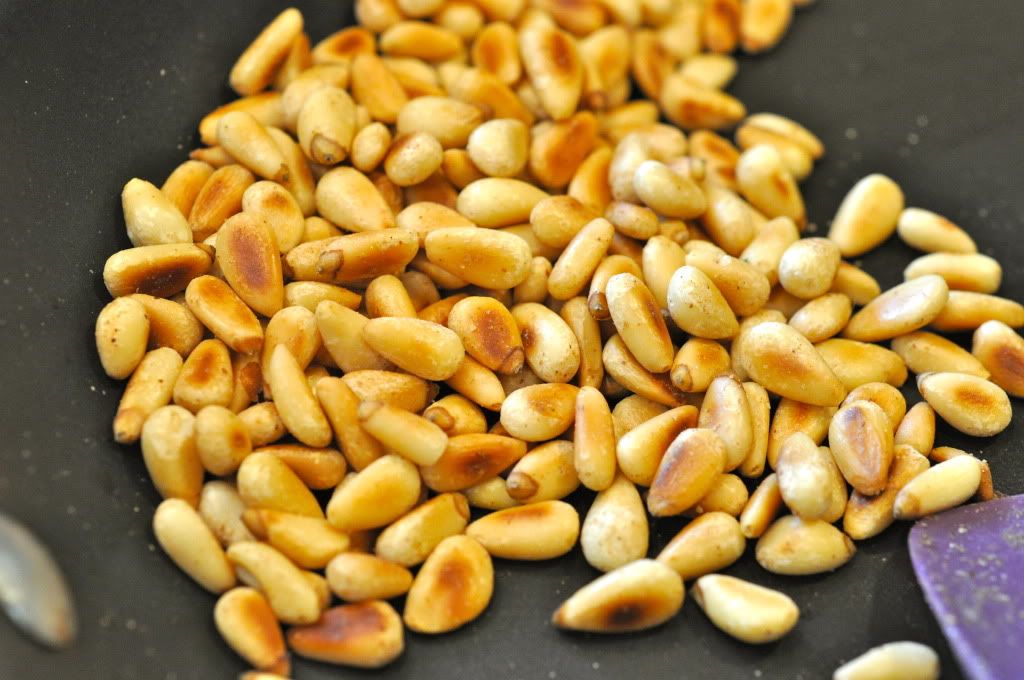 When you hear them "sizzle" stir constantly for a minute until golden and toasted. The toasting process changes the taste of your pesto to a delicious, deeper nuttier flavor. You don't want to skip this step. Trust me. You're welcome.
In a food processor, pulse fresh garlic & toasted pine nuts until crumbly. Your kitchen will smell amazing at this point Mmmmm.
Add 1/2 avocado (this is why you don't need tons of oil!), 1T toasted sesame oil, fresh basil with
3-4 T water.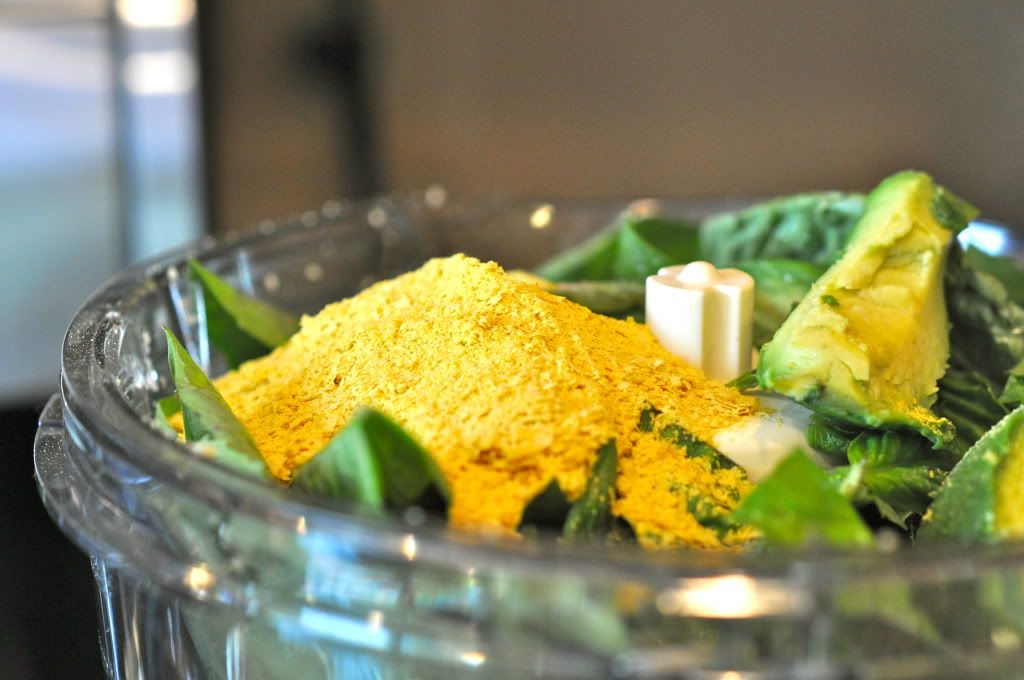 This is where I add 1/4 cup nutritional yeast ~ however if you prefer, you can add 1/3 cup fresh parmesan cheese, shredded or grated.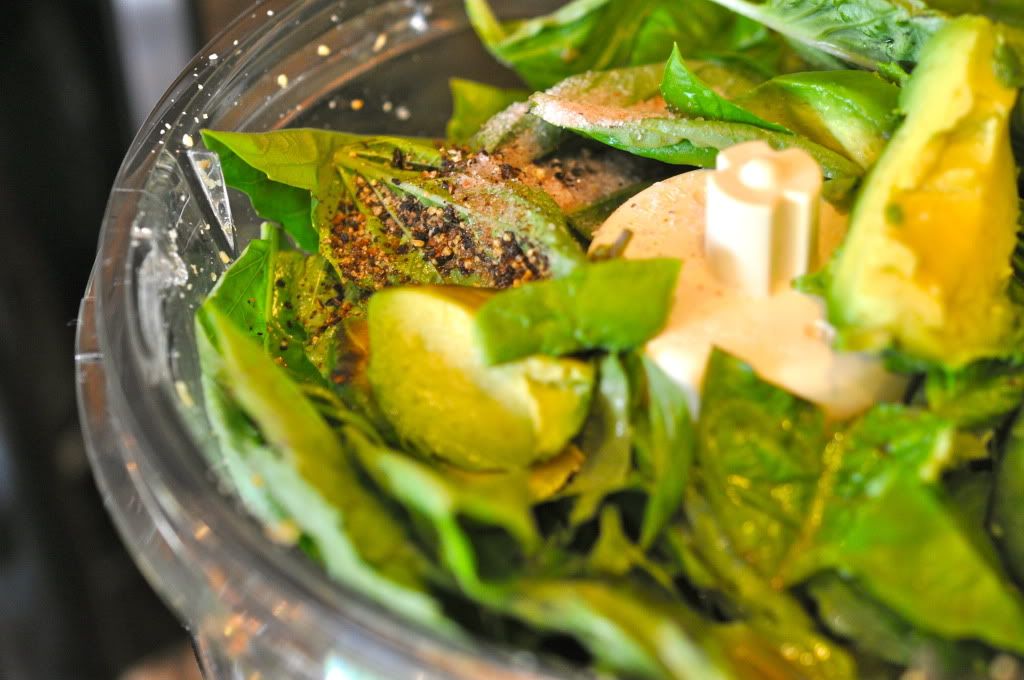 Process until smooth but still slightly textured/nutty.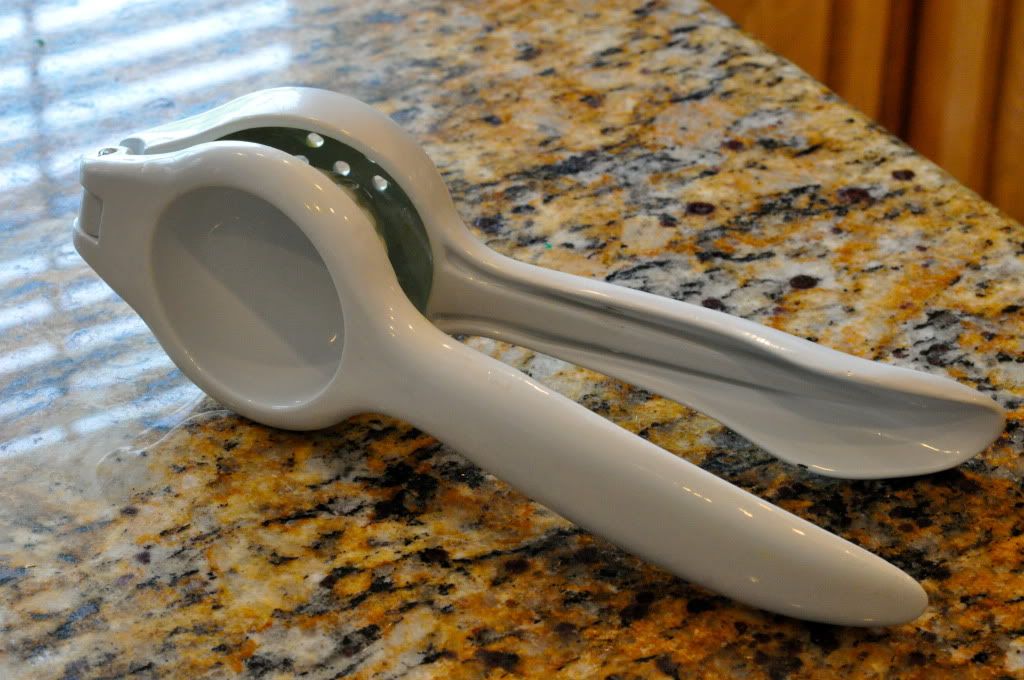 Have you used one of these to squeeze fresh lemons? Oh my....it's one of my favorite kitchen gadgets!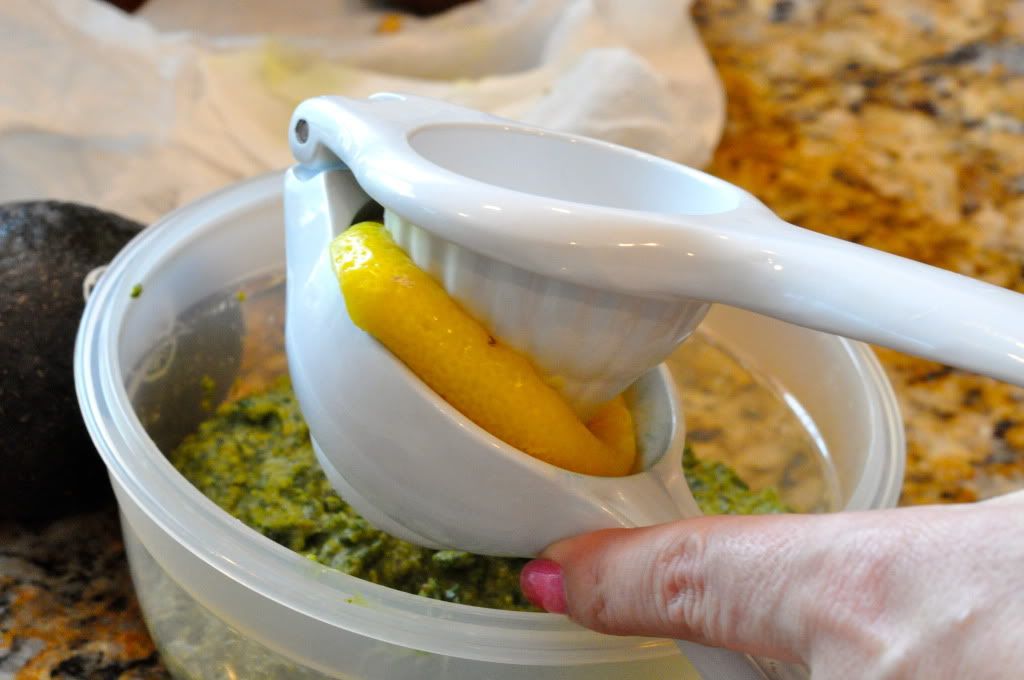 The key is to put the 1/2 lemon in upside down then squeeze.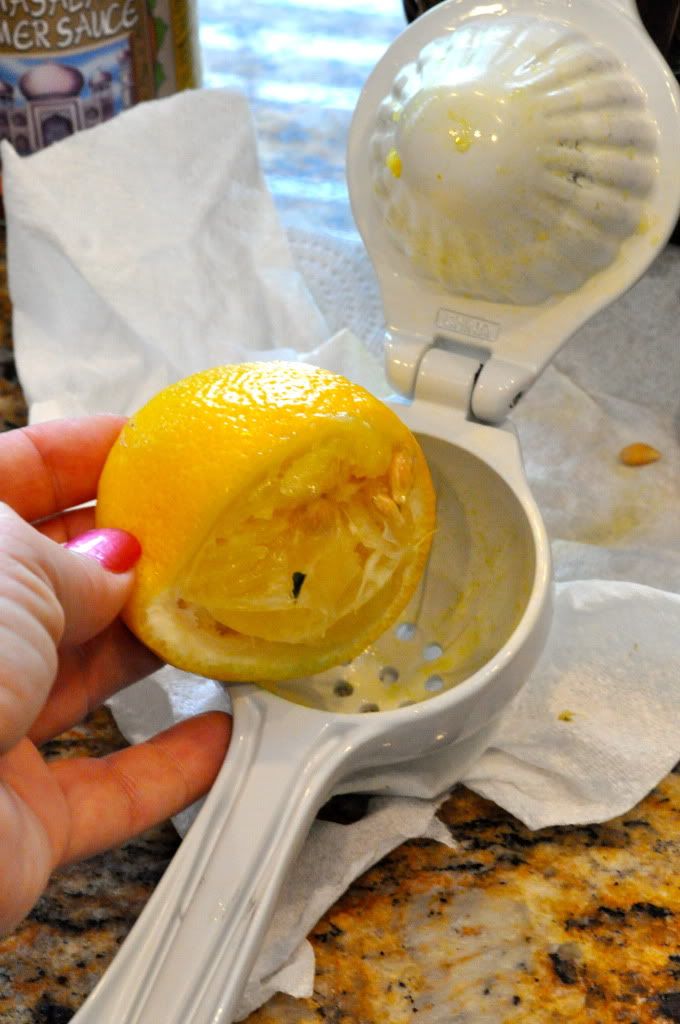 You will love it! It's gets ALL of the fresh juice out. Limes too...
Stir in the 1/2 lemon juice. At this point the lemon keeps the pesto nice & green and you can store it in your refrigerator to add to pasta later in the day>>it's a great make ahead time saver. (If you're not making it early and putting the pesto in the refrigerator, then simply add your fresh juice to the food processor and save yourself a dirty bowl!)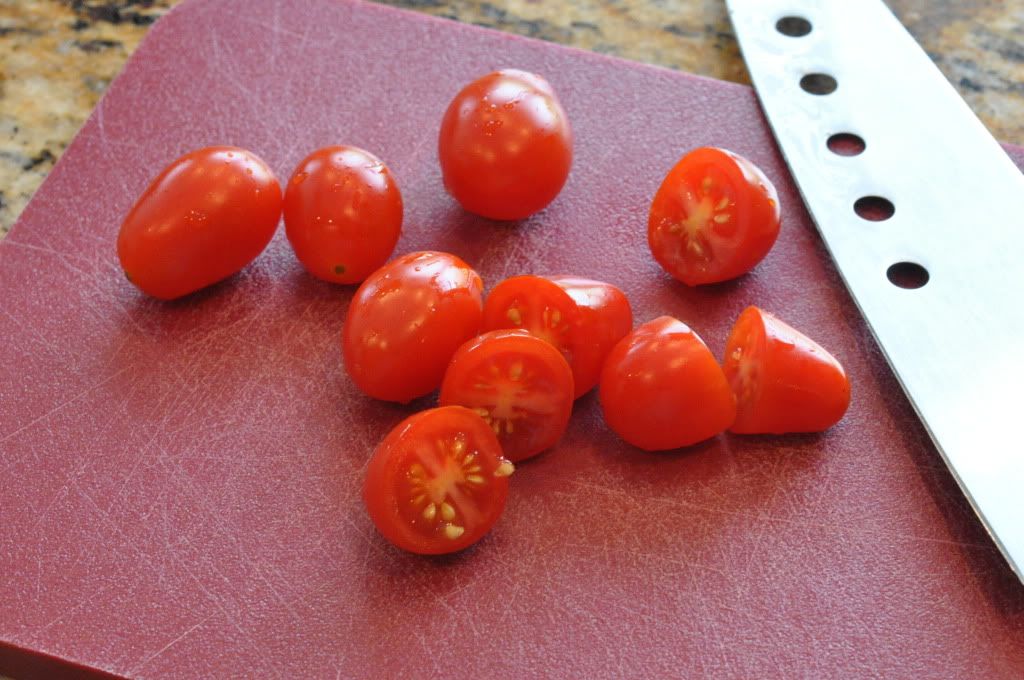 So cut each of your washed tomatoes in half.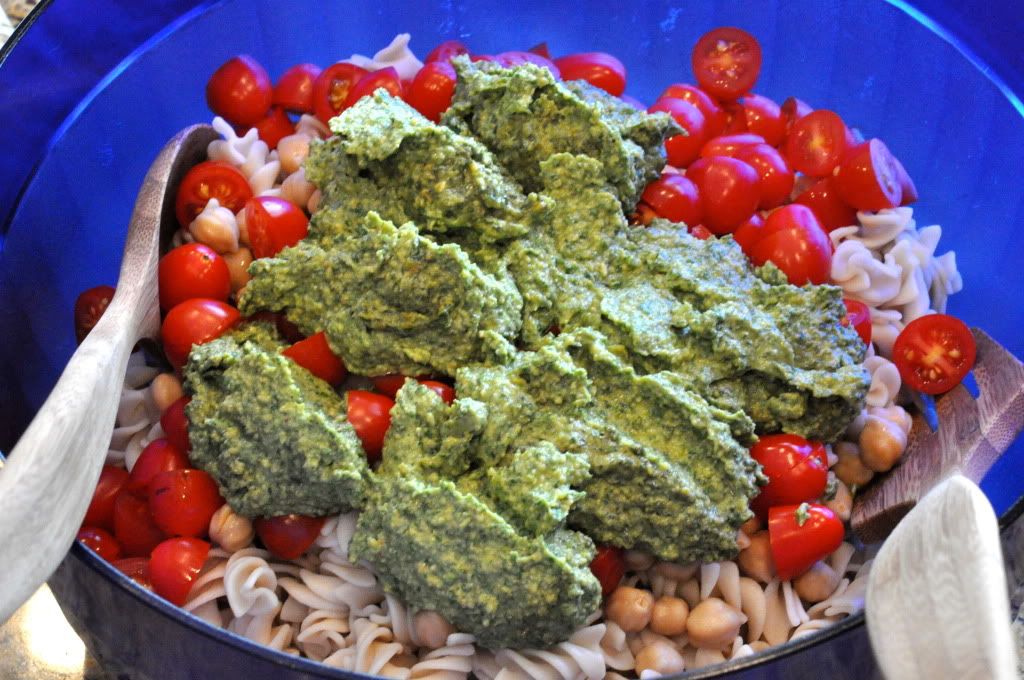 Add the halved tomatoes & pesto to your pasta & garbanzo beans.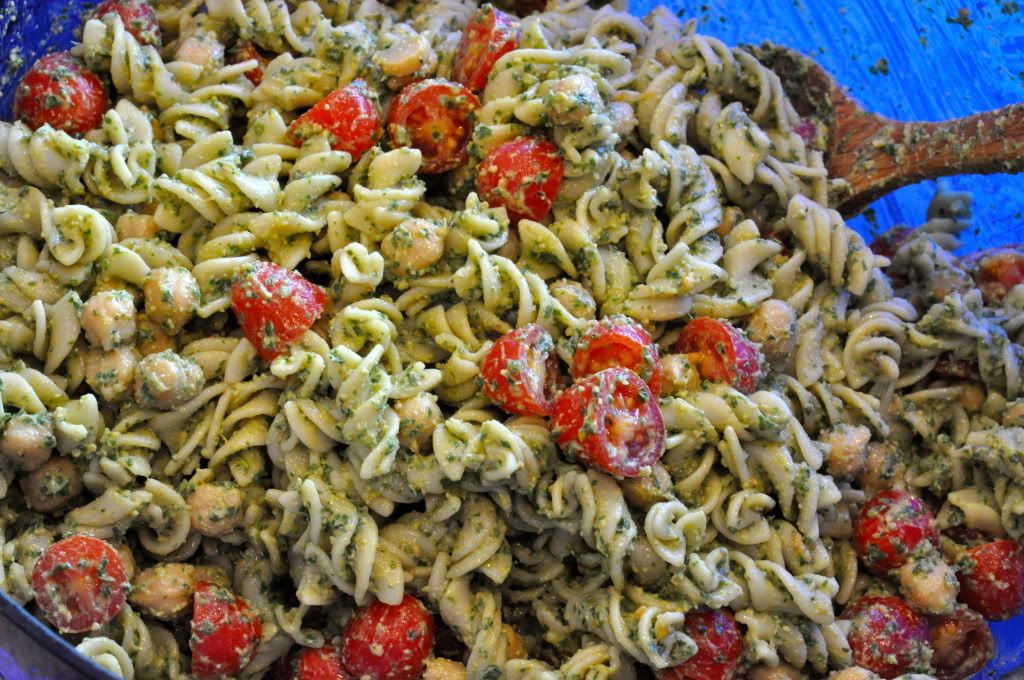 Mix well.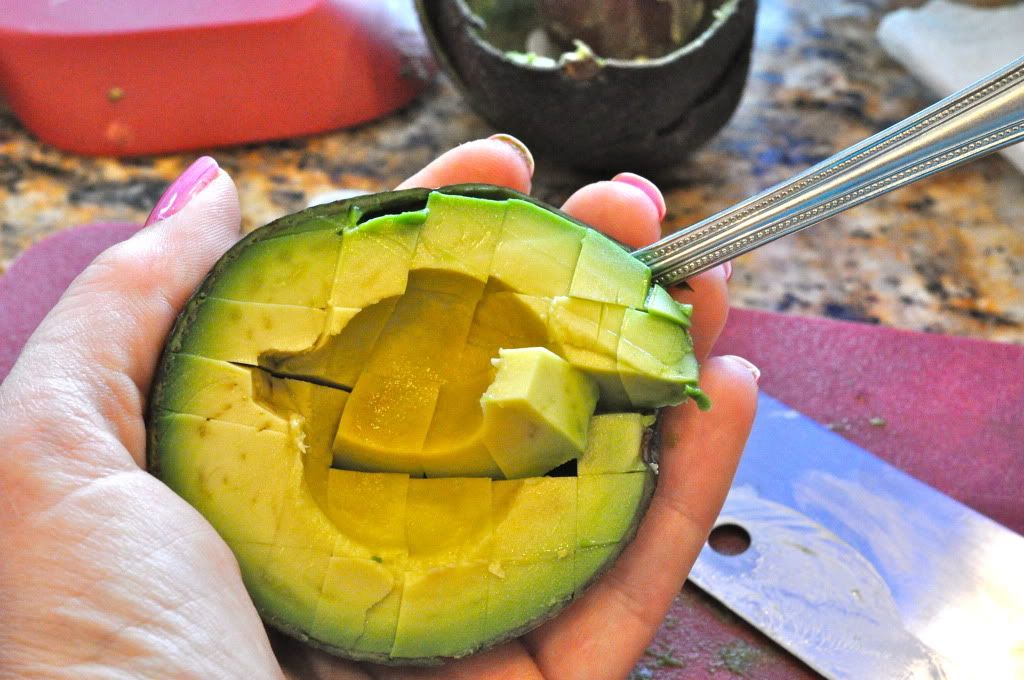 Your remaining 1 1/2 avocados are waiting...there are cool kitchen gadgets that can do this for you, but it's very simple to just cut a grid into your veggie (don't cut through the skin!) and use a teaspoon to scoop out the soft center.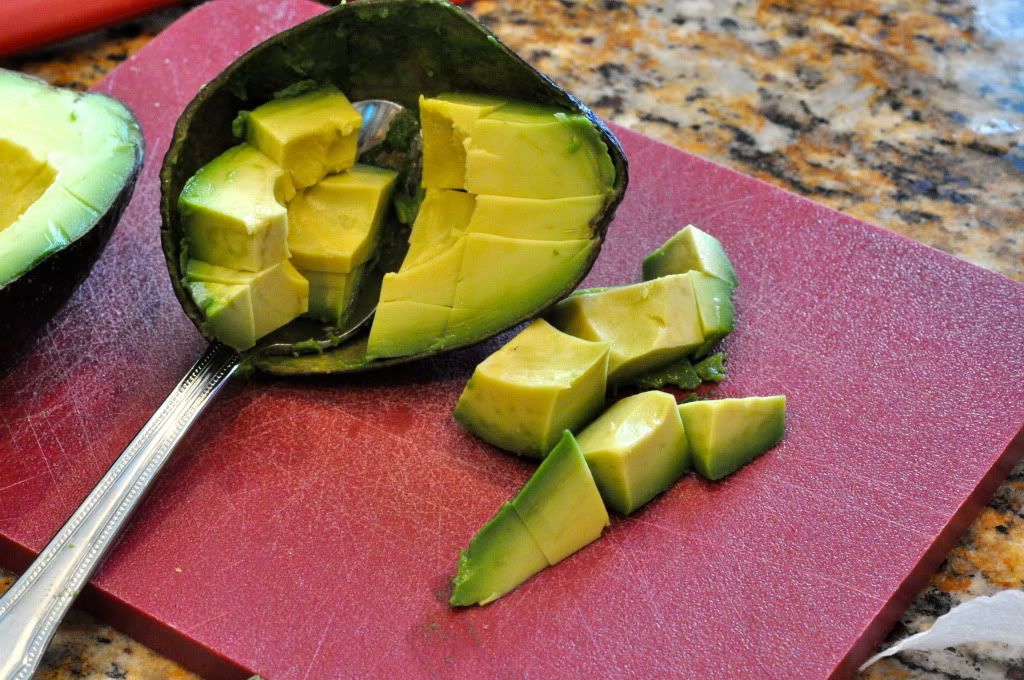 It's easy! See?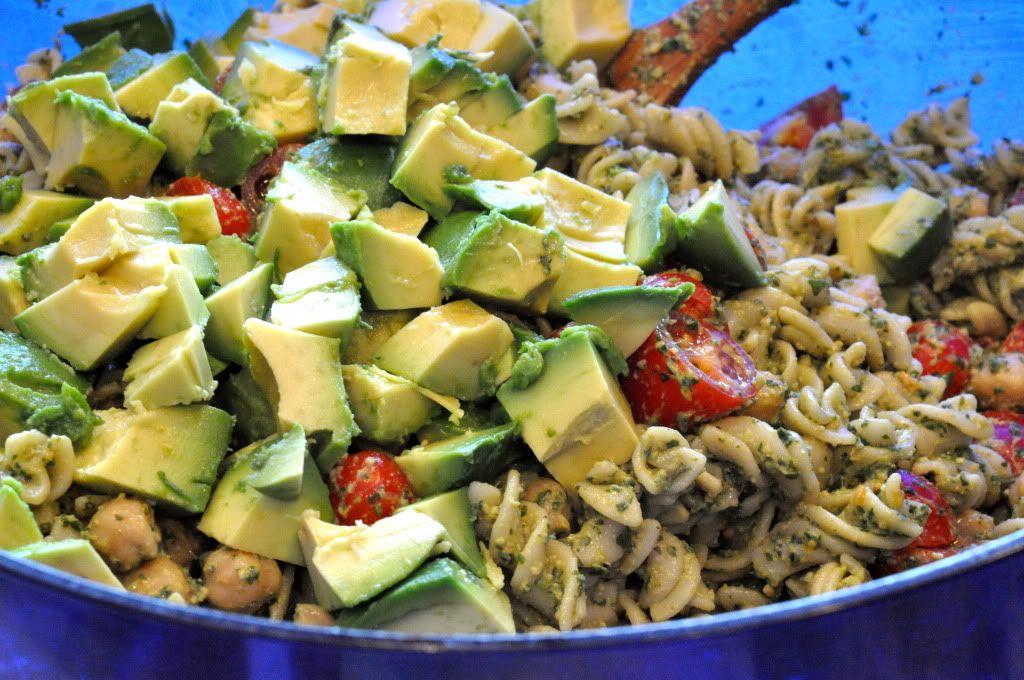 Do all 3 halves and scoop into bowl.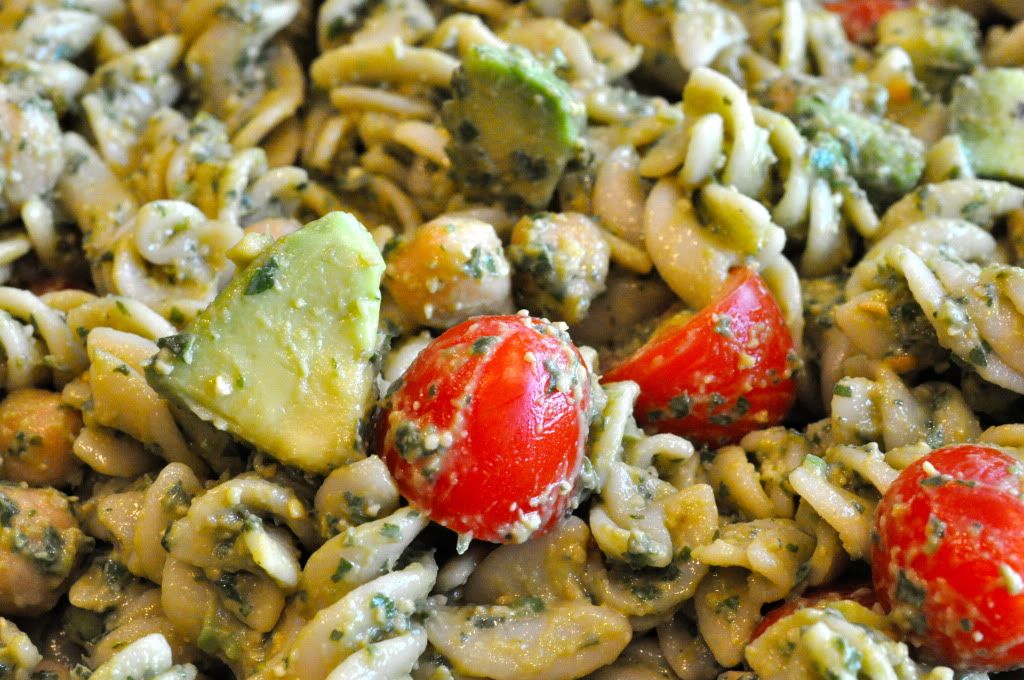 Mix well. There is the perfect 'bite' right there...a few chickpeas, tomato, pasta & a chunk of avocado. Oh my.
This is where the few saved toasted pine nuts & basil leaves that you set aside come in...
Even 2-3 slices of avocado work well for garnish.
With the fresh veggies & the garbanzo beans as an excellent source of protein, you're all set for a healthy, delicious meal. You can add a warm, whole wheat crunchy bread too. Yum!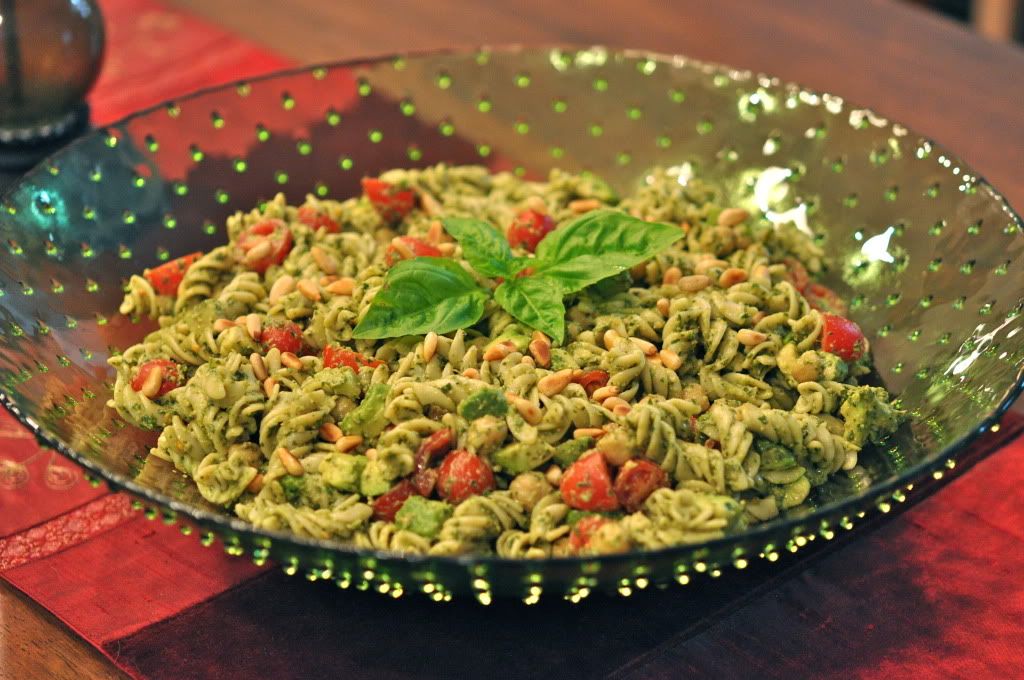 Mmmmmm :)
You know, I'm not sure I'm ever going to figure out the white balance settings on my Nikon.
I digress.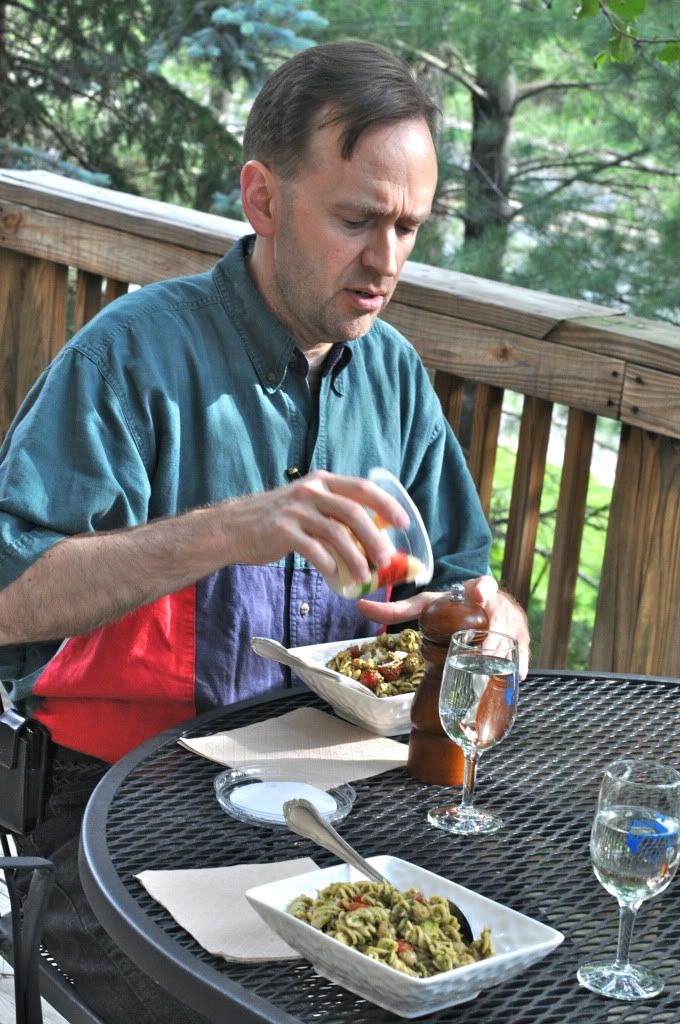 On Saturday my husband & I had lunch out on the deck & then took our evening walk with our chihuahuas. The weather was perfect.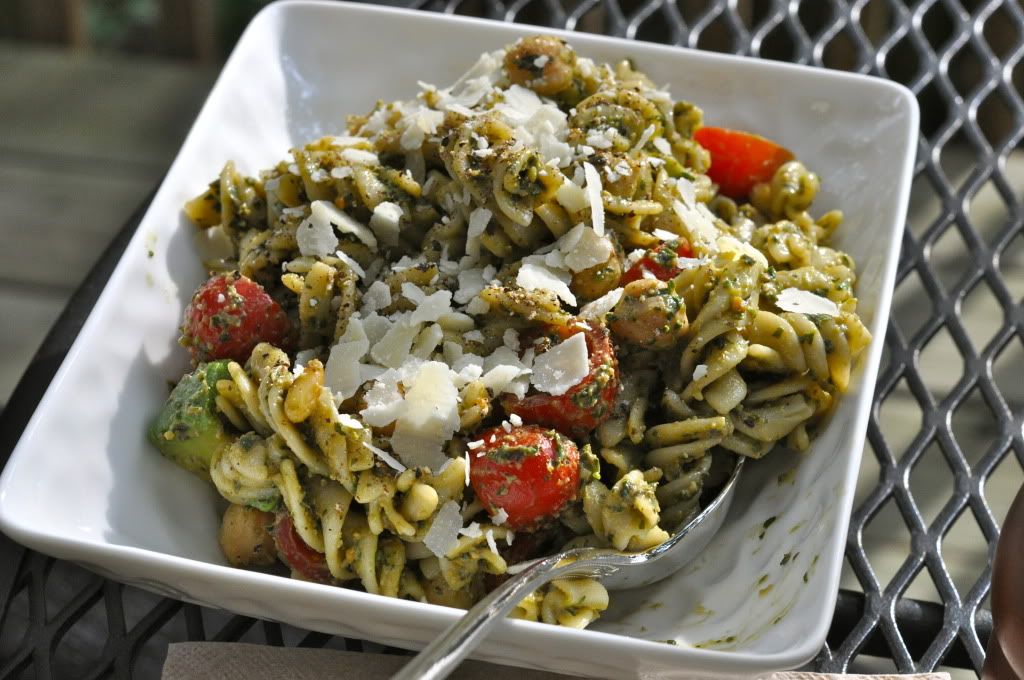 Johnny loves his shaved parmesano reggiano cheese :)
And he always adds more fresh cracked pepper. See that face? I think that's the face of a happy man. I wonder if he's wishing he had a hamburger with his pasta haha.
P.S. Johnny lost 12 pounds and wasn't even trying to lose weight. Are you kidding me?!?
---->

I'M

<---- the one who desperately wants & needs to lose 30 pounds to be healthier and Mr. Show-Off Skinny-Pants just lost his weight like THAT.
So frustrating, lol. Oh well, I keep pressing forward and keep my mind & heart focussed on health, exercise, wellness & compassion. It's all good. Happy Mother's Day xoxo
Brenda's Pesto Pasta
1 pound fusilli pasta, cooked according to package directions.
PESTO:
1/2 cup pine nuts (toasted)
3-5 cloves fresh garlic - to taste
1 T toasted sesame oil
1/2 avocado
1 pkg fresh basil leaves (about 2C packed), rinsed.
1/4 cup nutritional yeast (for vegan) or parmesano reggiano cheese (vegetarian)
3-4 T water
1/2 tsp sea salt - or to taste
juice of 1/2 fresh lemon (Either added to food processor or mixed in a bowl, if making ahead of time. Either way is fine)
fresh cracked pepper - to taste


1 1/2 avocado, cubed (the remainder)
1 qt container cherry tomatoes, sliced in half.
1 15 oz can garbanzo beans (chickpeas)

Cook pasta according to package directions, set aside. (I would NOT recommend the brown rice pasta shown in my 1st photo. I wanted to try it, but I found that after I added pesto, the noodles turned 'gooey.' They did not hold up well. I'm going back to regular spirals or a whole wheat version.)

Add everything in PESTO group to a food processor and process until nearly smooth.

Add pesto to pasta with garbanzo beans, avocado & cherry tomatoes. Mix. Adjust salt & pepper to taste.

I hope you enjoy my simple (nearly oil free) pasta as much as we do!