If someone would've told me one year ago that THIS would be the sight next to my front door, I would've told them to put down the vodka and find a good shrink!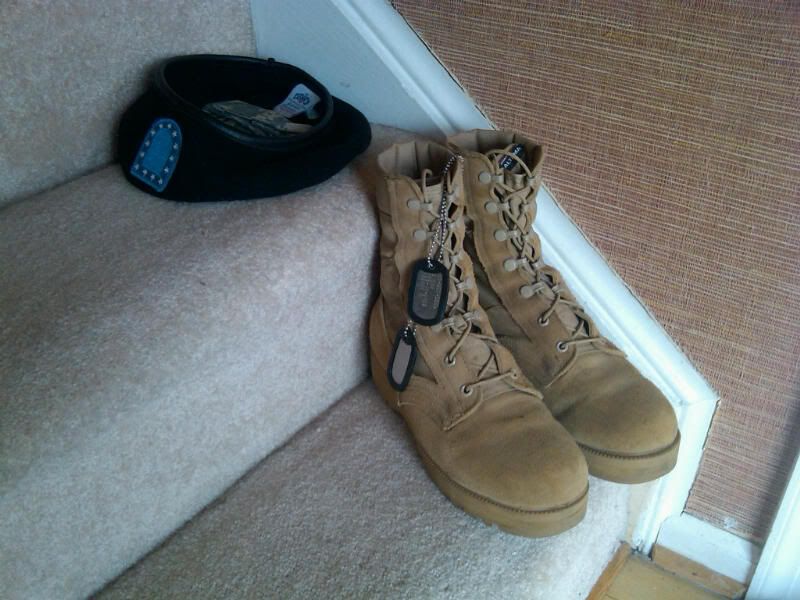 I walked in from going grocery shopping today and was a bit overwhelmed at the sight of his boots, his hat and his dog tags. He's in the Army. He's not playing Army. He's IN the Army.
Pinch me.
It was a long, 18 hour Greyhound journey from Georgia, but he can handle it. He's Army Strong

♥
Sorry for putting a

♥

after "Army Strong"....it's a Mom thing....
And sorry for blinding you with my cell phone flash, Josh....that's also a Mom thing....
We're both running on about 3-4 hours of sleep and have had a busy day together, but I couldn't be happier.
That warrented another heart.
My boy just ate an entire batch of chocolate chip cookies and I baked him his favorite egg nog cake.
Johnny is in Illinois ~ his daughter Liz graduated college today ~ YAY LIZ!! ~ he'll be home tomorrow.
What a great day for our kiddo's. They're taking on the world.
We're going to order some pizza and I'm going to spend the evening listening to his boot camp tales. I feel like I can fully exhale again. It's a good feeling.
I hope all of my friends who's boys came home yesterday or who are coming home today & tomorrow have a wonderful reunion.