I just wanted to give a quick shout out to the Mt. Vernon Coffee Group who invited me to their annual Christmas party on Friday.
These Navy wives have been meeting since the mid 1960's and have been a huge support structure for one another. I felt honored to be among them and their combined multitude of wisdom.
They followed their husbands around the globe, lived in countless homes, apartments & Navy base housing, supported their love's Navy career, raised dozens of children among them, yet always made time once a month to get together for food, support, gab & coffee since their husbands retired and settled in the Capital area.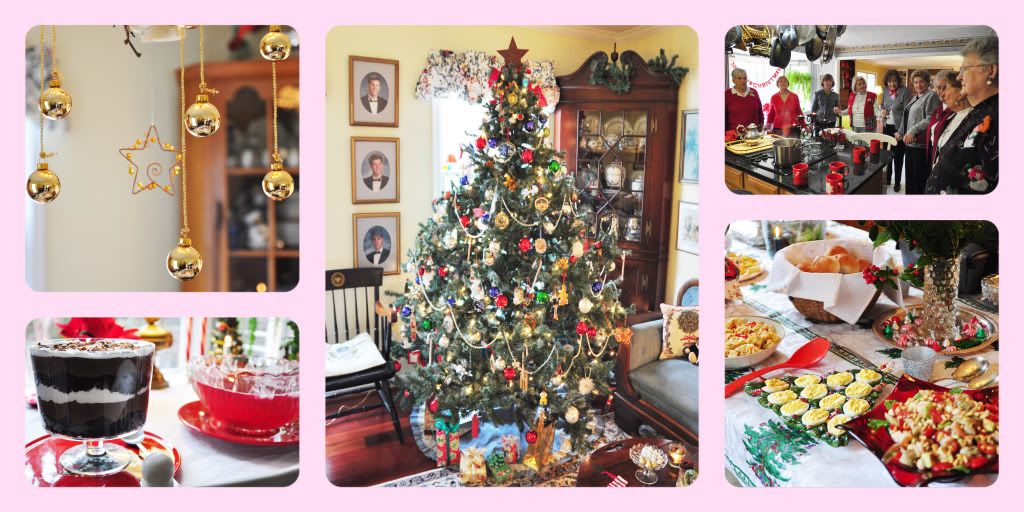 Now, 30 years later, many, if not most of them, are now widows. Before lunch we made a very large circle in the kitchen and held hands for grace. Several ladies spoke of how much the group meant to them, several thanked them for the well wishes and cards the group sent while they had surgery or their husbands were laid to rest. One lady said that the group's love and support carried her through the toughest years after husband passed away.
I looked around the room and felt humbled. I have my Navy wives coffee group also and I'm invited to many of the other coffee group functions and for a second I thought how lucky am I? We will all grow older and have challenges, but I have my friends. I had a 30 year flash forward of my own life and I pray that, God willing, when I go through my tough times I will have my friends' love and support and I will, likewise, be a source of strength for them.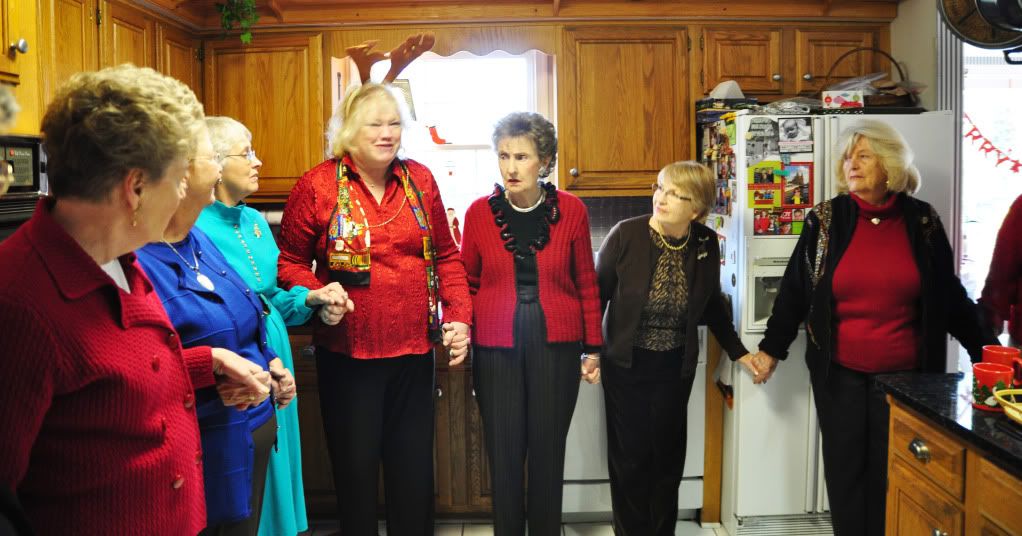 After a dear prayer led by the new group leader (Tina) said, "Next month we're meeting at Peggy's. She's down & out and if she can't party we're taking the party to HER!" Too cute.
Peggy was their group leader for 10 years. She just turned 90 and is recooperating from knee surgery. Peggy also has 3 "suiters" that come visit her. She likes to say that the love of her life was her husband and no one will every replace him. But, she will cry out of one eye and *wink* out of the other. Oh, Peggy, Peggy, Peggy :o)
Then, all of sudden, the group bursted out in song. Really! They did! We're all holding hands in a big circle there in the kitchen and they're sining "We Wish You A Merry Christmas!" at the top of their lungs. I have to admit, I was taken by surprise and sorta stood there like a dummy for a few seconds. I don't think I've done anything like that since my grade school Christmas pageants.
Then I thought what the heck...if Tina can stand there in reindeer antlers then I can sing. So I broke out my singing voice that I usually only set loose when I'm driving or screetching in the shower and went for it! I don't sing well, but they didn't seem to care one bit.
I'm lucky that I get to spend THIS week with my girlfriends! ~ Tuesday I'll be with my Army wives friends at a luncheon, Wednesday my Navy wives coffee group is having our ornament exchange, Thursday I'll go to the White House tour with my friends followed by a Japanese-American military wives club luncheon and Friday I get to go on a Ft. Belvoir home tour with my friends and then......JOSH COMES HOME!!! That night will be uber special. Saturday night is a party at my girlfriends house......this will be a busy, but fun and loving week where I'm surrounded by the people I love and cherish in my life.
I'll enjoy every second of it. Then next week I'll have time to clean my house and then drop face down in bed. Ha.
Thank you to the Mt. Vernon wives for inviting me and showing me what's really important in life. I love my Military Family xoxoxoxo.