Guess WHAT?!? My new little 35mm lens arrived yesterday! It's so small and light compared to my big zoom lens, I think I'm gonna like it :o)
As soon as it arrived I wanted to try it out, but I needed an assistant. A really good helper. OK, fine, a victim.
Hhmmm...wonder where I could find a victim.......
OH, Hi Joshie !!
:o)
Nope.
But.....Josh, you don't even know....
Nope.
.....what i'm gonna ask........
I'm going on a run now, C-ya.
But, but, my new lens came in the mail, look! And I jussssst.....
That's nice, Mom. I'm leaving on my run now.
You see, if you could jusssst....
Nope.
JOOOOOOoooooSHIIIIIIIIIIIEEeeeEEE!!! PLEEEeeeeeeEEEeeeeEEEEEsse?
(
Biggest
exhale you've ever come out of a child) Mom?!.....fine. You have 3 minutes. That's it.
Awesome, because I have to practive my depth of field, that's why I ordered this lens in the first place and I'm so excited about it. I think even YOU'LL love this lens and it's so lightweight and you might want to borrow it sometime......
Mom......you're down to 2 1/2 minutes. Let's do this.
(I seriously don't know where this child learned time management, because he sure doesn't get that from me).
With that we headed to the deck!
Check it out ~ I love this shot! Look at my boy! Dang, this turned out so cool and cute at the same time! Don't tell Josh that though.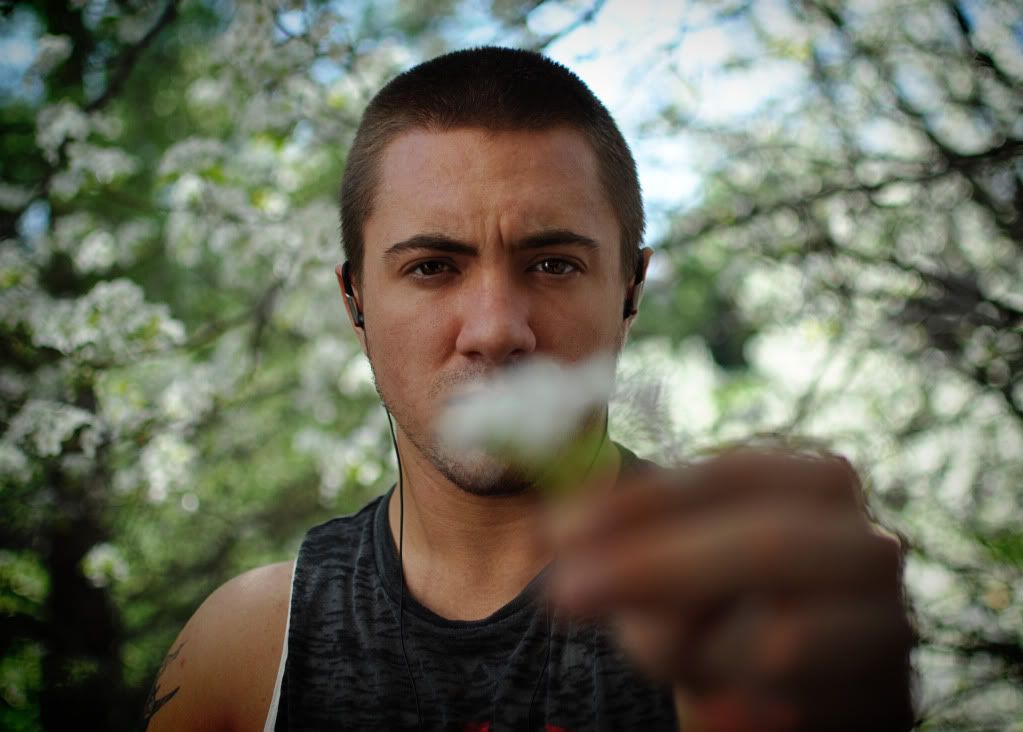 And look at that handsome kid, those eyes! I snuck this frame in because I love him. xoxo
OK, seriously, after we snapped a few pics even Josh looked at them and admitted, "That's pretty epic, Mom" and was grinning. Yup, I got a grin. I'll take it.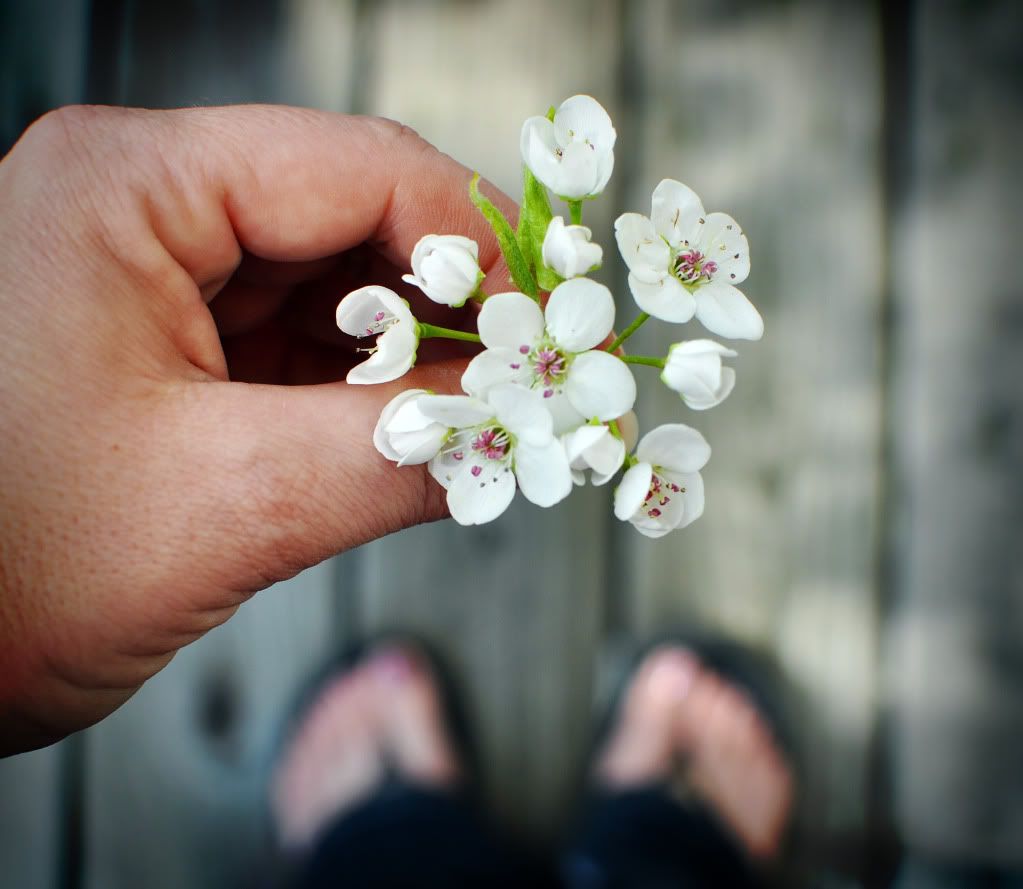 Then he was off.....leaving me all alone with the precious little blossom that I forced him to give to me. How sweet. I will treasure this blossom forever.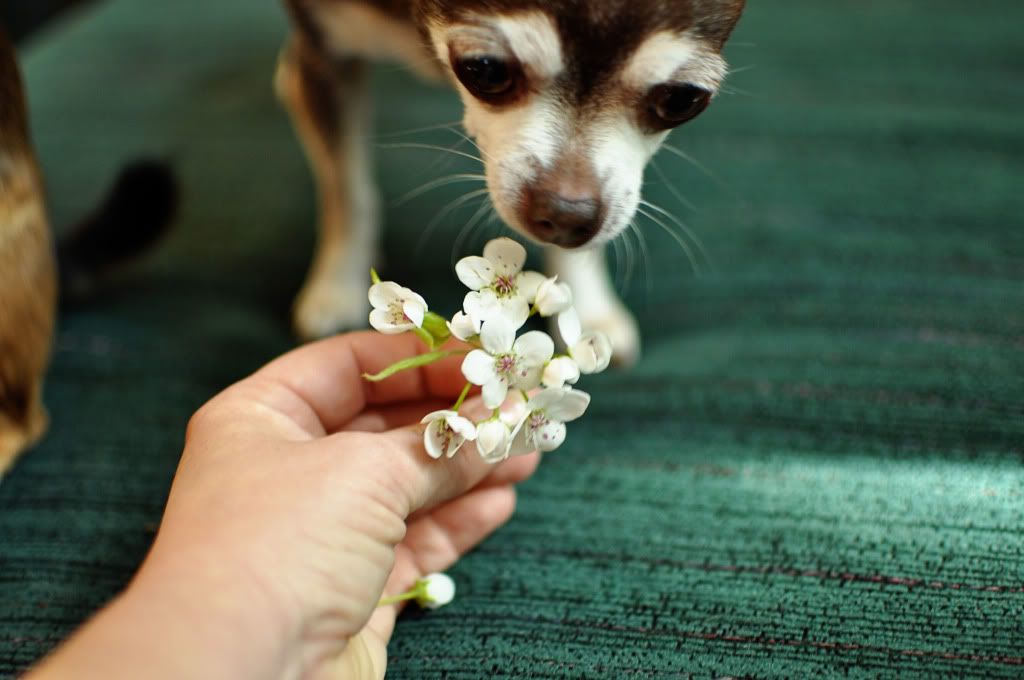 When I went inside with my tiny little blossom that Josh was forced to give to me, Piper really liked it.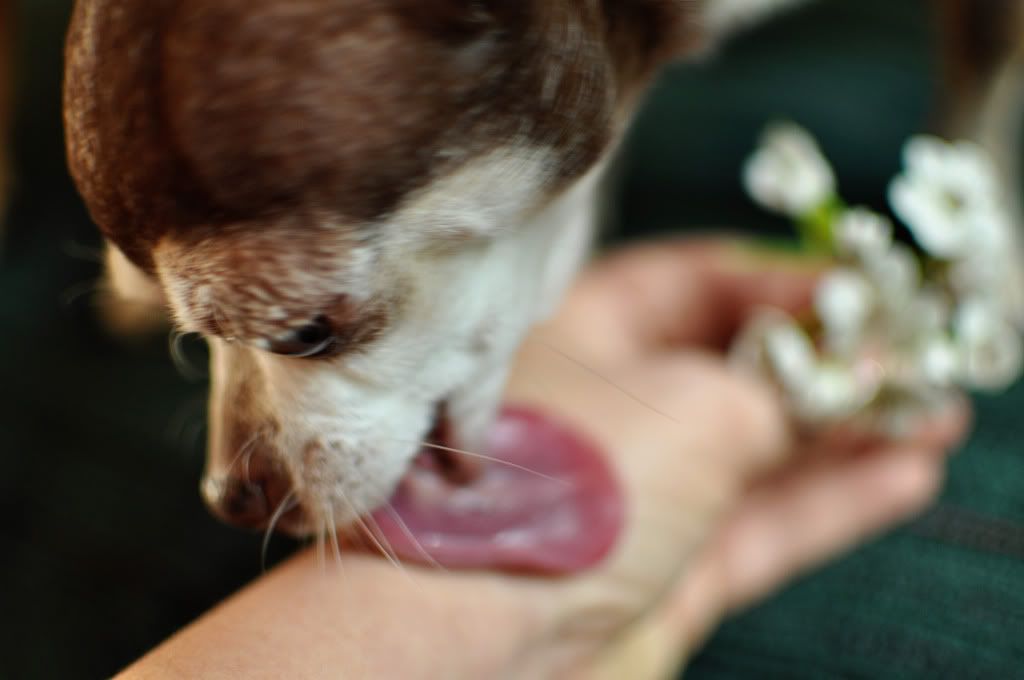 And she thanked me for showing it to her.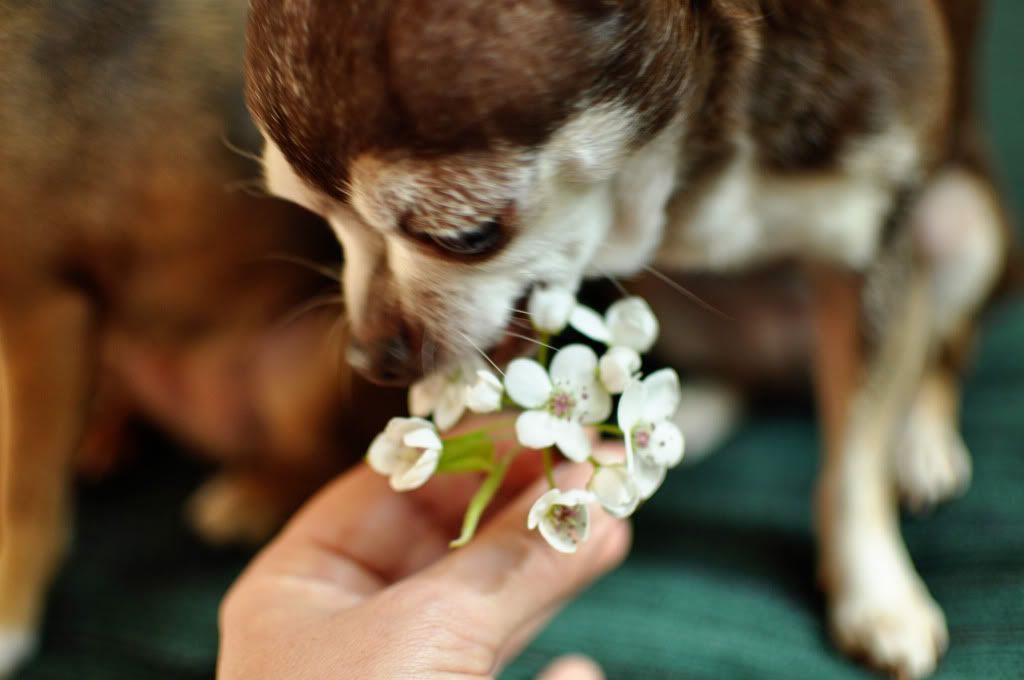 And then she......
Ripped a petal off of my precious little blossom. Like a wild beast!
I mean, there were fangs and sharp teeth (all 3 of them) SNARLING, tearing and viciously ravaging the poor little blossom to death. It was scary.
She showed no mercy. One after another....RIP! Spit. RIP! Spit. I was quivering.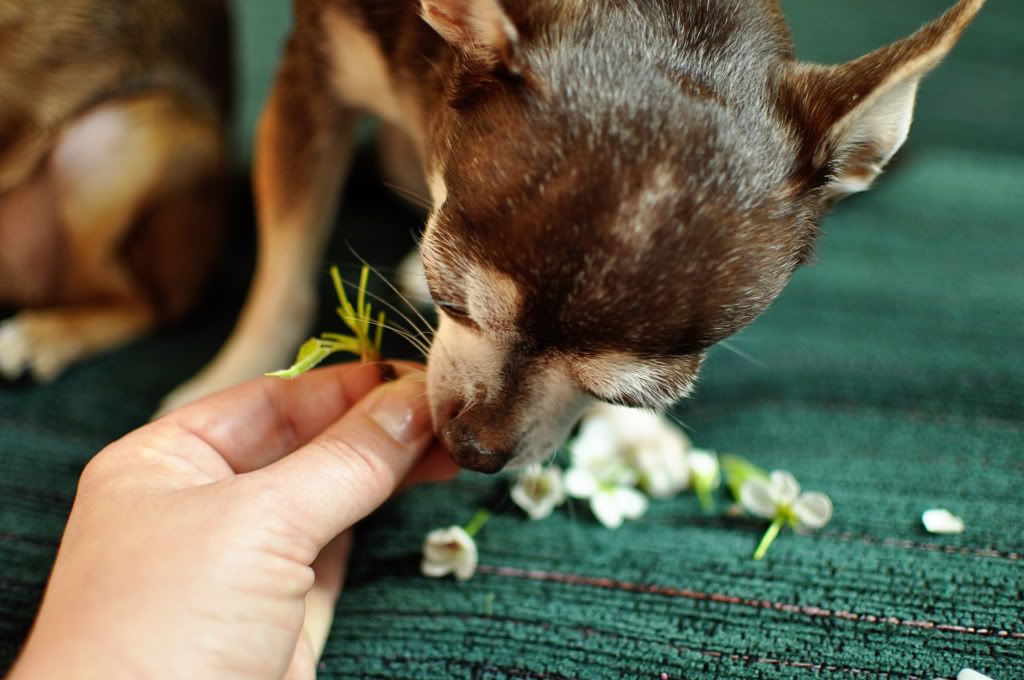 I couldn't belive my eyes. What did that sweet little Joshie blossom ever do to you, Piper?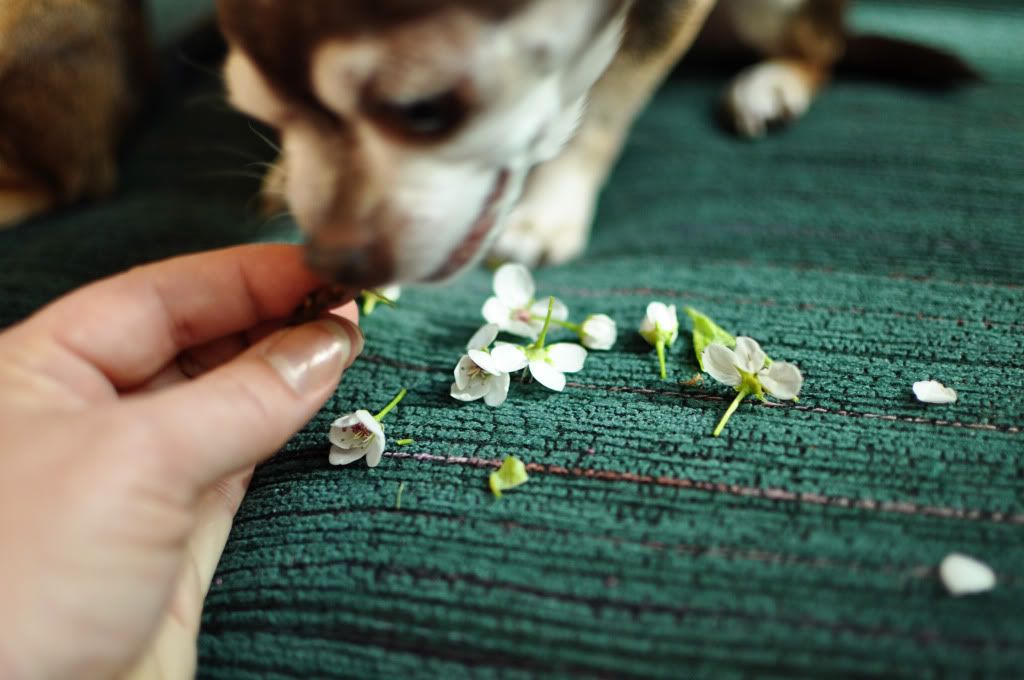 I didn't think Piper had a mean bone in her body. I may have to rethink all of the fundamental truths that govern my life now. That may take 10 minutes.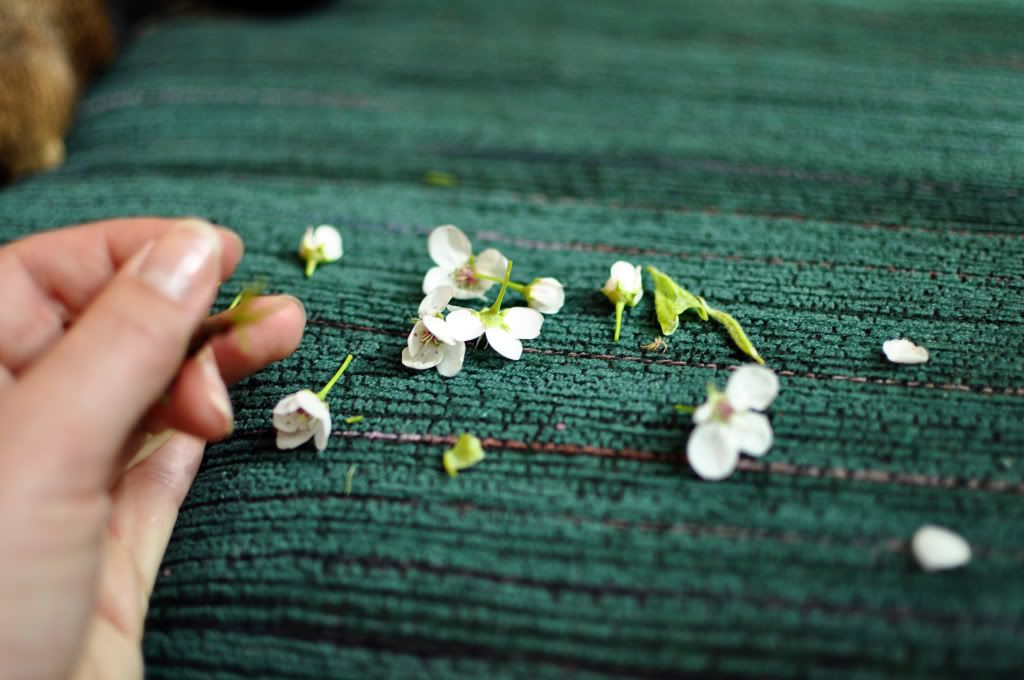 THE END
The moral of the story is ~ don't make a 19 year old give you a flower when all he really wants to do is run ~ and never underestimate a chihuahua with 3 teeth.