Happy (day after) Thanksgiving!
We got a surprise phone call from Josh around 2pm, what a treat! We got to chat for a long time and hear all of his funny Army stories. I'll have to do a blog post about that soon, he has us in stitches. He's doing well and (GUESS WHAT?!?) he told us that he earned his leave for Christmas! Wa-hoo! My boy will be home on the evening of the 17th. I'm so excited. I nearly fell over when he asked me to wait to put the tree and decorations up, that he wanted to help. What did the Drill Sergeant do to him? Whatever it is...keep it up DS. I'm liking it.


Our Thanksgiving couldn't have gotten any better after our phone call, that made our day. I sure hope everyone had as delightful of a time as Johnny & I did. We received a dinner invitation from my "East Coast Mom" (Mama Kay) I've talked about her so many times, her poor ears never stop ringing. Her son & daughter in law & our next door neighbors and their mother in law would also be there. I volunteered to make green bean casserole and my special sweet potato casserole. Everyone pitched in.
Oh my goodness, how could I forget our special 4-legged guest KAYLA. She's Kay's "grand dog" as she likes to call her, ha. She's a rescue husky mix and is gorgeous and a complete sweetheart. She stayed very close to the table, praying we'd all drop something on the floor. (She did get a little turkey of her own, we're not haters).

Kay set a beautiful table, complete with crystal, Thanksgiving china (with hand painted turkeys on it) and antique 12-apostle silver coffee spoons. Each of us had a different one. Don't ask me which apostle I had, I missed that lesson in Catechism, but I loved him.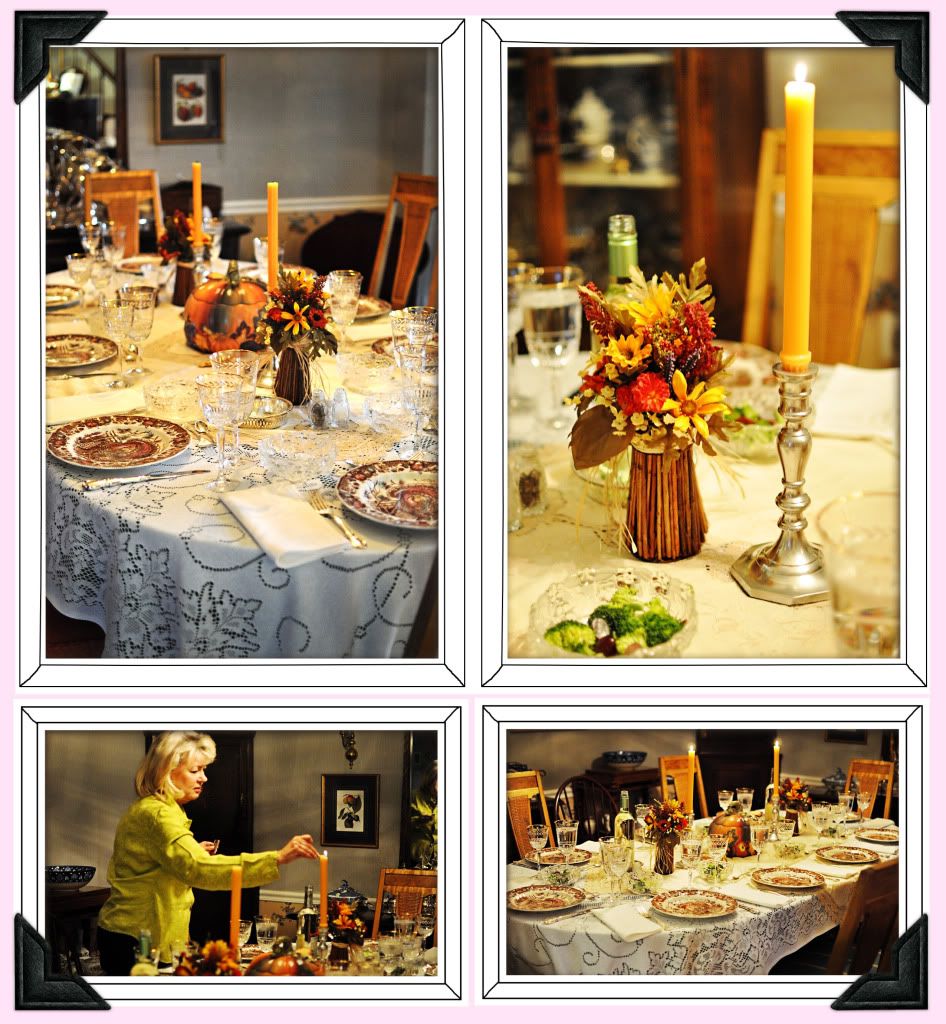 Kay created a warm and inviting setting for all of us.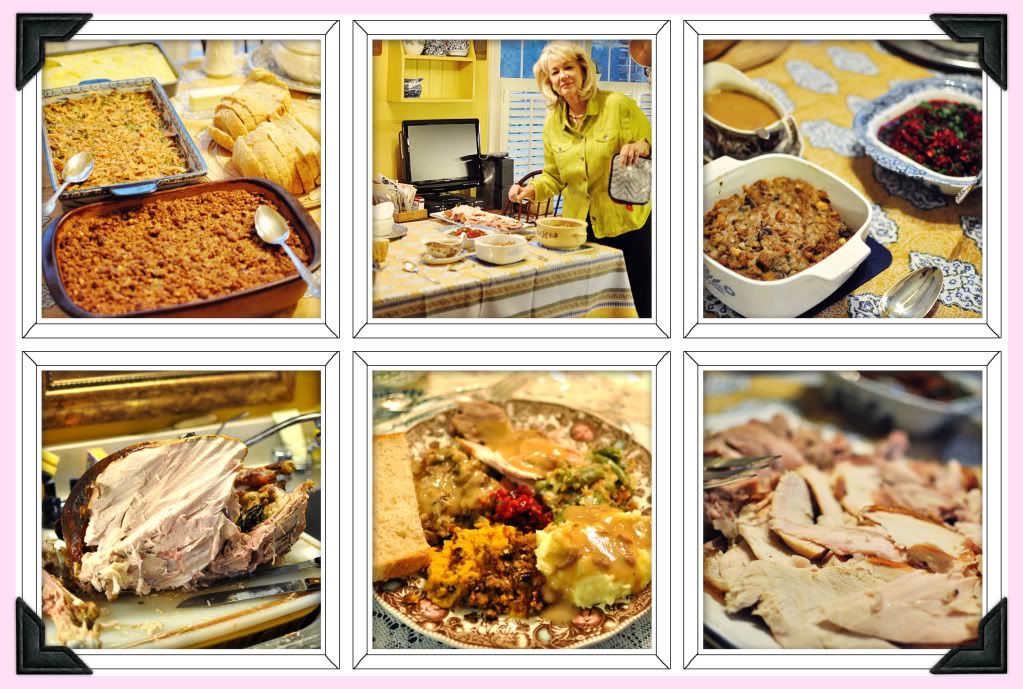 Richard, Kay's husband, smoked a turkey on the grill. I can honestly say, I have never had a
better
turkey in all of my life. He soaked hickory & mesquite chips and put those at the bottom of his grill and the result was simply amazing. Kay made home made cranberry sauce w/mint. Oh my.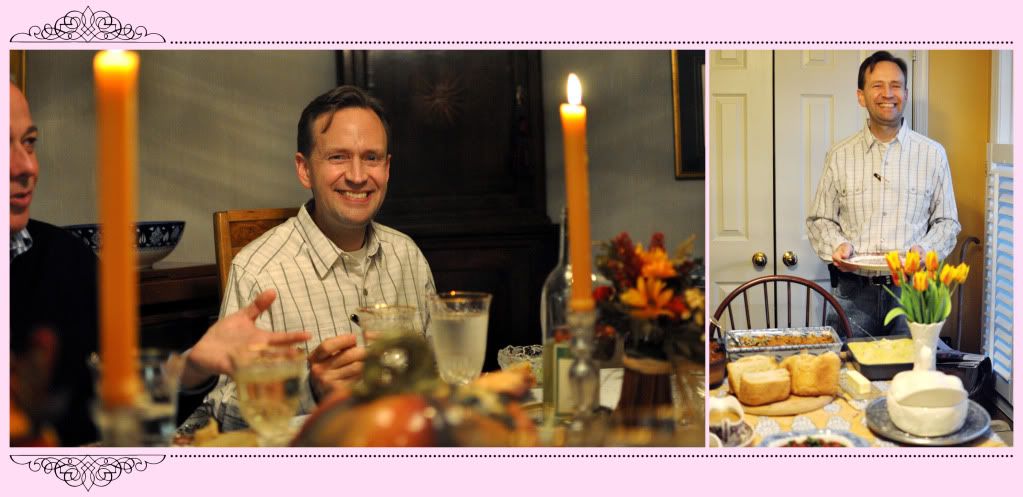 "You Know Who" was in heeeeeeaven! He and food are besties. He wouldn't stop grinning. He'll never eat my food again.
Until tonight.




It was a wonderful, cozy, candle lit dinner with close friends. I missed Josh very much and thought of him all through dinner, but this experience was so special that I'm glad we were with Mama Kay & Richard for our first Thanksgiving as "Empty Nesters." In fact, our whole table was The Empty Nesters Club. Ha!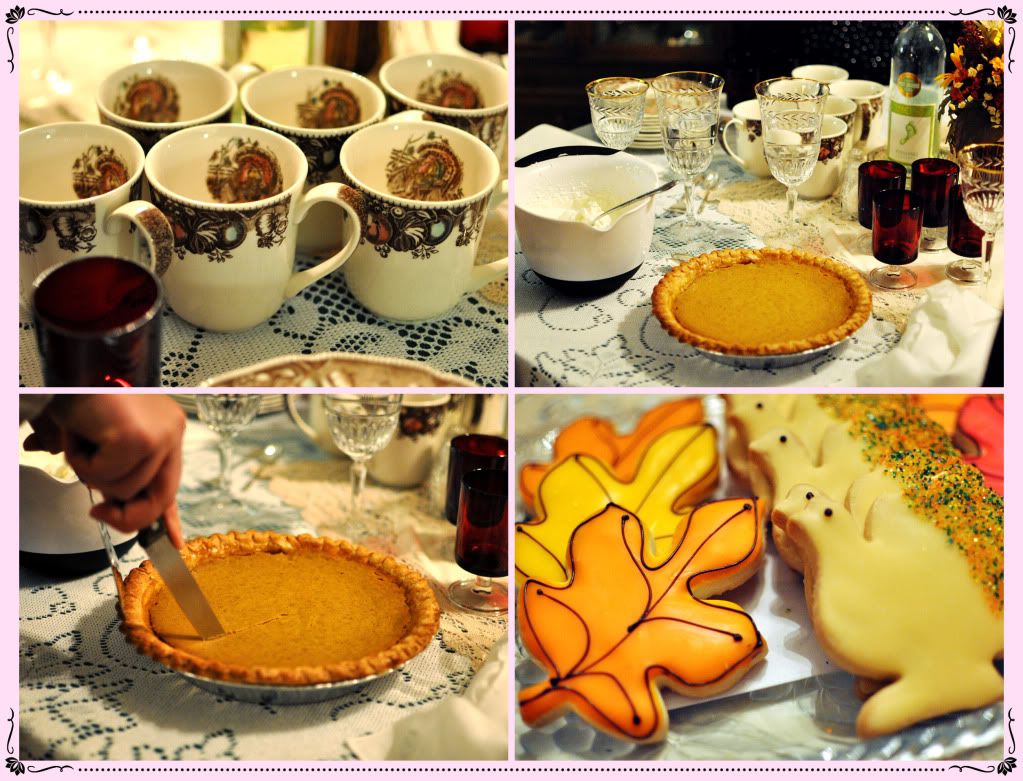 Ooooohhhh.....desserts.......Kay's daugher in law made the pie from her bridal cook book (we went to their wedding a year ago in Gettysburg, PA). It had whiskey in it, yum!
Johnny & I brought a fabulous bottle of dessert wine to have with our pumpkin pie. Everyone drank some and it was gone in a snap. I will definitely be getting more for Christmas dinner and I will share it with you all. It tastes like pumpkin pie and was the perfect complement with our treats.
And how adorable are those cookies? They came from the local Swiss Bakery.
10 things about THIS PLATE:
1. I felt it needed its own frame because of its awesomeness.
2. I will not confirm whose plate this is. She will remain anonymous. Oh. Or he!
3. Don't judge me.
4. It's the reason this anonymous person's middle section resembles the inside of a jelly donut.
5. Let's face it, it's the reason this anonymous person's back side resembles the outside of a jelly donut.
6. It was heaven.
7. She almost licked the plate.
8. Oops. Or he, I'm not tellin'.
9. It's the reason why she/he is having a bowl of vegetarian lentil soup for supper out of guilt. With no bread. And no seconds!
10. Because she/he is doing it all over again on Christmas Day! (With Josh! And she/he is counting down the days......hours.......minutes........)