Johnny's having a baby. He's been pregnant about 2 1/2 weeks and getting crankier by the day.
Boy was I happy the big day had finally arrived.
The expectant father came home from work early to wait for the big, white stork.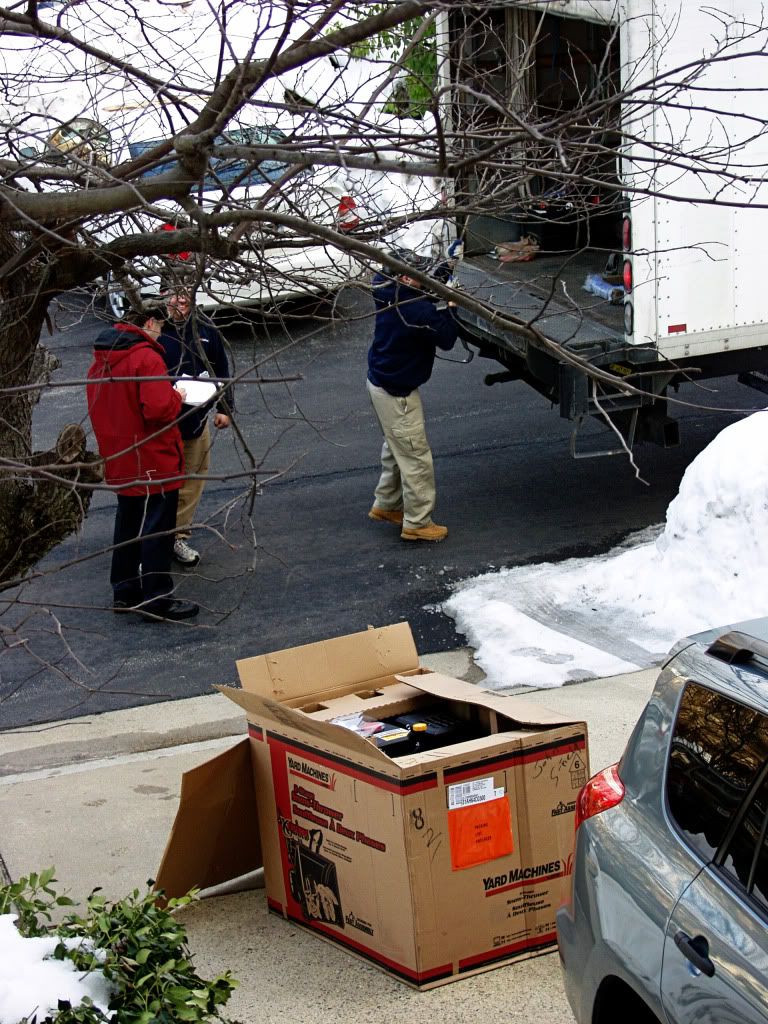 Finally...........it arrived.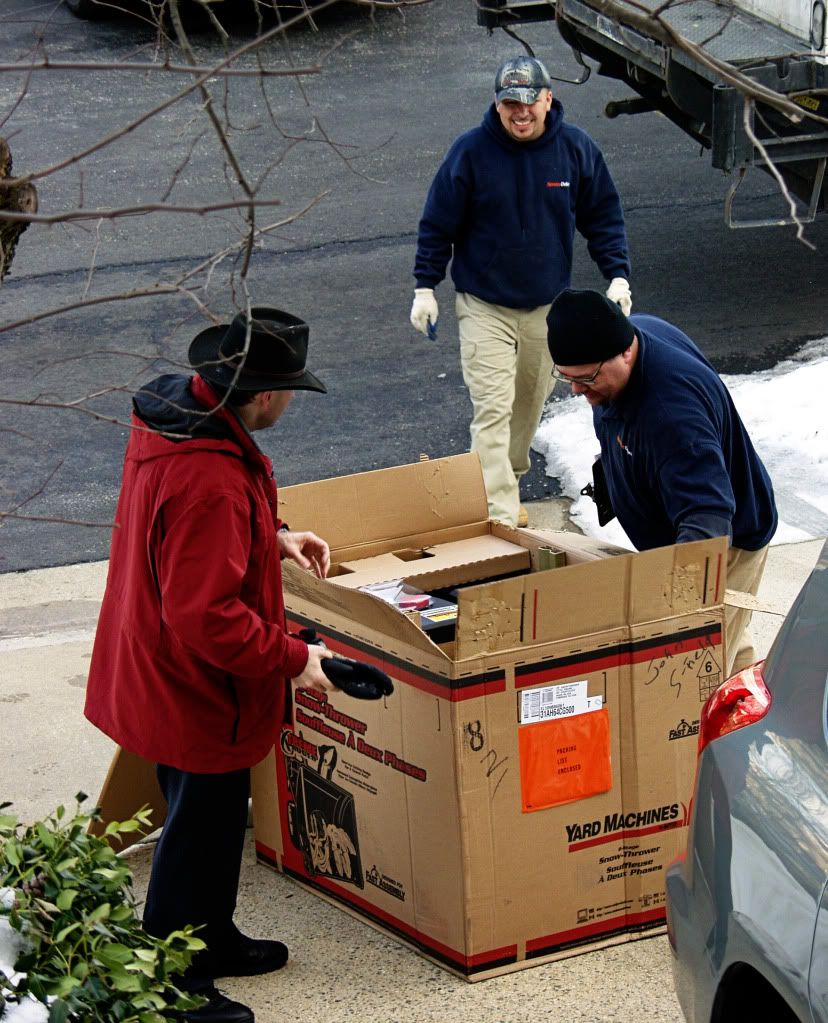 The two storks had been out delivering 40 of these babies today.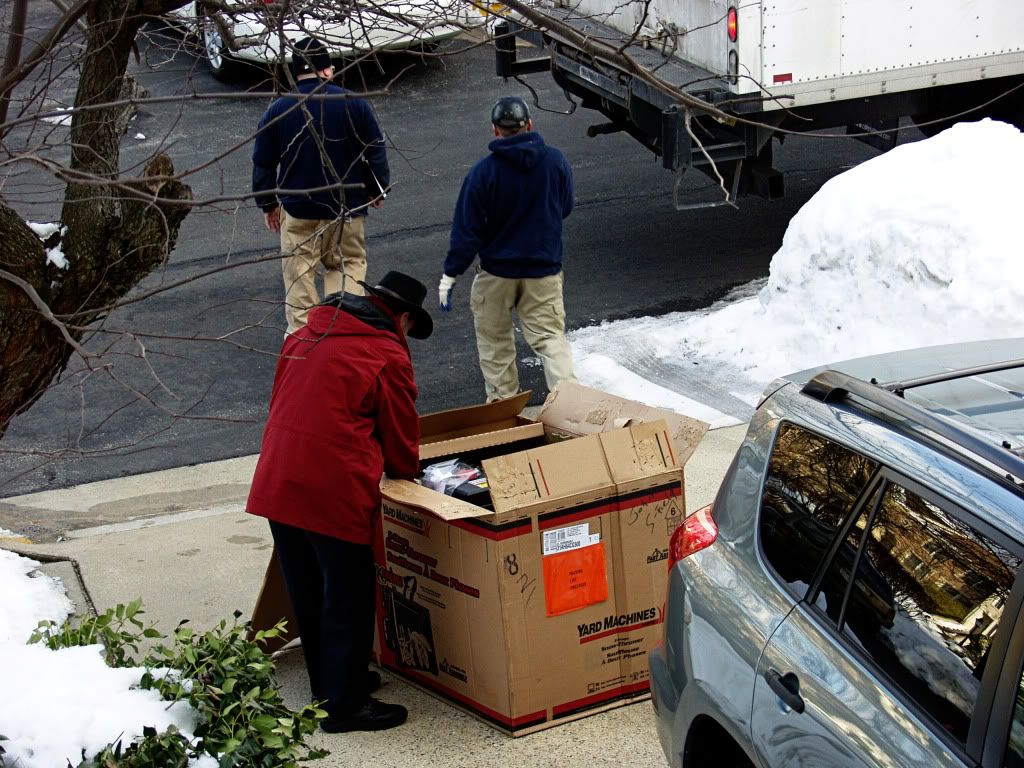 They handed the baby over with extreme care and left the happy Daddy & baby to meet face to face for the very first time. I'm so happy I was here to capture this miraculous moment.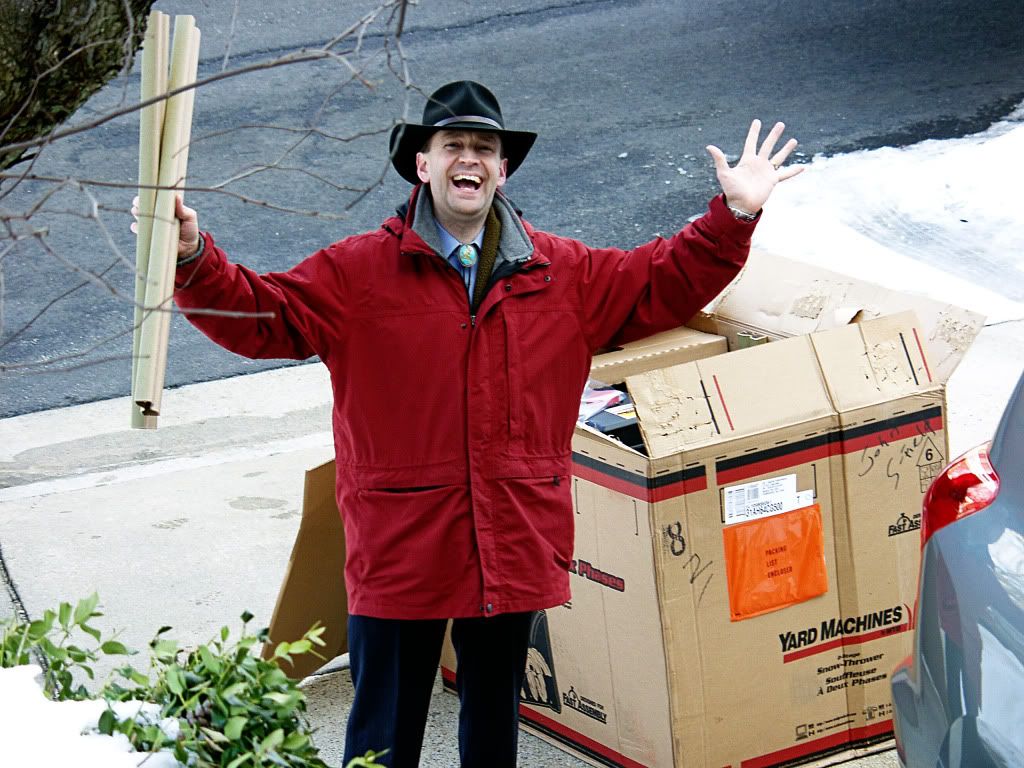 Oh no. He's dancing. The proud papa is already humiliating his baby and it's not even a minute old.

Or is that a SNOW DANCE? The neighbors are going to tackle you, be careful!
Yes, America. My husband is hugging the baby box and making goo-goo, ga-ga faces.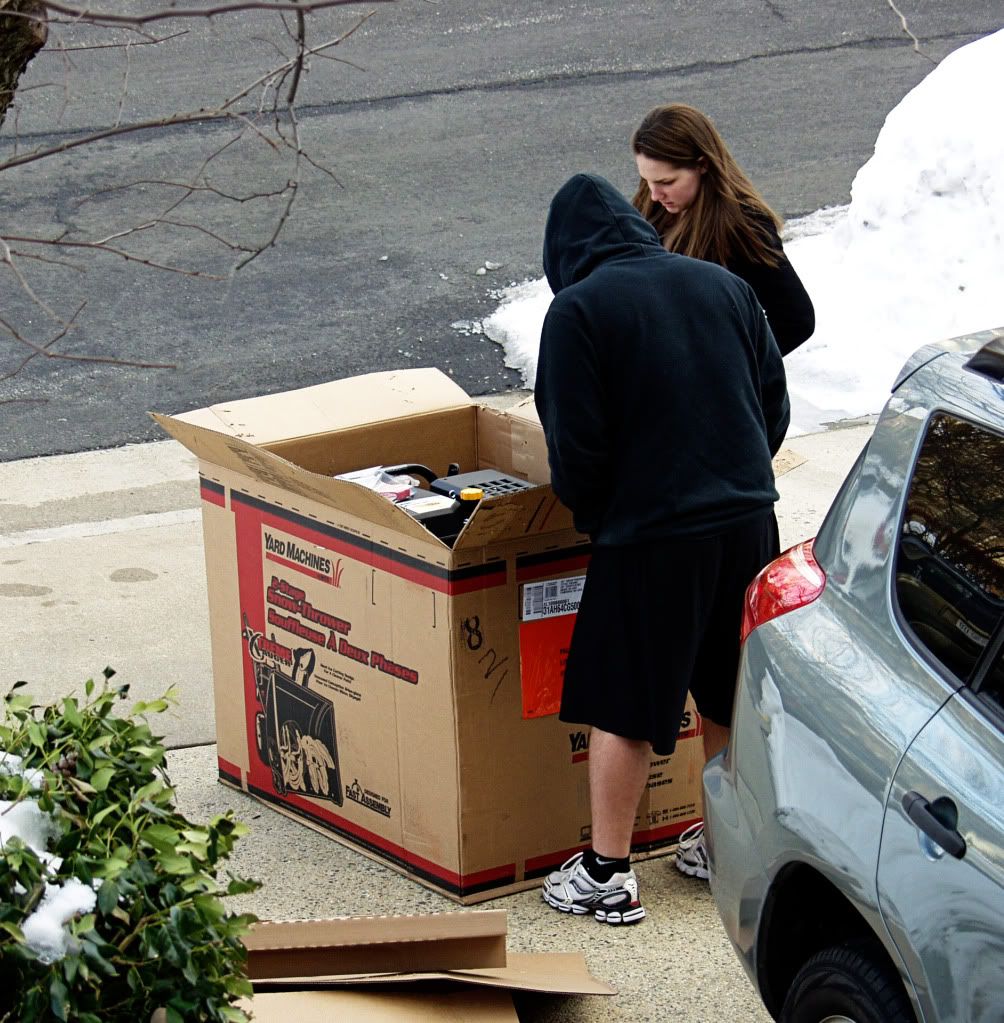 Yes, Josh, you are plenty enough for us (trust me). But this baby will do the work you & I hate to do. We had him completely for selfish and politically incorrect reasons.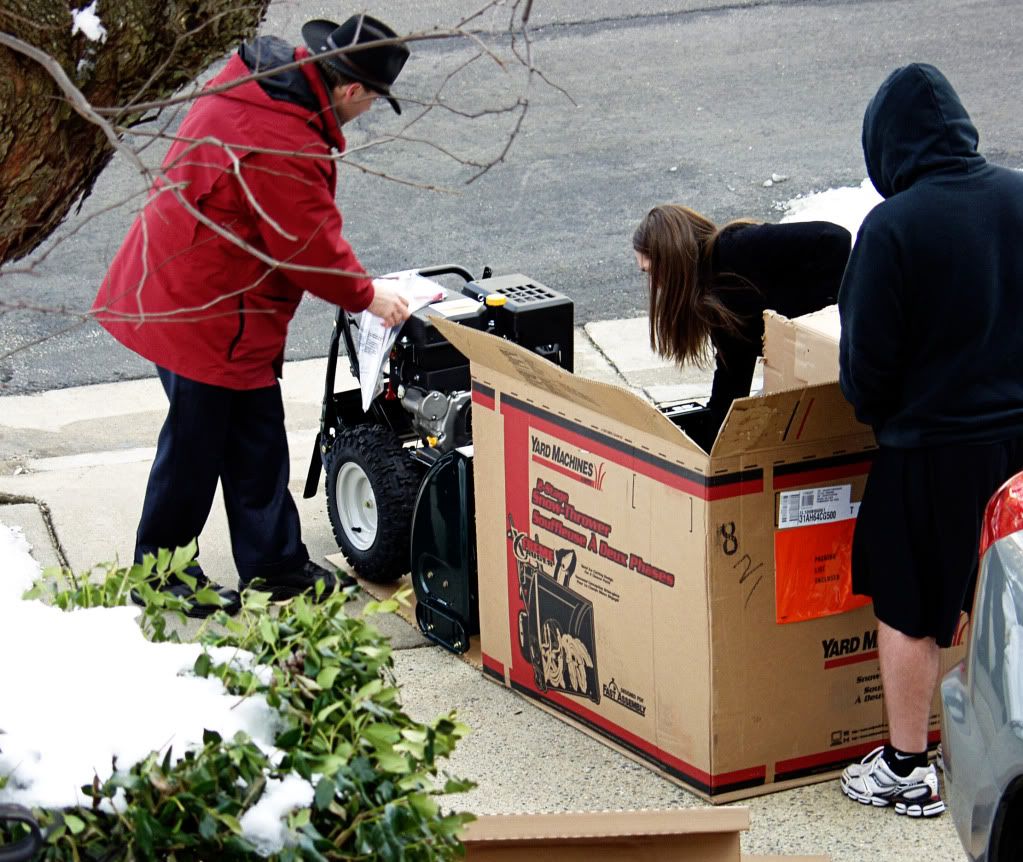 First photo of proud Papa and son. Look at that face! His baby is so shiny and new.

And he's LOUD!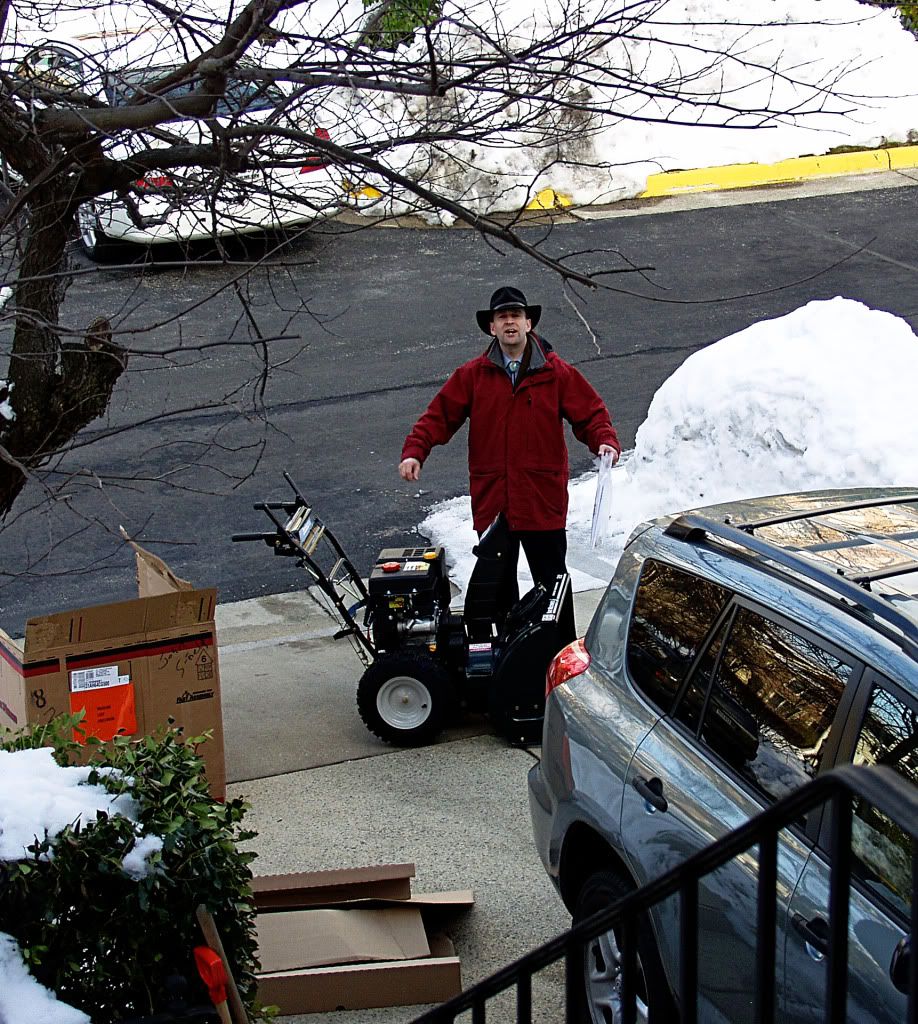 I know...."VROOM, VROOM, STRONG MAN LIKE BIG ENGINE" I can smell the testosterone flowing all the way over here.

What did you say, Sweetie? Where are we going to put your new baby boy?
I don't know, that's up to you. I'm going in. I hear the phone ringing...It's my sister...and my dryer buzzer is going off....and the dogs need me....and....have fun with your new baby! Buh-bye!

Don't forget to cover him with a blankie. The garage is cold this time of year. Maybe you should buy him a SNUGGIE! Gosh, I hear that he's going to be pretty gassy. Haha!

And make sure he doesn't keep me up at night and doesn't eat too much, I'm sooo done raising children. Finished. No more. Done. Completed. Finito. Comprende? This one's on you. Have fun. Night-night.
It's SO not fair that Johnny doesn't have any baby weight to lose.