Have I told you that I got a new camera? I did! And I'll tell you again and again for the next month, I promise.
:o)
Josh & his friend Rodge were hanging out at the kitchen table on Saturday night before they hit the town and I (naturally) grabbed
my new camera hee-hee
and snapped just a few photos.
Rodge is my second son & has been a part of our family since the two played football together in 9th grade. He's my boy and my big, hilarious teddy bear.
Rodge idolizes Arnold Schwarzenneger. He can repeat movie scenes in an Arnold "accent" all night, and he
has,
trust me. I tried to video a little of our conversation but he got
shy
. I was also trying to teach him German, which was a hoot.
Rodge gets me laughing so hard that my stomach hurts & I sound like a hyena. I'm sure going to miss him hanging around the house when Josh goes off to boot camp :o(
So, I snapped pics of Josh and Rodge hanging out...and then Peanut wormed her way into things...she's good at that. To say that Josh loves Miss Peanut is an
understatement
.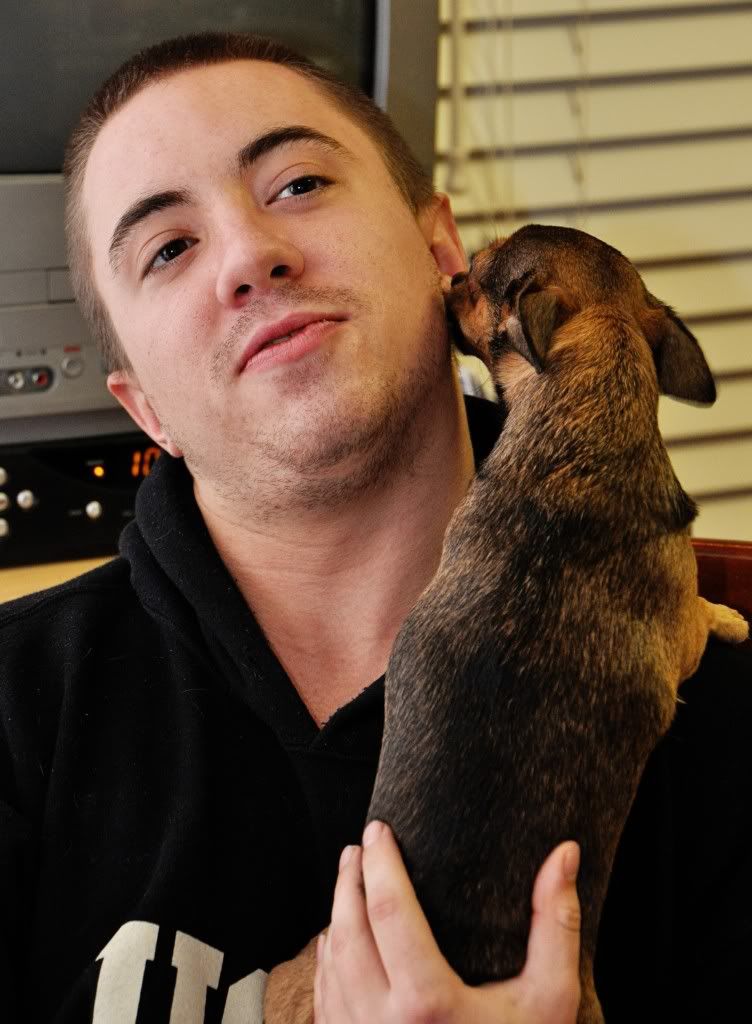 While he was chatting with Rodge, Peanut was loving on him the whole time and Josh didn't even seem to notice. He just kept chatting away like nothing was going on.
Peanut groomed him and loved on him....
They're buds.
If Josh were ever stranded on an island I think all he'd want to have with him is Miss Peanut.
And I think if he could sneak her off to boot camp, he would. She's tough. She could handle it.
I'm not sure what the drill sergent would say about a tough Marine soldier loving a Chihuahua....
But Josh is also tough, he could handle it.
Because Peanut is his girl. And nobody had better mess with his Peanut.
Yes, Peanut loves her Joshie very much.
And that's OK by Josh. I know the feeling is mutual.
P.S. Josh, I
promise
not to show these pictures to your drill sergent.
P.S.S. This is another photo contest entry that I fell in love with and now I'm convinced that I need a baby Dachsund just so I can name it "Beanie Weenie" also. Alright, now that I'm sufficiently gushing, I'm going to go do my chores. Have a great Monday everyone!