So this recipe post is for my sister Kat specifically ~ who laughs at me all the time over my obsession of photographing food. She thinks I'm ill and need to go to food blogger rehab. If I did I'd just bring back photos of what we ate at rehab, haha. So there.

I made something new for supper last night and OH, was it ever good! My husband thrives on cowboy food. I've been calling Johnny my "City Cowboy" for 12 years. If I made the man a crockpot full of beans and a pan of cornbread every night for supper, he'd be the happiest man on this planet and I'd probably be wearing a diamond tiara around the house every day. And yes, I'd wear it, too. Don't kid yourself.
This recipe was super easy to make, that's the main thing that I loved about it - and to me, if it can be put in my big, ugly, perfectly seasoned stoneware casserole dish, I'm all over it.

(I adapted this recipe from 3 different recipes: one online, one in a magazine and one on a food blog to make sure my family would eat it so feel free to add whatever your family loves and let me know about it, I love new ideas!)
THE RECIPE: Cowboy Tamale Casserole
• 1 box (about 7 Oz. Box) Cornbread Mix
• 1 whole Egg
• ⅓ cups Skim Milk
• 1 can (15 Oz. Can) Corn (drained)
• 1 can (14.5 Oz. Can) Stewed Tomatoes (undrained)
• 1 can (4 Oz.) Chopped Green Chilies (undrained)
• 1 teaspoon Cumin
• ⅛ teaspoons Ground Red Pepper/Cayenne Pepper (or more to taste ~ I use more)
• 1 can (10 Oz. Can) Enchilada Sauce
• 1 can (15-oz.) Black Beans (drained & rinsed)
------------------------------------------------------------------------------------------------
• 2 cups Cooked, Shredded Chicken (I bought an already cooked rotisserie chicken and used half of it, put the other half in the freezer for next time)
• 2 cups Shredded Cheese (I used a 2-cup bag of low fat 2% cheddar)
• Serve with Sour Cream (I use
light
sour cream)
Preheat oven to 400 degrees. Mix the
first 10 ingredients
together (cornbread mix to black beans) very well in a bowl.
Pour your mixture evenly into a 9x13 pan that has been sprayed with non-stick spray.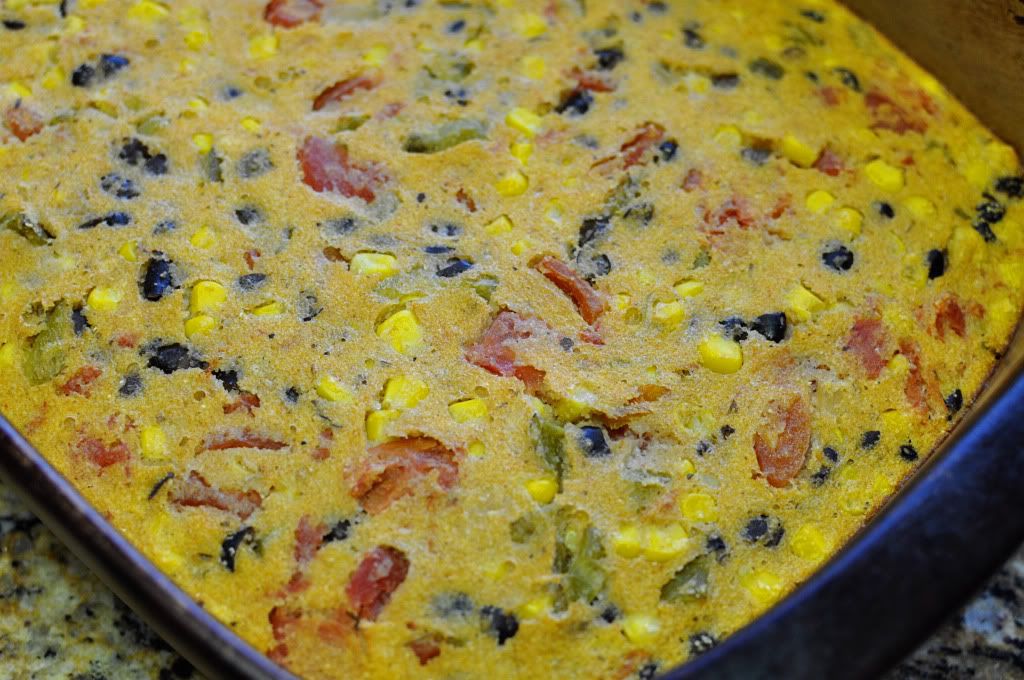 Bake at 400 degrees for 25 minutes until
very well
done.
If it is not browned well, later on the casserole will be soggy so it can go even a little bit longer than this so it's "crispy" on top.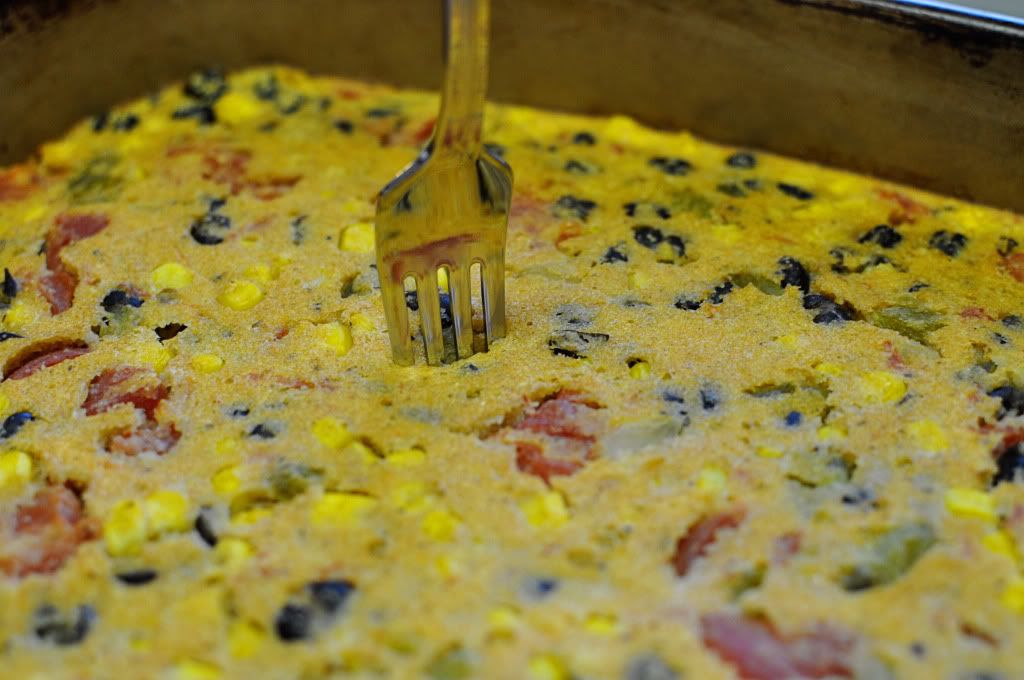 Let rest for 5 minutes. While still hot, pierce top of the casserole liberally with a fork.
Pour the can of enchilada sauce onto the casserole.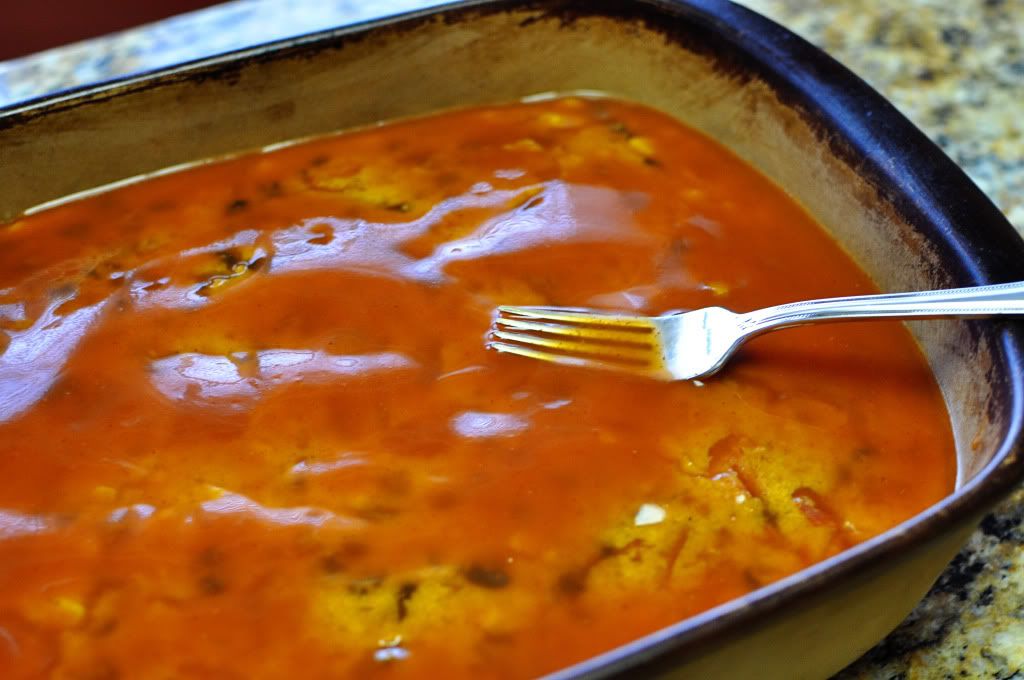 Distribute evenly over the casserole.
Put your shredded chicken on top and press into the sauce a little bit like so...
Now the cheeeeeese.........yum.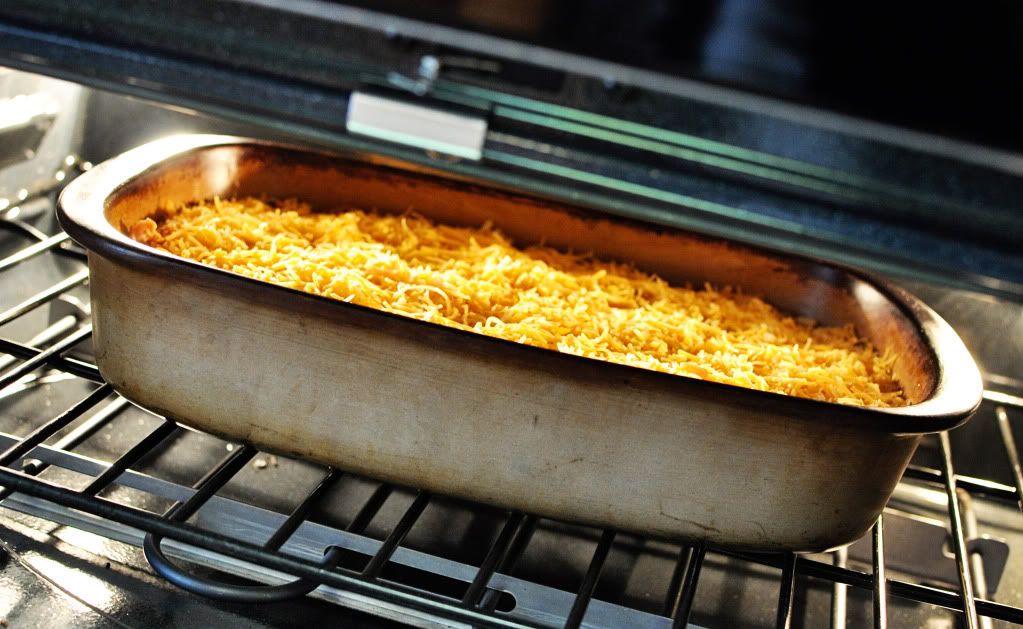 Back in the oven for about 15 - 20 minutes. (See, told ya my stoneware was ugly, but it bakes wonderfully and has stuck by me for 18 years already!)
It's perfect when all of the cheese has melted and the dish is bubbling around the edges.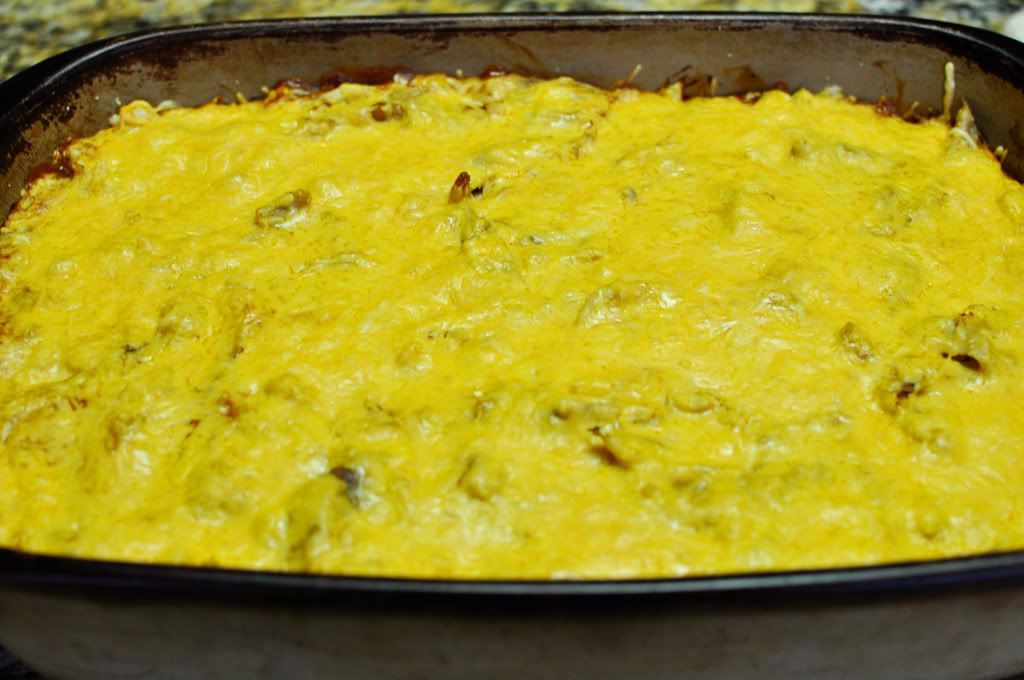 Let the casserole sit for about 10 minutes to "set" or it'll be a bit soft. Go make a side salad, put on some lip gloss and update your facebook status that you are the "Casserole Queen!"
What? In my mind I really do wear a tiara.
Viola!
The cornbread mix gives this casserole that wonderful tamale flavor. Oh, I forgot to put my "dallop of sour cream" on top. And the cool sour cream makes this hot casserole's flavors pop. Darn it. You are witnessing me learning food blogging 101.
Epic sour cream fail.
But with a crispy side salad, fresh lip gloss and a tiara you won't notice it missing in my photograph, trust me. But do get the light sour cream and actually
use
it. You won't be sorry.
I hope you ENJOY my simple Cowboy Tamale Casserole!!