Remember how my kitchen lighting was before:
Don't. Get. Me. Started.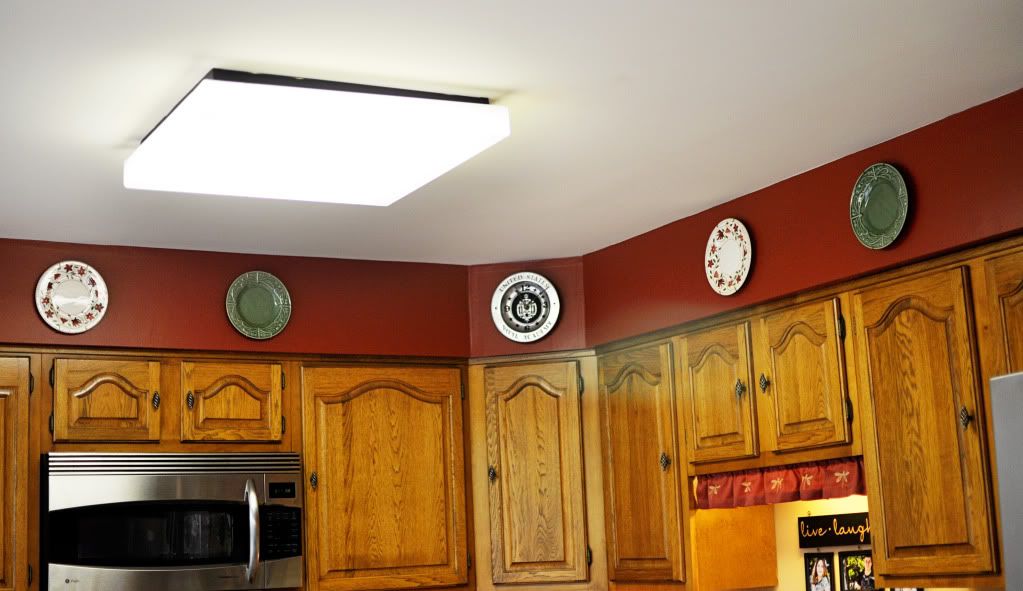 Fluorescent light box courtesy of the Exxon gas station.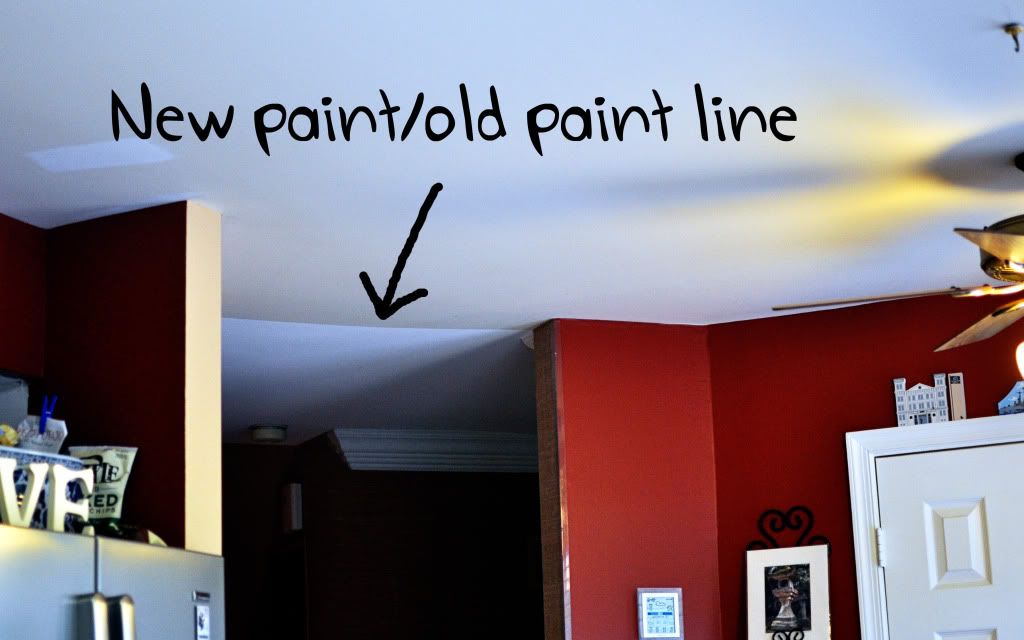 The hall/entry and dining room have already been painted, now we get to do the kitchen.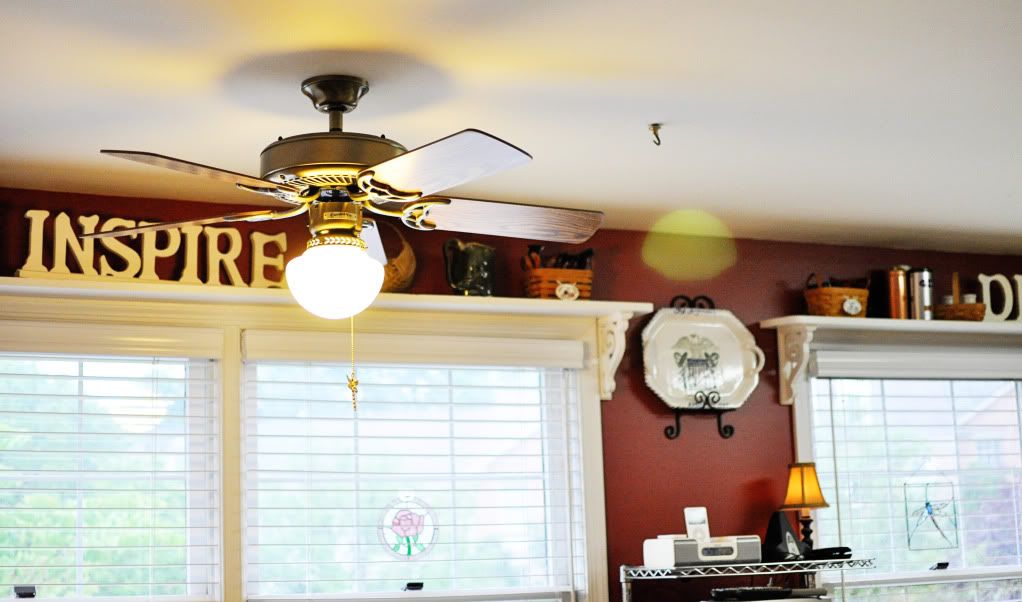 Another look....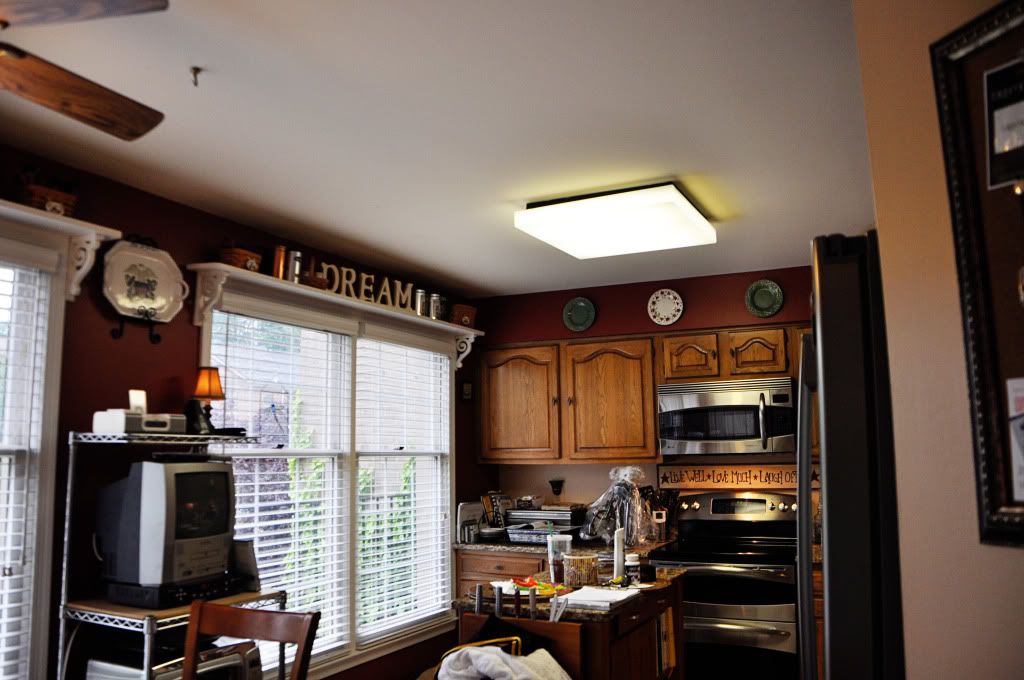 Different view...
(P.S. We just ordered a 22" flat screen TV that will be mounted on the wall above where the old little fat one is now - by the tiny lamp fixture - I'll have to take down that platter)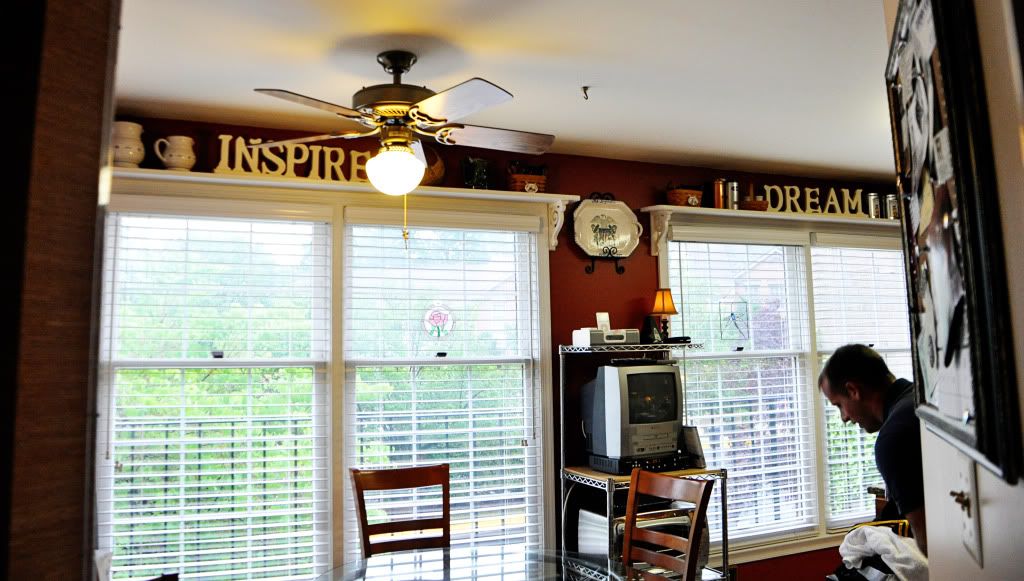 That's Tyler. I like Tyler. He was kind, handsome, entertaining and BEST of all....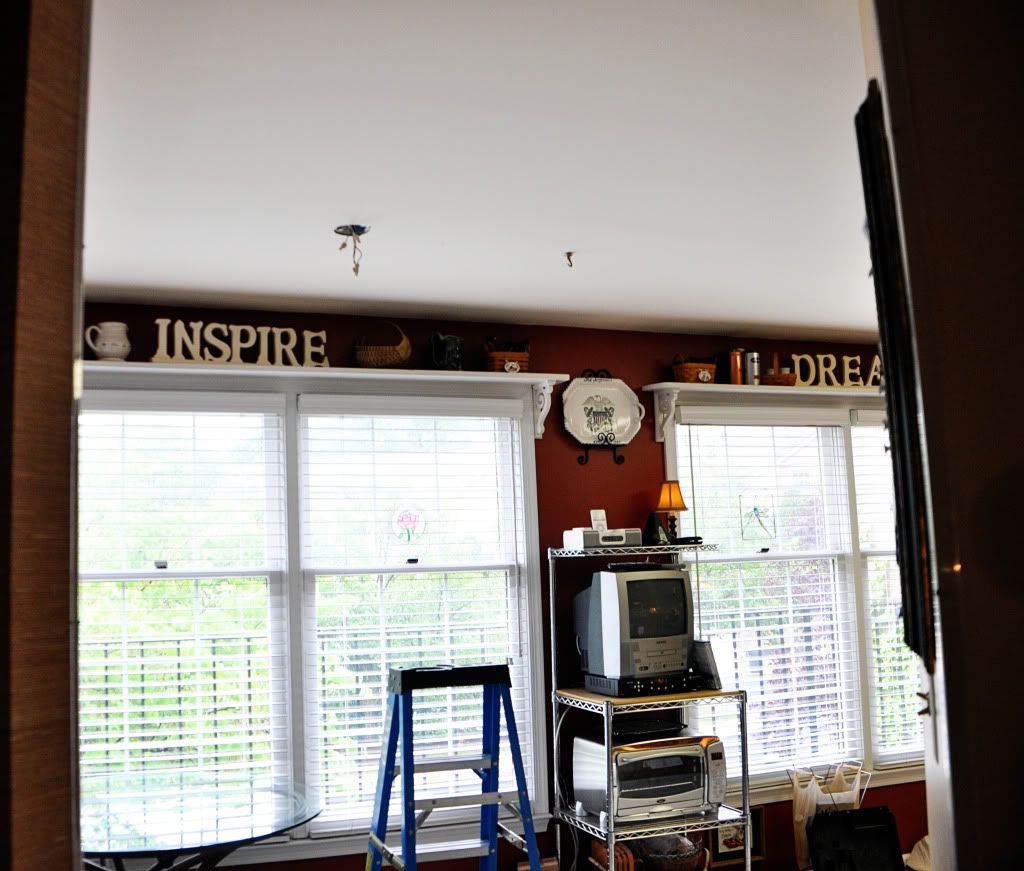 ....he knew how to remove one of the ugliest ceiling fans ever. He's my new hero.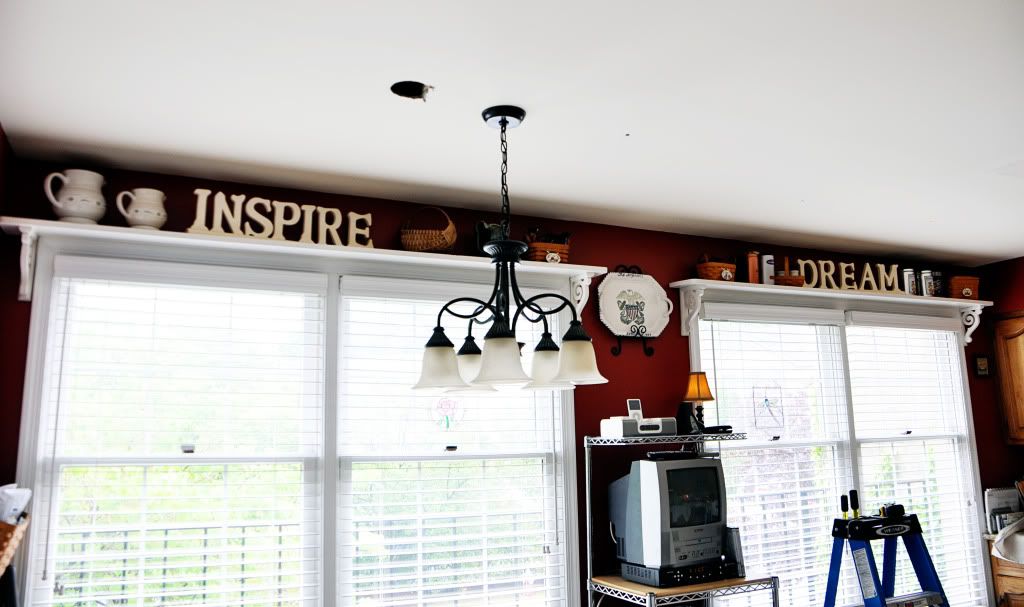 And he knew how to hang my pretty new light fixture over where my round table will be.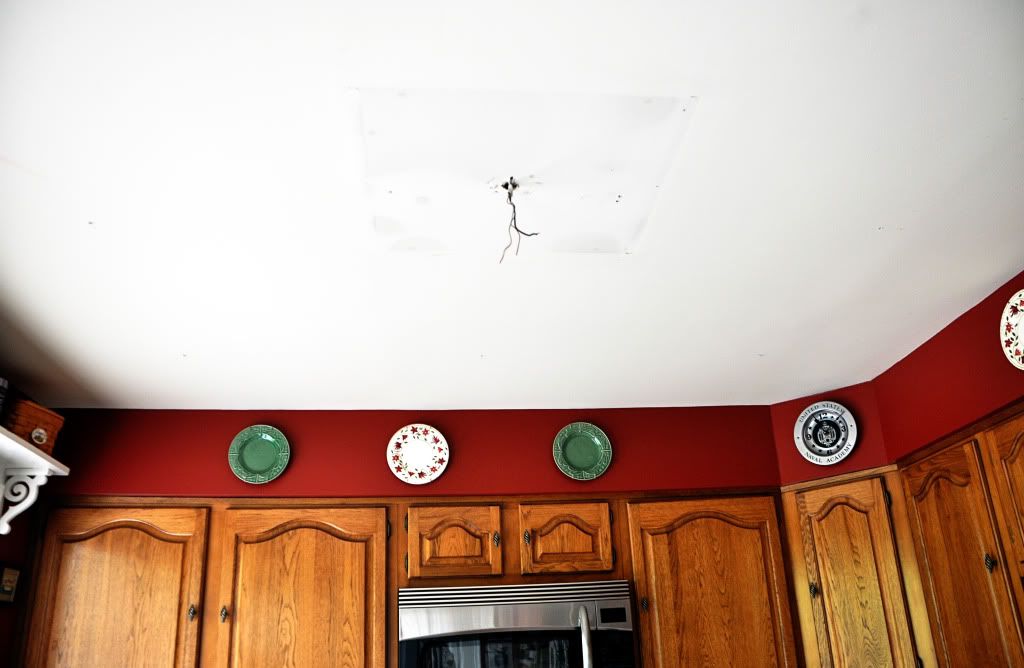 AAAAaaannnd.....he took down my fluorescent light box! I'm going to have a song written about him.
"Tyler is tight! Took down my ugly light! Do-wop, Do-wop, Do-wop"


This is Mr. Bill....who's kinda in the way of my camera. Achem....excuuuuuse me.
Okay, so he's not perfect. But he does cover and protect my floors.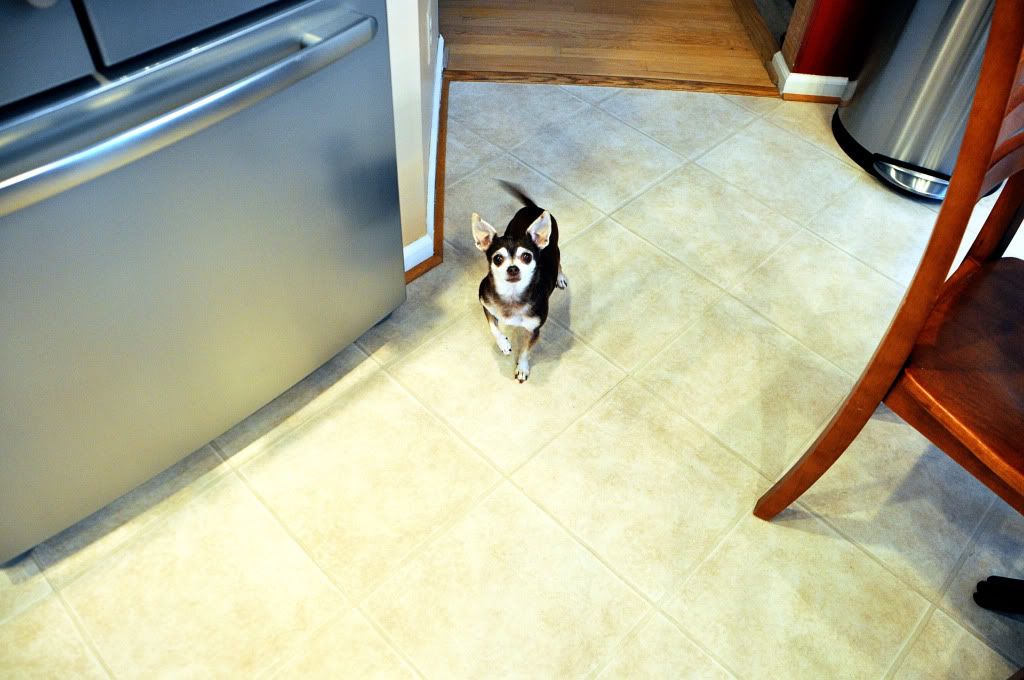 I just threw this in the mix because Piper is cute and I love her.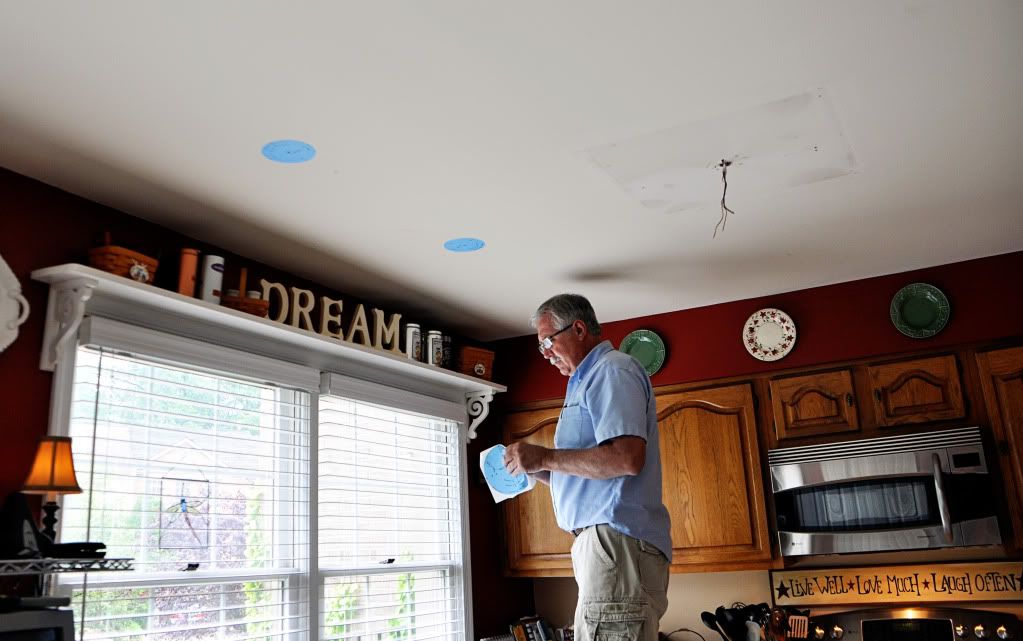 So, back to Mr. Bill. He's putting 5" pasties on my ceiling.
(Trying not to giggle. I'm very mature)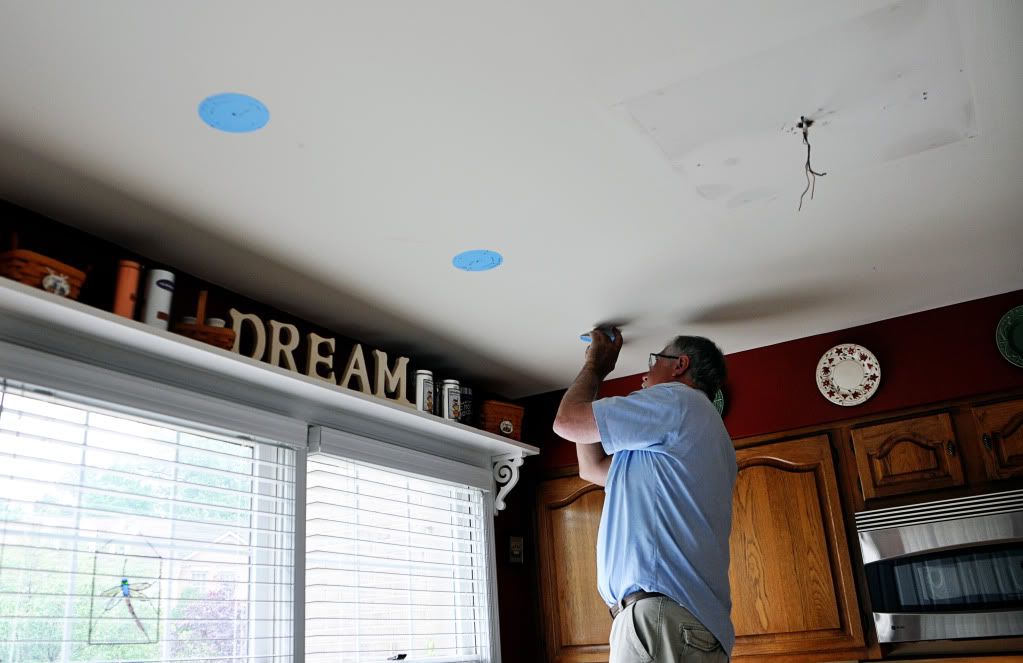 They are so that Mr. Bill will know where to cut the drywall for my can lights.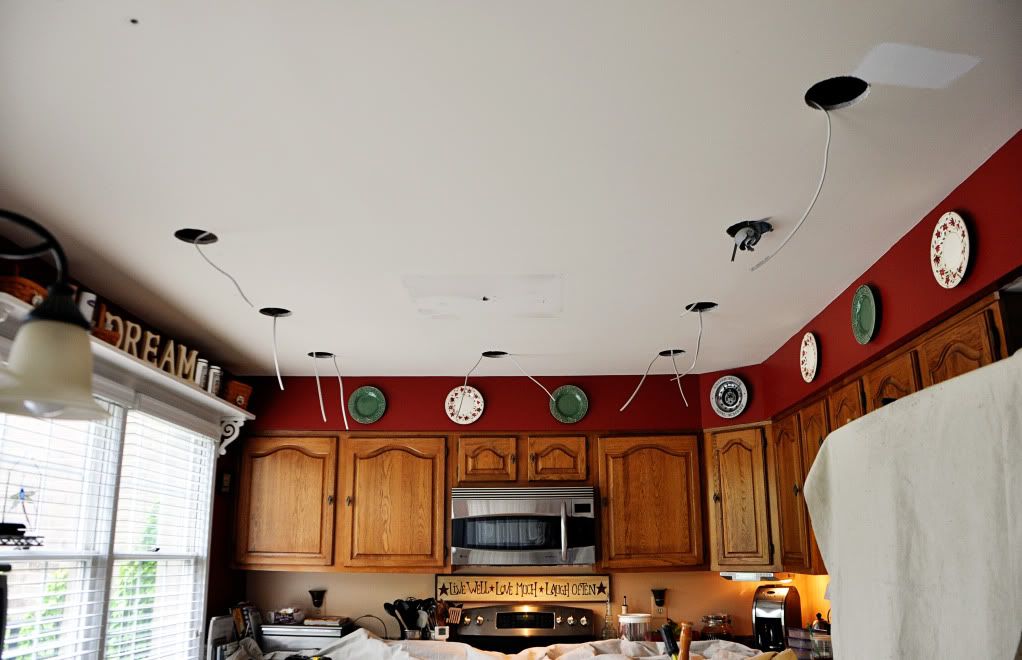 See? Like that.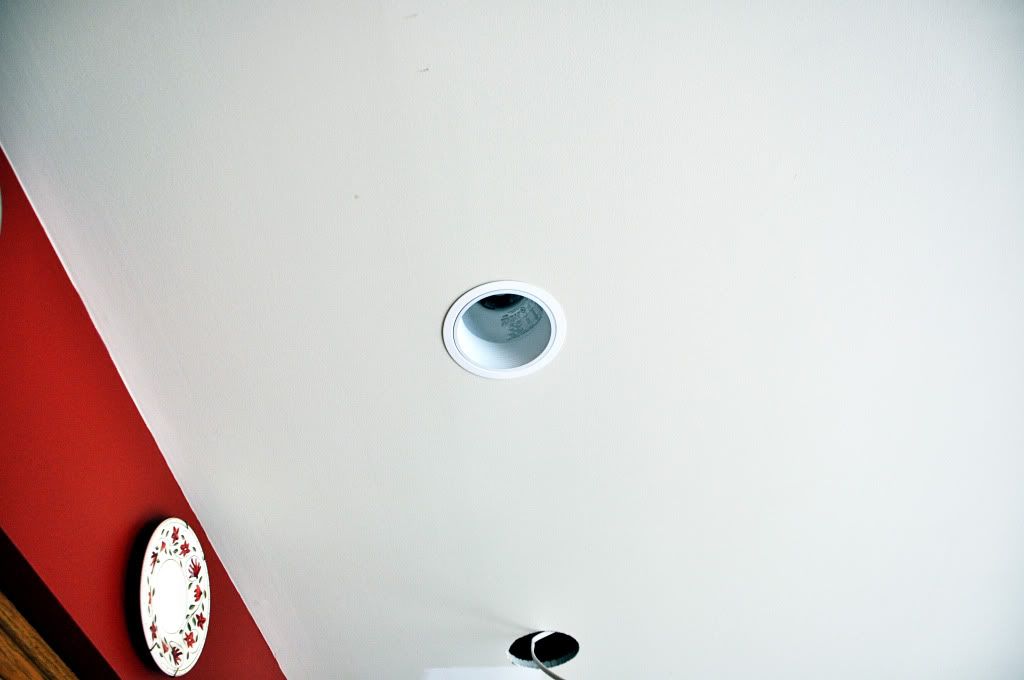 And that. There's my first light!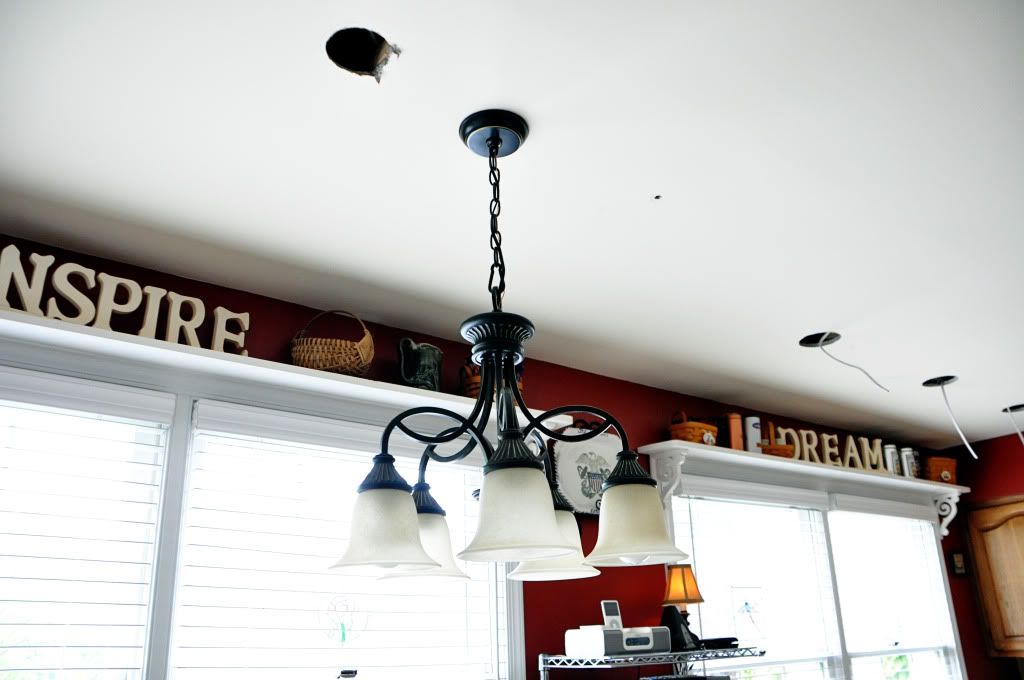 And the random hook is gone! Tyler is amazing, isn't he? Johnny? Isn't he?
Does the light work? That is the question.


YES! It works! No fire! We're making progress.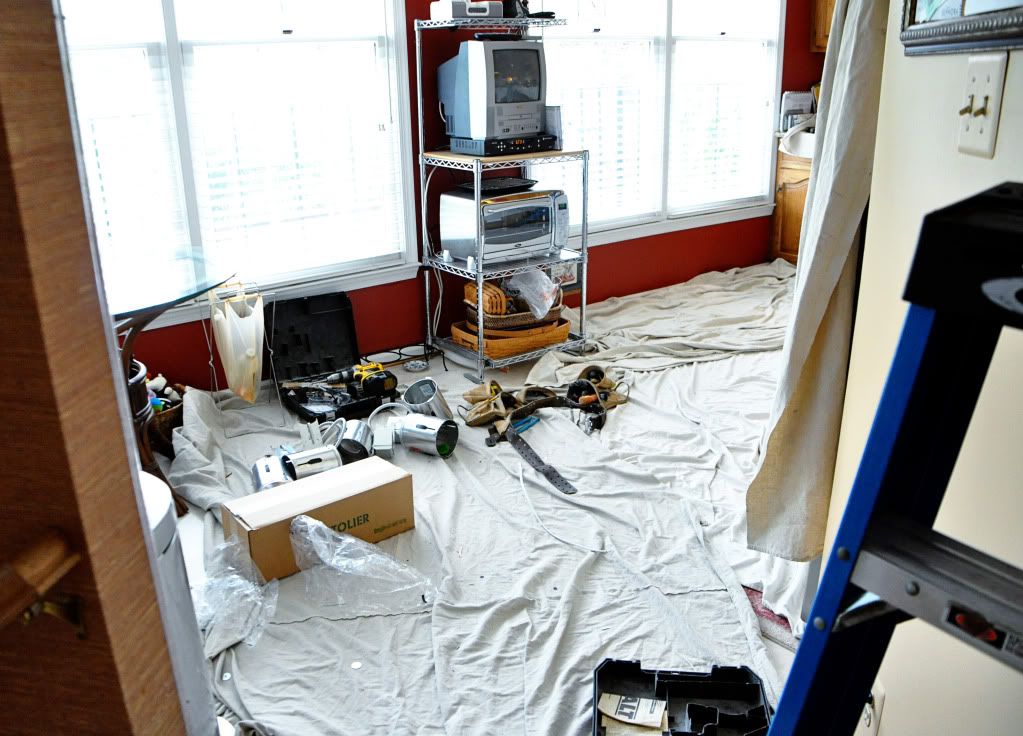 Time to get the rest of those can lights in. C'mon. I'm anxious.


They're finished!!
Ready?
Set?
Wanna See?
Ready?
Sorry....I said that already....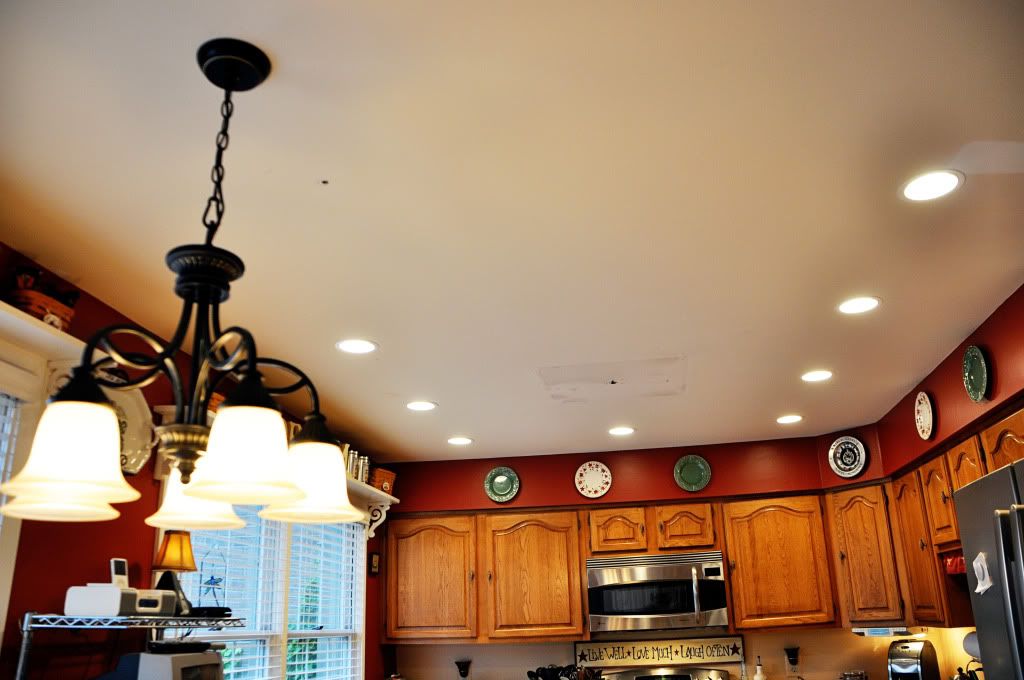 And he said, "Let there be light." That's a famous quote from Mr. Bill.


The lights really warmed the entire room. My cabinets are golden now, not green.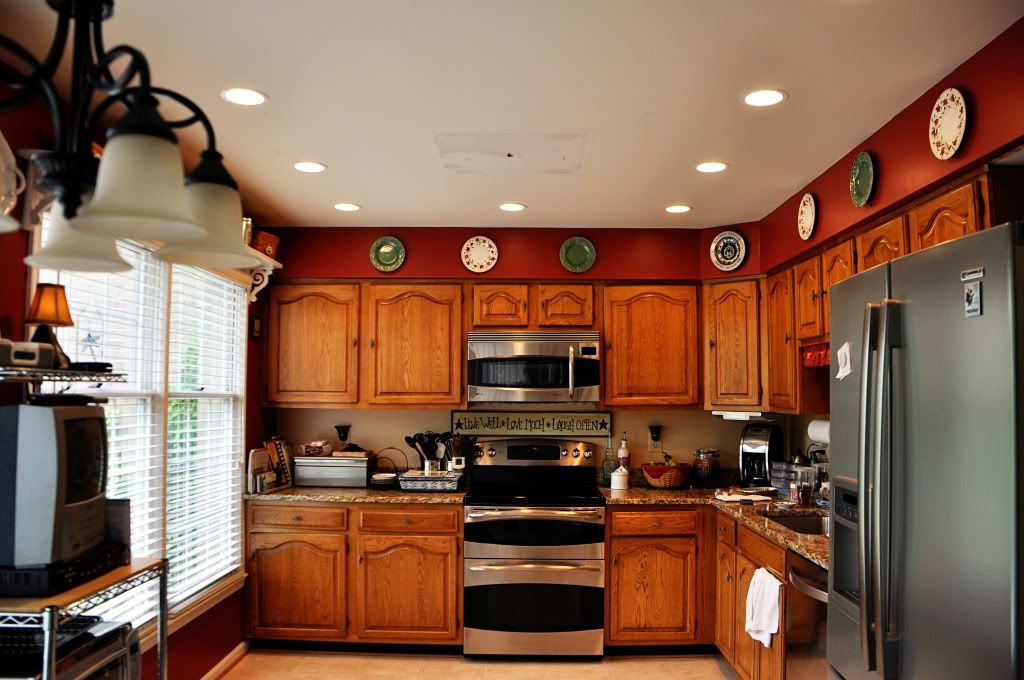 So are my floors and the countertops glow. I wish I'd have done this years ago.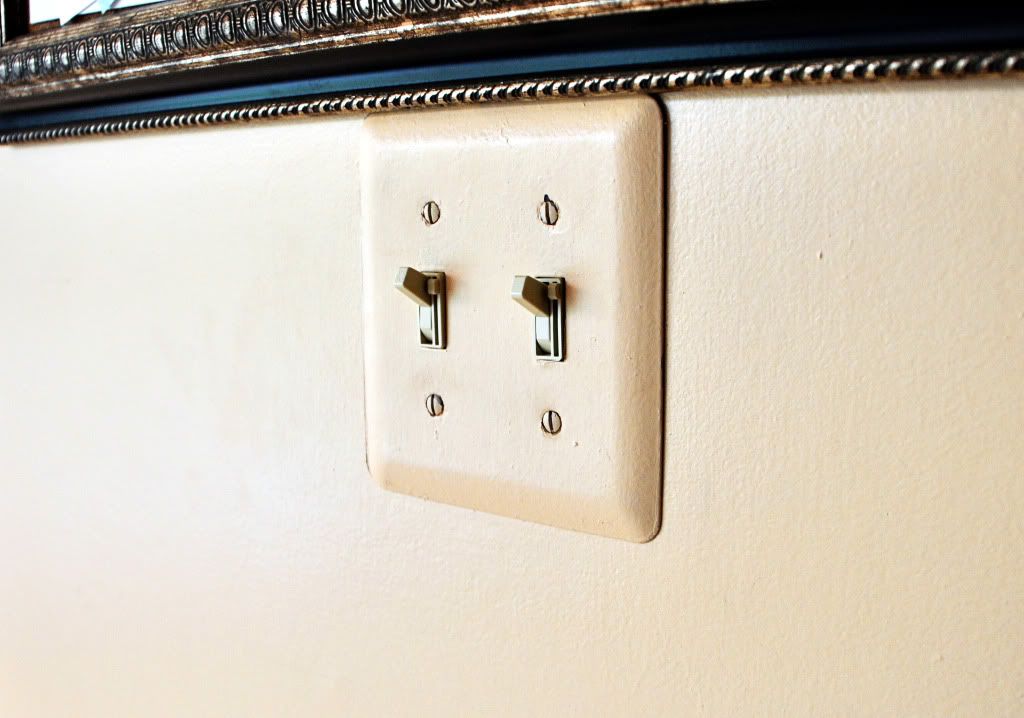 Tyler & Mr. Bill also gave me separate dimmer switches so that I can create ambiance.
Fancy word for "moooooooooood."
Watch out, Johnny. There will be plenty of ambiance in our kitchen from now on.
RAAAWRRR!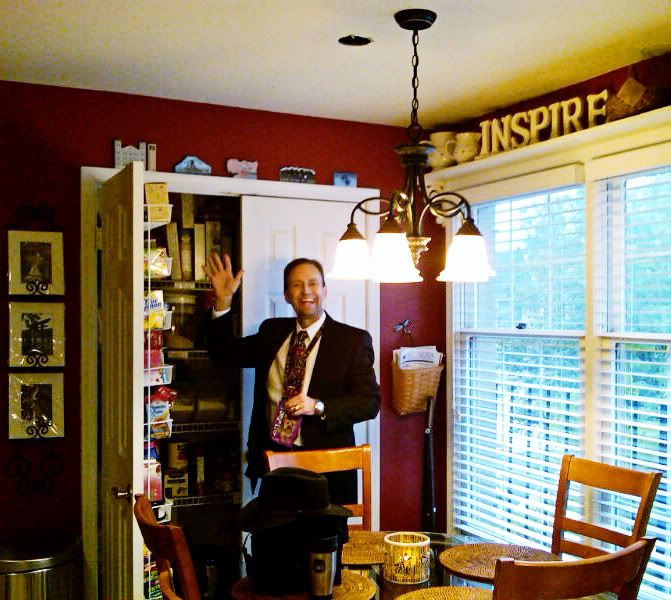 Speaking of....
"HI! I'm Johnny and I don't even want to know how much this cost!"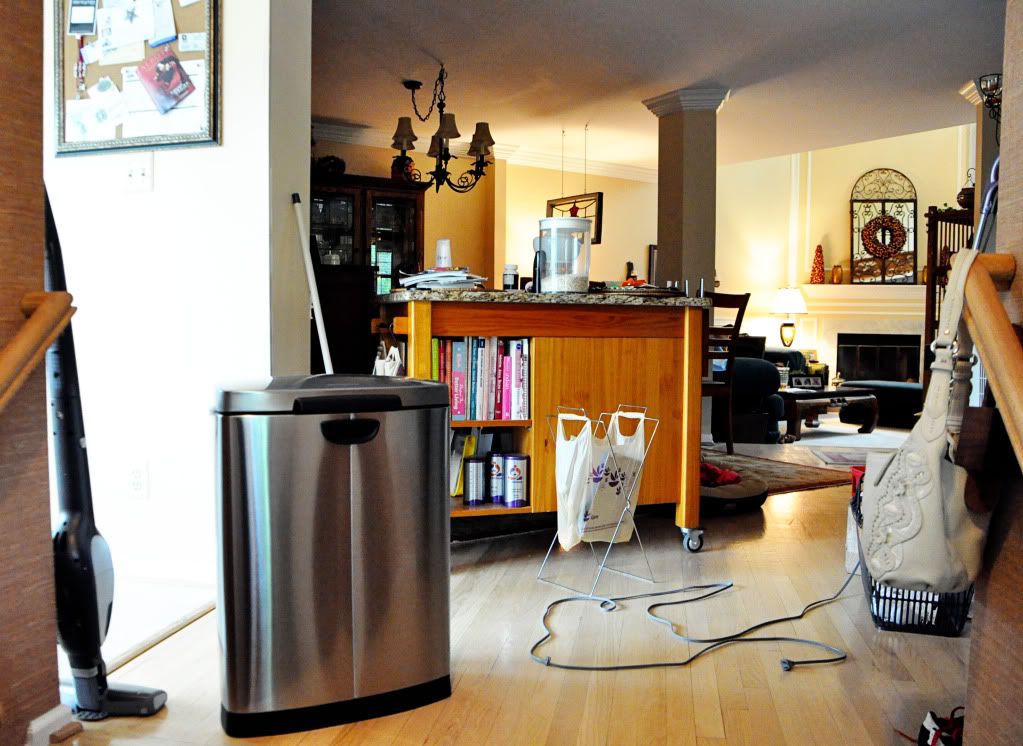 And this is how it ended up. Everything crammed in the dining room. Even my kitchen island. Hhhmmmm.....looks like I could use better lighting out here too..... DOH!
So this coming Wednesday I have a dry wall repair man coming to fix the holes and paint the ceiling a crisp new white. That will really brighten things up and complete the project once and for all.
I could't be happier with the way things turned out and I will never show Johnny the invoice. There are some things a man should never see. Keeps a smile on his face. On his "not green anymore face." On his "warm new lighting" face. See how that works? (He loves the lighting, too).