Father's Day
....the 3rd Sunday in June set aside to honor
Father's
.
Of course, this year I screwed up and thought I had an extra week so the cards to our Dad's went out in the mail the day before Father's Day...yikes...but at least they went out the way my brain has been working these days...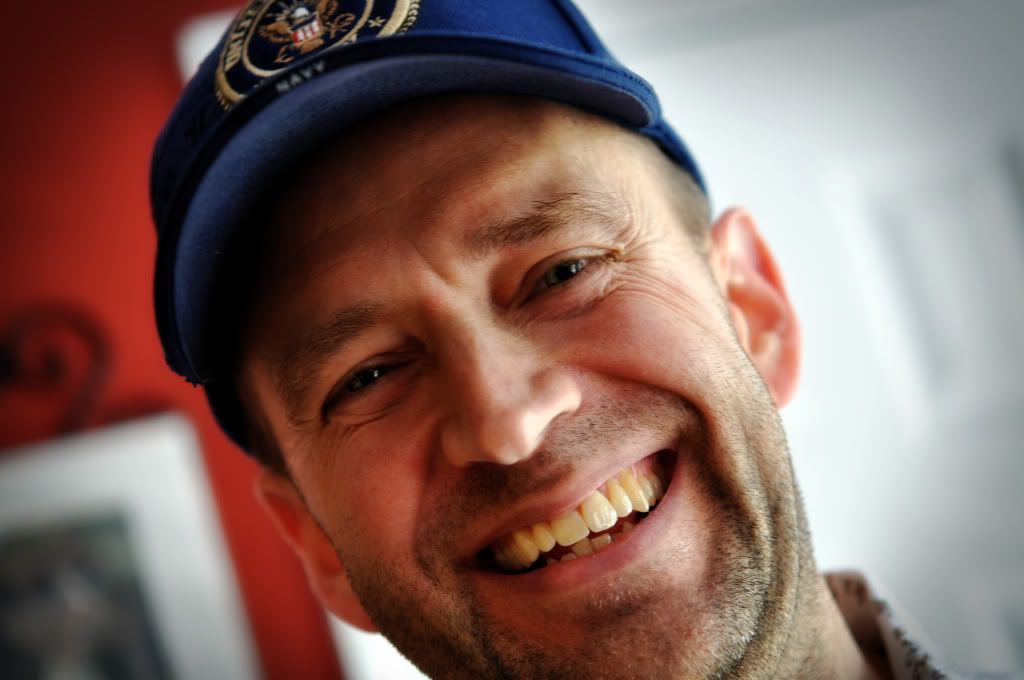 In my household, Father's Day is all about this wonderful man ~ my Johnny. It's my priority to make sure that he feels appreciated and loved bunches and gobs.
Translation: Feed Johnny.
More appropriately: Feed Johnny INDIAN food.
I took my hunky man to
Minerva Indian Cuisine
in Fairfax. From the outside there is no fanfare & no bells and whistles. The restaurant is tucked in the Fairfax Shopping Center, a strip mall, you'd pass it by if you blinked. Inside is also very modest, but the food is authentic, spicy and delicious ~ and the place is always packed.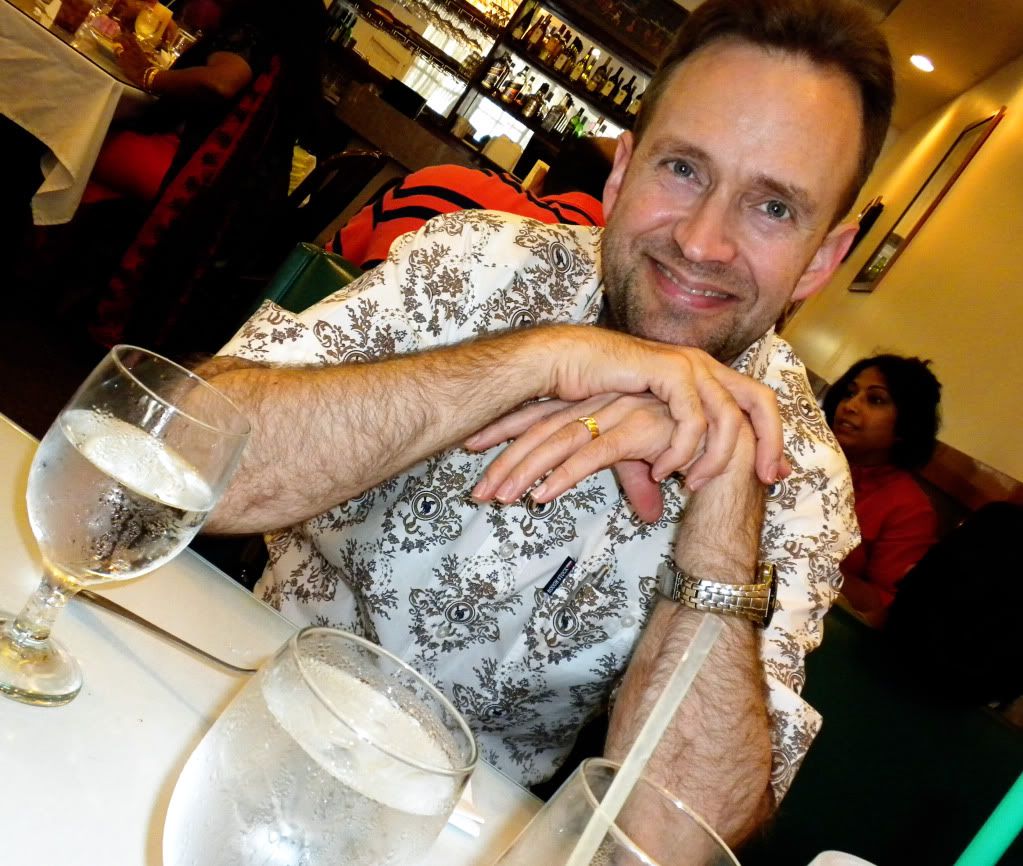 ~ Hi Handsome ~
Johnny's coworker Pavna is Indian and prepares only traditional foods in her home. Johnny loves to go on and on about the Indian food we've eaten over the weekend and tells her frequently, "You are so
lucky
you get to eat Indian food
all
the time!"
The patient & kind Miss Pavna has to keep reminding Johnny that in their house hold they simply call it "Food."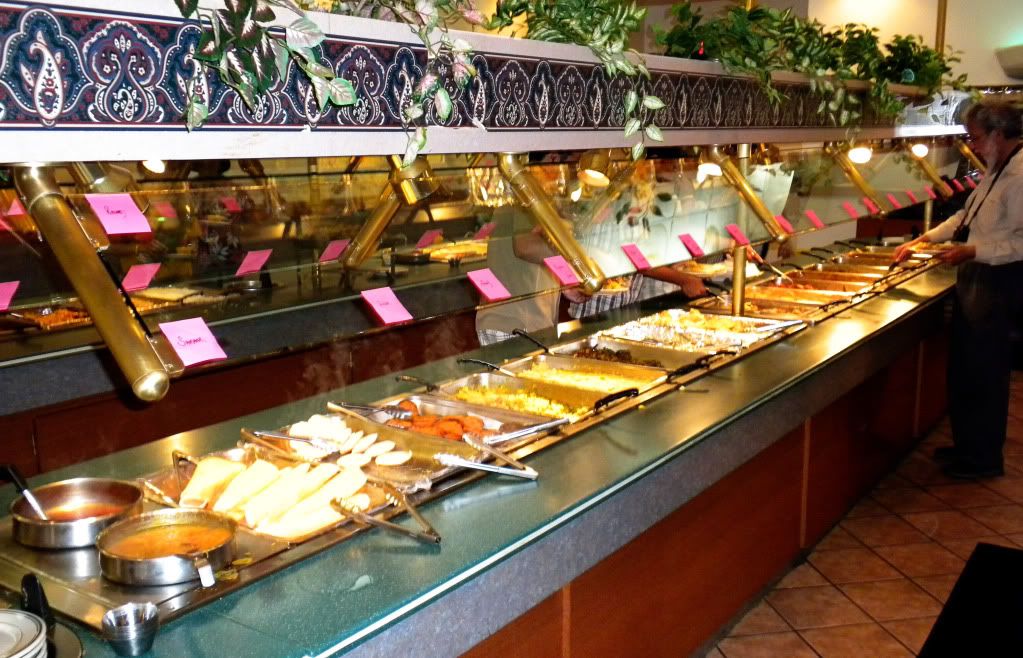 The pink sticky notes telling you in INDIAN what the dish is....I call them Spicy Dish #1, Spicy Dish #2...4th Spicy Dish from the end...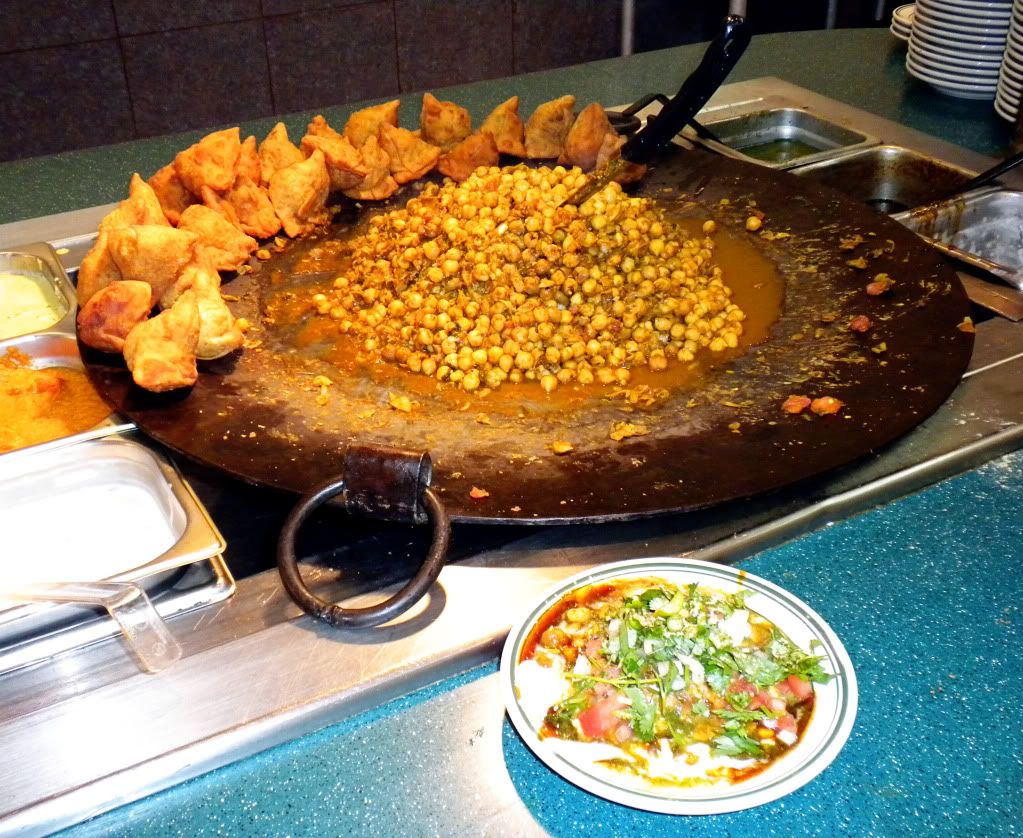 But nothing beats THIS wonderful station where you take one of those potato cakes (triangles), squish it, put some of the spicy garbanzo bean mixture on top, then brown sauce then white sauce, then the shaker thingy, some fresh tomato then the green stuff and this creates ~ ~ ~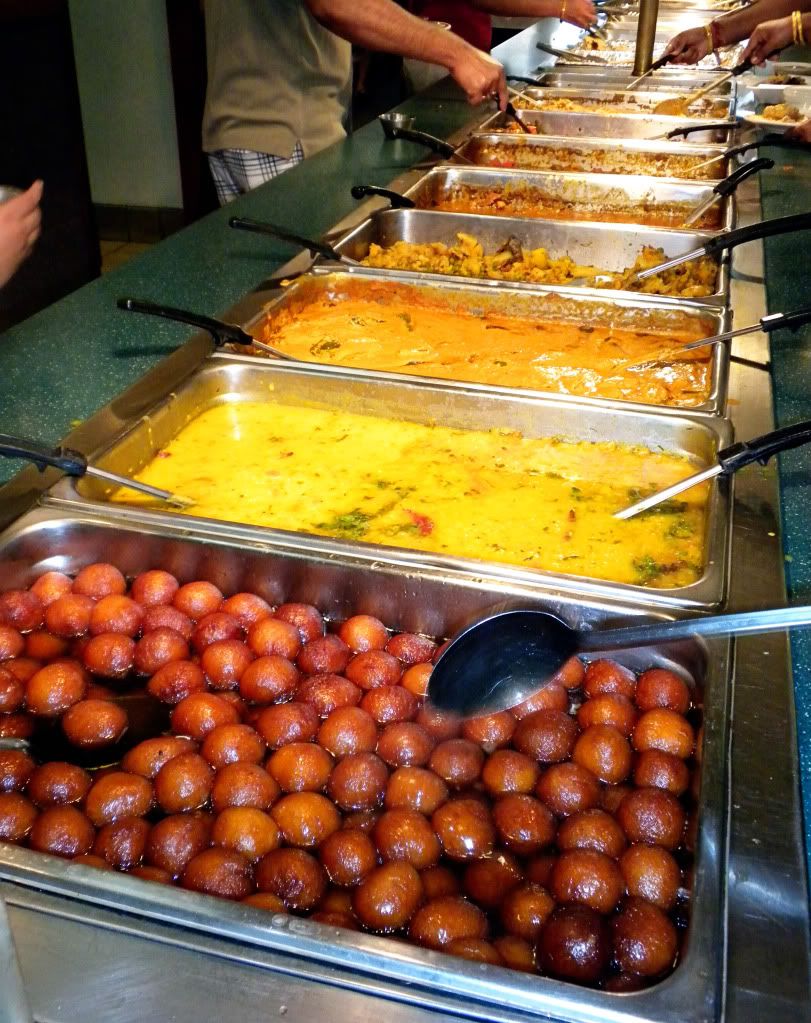 Those are "sweet sticky balls" on the end. I've been forced to name the food in English since it's a small problem that I'm not fluent in Indian.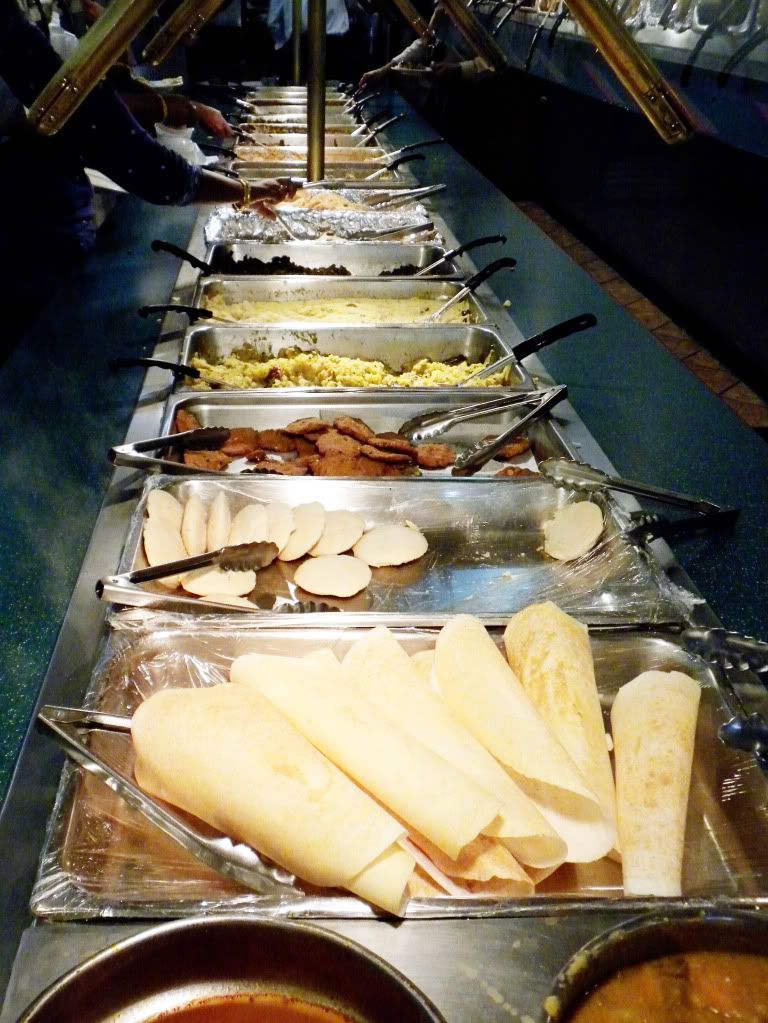 And the "flat cakes," "brown crunch coins" "white mush" and "green goo" are amazing also!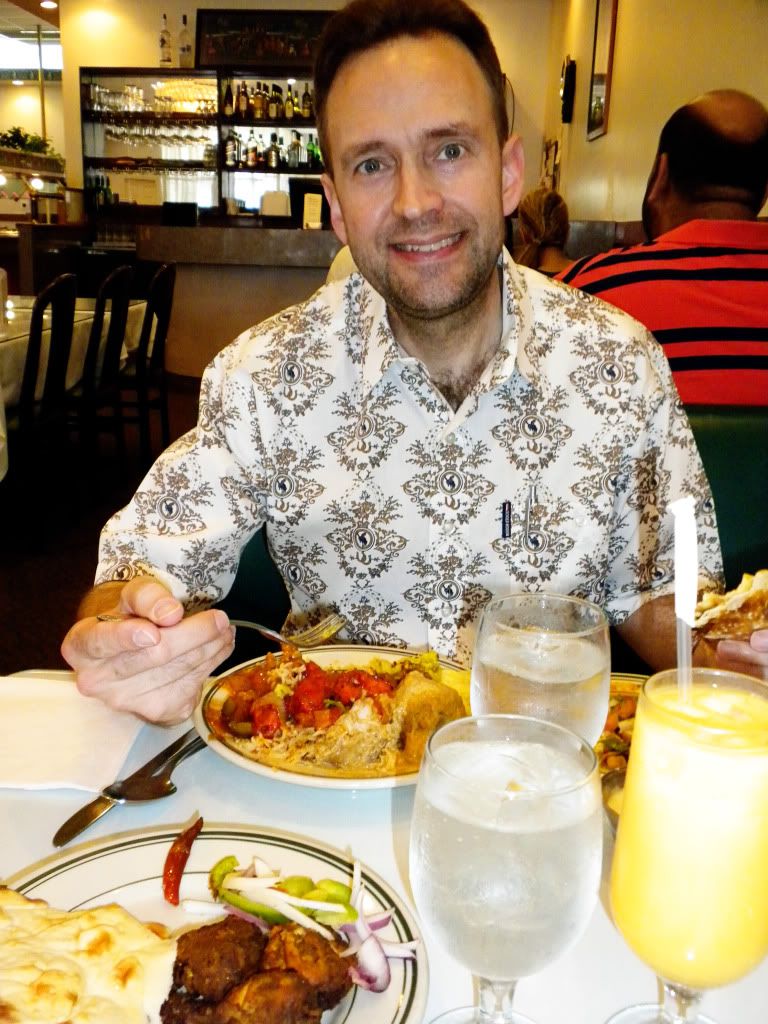 And don't forget the Mango Lassi! The drink that will make you sing Hallelujah! right there in your seat.
This is all Johnny's food ~ Yup. Uh-huh. That man can eat anything. I mean it. Look how thin he is. Makes me sick. All I had was one tiny, single, pathetic garbanzo bean. I might have tasted the mango lassi. What? I'm not a piggy! Alright. Fine. I may have eaten one teensy piece of naan bread. But that's it.

And yes. I took my sweet tea. It's the way I roll.
I think I succeeded in making my super hubby feel special with all that food on his table. I don't mind that he's a big eater. He carries it well.
When Josh got home from work he gave Johnny a really cool pen kit that he ordered online. It's gorgeous and when Johnny makes it I'll post a pic...it's a "puzzle pen." Very, very cool! You can see it
HERE
.
We love you Johnny! You're our SUPERMAN and we love and value sooo much!
xoxoxoxo Happy Father's Day, My Love xoxoxoxo