Happy Wednesday everyone! Josh left today for 5 days on a mini vacation with his friend from work. Their flight left at noon so Johnny & I are having "Empty Nesters" practice. Whatever that means.
On Monday night Johnny & I went to the Train concert with our friends Lori & Al....I spy them in the picture waaaaay back there at the tent....brown top, blue tshirt....next to the curtains....they're picking up our picnic dinner at the catering kiosk. It was really good! A tray of 3-4 different types of sandwiches, brownies, chips, potato salad, cole slaw & a bottle of water for each person. Lori brought a bottle of vino so we were set!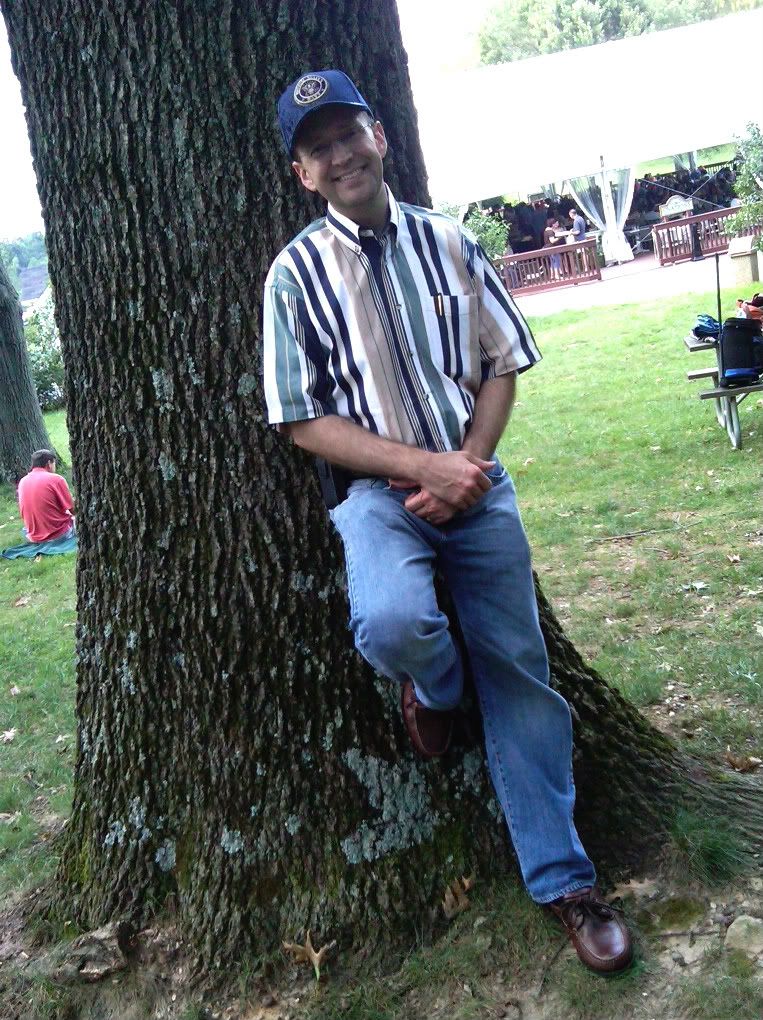 It started to sprinkle a little bit, but only for a short while and luckily we had umbrellas so my claws didn't come out (all the way). Johnny says I was a CAT in a previous life because I hate to get wet unless I was planning on it in the first place, i.e. a water park, the pool....and that's about once every 3 years. At best.
I like to say I'm made of sugar.
This is what happens when you buy
outside
lawn seats in Virginia. Murphy's law says it will rain.
Suckers!
Thank God Lori and Al bought seats under the covered building (off to the right) otherwise that pretty much would've been
us
sitting out there getting wet and yelling at our husband because he bought the cheap seats. Well, Johnny, that is. He yells at his husband all the time when he gets stuck in the cheap seats out in the rain. It's annoying. I buy him jewelry to shut him up.

The warm up band was called "Need to Breathe." (top photo) They were really good and I think I'll download a few of their songs. I loved watching the band photographer on the left side of the stage taking pics of both bands as they performed. I realized I wouldn't know what to do. Flashing lights. Quick movements should have fast shutter speeds, yet low lighting should have a high ISO....what kind of white balance?....yikes. Not to mention I'm as distracted as a Chihuahua 98.9% of the time....I'd be
scrrrrrrrrewed!
I digress.
At one point in Train's performance Pat Monohan told everyone to turn their cell phones on real bright and shine them toward him. He sang IF IT'S LOVE and took a picture on his cell phone from the stage while he performed and then posted it on Twitter.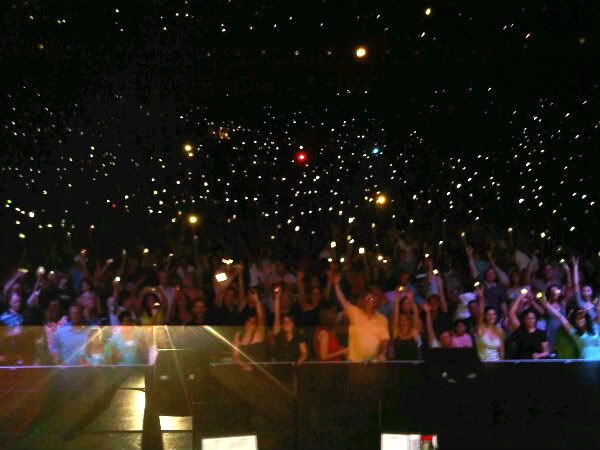 The result! Cool, huh?
Gotta love those self cell phone shots. I have short arms. Leave me alone.
Pat Monohan was awesome, his voice completely amazing. I couldn't believe how he sounded live. He's perfection. Skinny, hilarious, too many cups of coffee & cute perfection.
I know. I'm an awesome videographer. Golden Globe alert. If you would like my services at your next big function please contact my people. I'm easy, but I'm not cheap. I thought the dancing cell phone bit was a nice touch, don't you? Never mind the fact that the speakers on my phone are probably shot for good. C'est la vie. Again, totally worth it.
Naturally, Train made us wait for "Soul Sister" until the very last song and IT ROCKED THE HOUSE!!!" I called Josh during the song so that he could listen and then I got a text message from him: "Dude! That song is playing in the gym right now too, lol!" I hate when he calls me Dude, but it's not the worst in our history together so I guess I'll take it. I digress.

I was hoarse the next morning. We danced and rocked the whole evening. It was a blast. We didn't get to bed until 1am and the poor guys got up at 5am to go to work. I felt like I'd been hit by the drunk bus, even though I only had 2 small glasses of wine. But it was totally worth it.

Thank you SO much Lori & Al for the fabulous evening. We loved it and loved spending time with you. Next time let's go see Mama Mia!

Speaking of Mama Mia.......look at these tomatoes! (Italians...tomatoes....
hello?
) My father in law sent me this pic of the monsters that come out of their garden - and can I just mention that in the middle pic the "cherry count" is at 1,295....and they're still going strong. I hope my mother in law knows a good tomato sauce recipe and how to do some canning.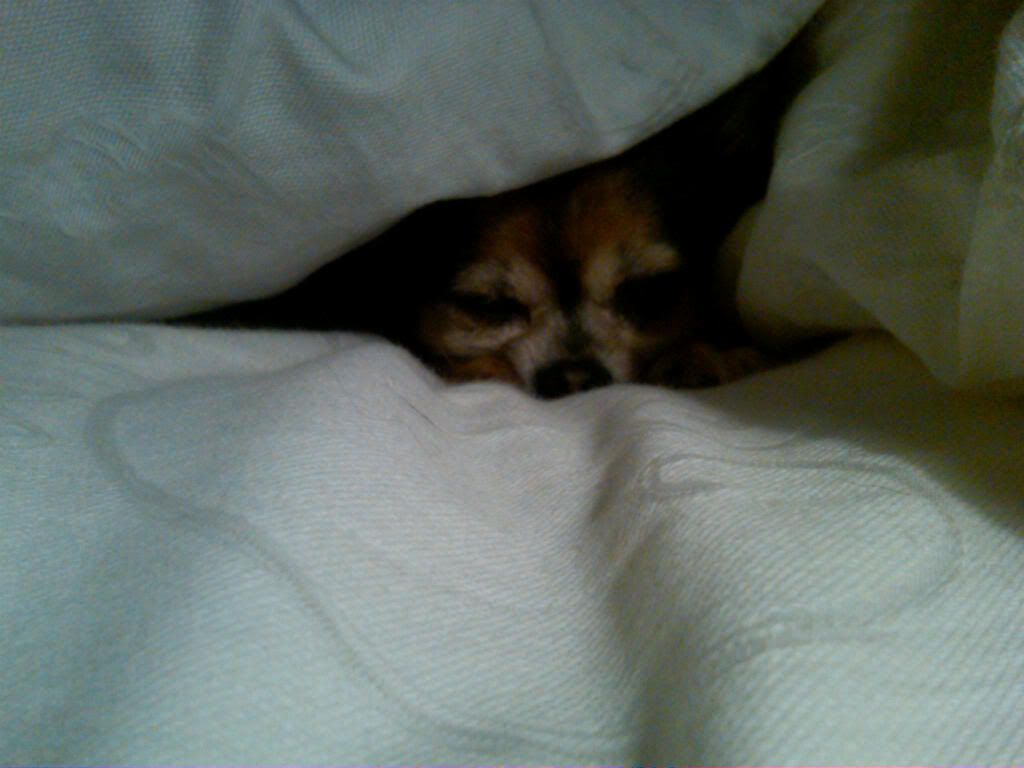 And for no other reason other than because it's Wednesday and I just downloaded 812 cell phone pics off my blackberry = 546 MB I thought I'd throw in a cute Chihuahua pic. This is my little Minnie Mouse after I got out of bed in the morning. She snuggles in my warm spot and sticks her tiny nose out of the covers and keeps her butt in there until about 1pm.
The
only
thing better than being a Real Housewife of D.C. ~ is being the
chihuahua
of a Real Housewife of D.C. :o)