On Labor Day our neighborhood had it's end of the year pool party and for the first time Rob, our fabulous new "recreation committee chairman" planned a cardboard regatta.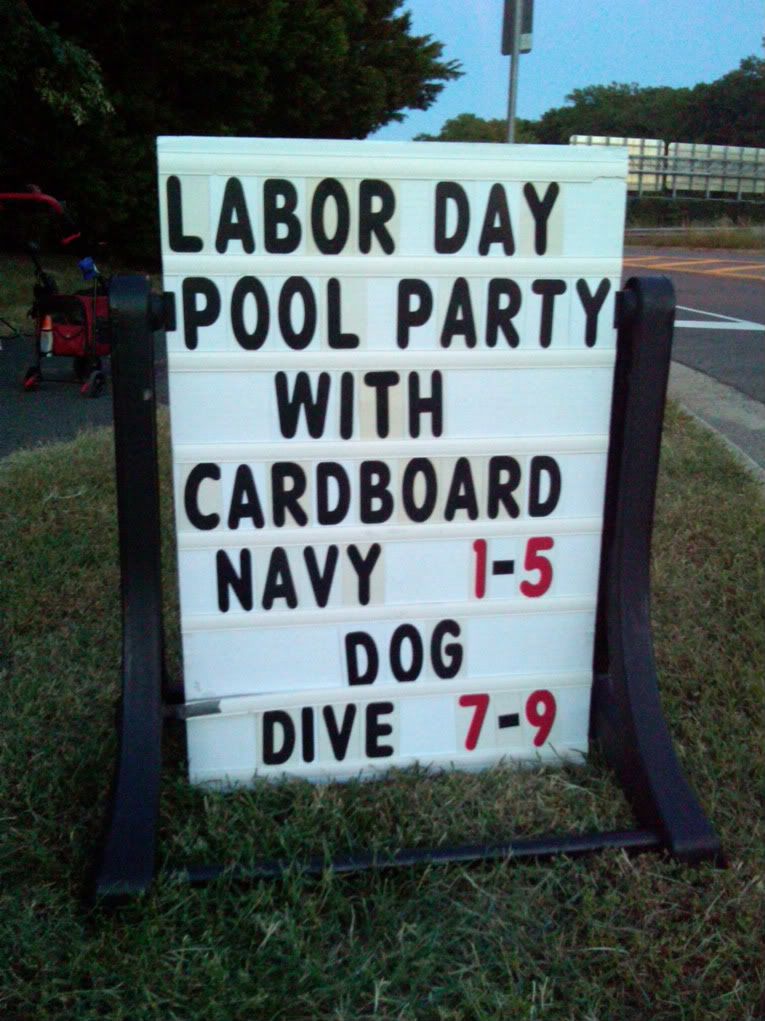 Translation: You build a boat that you (certainly not me) will get into and race in the swimming pool. I had no idea what that meant when I read it in the newsletter. I couldn't wait to see what our locals came up with!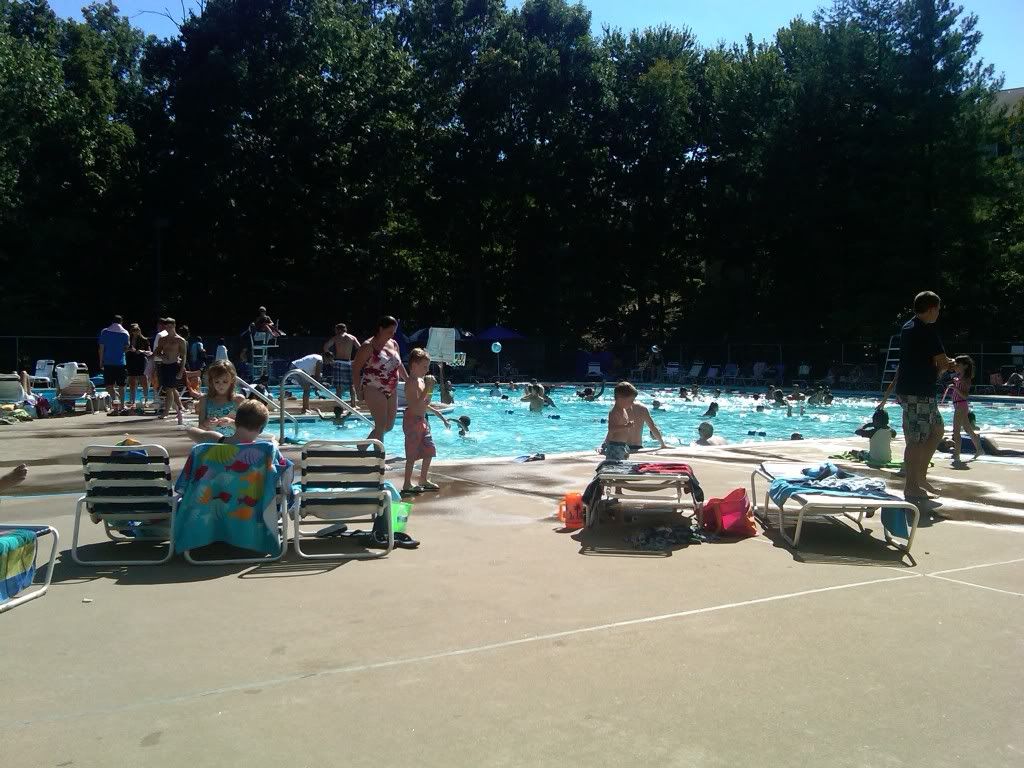 We had over 260 people sign in at the party, but there were more that didn't sign our sheets. I'd say the event was very successful! Great job, ROB!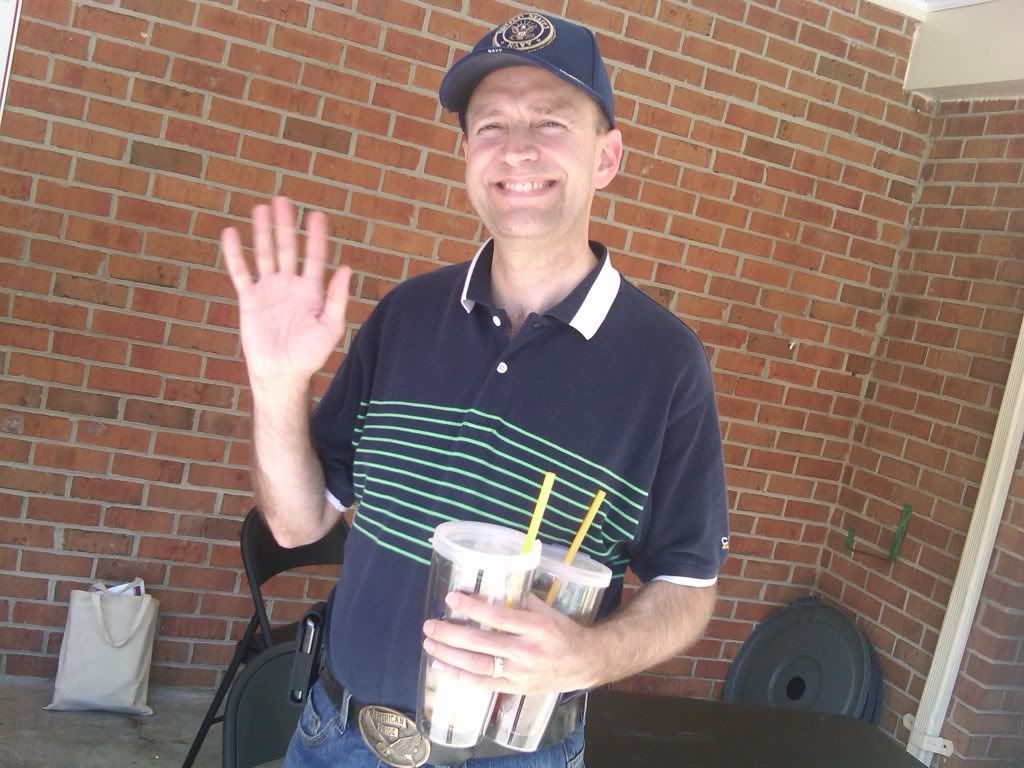 My handsome Number One ready to par-tay har-tay. Well...as hard as you can party sitting in a lawn chair watching the kids go nuts in the pool, listening to the radio and sipping iced tea.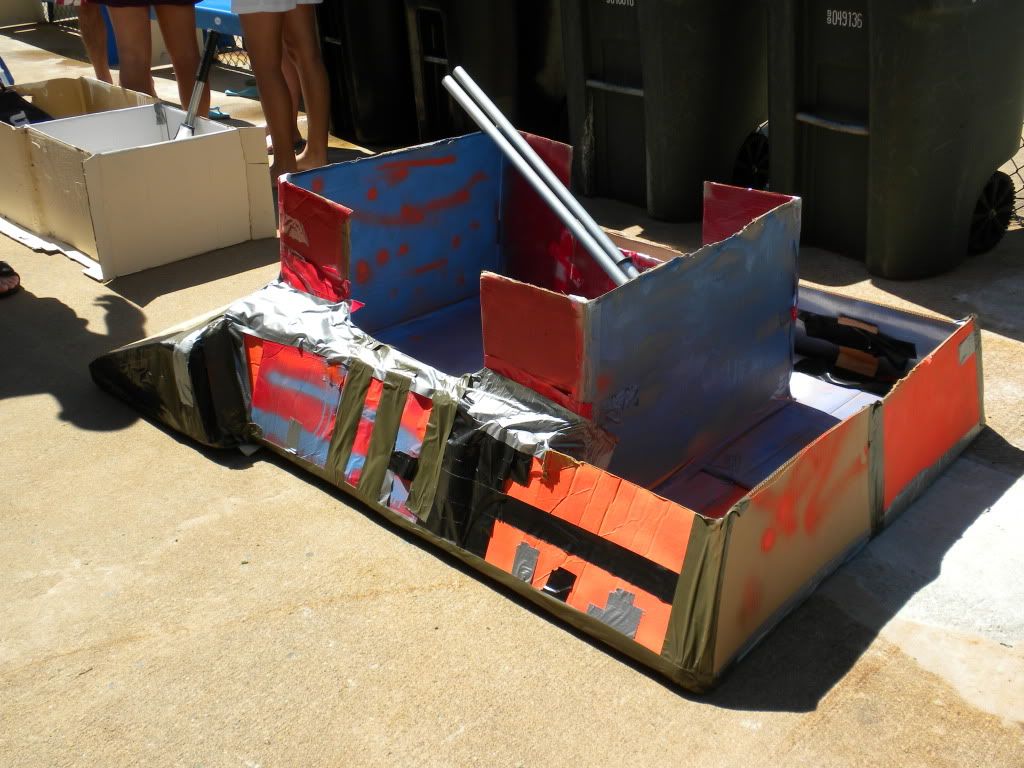 The boats were amazing! Such imaginations!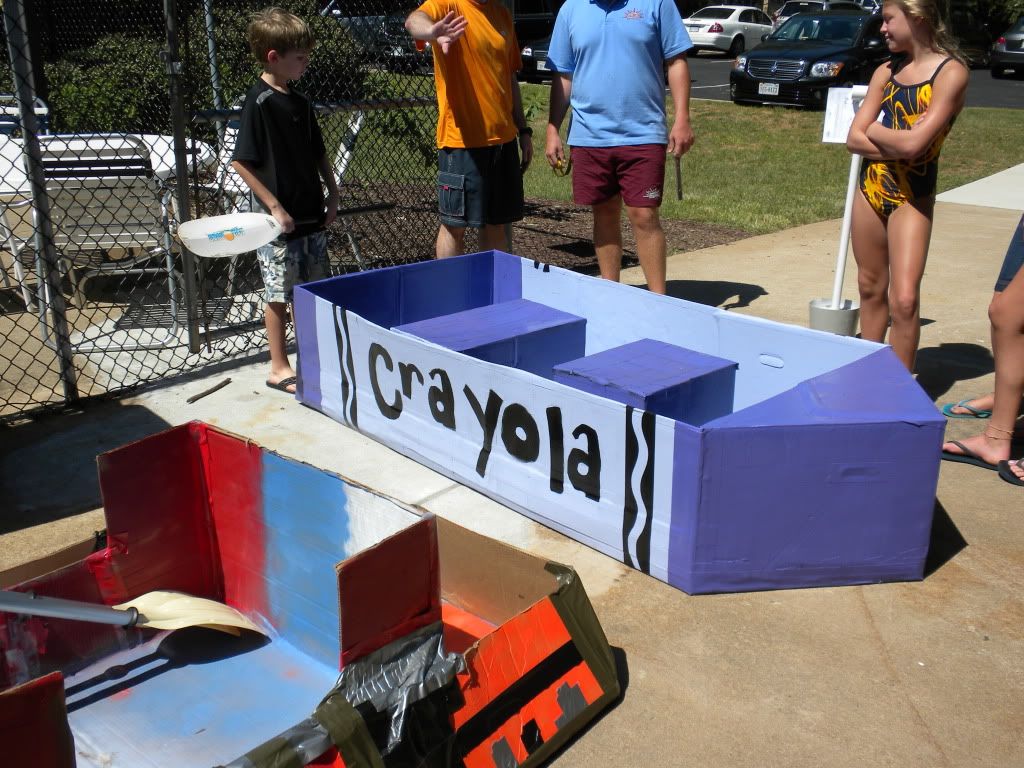 I was more than impressed. These girls used a box from a new sliding door box. I'm glad I didn't go through with taping the macaroni & cheese boxes I had saved up. I'm thinking I would've been just a teeeensy bit embarrassed.

Meaning ~ when I made Johnny get in it the mac & chees box he would've sank right away and maybe his butt wouldn't have even fit in it and HE would've been embarrassed, not me. I would've taken pictures. I'm the photo journalist in the family. It's all good.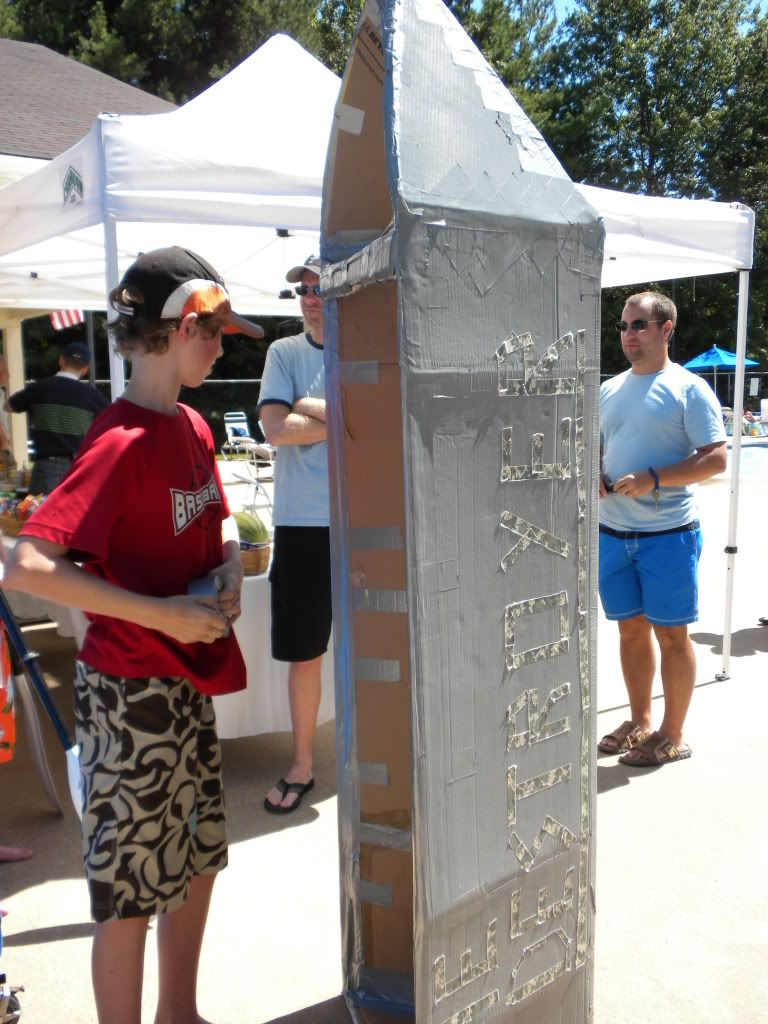 "The Destroyer" There's Rob, our fearless leader, in the blue shorts, inspecting his fleet.


This was the boat that our neighborhood board of directors built "To Represent!!" It's tough. It's sturdy! It's the stuff neighborhood leaders build!
All in all, I believe we had 6 entries for our very first races. Next year I'll bet we'll have twice that. People, like myself, came to size up the competition so that next year Johnny will put a little more effort in his macaroni & cheese boat. He'll have lots of fun. I'll take pictures.
There were rules about the construction of the boats - such as you couldn't use baby floaties hidden inside your macaroni & cheese boxes (achem, not that anyone would think to do such a thing...now I'll have to return them), foam, sealants, etc., so this young fella was our official judge and iron fist at the events. He dug his uniform out of the closet and told us that he hadn't had it on since 1985, the year he retired. I was impressed that he still fit it!
But not to be outdone by dressing for the occasion....Ummm.....yeah.


So this is our board! They have come to dominate you! Who is going to man this awesome vessel?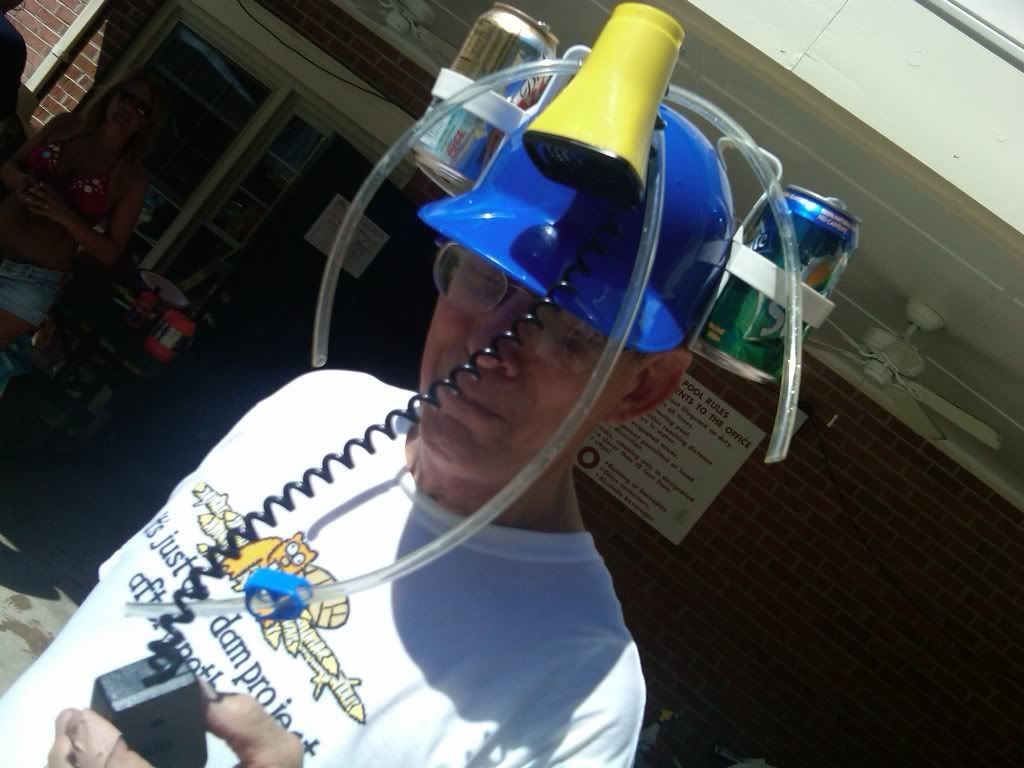 Uuummm.....yeah. Our president. He was pretty intimidating.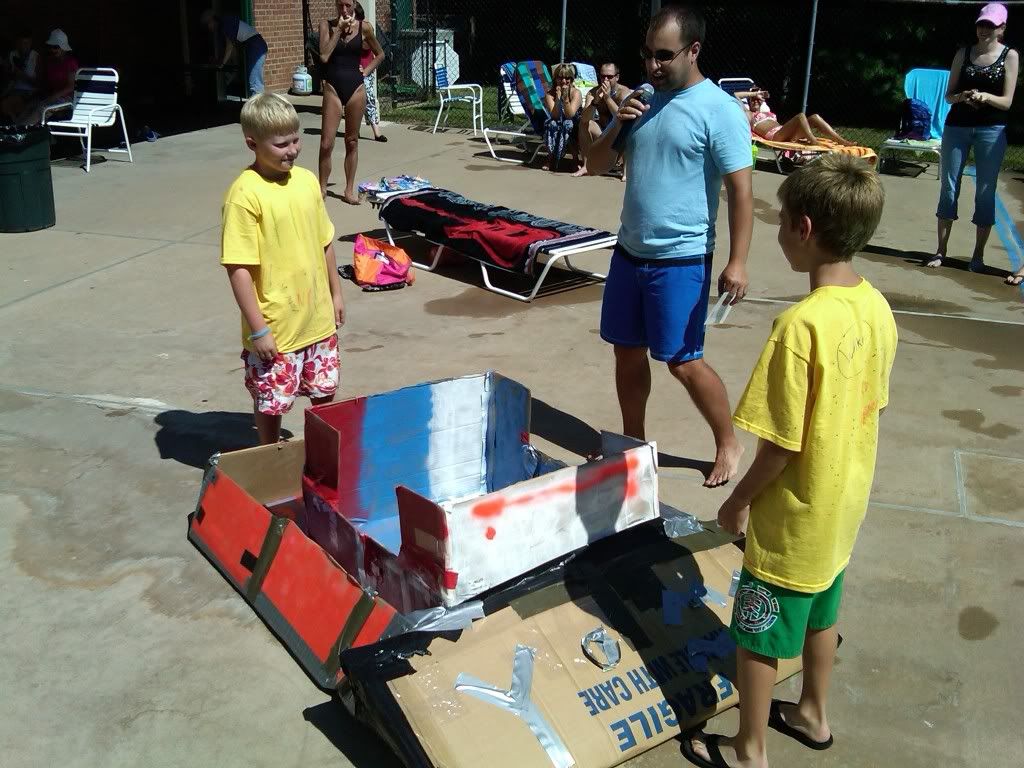 Each team got to present their "creation" to the crowds of cheering fans.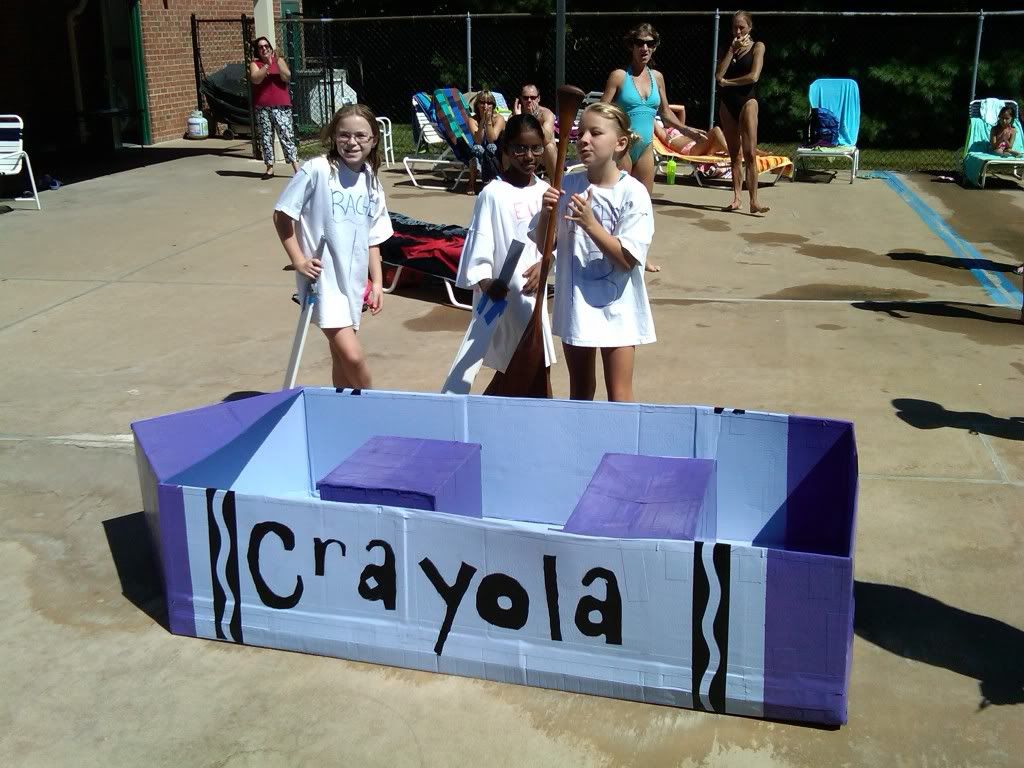 It was a moment for the media to get pics and quotes from the competitors.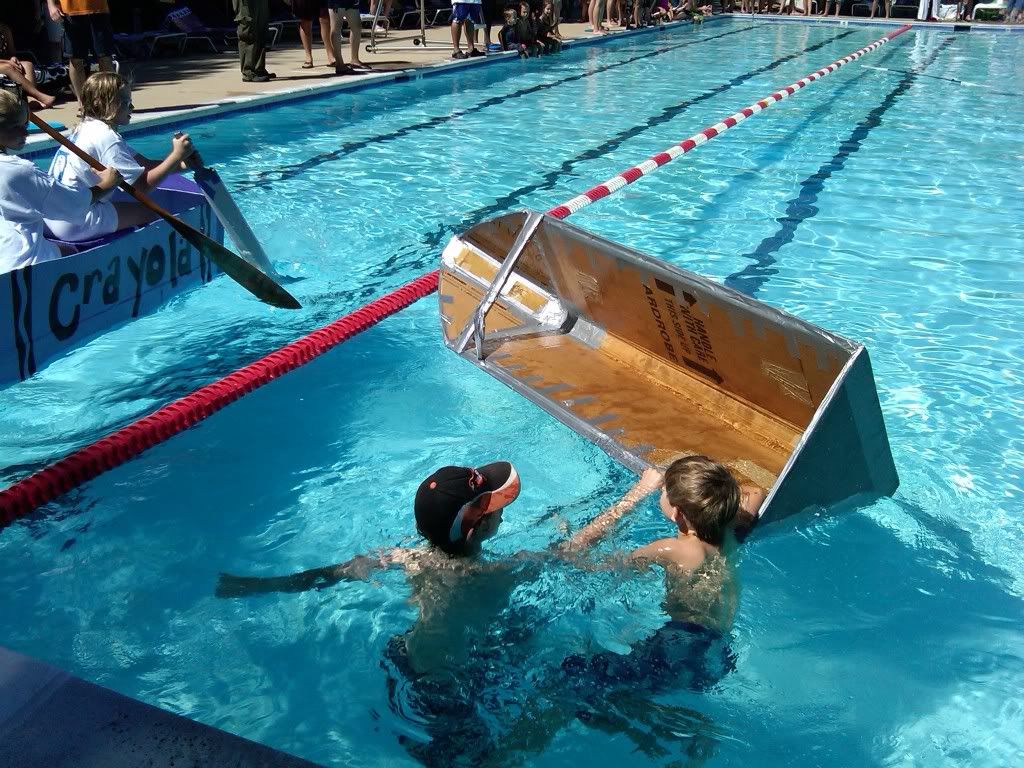 Some boats did really, really well...........and some boats didn't :o(


Okay....I'll give you the Low Down of the "Big Finale" ~ it came down to:
BOYS VS GIRLS!
That's always a big hit in our community.
Aaaand
, to give it even
MORE
drama: The kids live in the same cul de sac!
Ooooohhhhhhh
........AAaaaaaahhhhhhh.........
For your viewing pleasure: THE DRAMATIC FINAL SHOWDOWN OF THE ANNUAL LABOR DAY CARDBOARD REGATTA RACES!!!!
As a very serious photo journalist, I like to be thorough and complete when I report on these import events in our community so I want to be sure to QUOTE exactly what the girls said after they won the race:
"Girls RULE, Boys DROOL!"
And there you have it, Ladies & Gentlemen
After the pool officially closed for the season, a giant crowd assembled outside to fill out release forms for their little canine guests. What for, you ask?




THE DOGGIE DIVE

, of course!

It was controlled chaos. The dogs ran and played for an hour and dominated the big pool and the baby pool. There was a mastiff that stood in the middle of the baby pool the entire time, it was a riot. It was getting dark and my little cell phone only has so much capability or I'd have more to share.
My three Chihuahuas? My angels? My sweet princesses? My three "wannabe" doggies?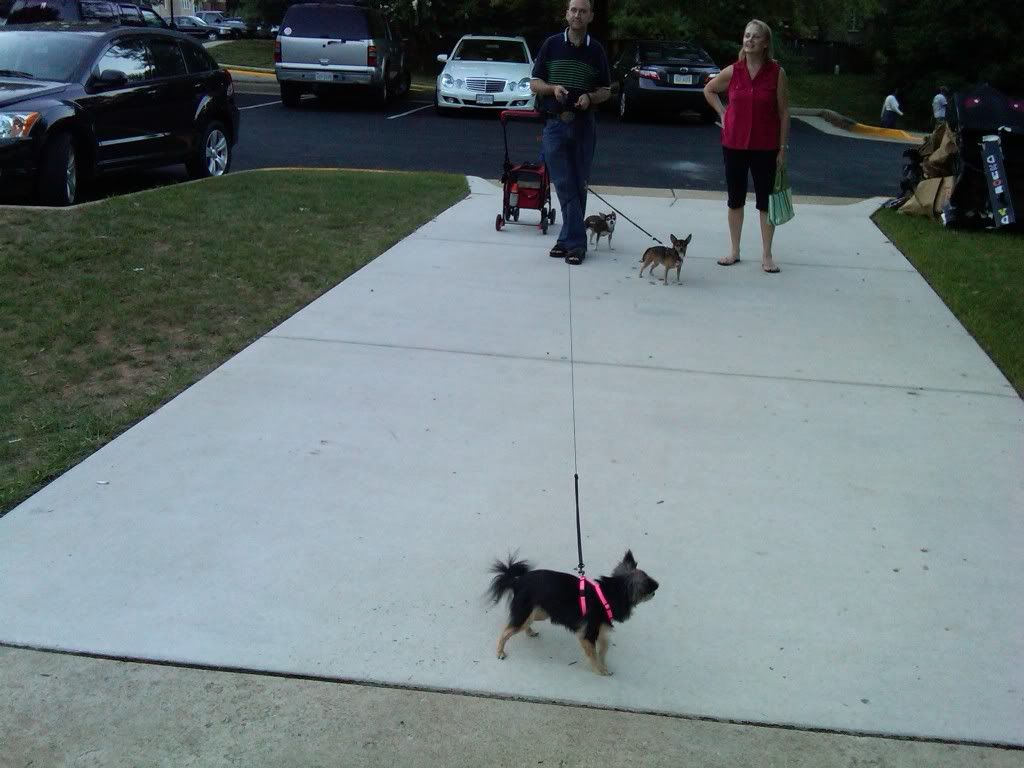 Well, they stayed on the OTHER side of the fence ~ Watching. Shaking. Trembling. Praying. Hiding. Barking. Hiding some more. Peeing themselves.
When there's a Mouse Dive they'll be the first to sign up. I'm sure of it.