Oh my gosh, where do I begin?
We had SOOOO much fun on our cruise, I was not ready to come home.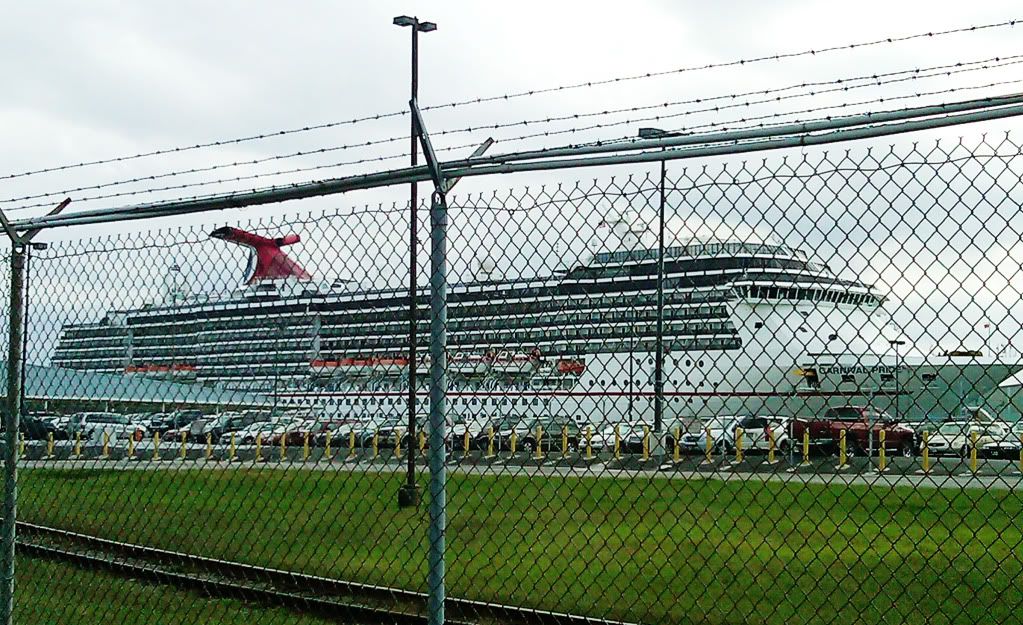 We sailed out of Baltimore so we were able to make the hour drive and leave the car on the pier (secured, paid parking, of course!)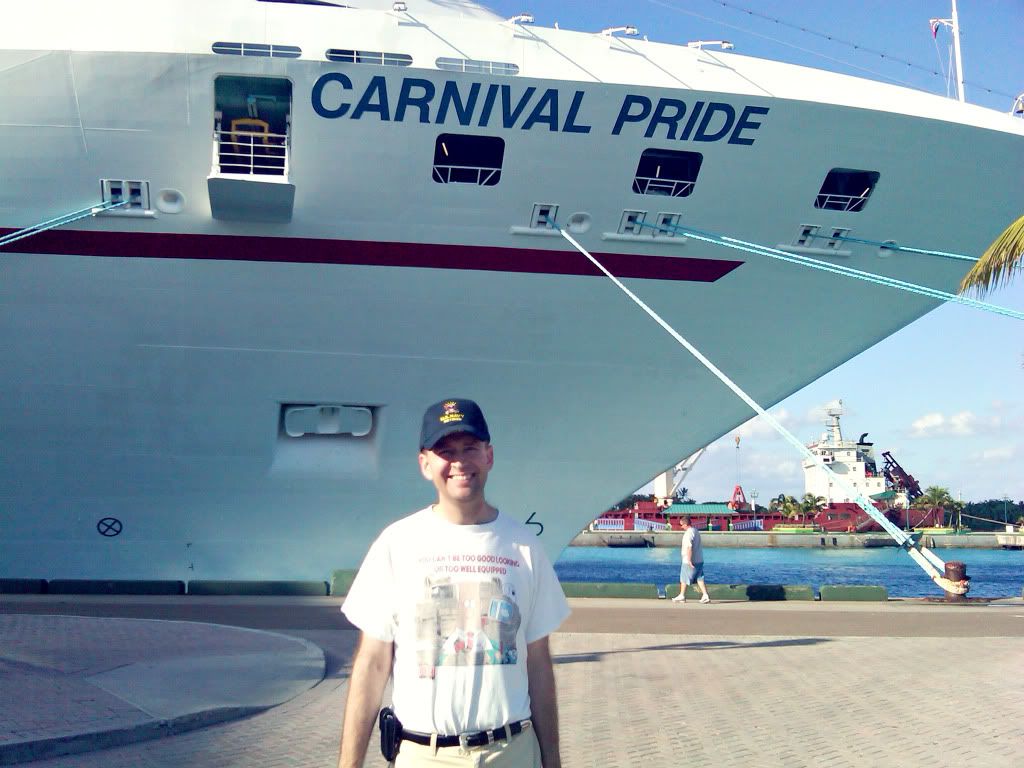 We sailed on the
Carnival Pride
. The ship was absolutely beautiful. Our room was perfect, spacious for the 3 of us with an extended balcony where we enjoyed our breakfast & coffee every morning and evening sunsets. I miss it already.
Here's my sweetheart in Nassau, the capital of the Bahamas all gangsta in his Dilbert t-shirt. Oh yeah, baby!
Johnny spent most of the time on the cruise ship like this: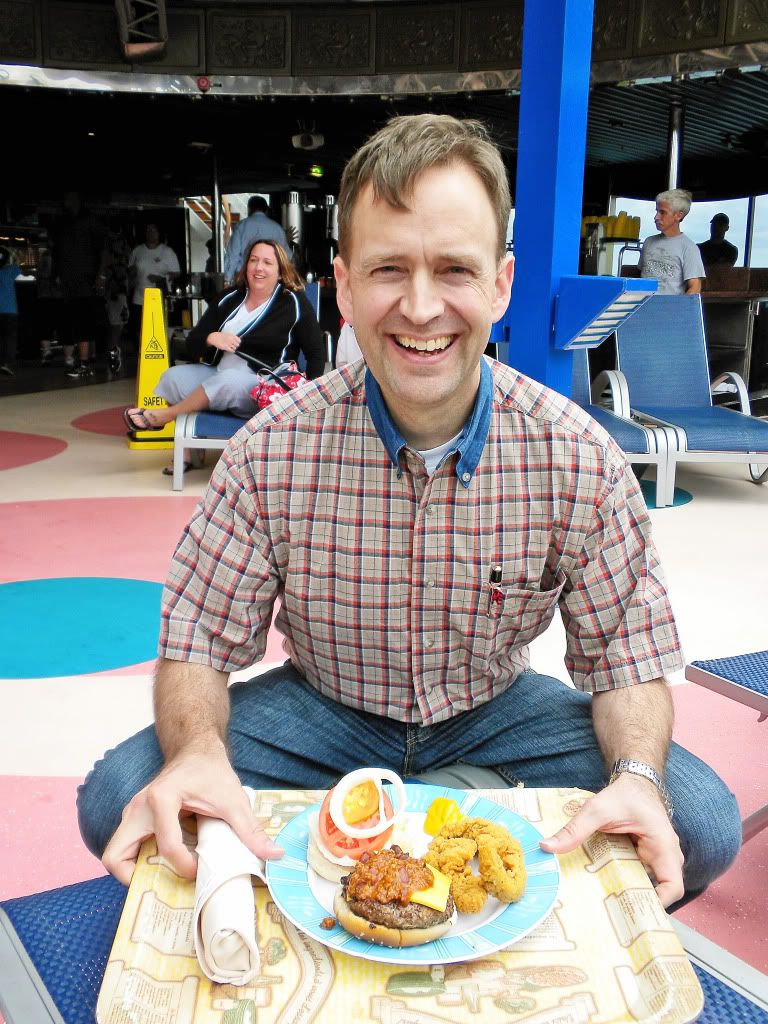 Completely giddy with his "man food" and stowing away in secret corners reading on his ipad. (But he did meet me every day at 4pm in the Atrium Bar for Happy Hour) :o)
I spend most of my time on the cruise ship like this: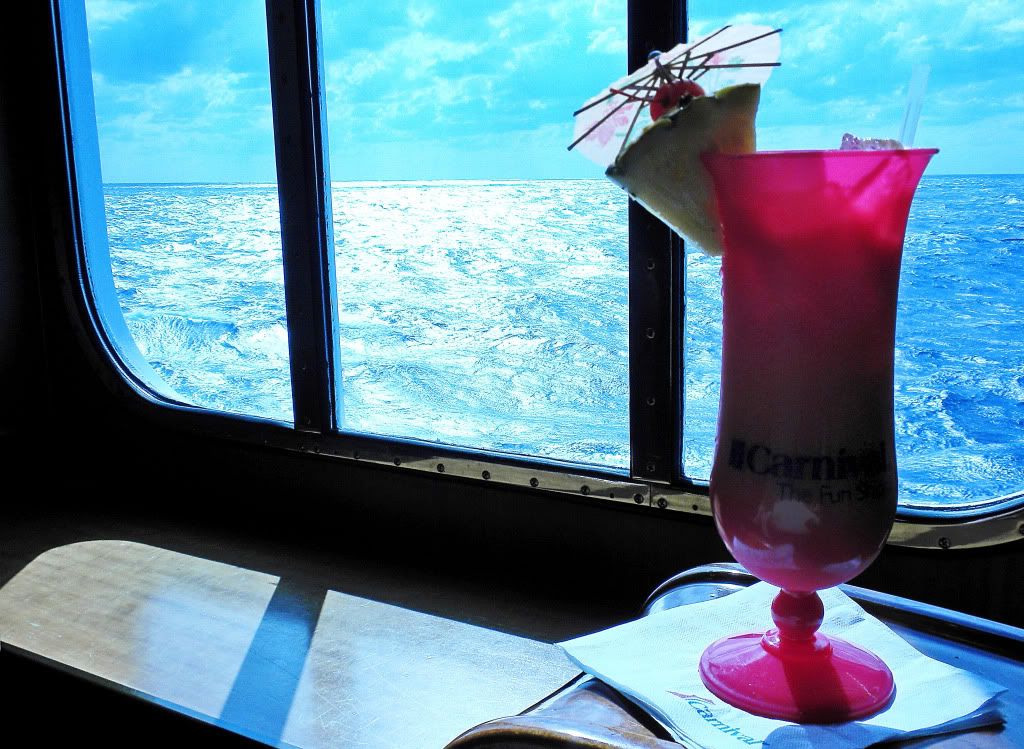 Hee-hee. Uh-uh, don't you dare judge me. They were
gooooood!
Oh yeah, and I did a lot of this: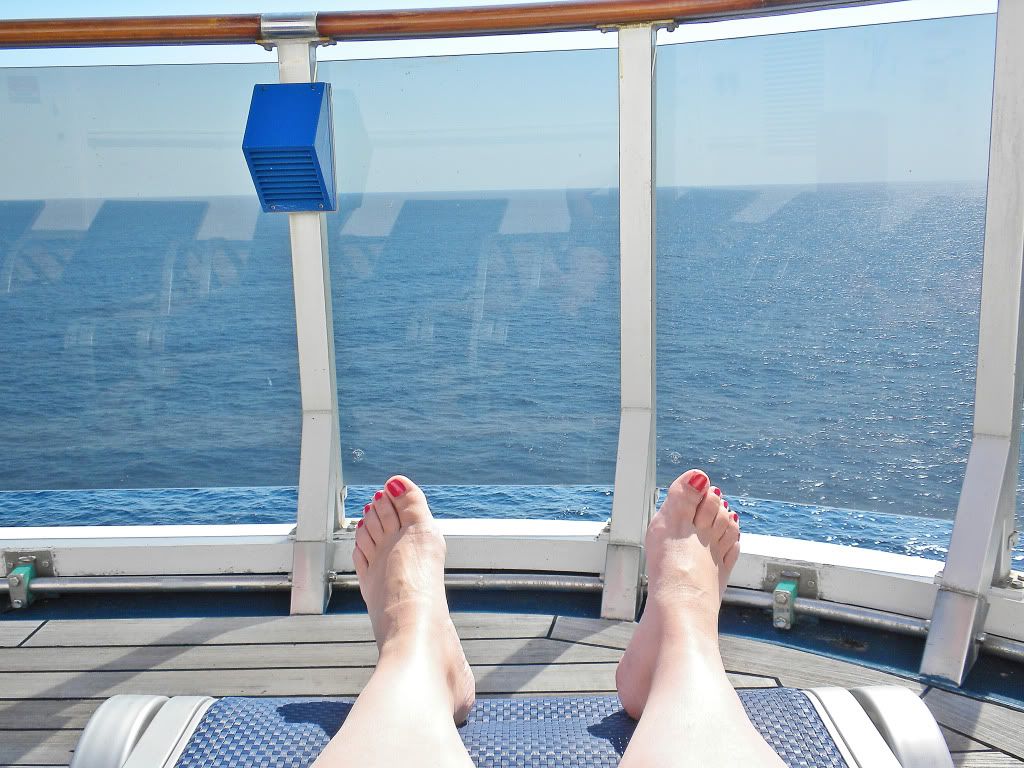 AAAaaaaahhhhhhhh.........go away. I can't heeeeeeeeaaaaaarrrrrr you!
Do I really have to tell you what Josh spent a lot of his time on the cruise ship doing?
Uh. Really?
Here's the 4-1-1: He's 2 weeks away from going into the U.S. Army, so heck yeah we enjoyed a drink or two or 27 or....never mind. We were in the Bahamas Mon! We were celebrating Josh's new future. We are so proud of him xoxoxo.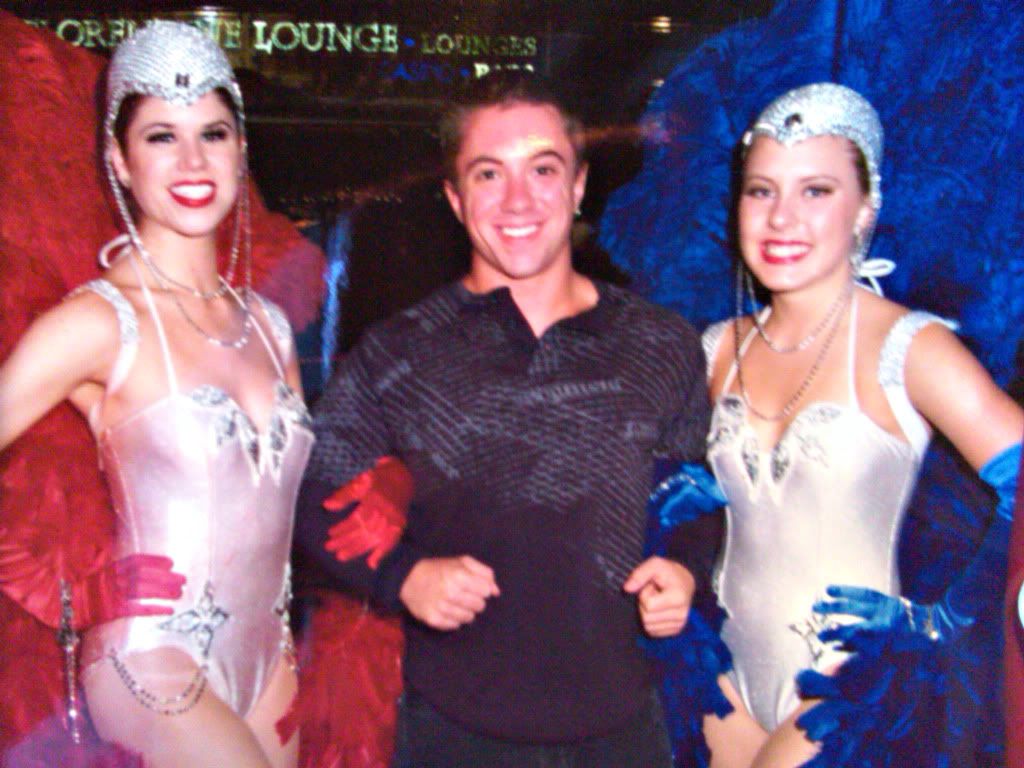 I might have a daughter-in-law now, I'm not sure. Just kidding. He was a good boy. These are the ship's dancers. I'm mad that this is such a blurry cell phone shot because he was blushing big time. I love it! What a cutie!
This
was as close to wearing a bikini as I got. I threatened to leave my cabin this way, but Josh and Johnny just rolled their eyes at me like they always do and didn't think I'd actually go
through
with it. Huh, they have
no
idea who I am! I'm a fun Carnival bikini wearing party girl in the Bahamas, Mon!
Alright, so I didn't leave the cabin in my home made orange fabulously tiny bikini, but whatever. I
could
have and that's all that's important.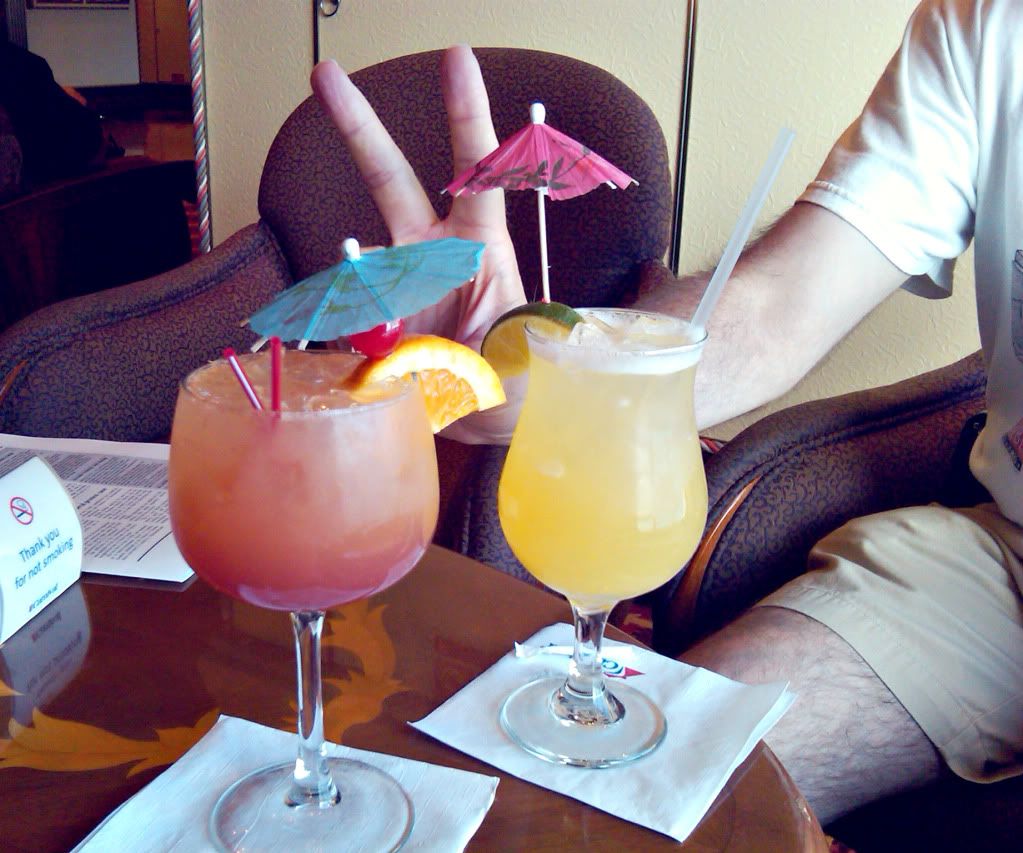 Oh! And the drinks! (Have I mentioned the driksnks?) Wow! Johnny enjoyed his a scotch on the rocks and the occasional Ultimate Margarita (on the right) or Mojito. The Mai-Thai's were out of this world!


The left drink is mine and it's called The Cruiser. We became close friends. Every time I heard island music on the main deck, I ordered a Cruiser. Every time I thought of my boy leaving in 2 weeks, I ordered a cruiser. Every time we laid out by the pool....every time I met my handsome husband in the Atrium......


Oh the time went by too quickly! I have so many pictures to share, but I just started sifting through them today so in the next week or so I'll be trickling them onto my blog.

I have to mention: Our house/pet sitter was fabulous. Kim, we love you. Thank you for being so wonderful. We felt so safe to be able to get away as a family and knew our girls were in loving arms.

We were so happy to see our girls again, it's always nice to be back home. But I sure wish we could've stayed a few more days. The time I had with my son was priceless. We even boogied down together in the Disco one night! I forever want to cherish every day we have together. I'm trying to stretch out the time we have together now. I don't want Josh to leave and time is getting way too short.

Time, time, TIME....UGH! I keep saying that word. Time is my enemy right now. My heart is starting to race all of the time. I need to stop the clock.

It's time to dive into the farwell party planning. November 1 will be here soon, I'm afraid.

Off to unpack and do piles of laundry........time is not on my side. More soon! It's good to be back :o)~