We love cruising!
We're addicted! We're hooked! We're saving $$ for the next one! And the next one!.....

Our room was down there on the right somewhere. On November 7 the ship goes into dry dock (in Nassau, Bahamas) for 2 weeks where they will replace all of the carpeting, paint, and refurbish the entire Carnival Pride to the tune of 25 million dollars.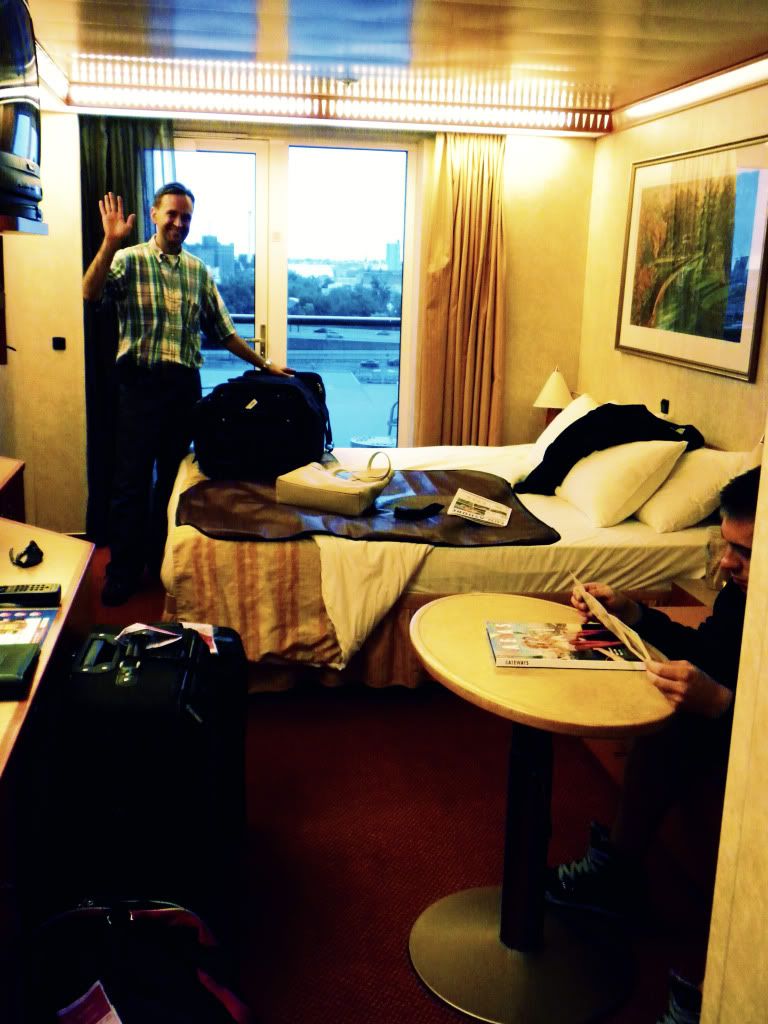 This was our home-sweet-home for a week at sea.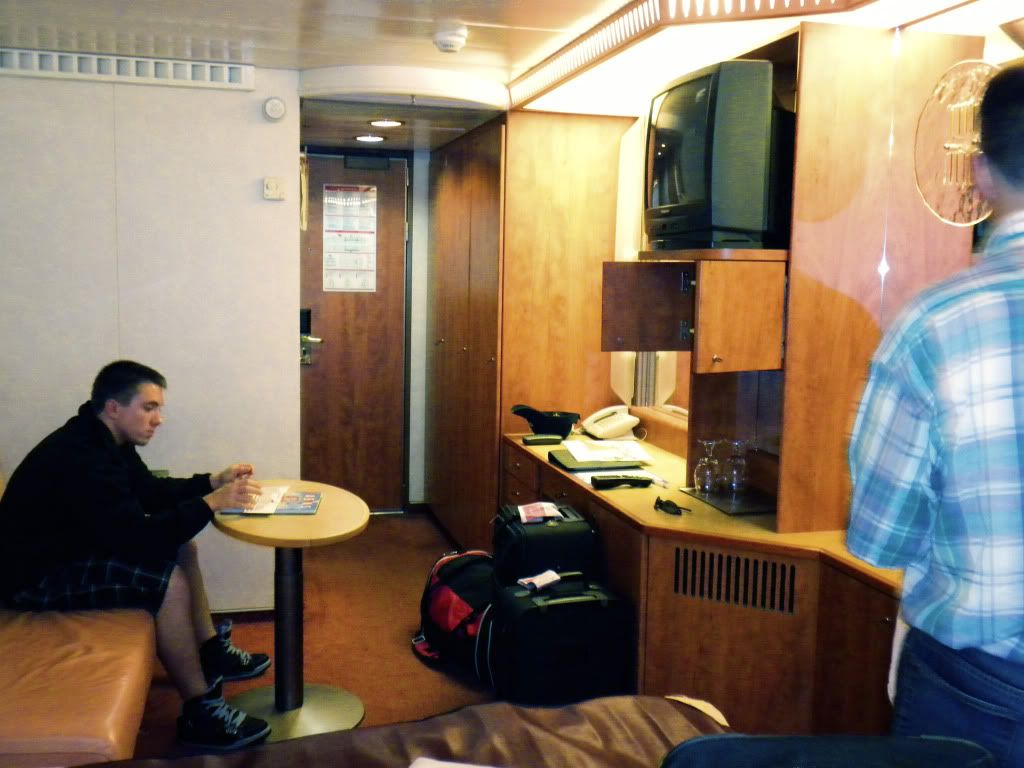 It was "cozy" but we had plenty of room as our luggage all went under the bed and there were 3 full size closets with shelves plus 3 small dressers (believe it or not) so we unpacked and did just fine! This is the last time Josh shared a room with us. Next time, you're on your own, buddy!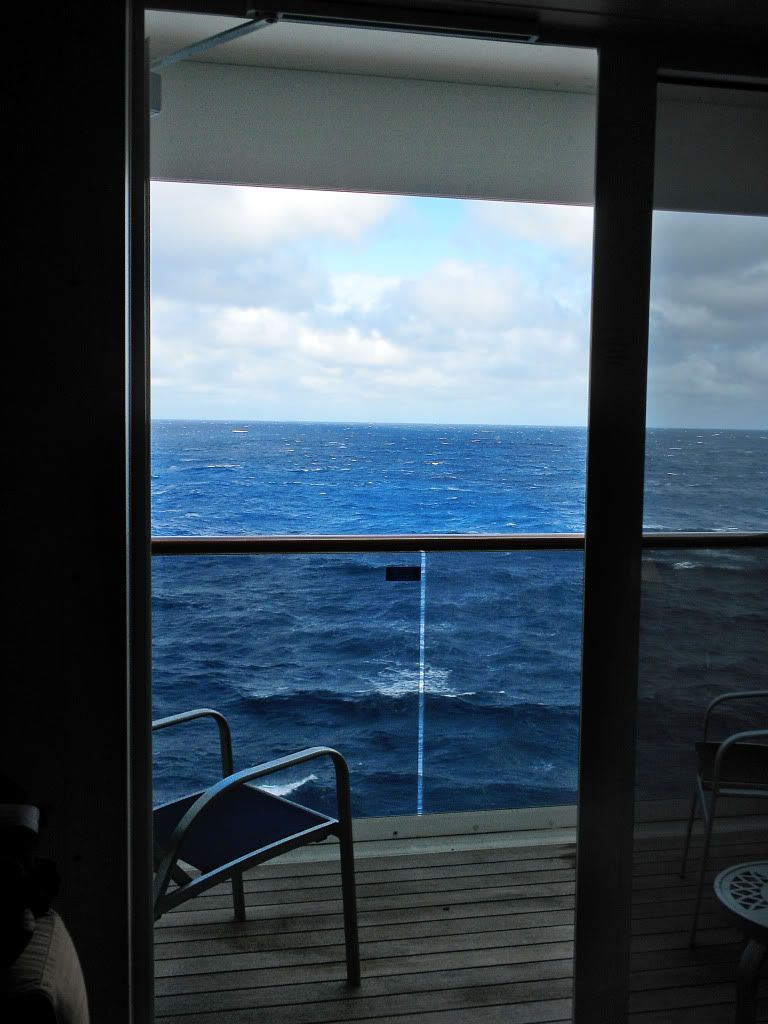 This is the view from our bed and boy did we ever love it. We had the door open during the mornings for breakfast and enjoyed hearing the ocean.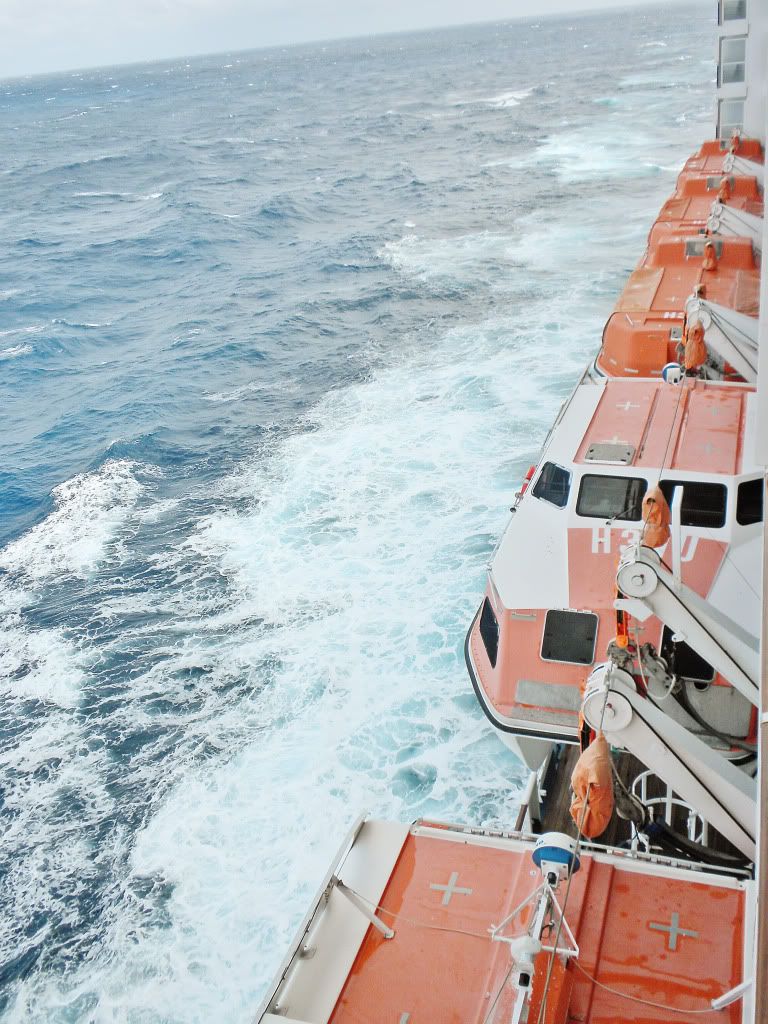 Two levels below us were the life capsules. Don't think we didn't know which one was ours because that's the first thing you do before you pull out of port ~ a ship wide drill. We all mustered on our assigned decks next to the life boats. Everyone! Every waiter, cabin attendant, ships dancer, cruise director, cook, doctor, bar tender...even the Captain! That made me feel safe knowing everyone had a "job" to do if there were an emergency. Good job crew! Time for a Mai-Thai.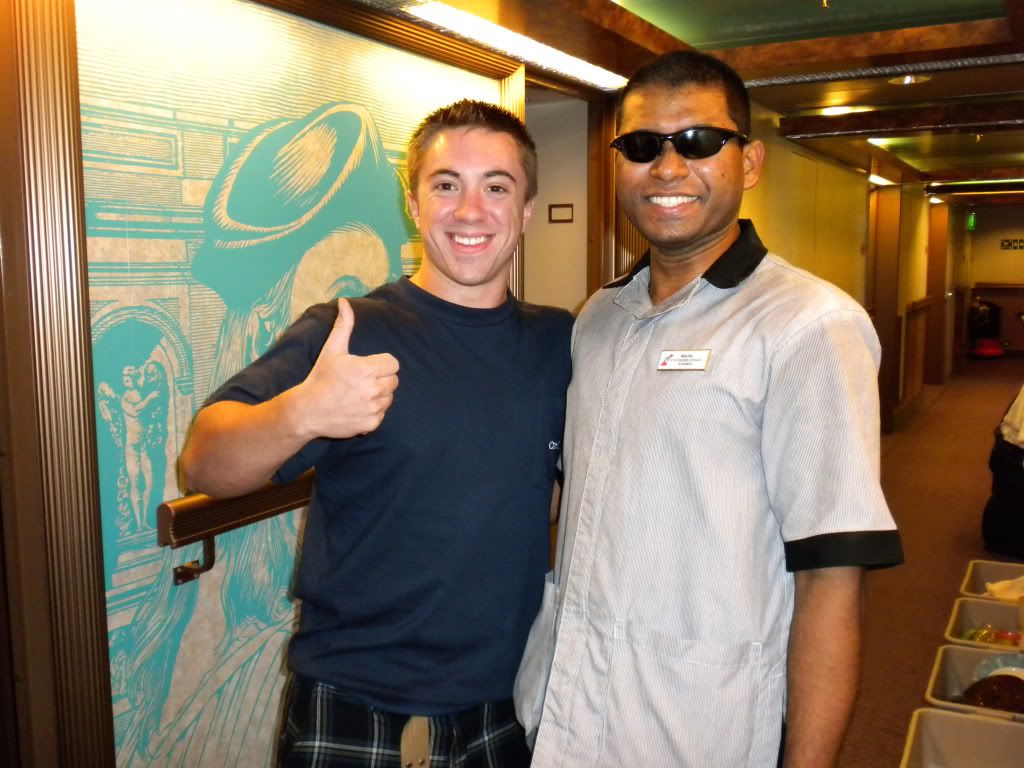 Speaking of crew....this is Maung (sporting Josh's Oakley's). He was our most excellent cabin attendant from Burma, and we loved him!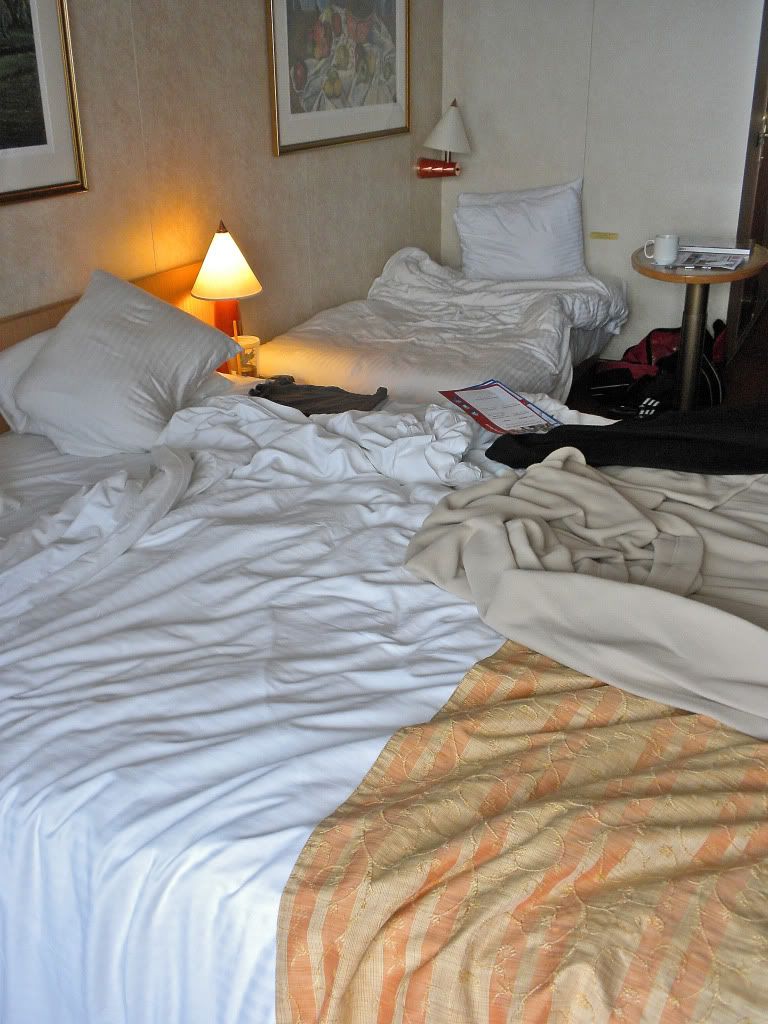 He had to deal with this every day and didn't jump ship so I figured he's seen worse. Poor guy. We did tip him well...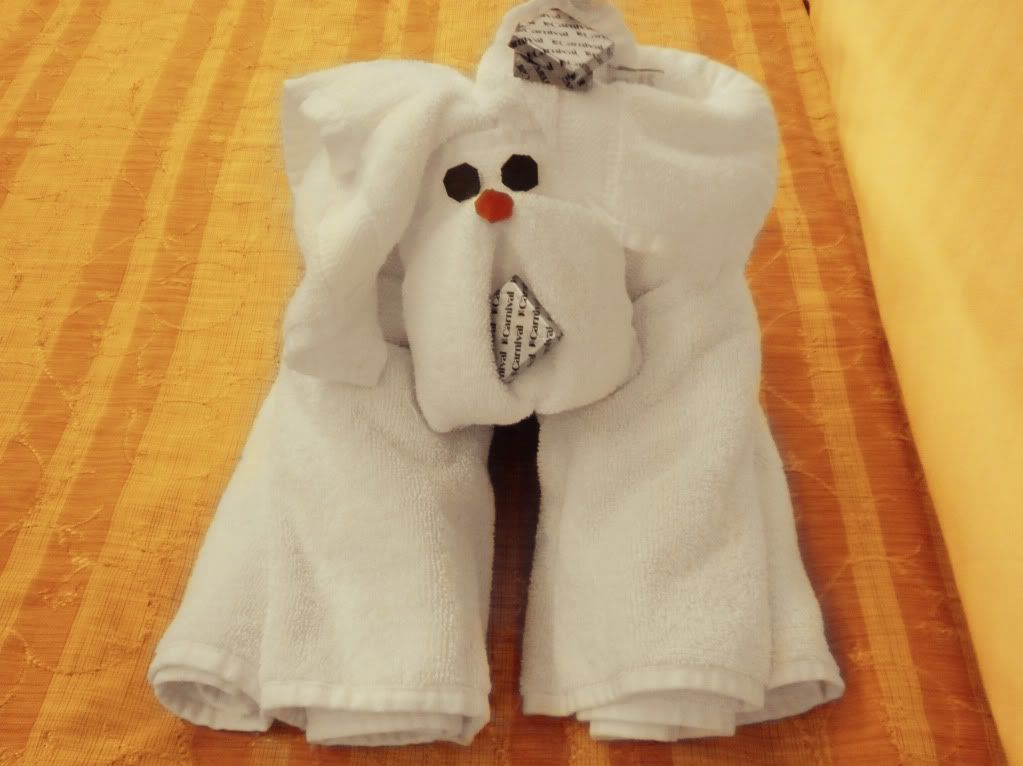 We'd come to our room at night after our stage show or dancing and find these cute, cuddly creatures laying on our beds, each holding 3 chocolates. So cute!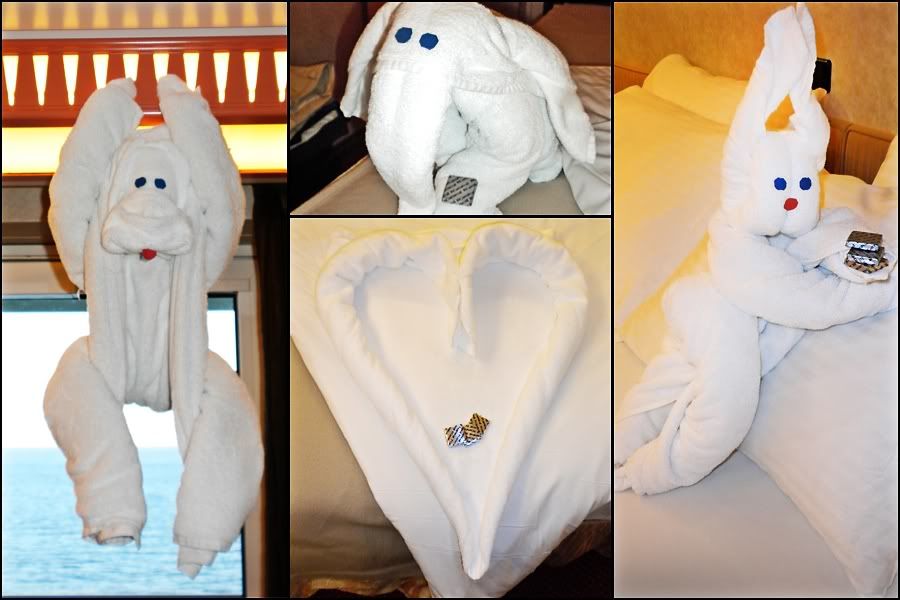 Did I say we tipped him well? Maunge was a trooper and made our cruise a very happy one.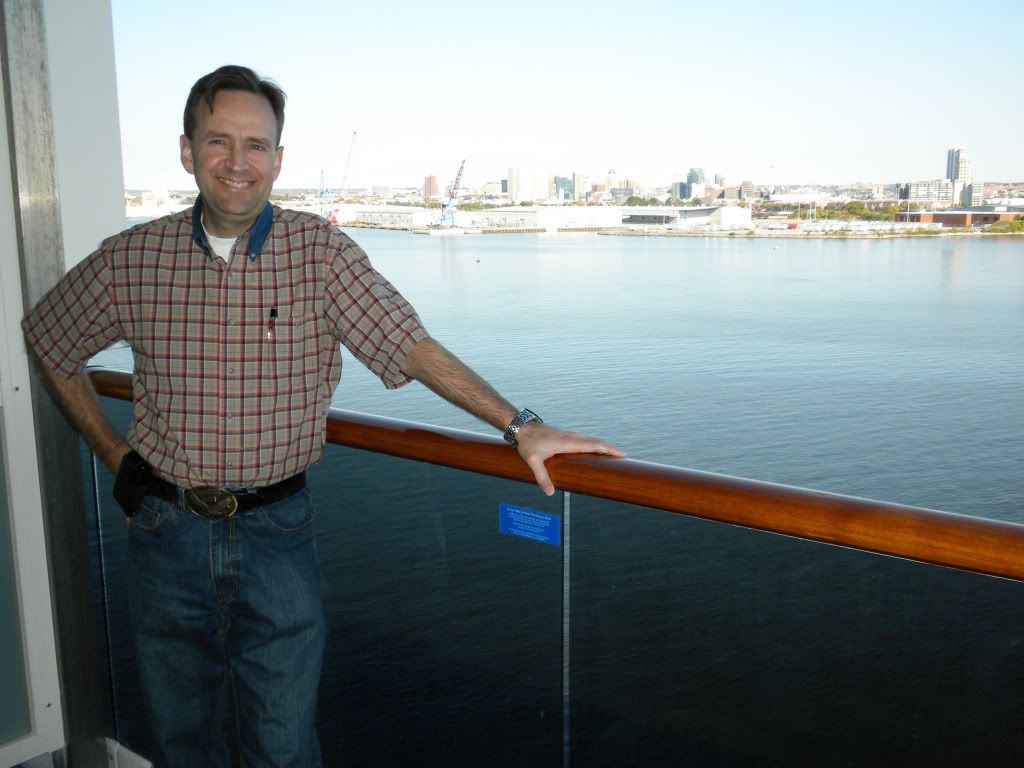 Johnny on our deck as we were pulling back into Baltimore Harbor. We spent lots of time out on our deck eating, drinking our coffee, watching as the ship pulled in and out of ports...We don't think we can ever go without a deck again. Johnny felt like he was on watch on the USS Hewitt again! He loved it!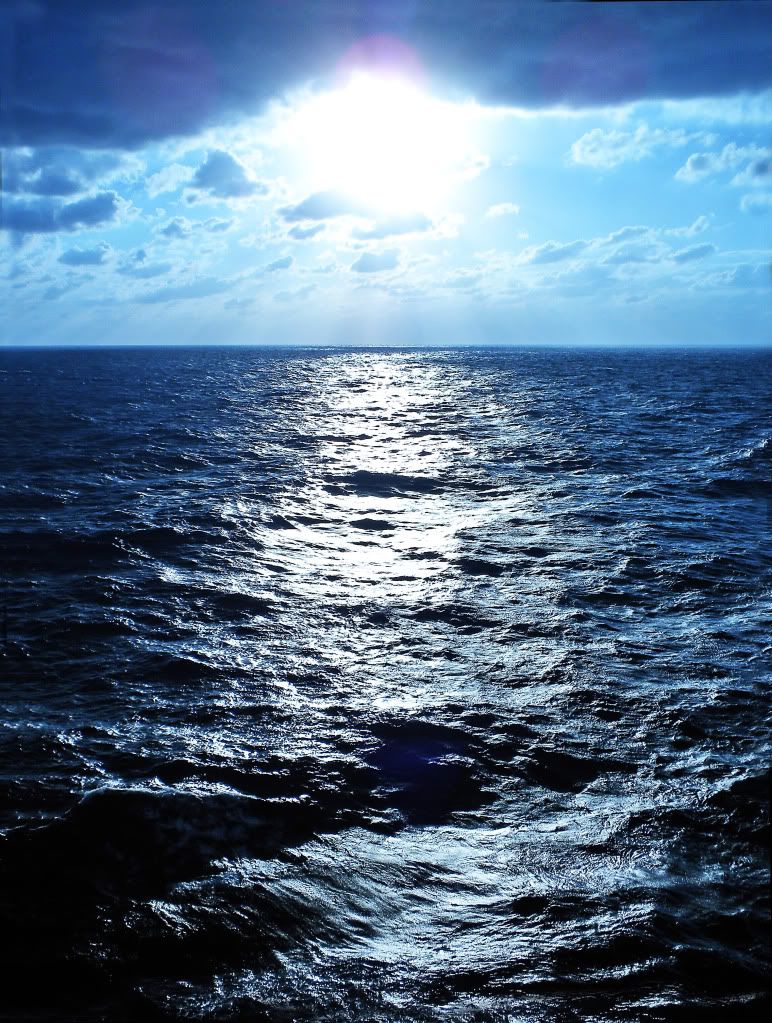 ♥

Our favorite thing to do was watch the sunsets together

♥

The main atrium bar. Sorry the pics are horrible. My little point and shoot is great outdoors, but indoors?...Not so much.

Those are the elevators that go up 11 decks.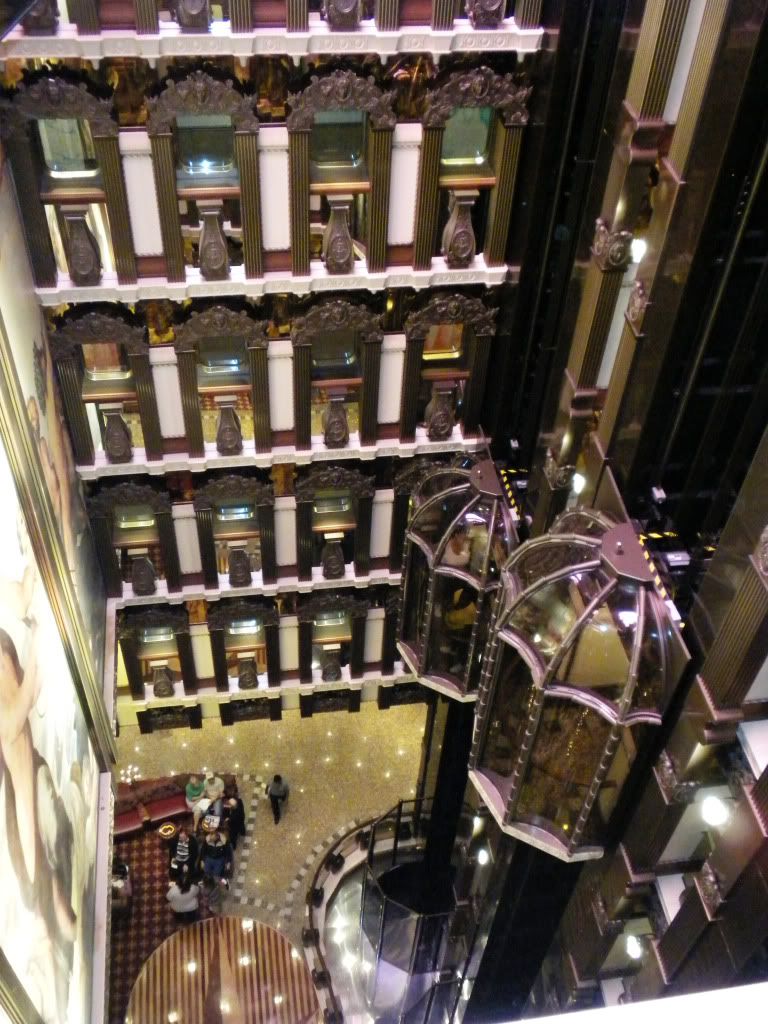 Looking down into the atrium again.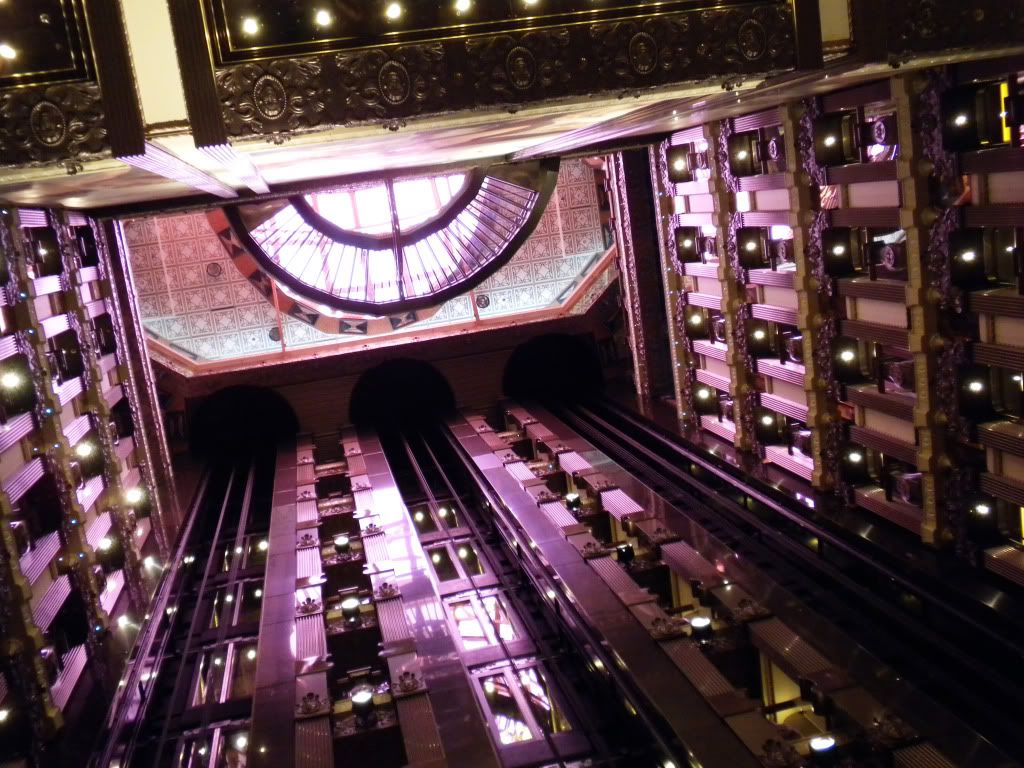 Now looking up (are you sea sick yet? Good!). See up there at the top? Those are acrylic ~ completely clear ~ stairs that go up to the 12th deck, a specialty restaurant called "David's." It's an upscale steakhouse that we had reservations to for a celebration dinner for Josh on our last night at sea.
I was completely obsessed with those stairs!
Scary stairs....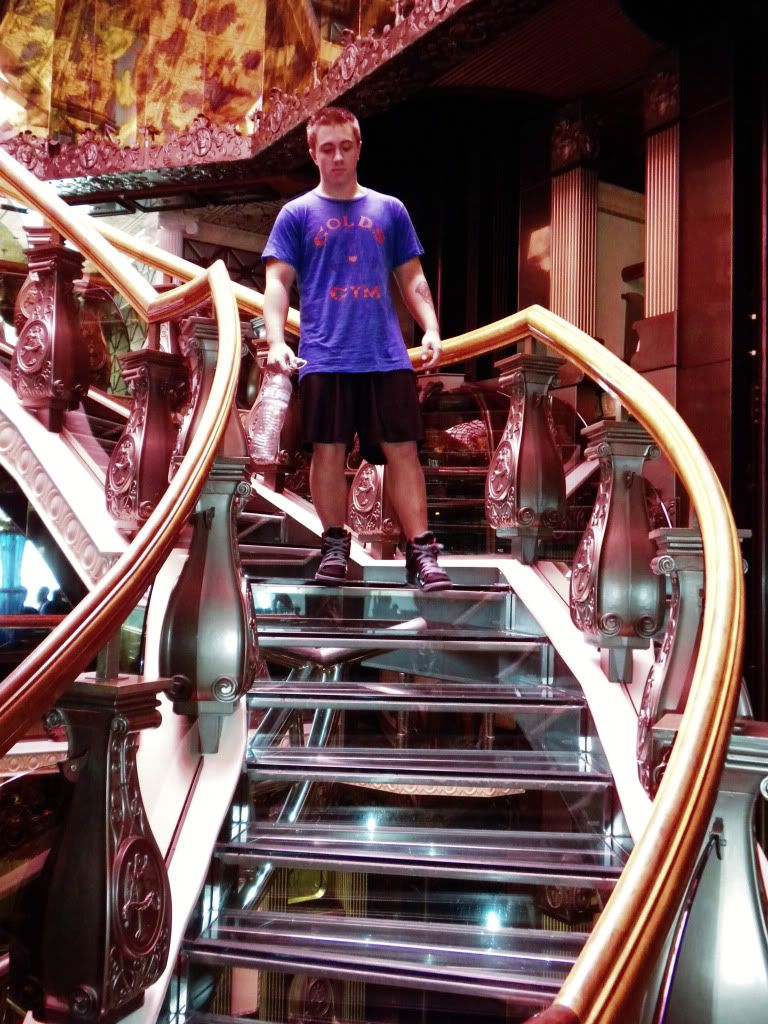 During the day with all of the lights on they weren't too scary....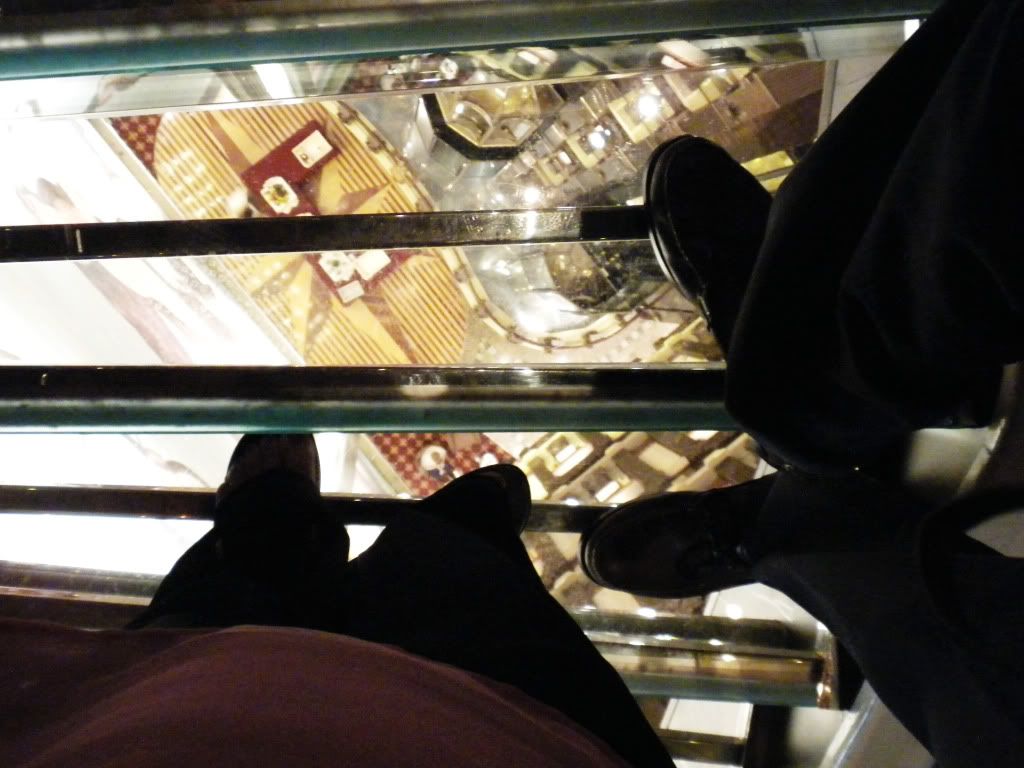 But at night.....oooohhhh, another story. See? It looked as if you were floating 12 stories above the atrium (waaaay down there below us) and it was a wicked feeling.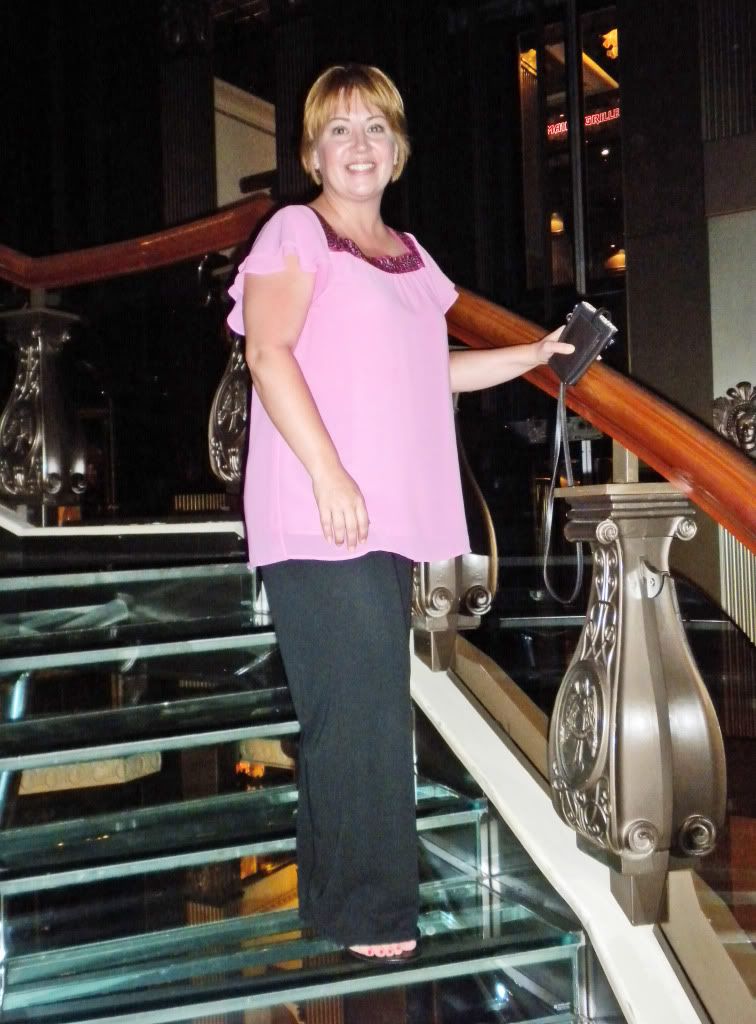 Yup. Obsessed.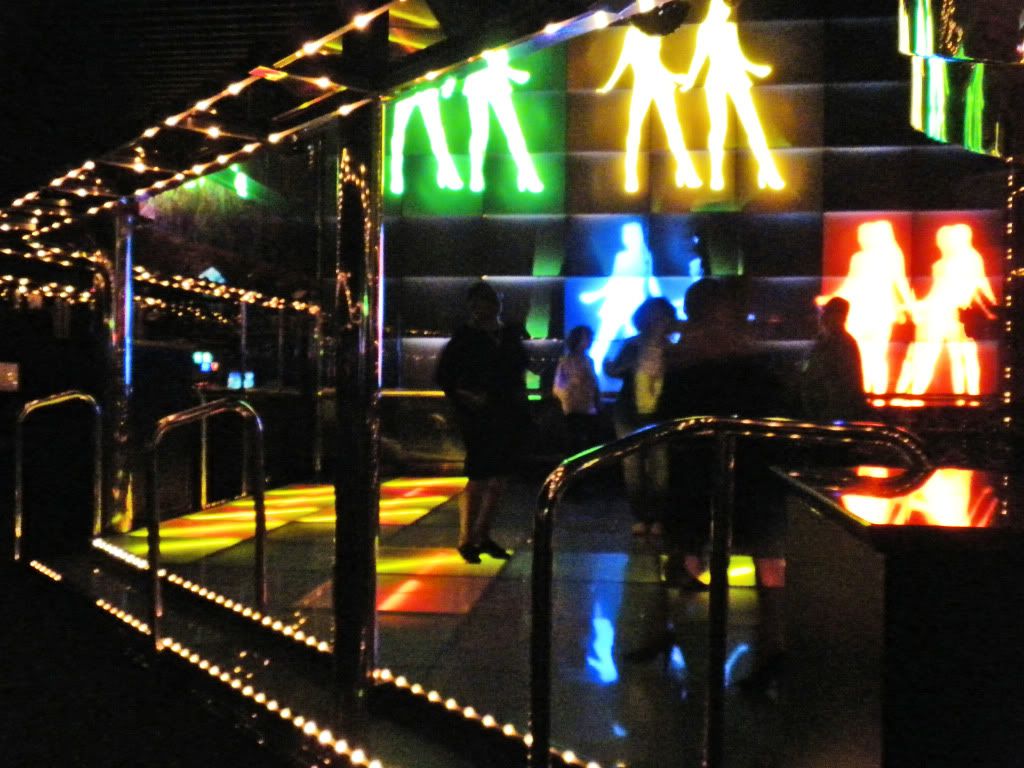 The Disco! Josh and I boogied down here one night. Well....I boogied one night, Josh boogied with all of the young people on the ship EVERY night. That boy crawled in bed between 2-3:30am every morning. The club didn't open until 10:30pm so that weeded out most of the old folks, ha. He made some fun friends to hang out with on the trip. We ended up eating dinner every night with the parents of one of the boys; nice people everywhere!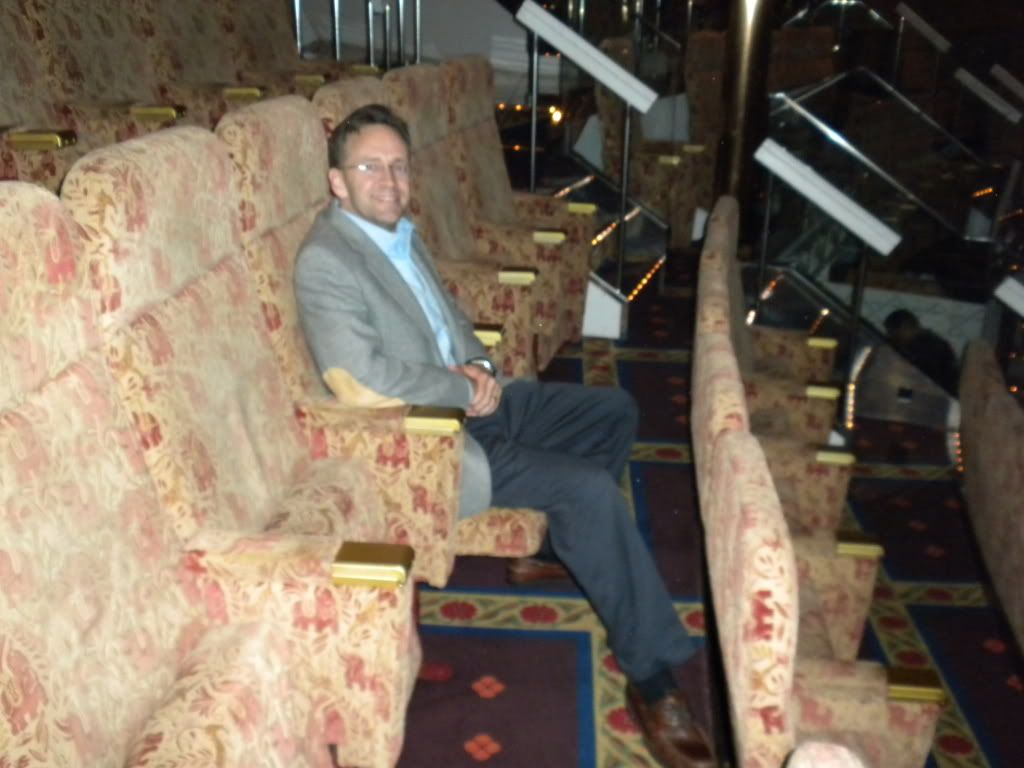 This is a real crappy picture of a real handsome man. It's in the theater, but none of my pics came out and they didn't allow any images to be taken during the shows for security reasons. Oh well. Isn't he adorable? The shows were great, by the way. Very broadway inspired. We went to one comedy night also, but for the most part, Josh is the night owl in our family so we let him roll with it and we'd crash by 11:30, ha!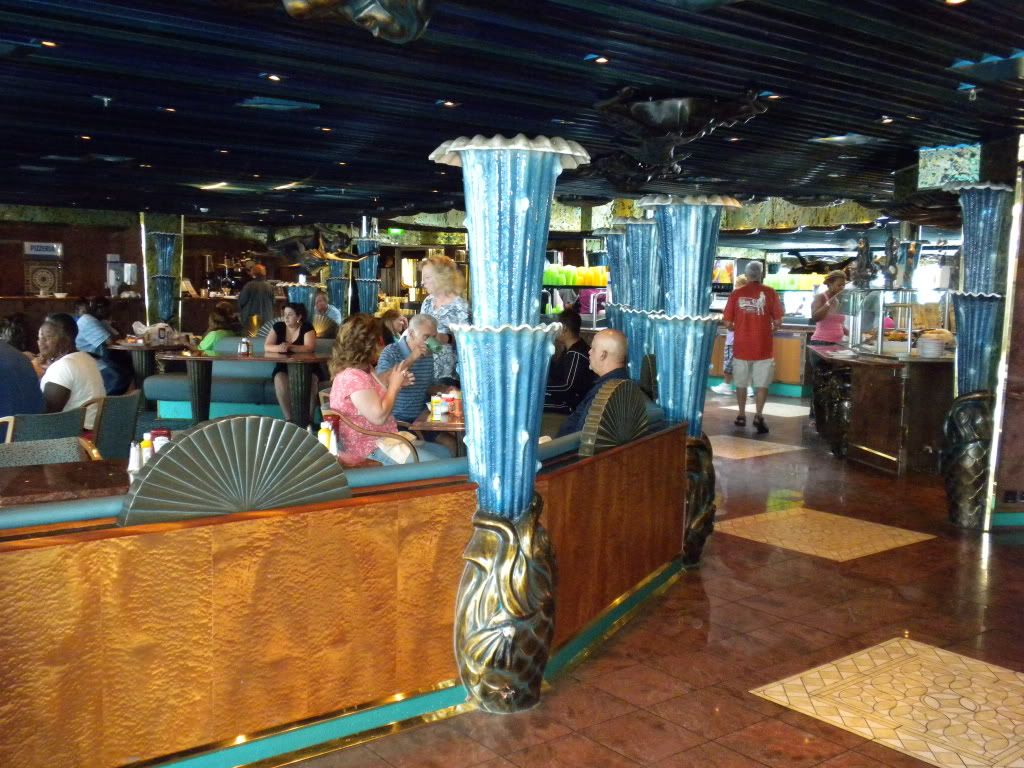 One of the buffet style eateries on board ~ The Mermaid Grill. You did not go hungry. Ever. There were 4 buffets, the main dining room (where we had dinner every night), David's steakhouse, a 24 hour pizza parlor, midnight snack bar....

Which is why they have a gym on board. Do you see me on that treadmill?
I didn't think so.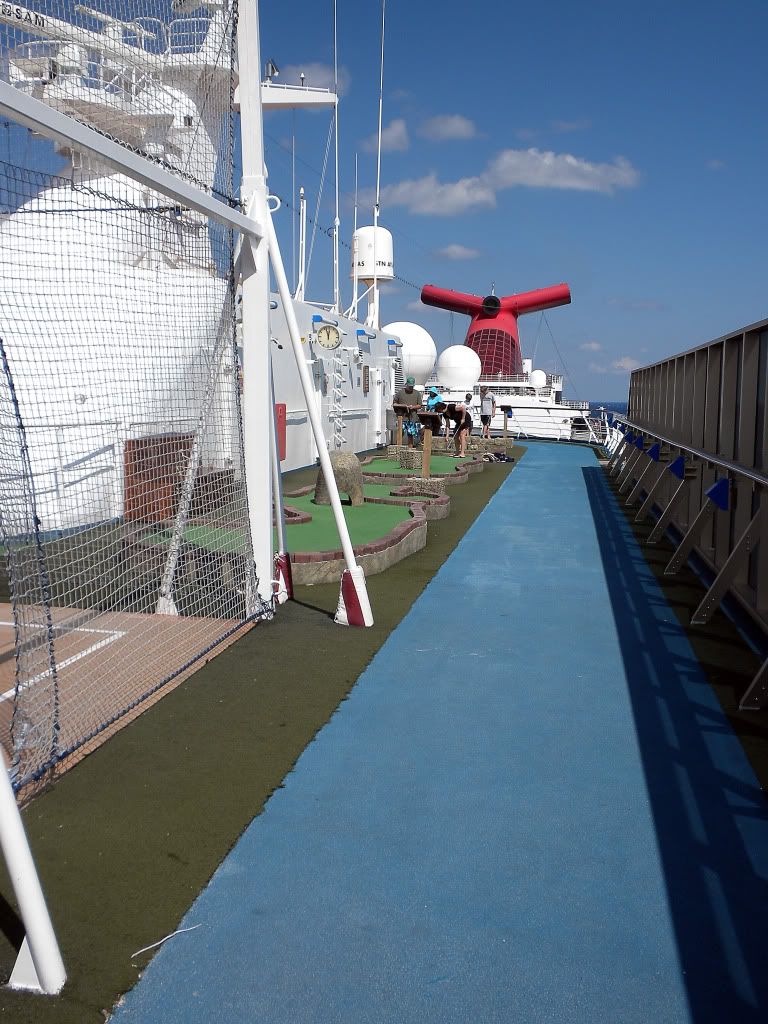 Do you see me running on that track?
I didn't think so.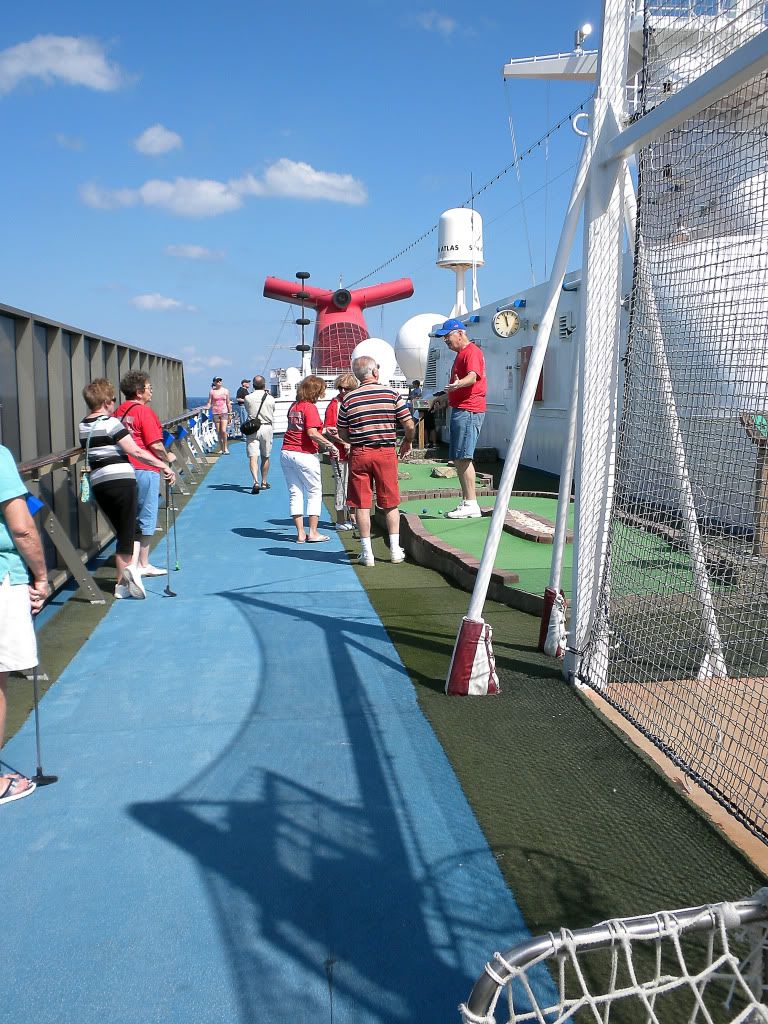 Do you see me playing putt-putt?
I didn't think so....and I'm still ticked about that. I had a "date" to play with Josh, but the kid never showed up which is why all I have is this dumb picture.
Geeze. He's a cruise ship with all of those young people, tons of hot girls, 4 pools, 3 hot tubs, a gym, buffets, drink-of-the-day specials, a casino, lounging decks and comedy shows going on and he didn't want to play putt-putt on the old people's deck with his mother?!? I just don't get it....

Oh! And I forgot~the slide!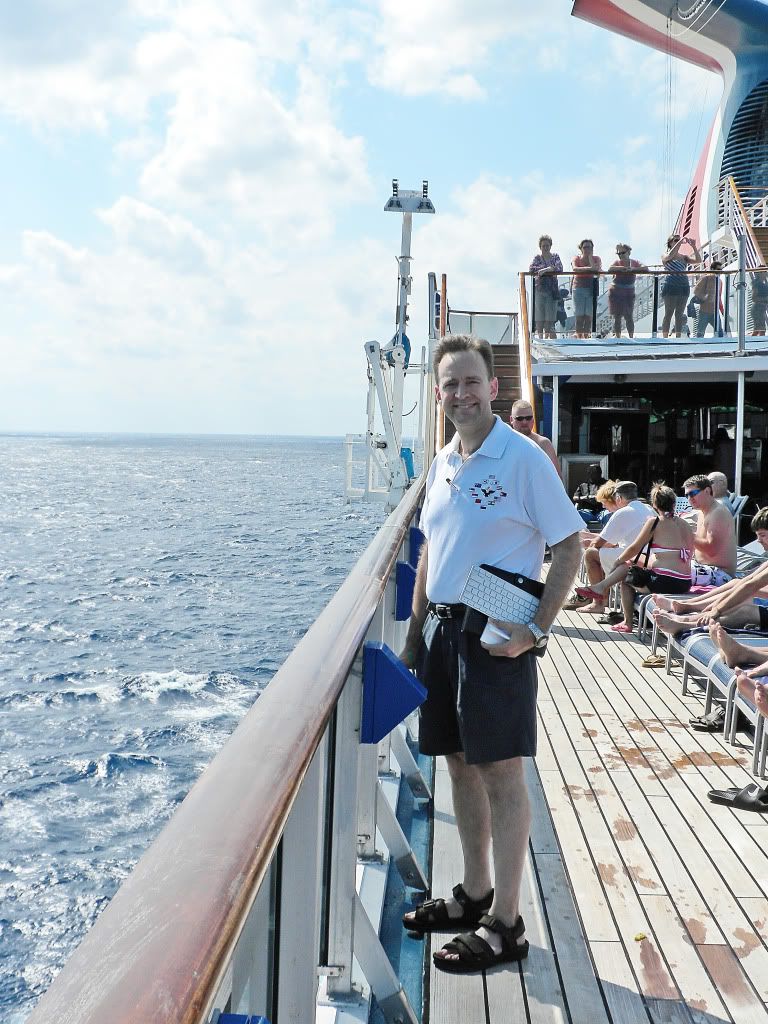 That's ok. I'll just hang with my handsome hubby over there and go sit some place quiet and read and drink my drinkie. Do you see he packed his ipad and keyboard? He was a very happy man.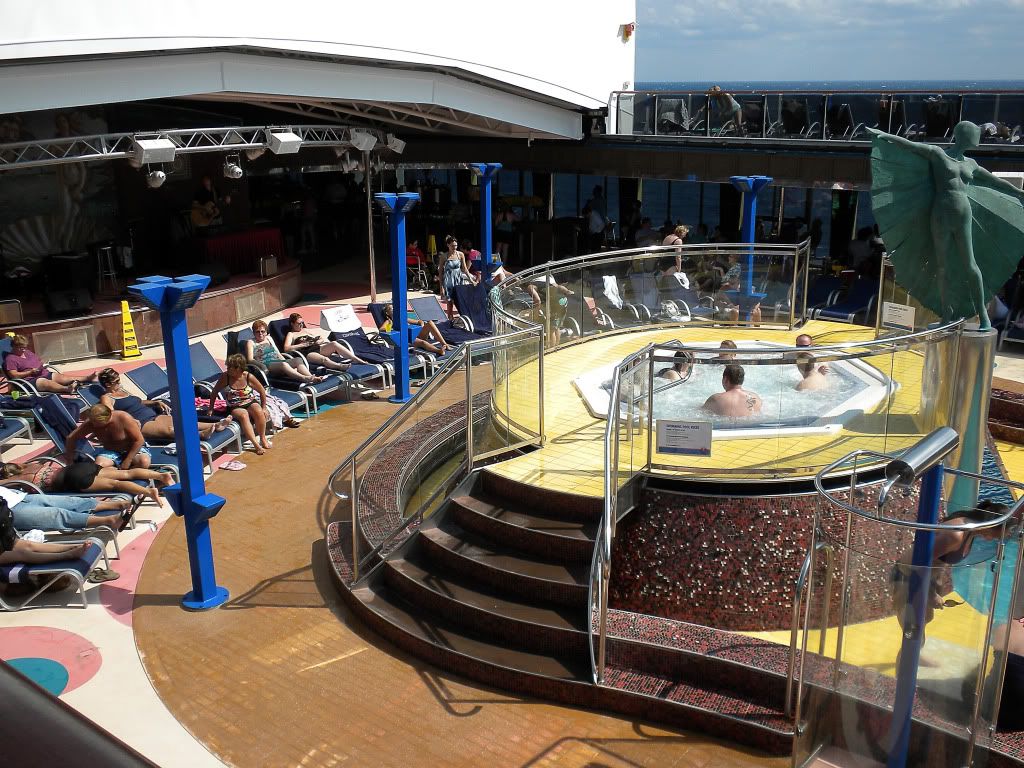 There's the hot tub that I plopped my butt into for 2 hours. I was a prune when I met Johnny for happy hour, ha! He didn't mind so much, he was drinking his margarita and loving ships life.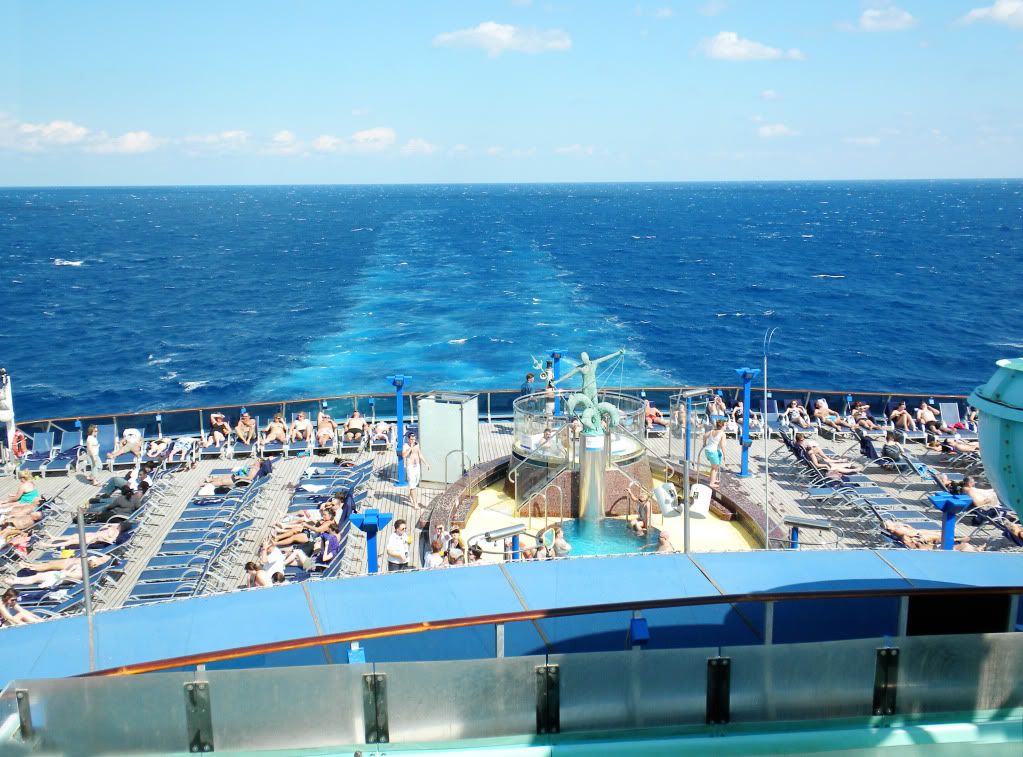 Johnny misses being at sea sometimes, but he said he didn't miss the responsibility & stress which is why we're hooked on cruising! He gets the best of both worlds. We're already looking for our next cruise.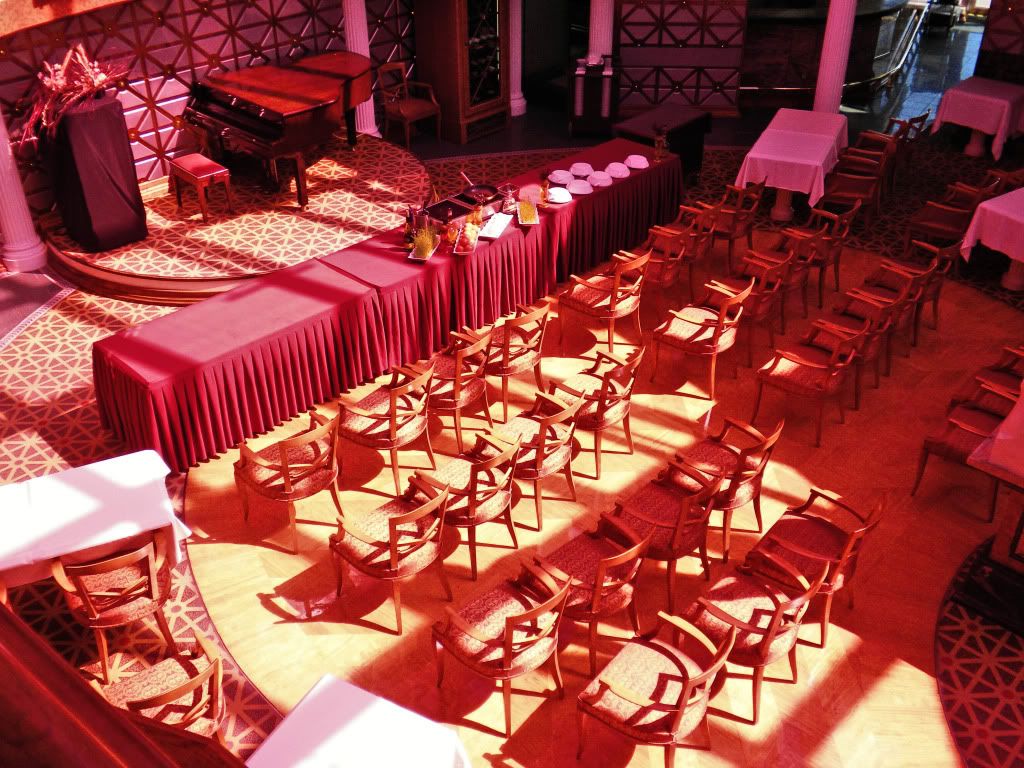 This is a glimpse of David's steak house ~ all set up for the cooking demonstration that I took from the master chef on board.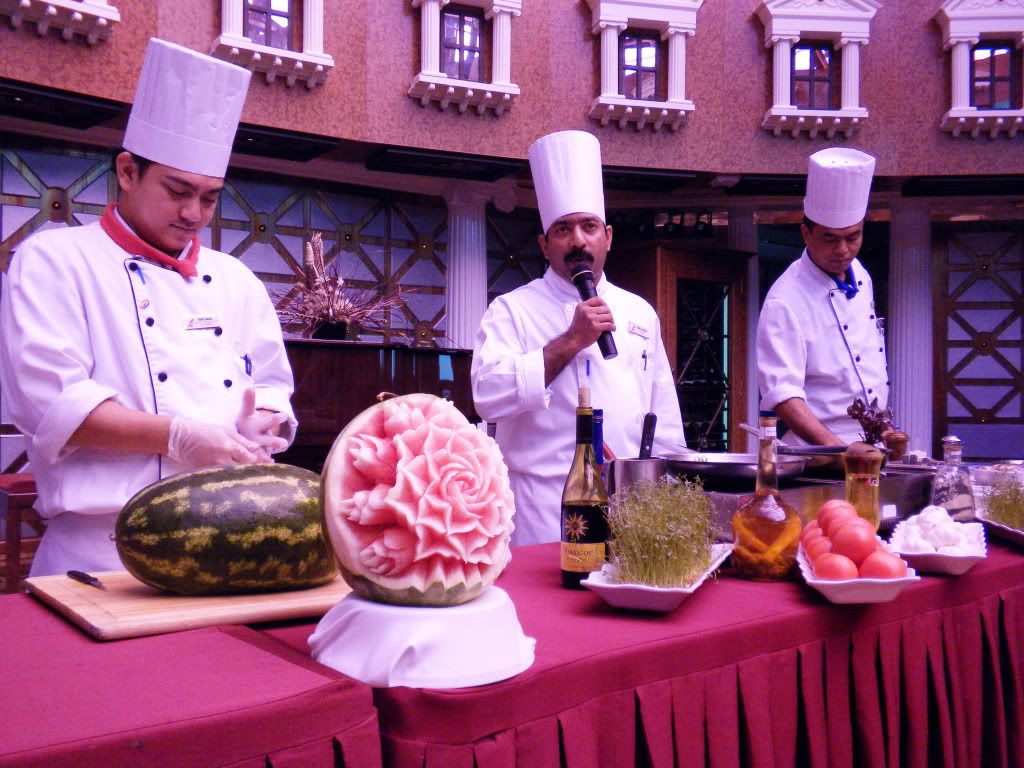 He did a demonstration of Beef Stroganoff while his sous chefs showed us how to garnish properly.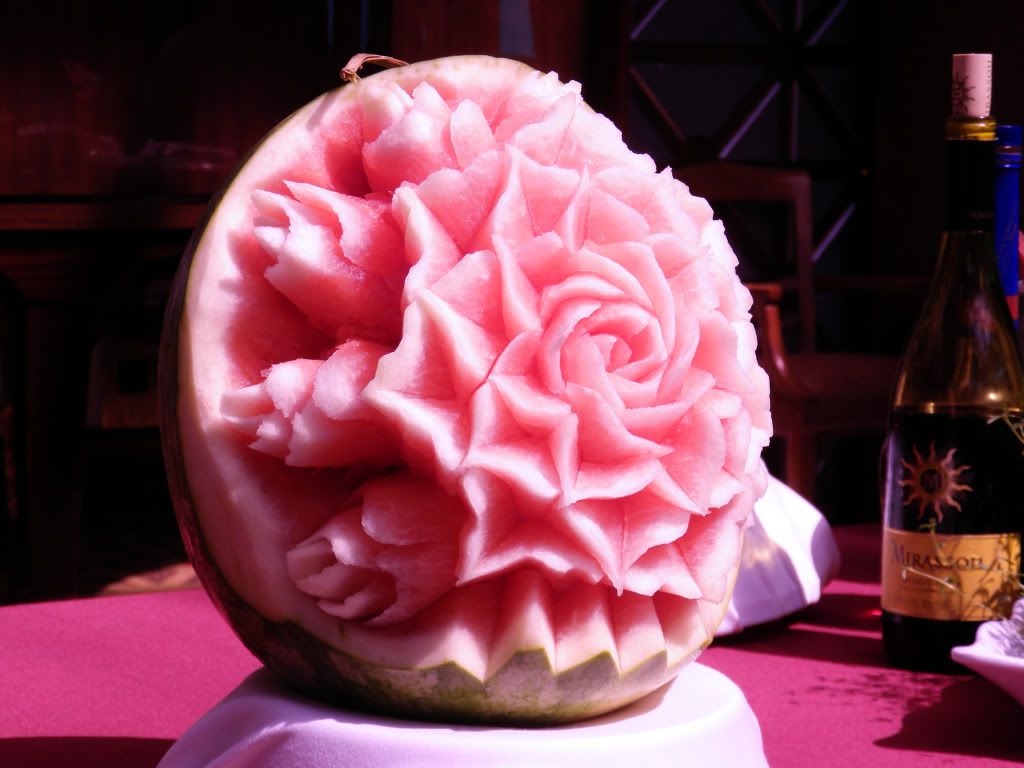 We learned how to carve watermelons.
Riiiiiiiiiiiiiiiight.
Seriously. If you think for one minute this is going to pop up on my Thanksgiving table you've got another thing coming. Just be happy with your sprig of parsley, ok?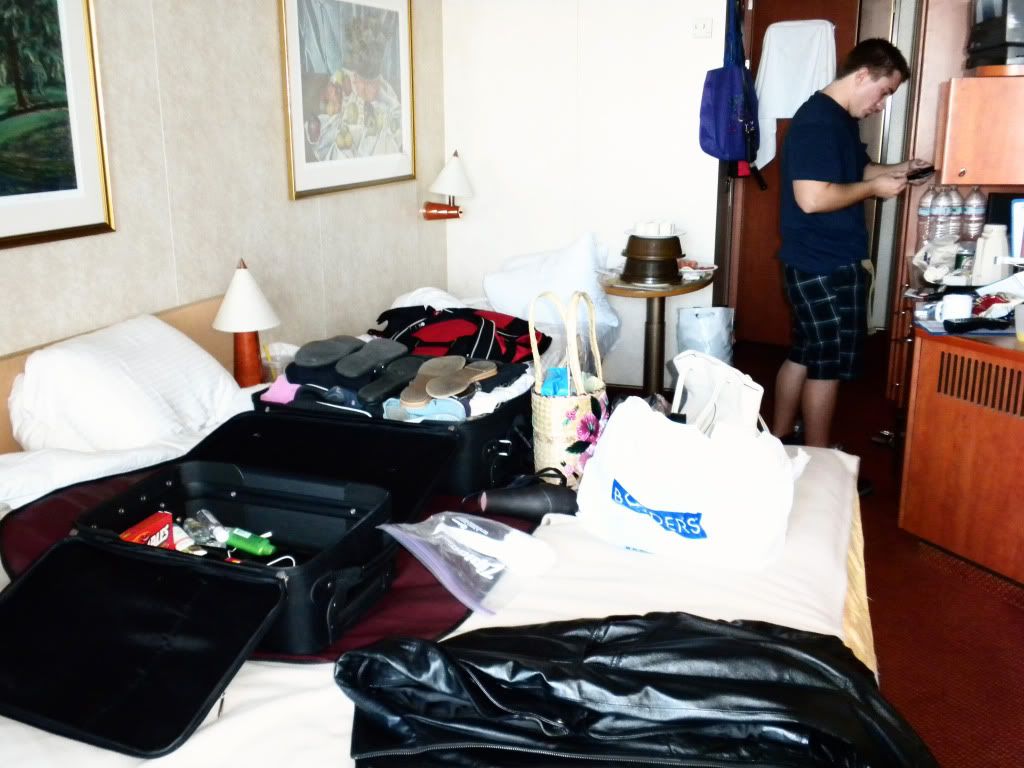 Packing our suitcases, getting ready to debark. What a sad, sad day. We weren't ready to go.

I had such a wonderful time with my family, it went by way too quickly. I knew as soon as the cruise was over it was going to be crunch time before Josh ships off to boot camp.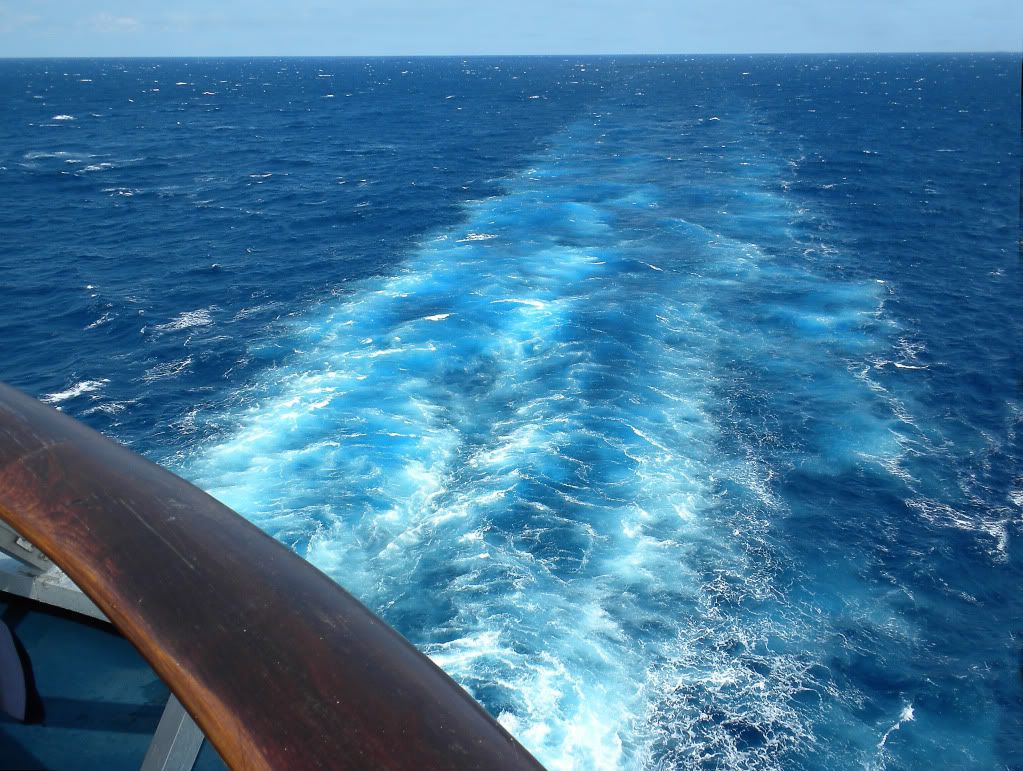 Now I'm in a constant state of holding my breath and begging time to slow down.