Last night I put together a slide show with all of our off ship adventure pictures in it (here's the link to that if you want to give it a shot:
http://tripwow.tripadvisor.com/tripwow/ta-00ad-9a6e-5f06?lb
) but some of you said it didn't work or it took too long to load. Bummer. Some of the slides went too fast too, but I loved the music! Made me get up and boogie! Yup, it did. Scary, huh?
So I decided to just plop some of the pics up anyway. (I was trying to avoid posting 64 pics and boring everyone to
TEARS!
Today I'll just post our day in Nassau, Bahamas. I'll do Port Canaveral and a few more random ship pics (including our professional session) in another post. There are only so many tears.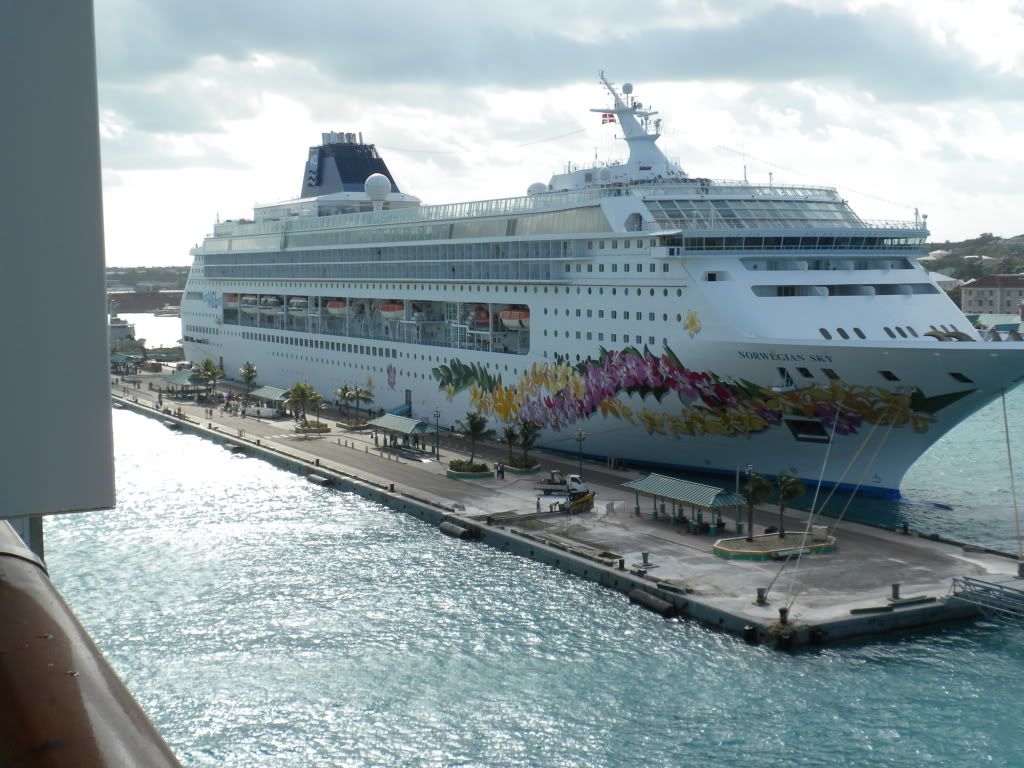 Our ship pulled directly up to that pier, side by side with the gorgeous Norwegian Kay.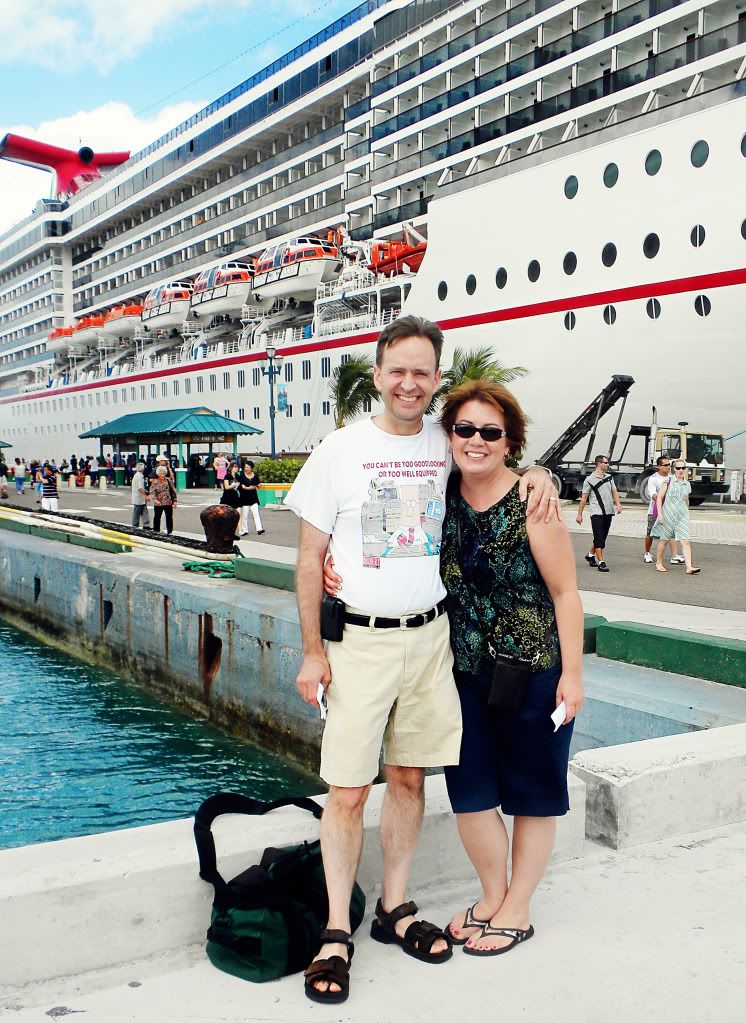 Johnny & I tried our legs on land for the first time in 3 days (felt strange!) & Josh went off with a friend he met on board, armed with plenty of cab money.
He's 20, what do you expect? For him to hang out with the old parents for the day? (Yes, that's what I wanted. I'm just posturing so that I won't look like I haven't cut the apron strings yet. Just go with it).

By the way, for the record ~ I have been smacked REAL hard with a reality this year: when you raise a child to be independent, what you end up with is an independent child. Wow. Funny how that works. Yikes.

Guess that's why one week from today he'll be headed to Ft. Meade to begin his life's new adventures! (And I'll be trying to hold him down to tie him back onto my apron!!) He's stronger though, I'm sure he'll win.
BACK TO THE BAHAMAS!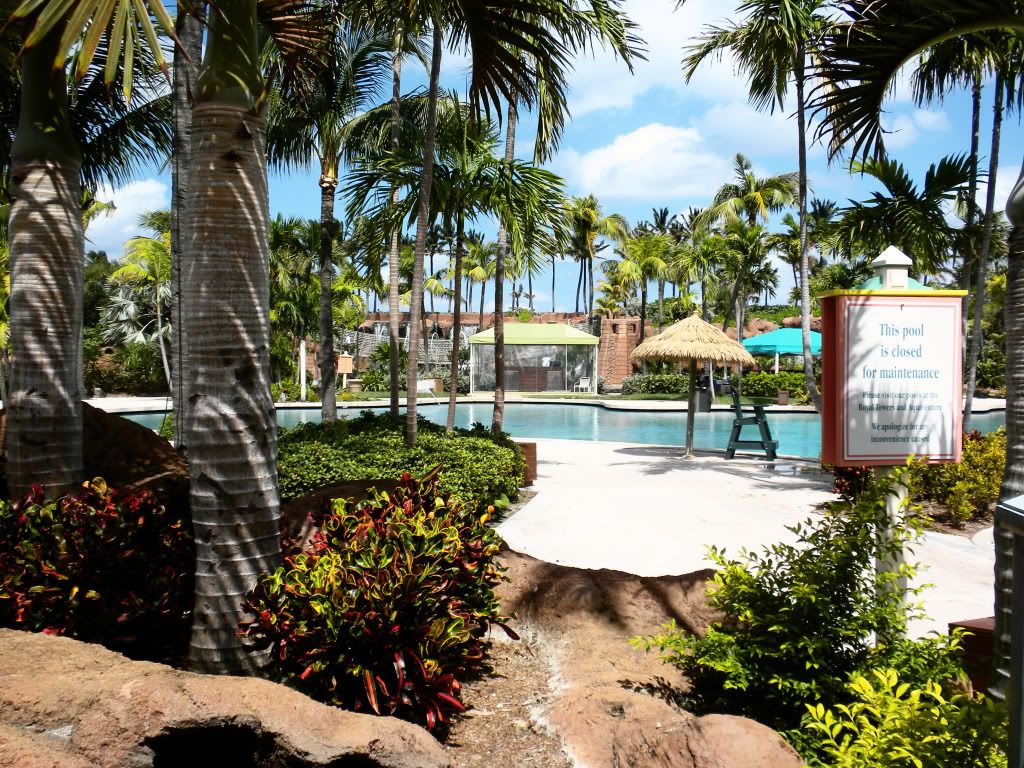 Johnny and I decided to lick our rejected parental wounds by spending the day in
Atlantis
~ an all-inclusive resort that is
out of this world
beautiful. We were healed in about 3 1/2 minutes.
Here's a postcard I snapped to show the layout. Our ship was docked in the channel that runs behind the hotel; it was a 10 minute, at most, cab ride.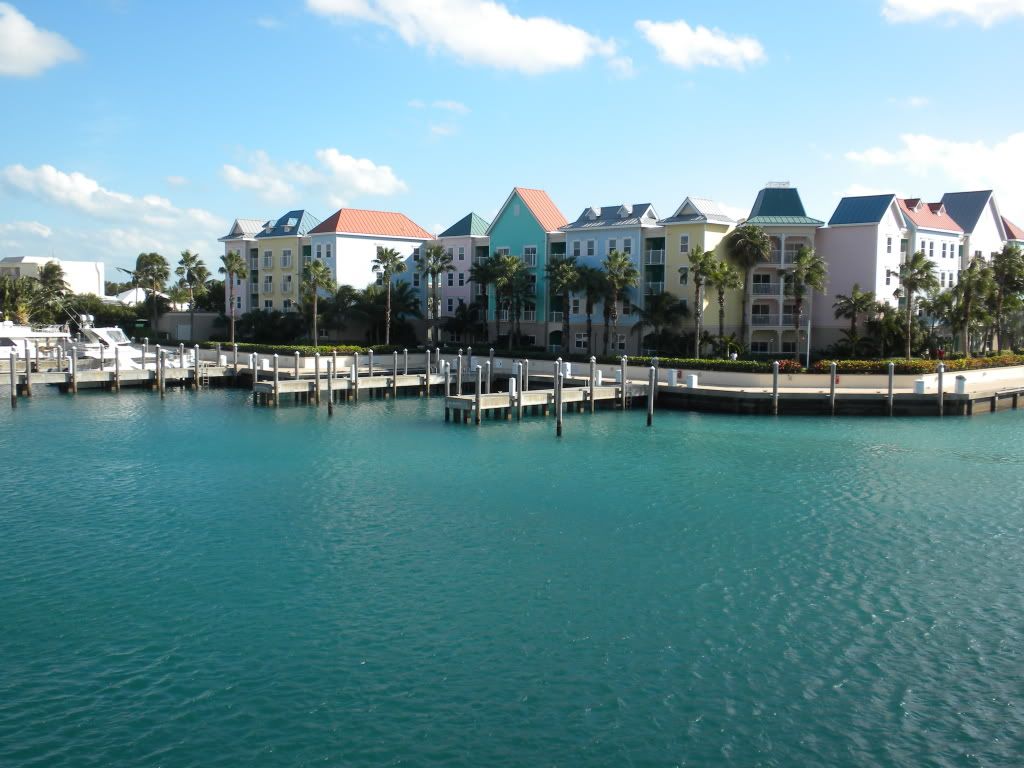 Time shares galore. I don't even want to know who much they cost, but
total heaven
if you're blessed enough to be able to live here for awhile.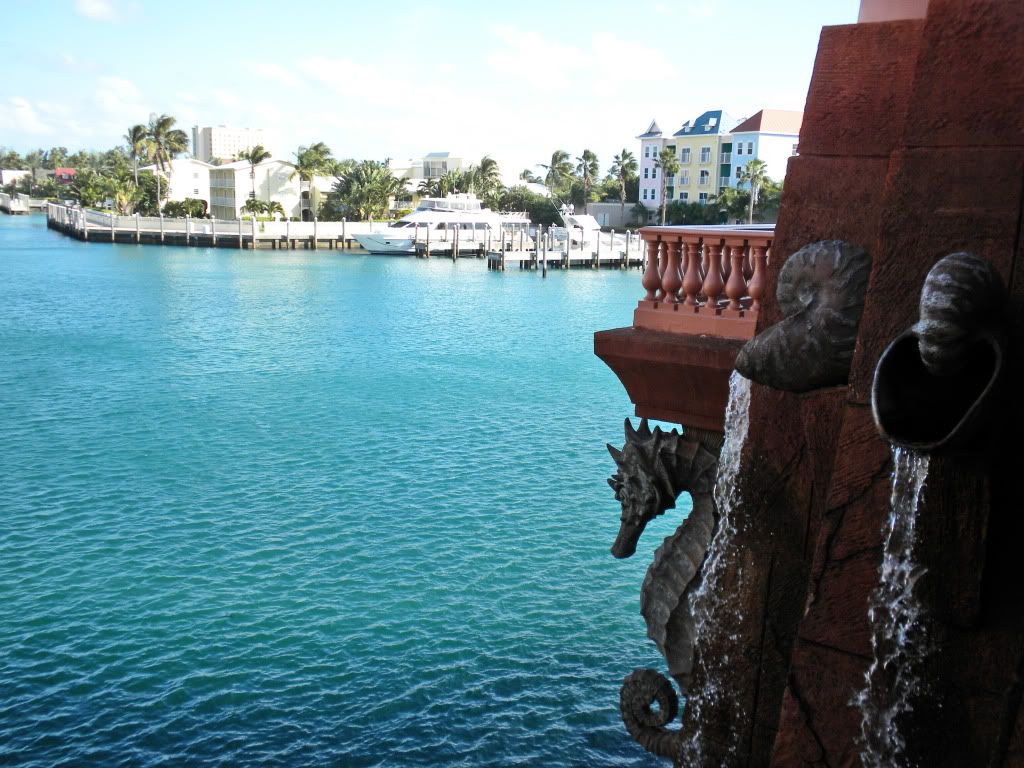 They can even accomodate you if you own your own yacht. Parking is free.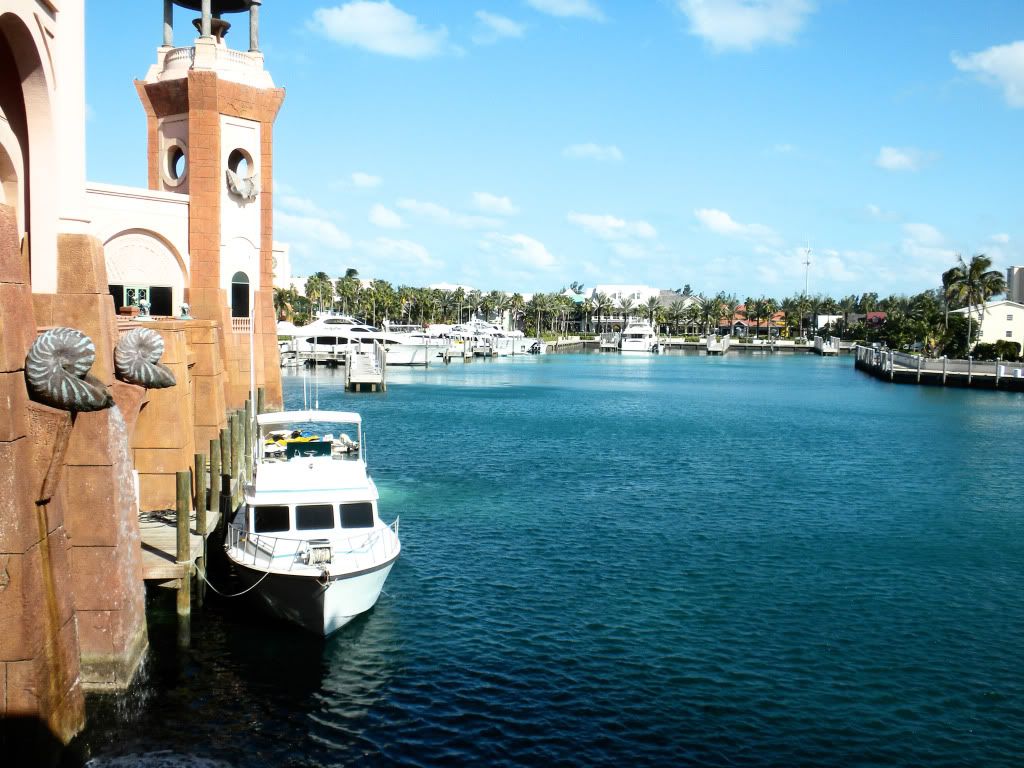 The views will cost ya though.
Or you can stay in the Atlantis Hotel. The lobby was gorgeous! I have a complete series of photographs of just the archetecture and decor, but, like I said, you only have so many tears, so I'll spare you. This time.
The entire first floor is an aquarium. That's right. I said AQUARIUM. See it? It is, afterall, the lost city of Atlantis.
All of the staff wore colorful, fun uniforms. Felt like we were in The Bahamas, Mon!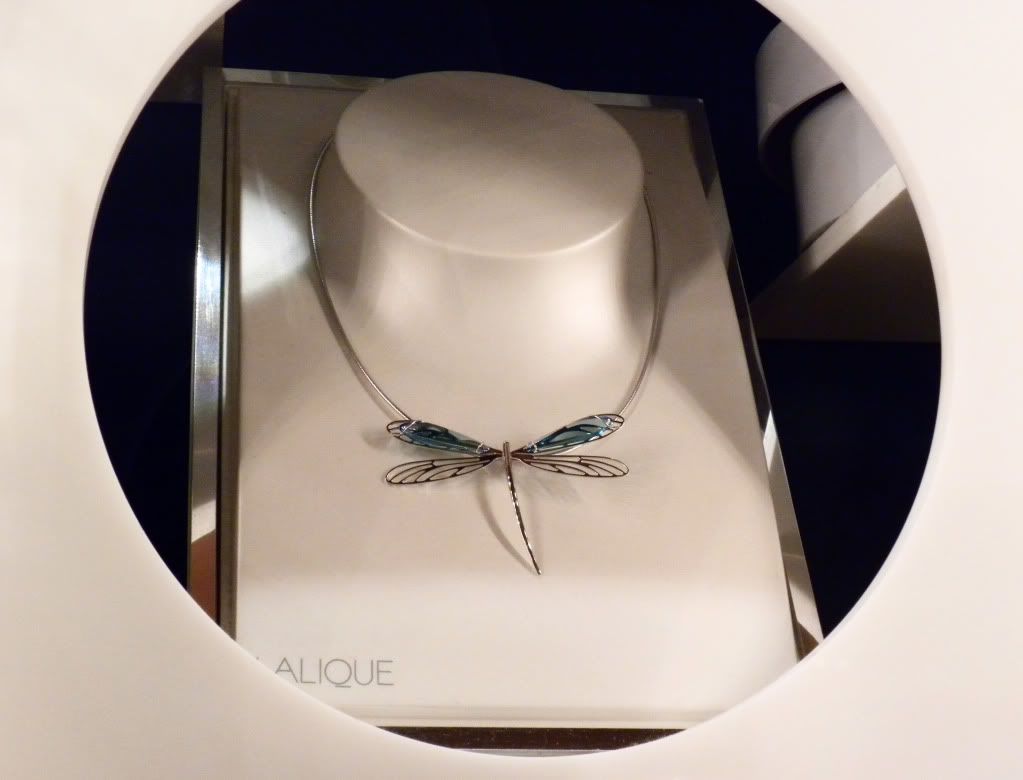 And there was shopping in the beautiful hotel, too. I just took a "random" shot of something stunning.
Totally
random. YUP. (Hello Santa? Are you there? Tap, tap, tap...is this thing on?)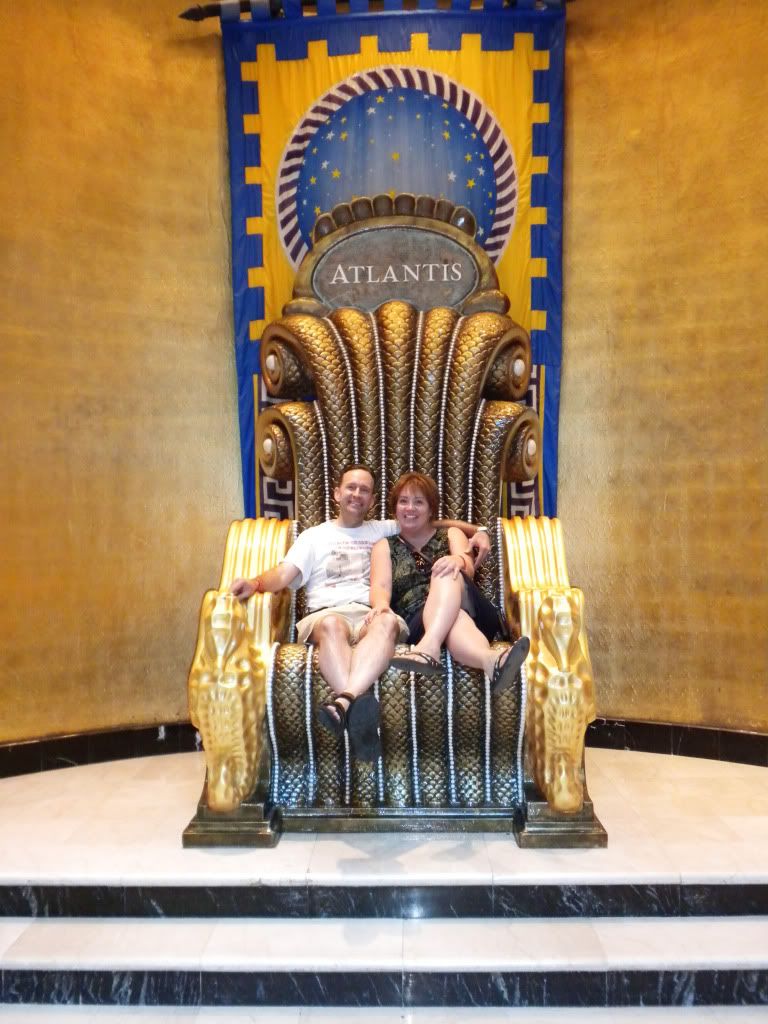 Meet the King & Queen of Atlantis. Let us show you around our land.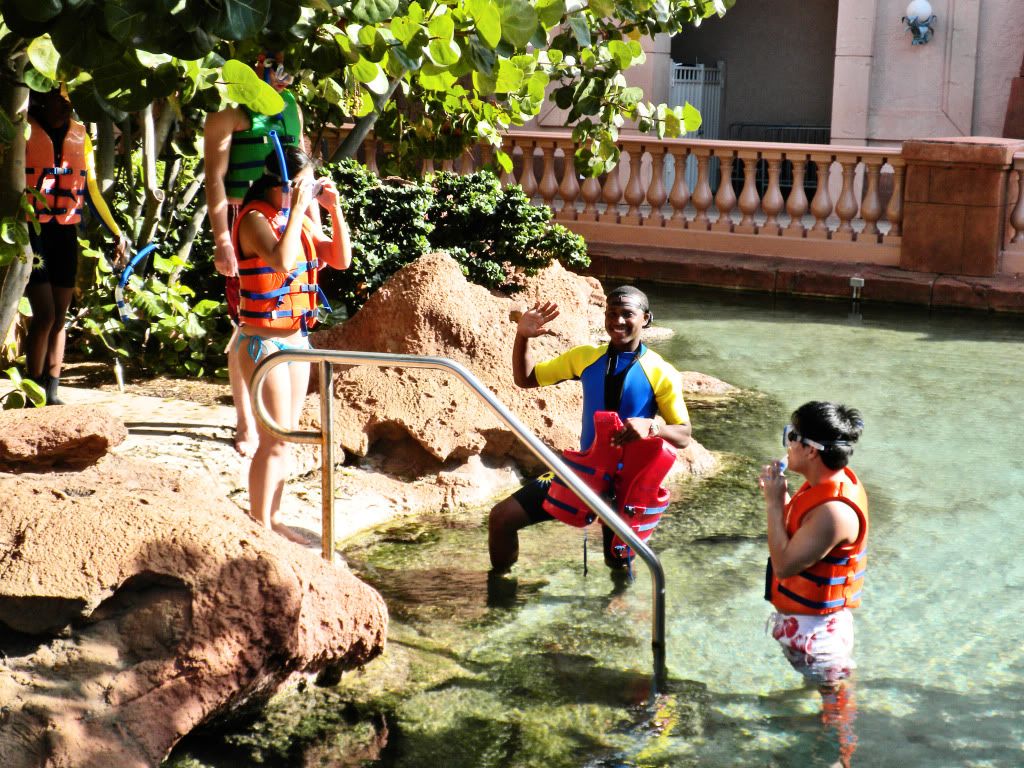 You can learn to scuba dive with our professional & super friendly staff.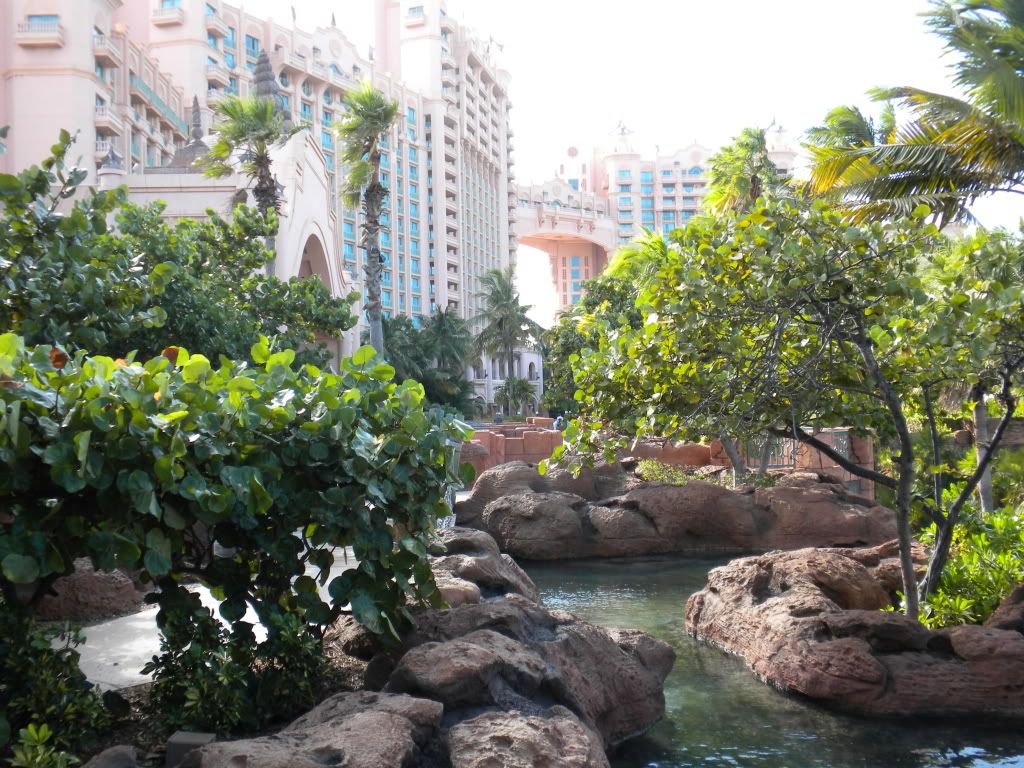 Wander the grounds at your leisure.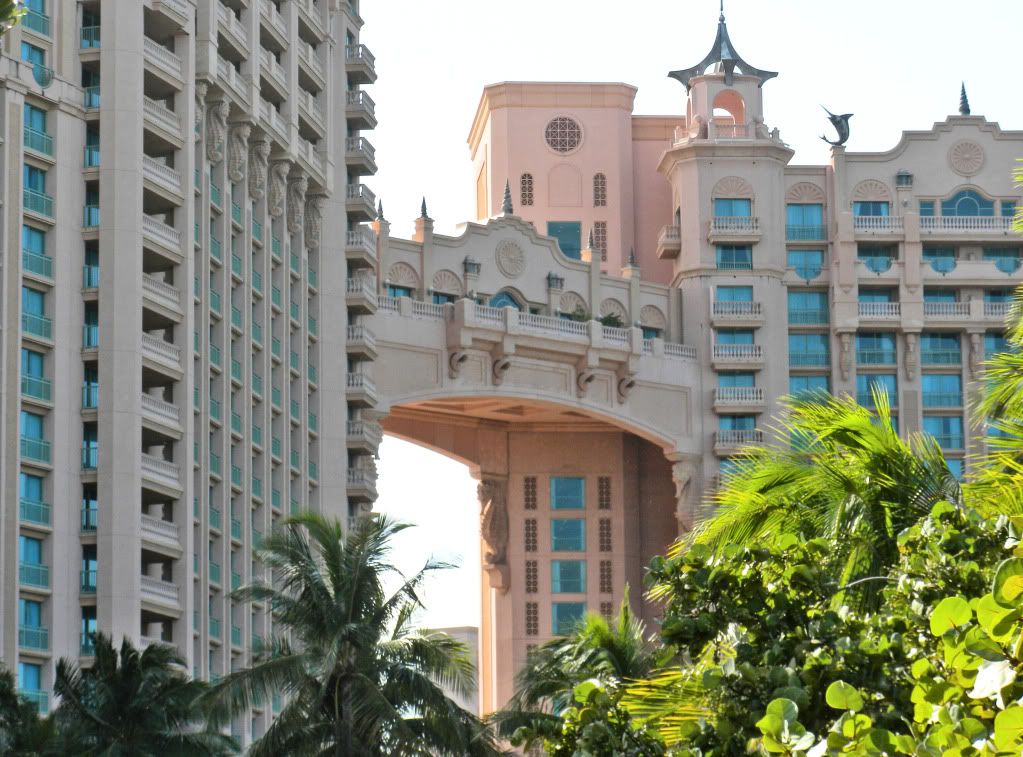 And that arch? That is
The Bridge Suite
. You can rent it but it is
booked solid for the next year
. Full balconies, front and back, with
spectacular
views.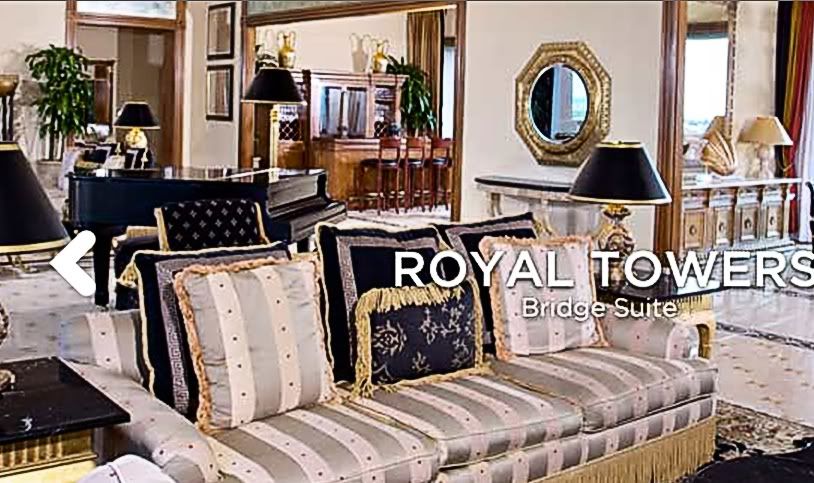 Perfectly decorated and will satisfy every need you will have. A FULL staff always at your service and has it's own private entrance. Let us drop you into the lap of luxury.
All for only $25,000 per night, with a 7 night
minimum
. And did I mention that we are fully booked for the next year?
My Mr. Perfect is happy because we have a lovely, teensy, weensy little cabin (with balcony!!) waiting for us at the ship. And that's fine by me :o)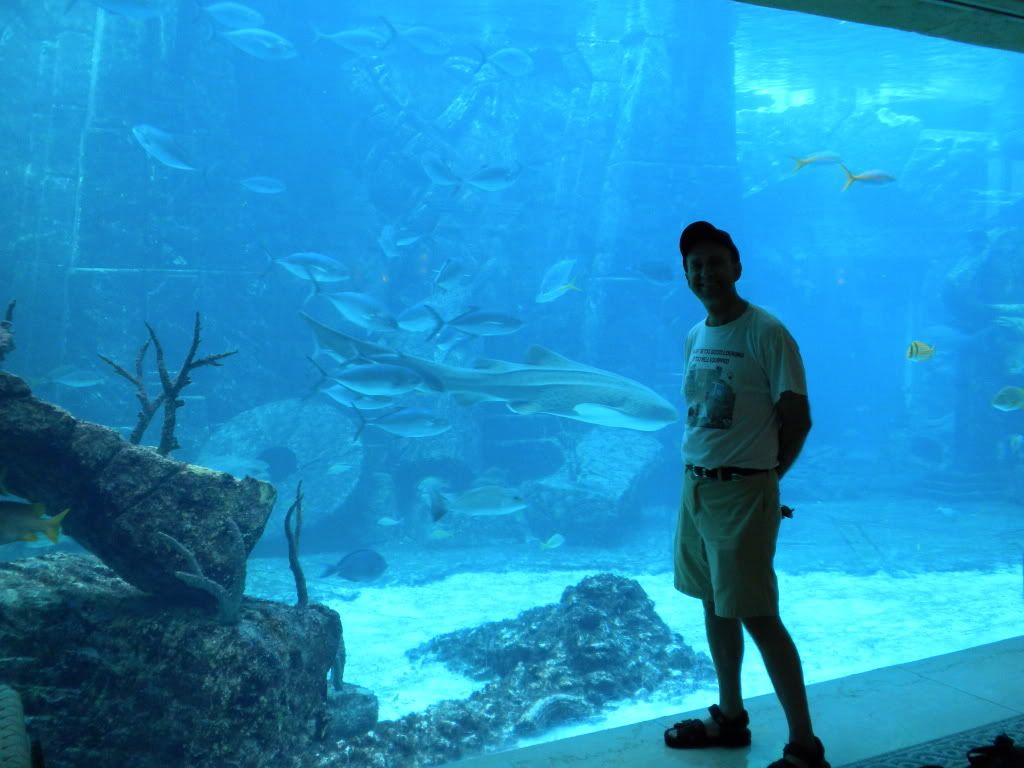 Everywhere we went, there were walls of aquariums. It was stunning. I regret not sitting down for lunch and just observing, but we were too busy wanting to see the whole resort before we had to get back to the ship. Didn't want to miss our boat! That would be a
bad
thing.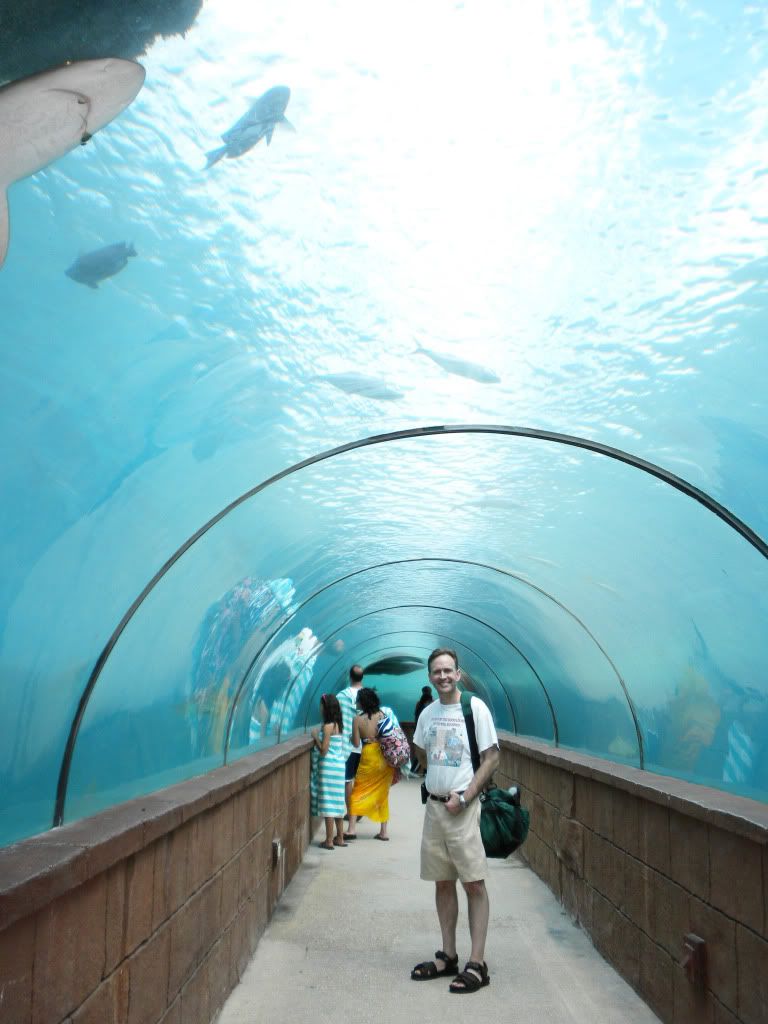 The tunnels were awesome.
We were jokingly "looking for Nemo."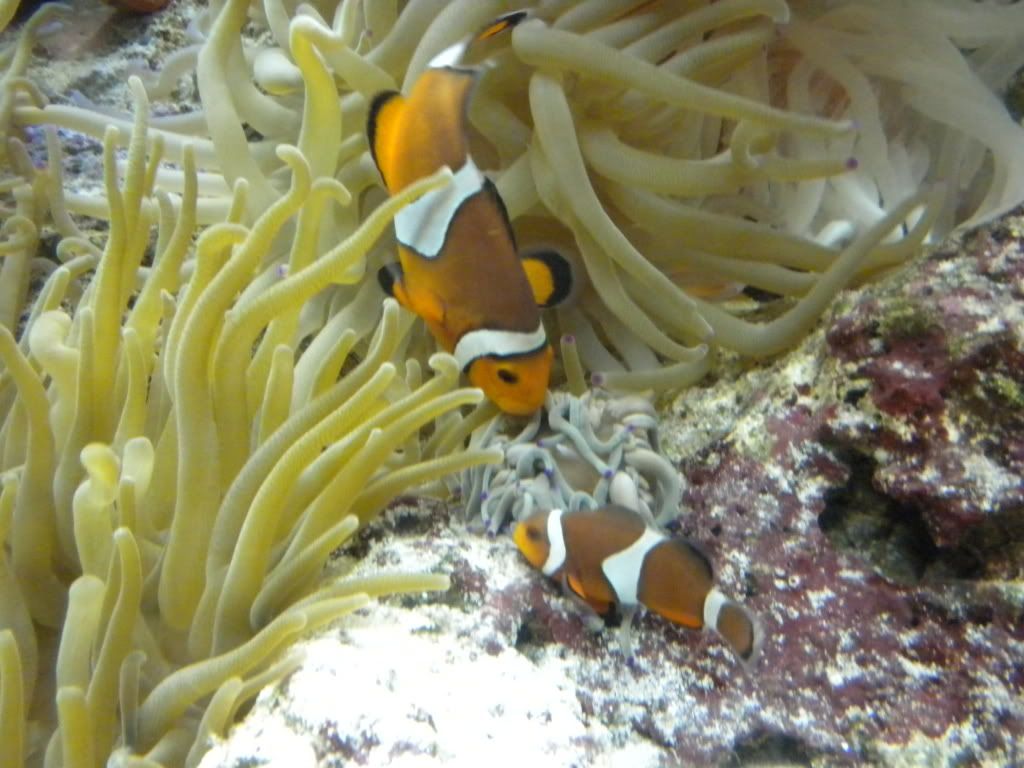 And we were delighted when we found him! Back with his Papa.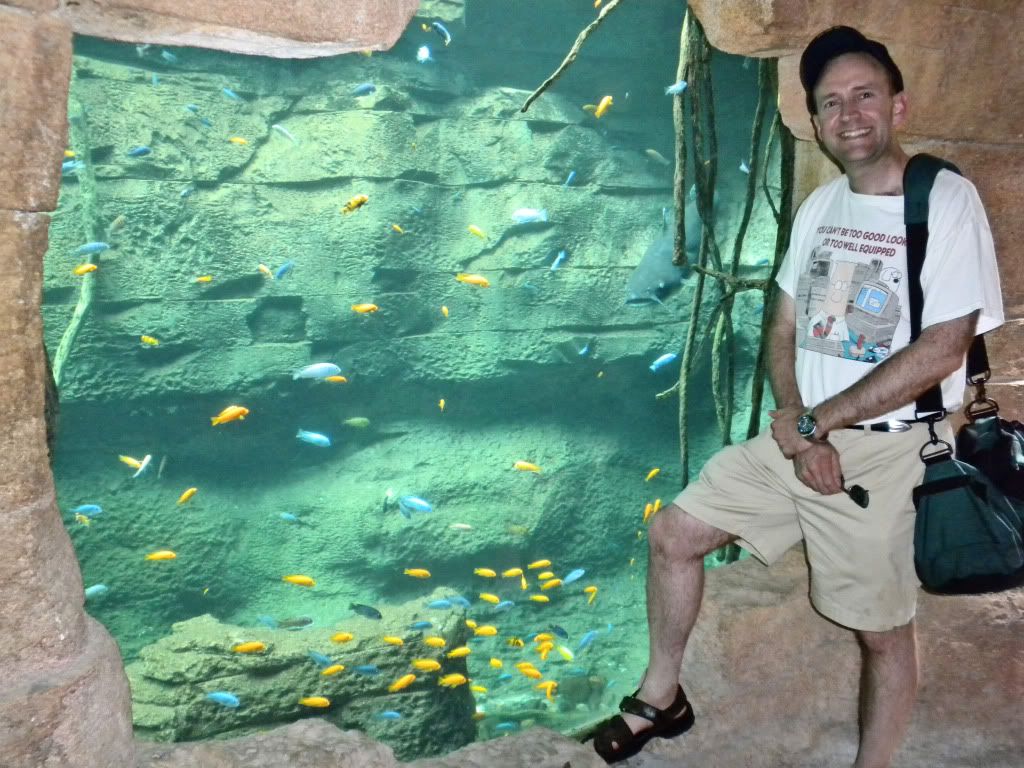 This tank was filled with blue & gold fish. And you know what that means....
Uh-Oh, here it comes....
GO NAVY! WOO-HOO!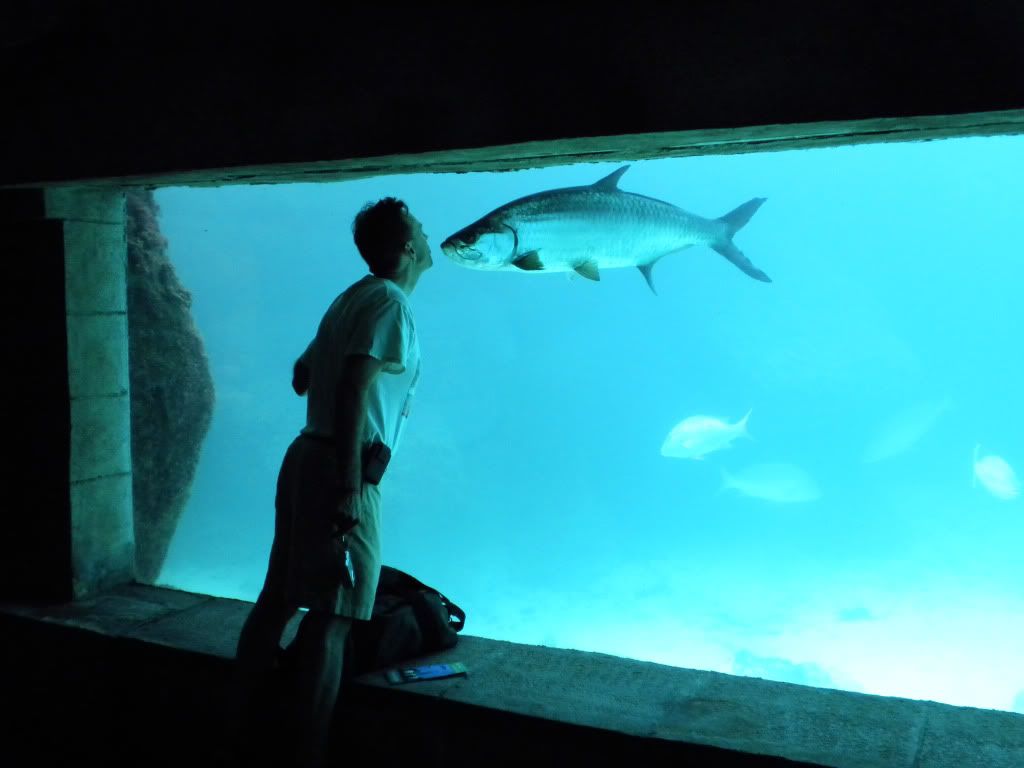 My Johnny was beginning to behave strangely and showing ungodly amounts of affection in public.
And making gooooogley eyes at strange women. Love. It can never be. Poor things.
We went out to the beaches to get some fresh air and to mend Johnny's heart. I admired the scenery and beautiful turquoise waters.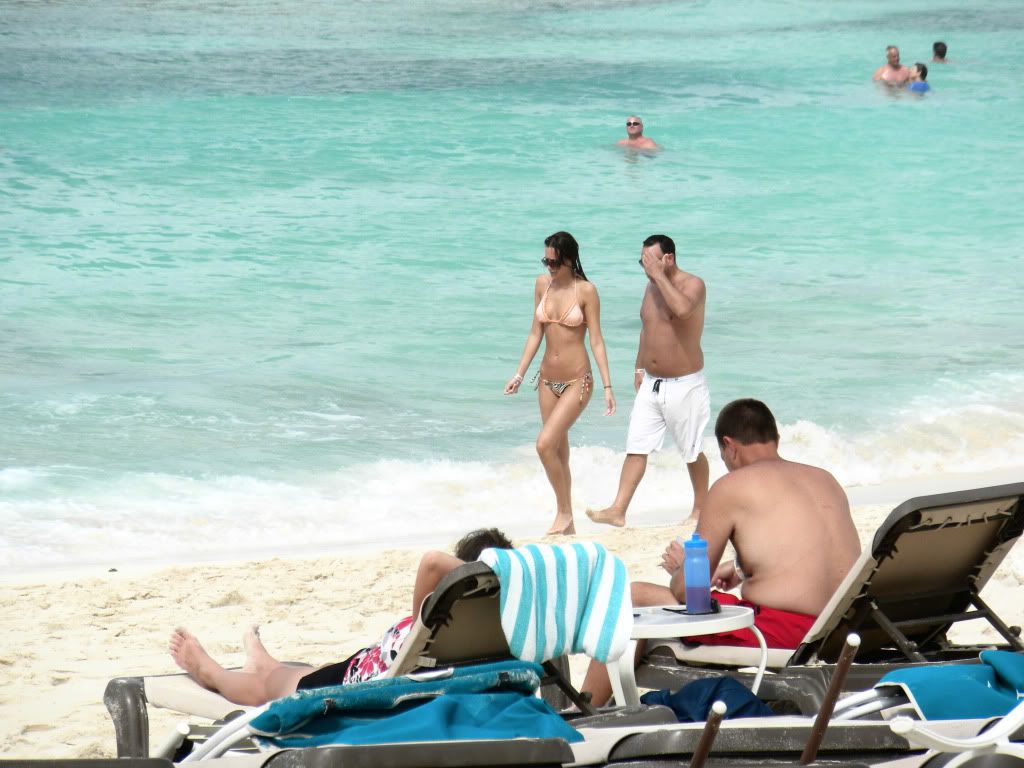 Johnny admired the....other sites. He thought the beaches were lovely, too.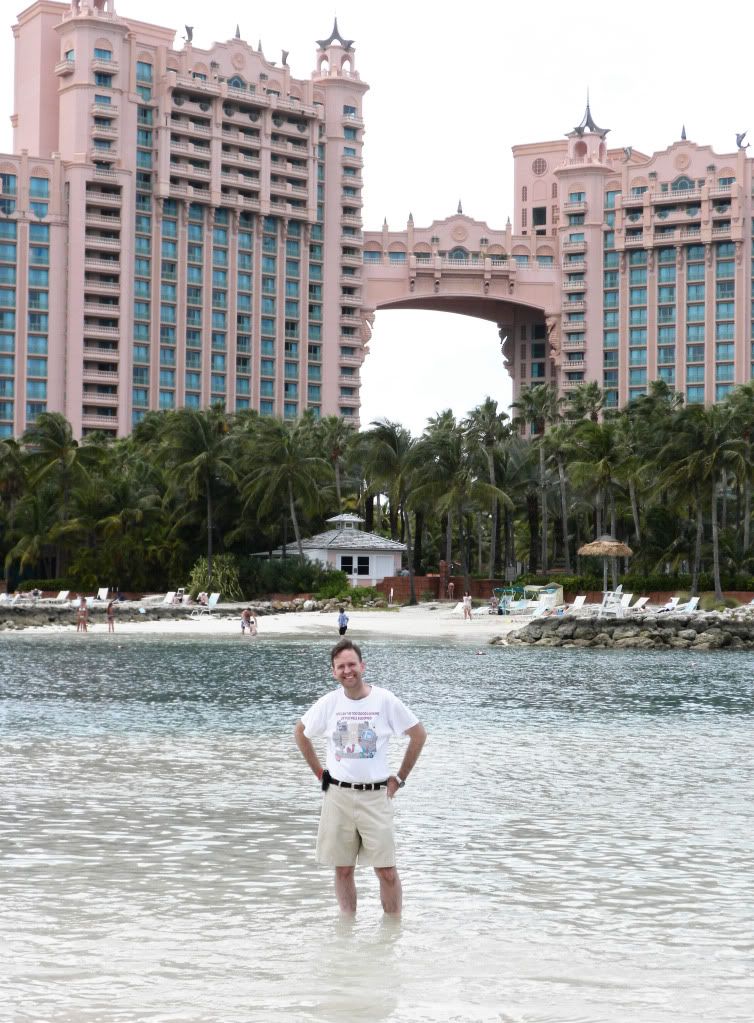 He got to "people watch" for ahwile. That's why he's so happy!
In the end, he remained with his bride in those smokin' hot bermuda shorts and she fell head over heels with him in his Dilbert t-shirt and Navy ball cap. So, as the story goes, the King & Queen....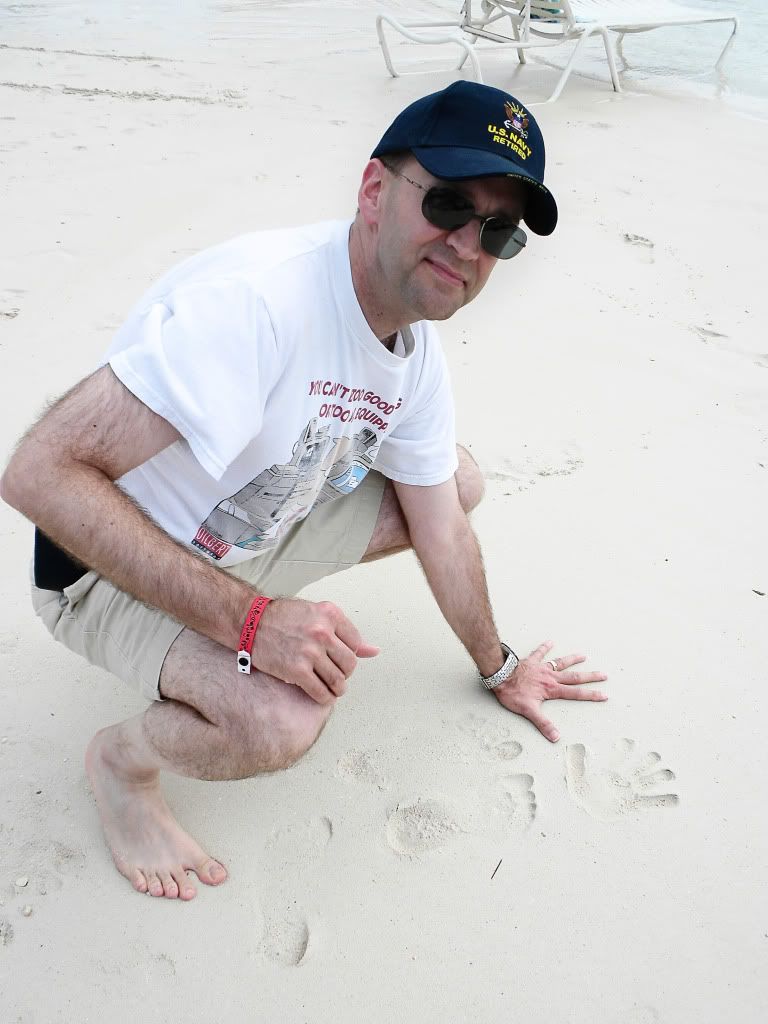 Recommited their love and devotion in the sands of the Bahamas for ever more.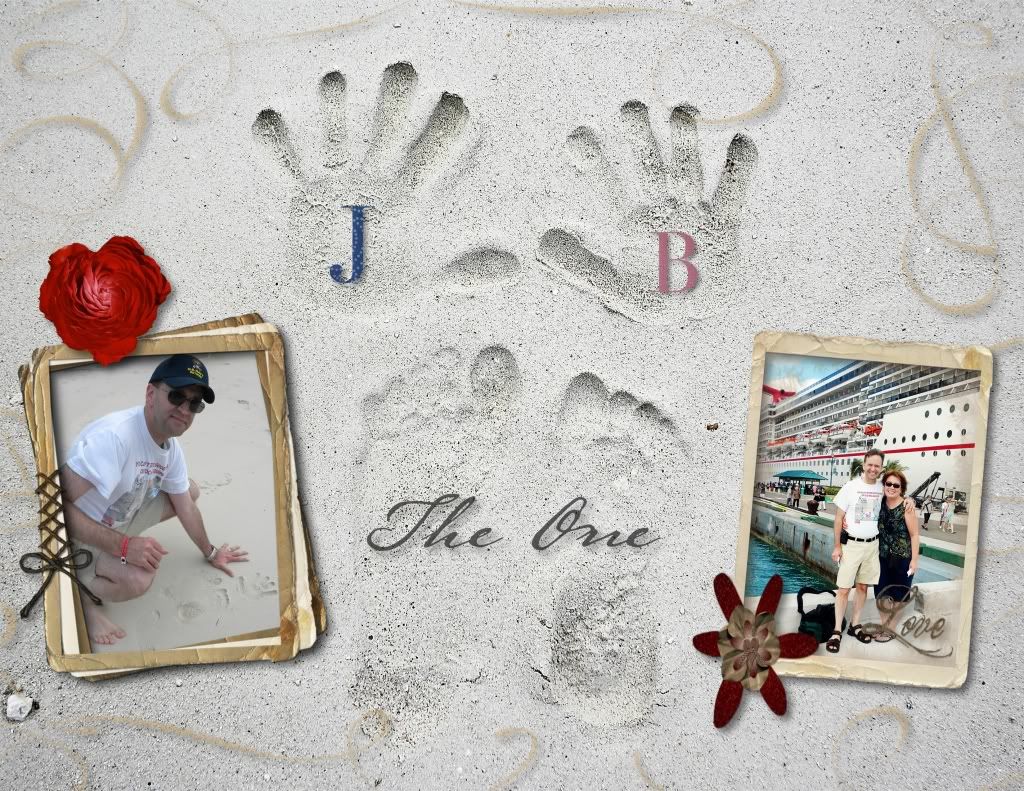 Always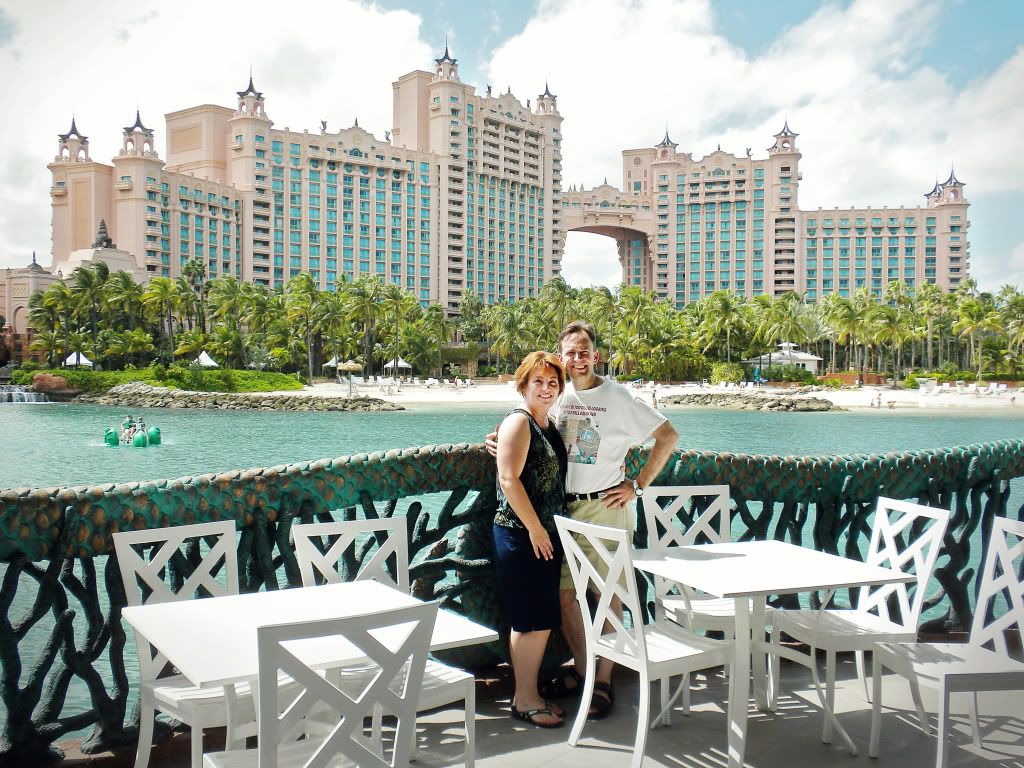 And they reigned their Kingdom of Atlantis happily ever after.
Until 5pm.
Then they had to dash back to the ship before it sailed away without them leaving them homeless and with their son screaming, "Woo-hoo! I have the whole room & your credit cards to myself!" at the top of his lungs, waving from the balcony.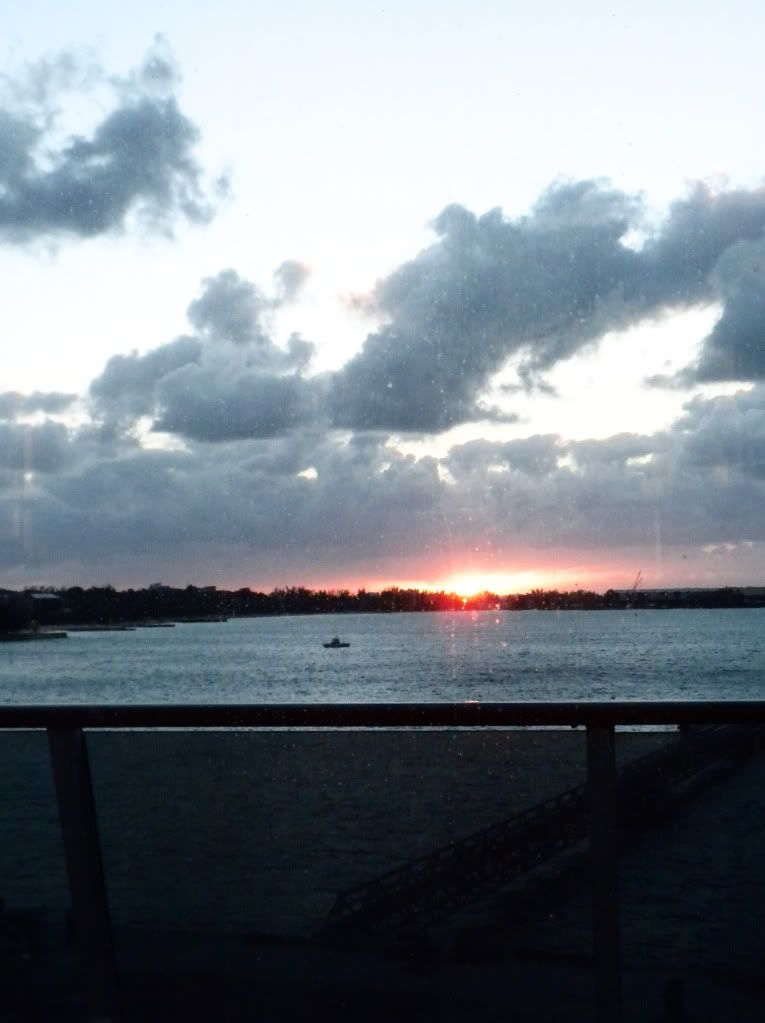 That thought made then dart
faster
~ To reign their dinner table on the cruise ship and watched
this
sunset out of the window over the land that they loved for 6 hours and can't wait to go back to some day.