Today the Army Wives group that I joined (I love them!) went on a field trip to the Bahrain Embassy in downtown D.C. Yesterday was Veteran's Day so many of our hubbies were off today as well, and a few of them joined us on the tour. What a treat!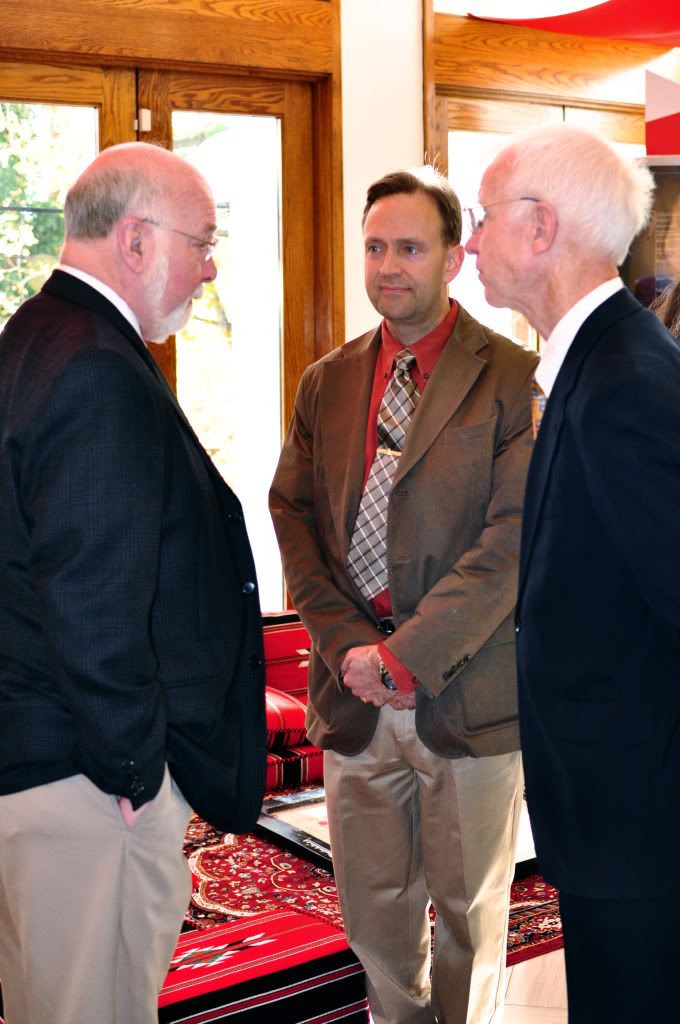 And of course they found each other like magnets, realized they had each served in the U.S. Navy (and why were their Navy wives in the Army wives club anyway?) Who cares? It allowed them to tag along today and that's all that's important. They stood around and "talked ship" for ahile.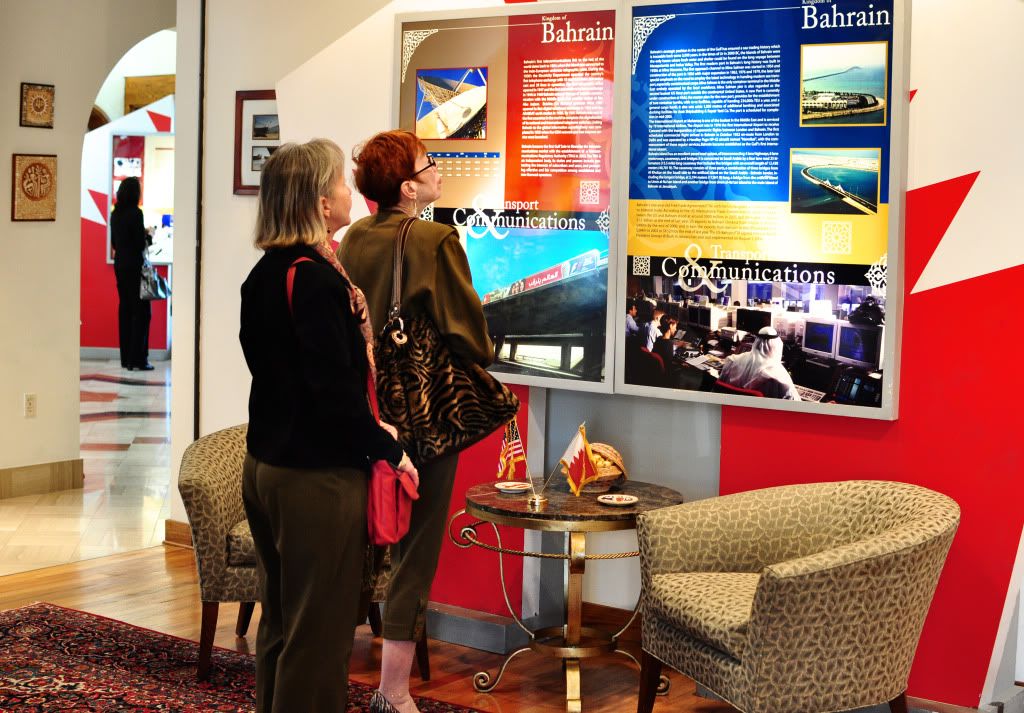 Johnny's been to Bahrain, in the Middle East, but I didn't know much about the country and I found it fascinating. I love to learn about how other people live.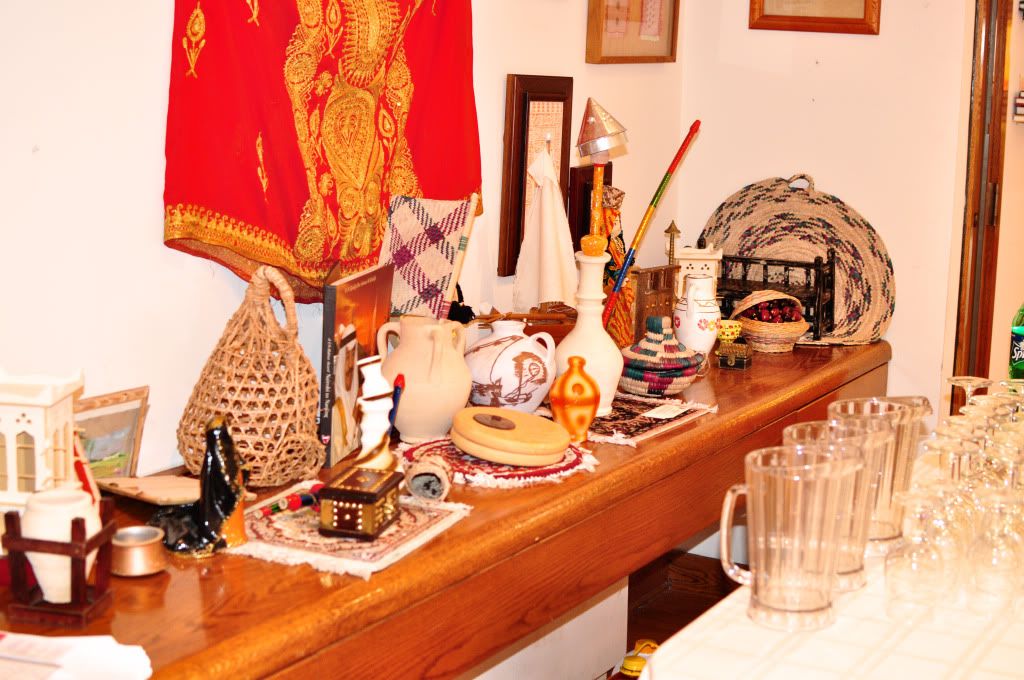 They have a long and colorful history based on being a trading hub in the Persian Gulf. I also found out that they are known for their pearls. In fact, Bahrain is called "The Pearl of the Gulf." Mr. Cartier himself used to go to Bahrain and hand pick his pearls for his jewelry.
Question: Johnny's been to Bahrain.....and I do not have any Bahrainian pearls.....what's up with that?!?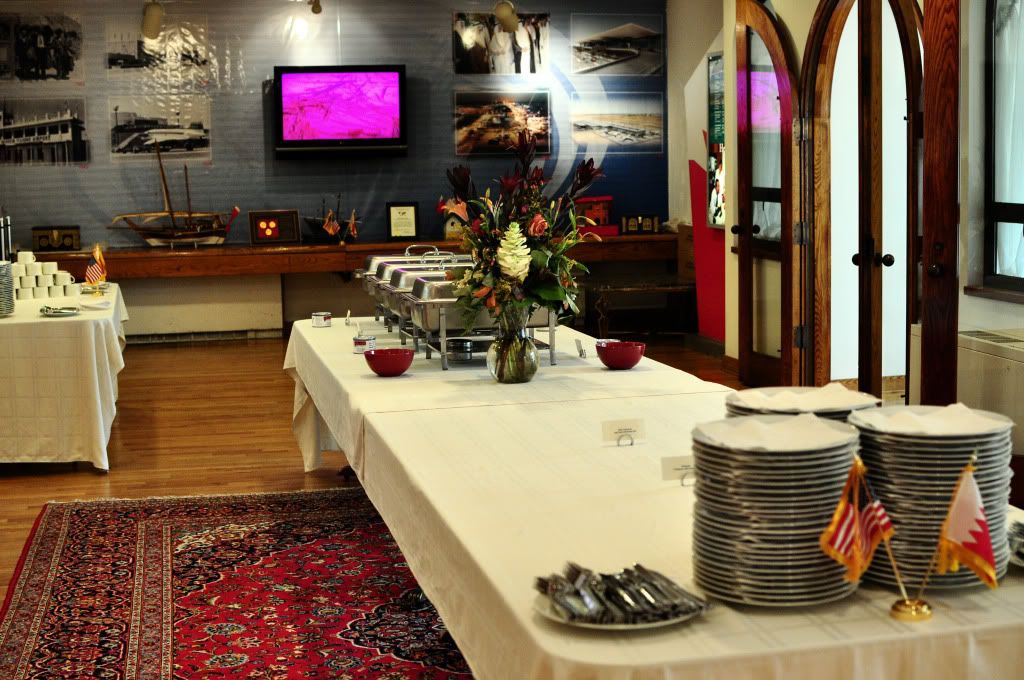 So while Johnny was reliving his Navy career with his new found friends, I went around and snapped some shots of the Embassy. They were setting up a traditional lunch for us in this room.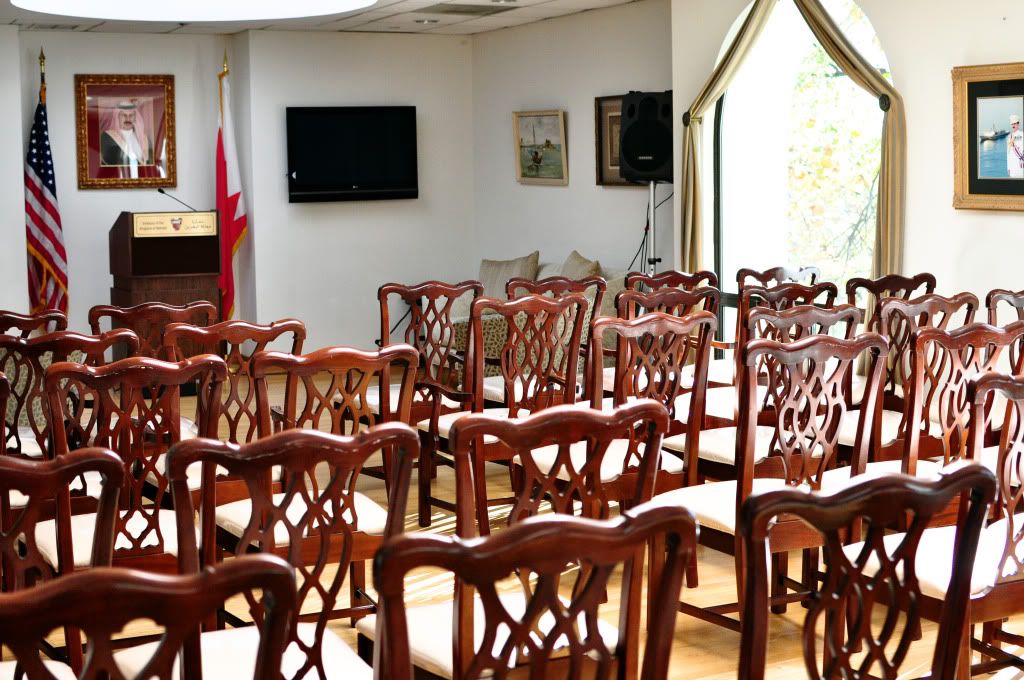 This is where we would hear the Ambassador speak later on.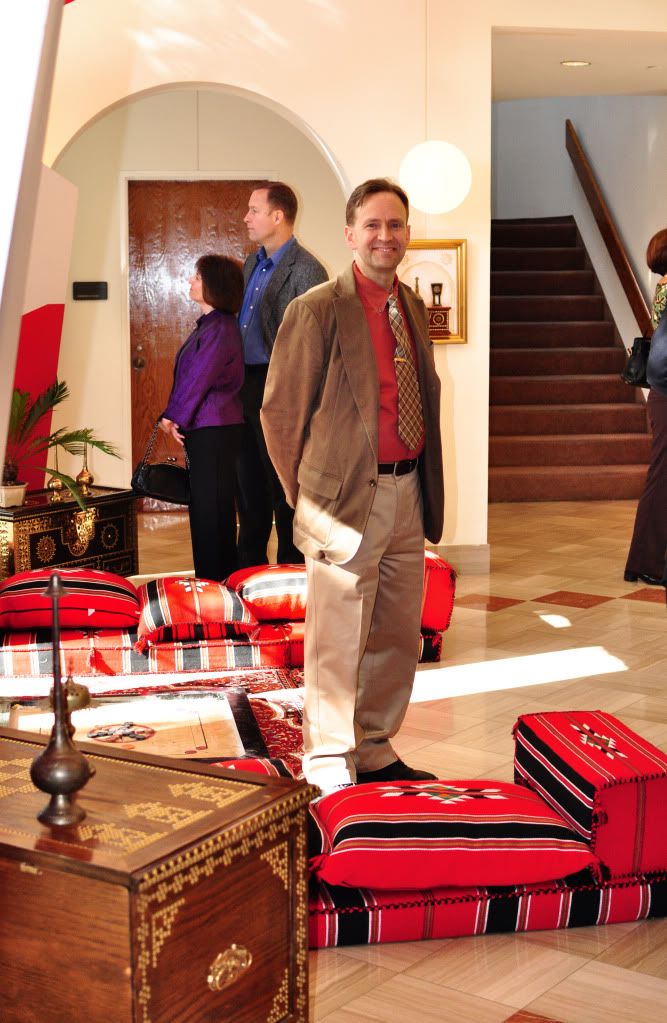 My man was looking for me. We wanted to sit down but the couches seemed to missing something........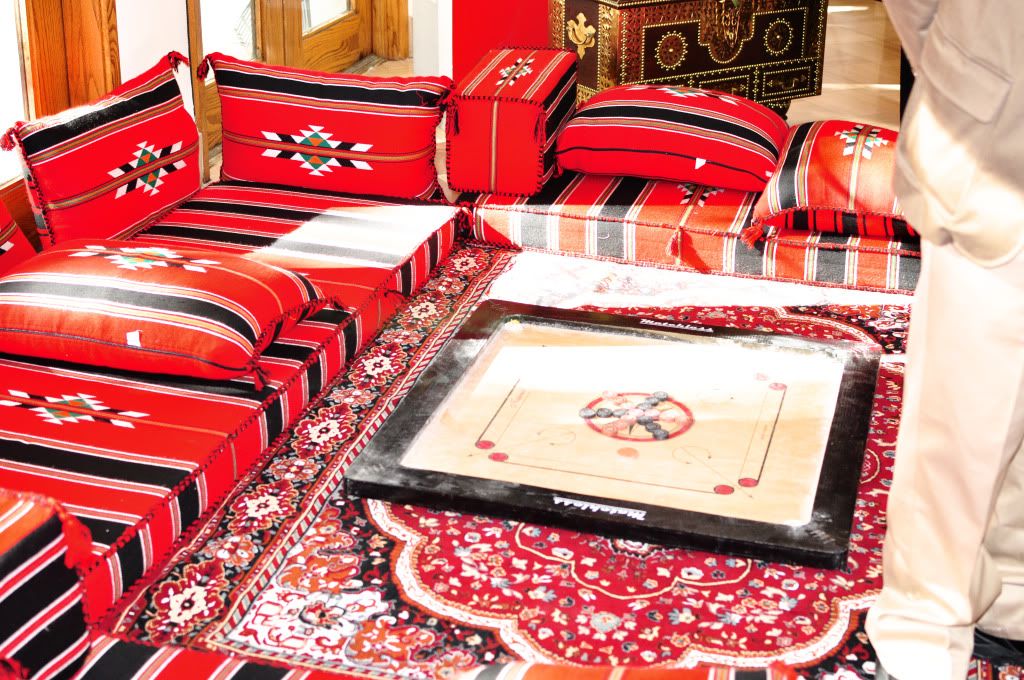 LEGS! The couches were
so
low to the ground, as in
ON
the ground. I was afraid if I sat down I'd never get up again. I'd still be there right now asking someone to please bring me my night gown and a hot cocoa. And my Chihuahuas. And my iPad. And the clicker.
I'm high maintenance.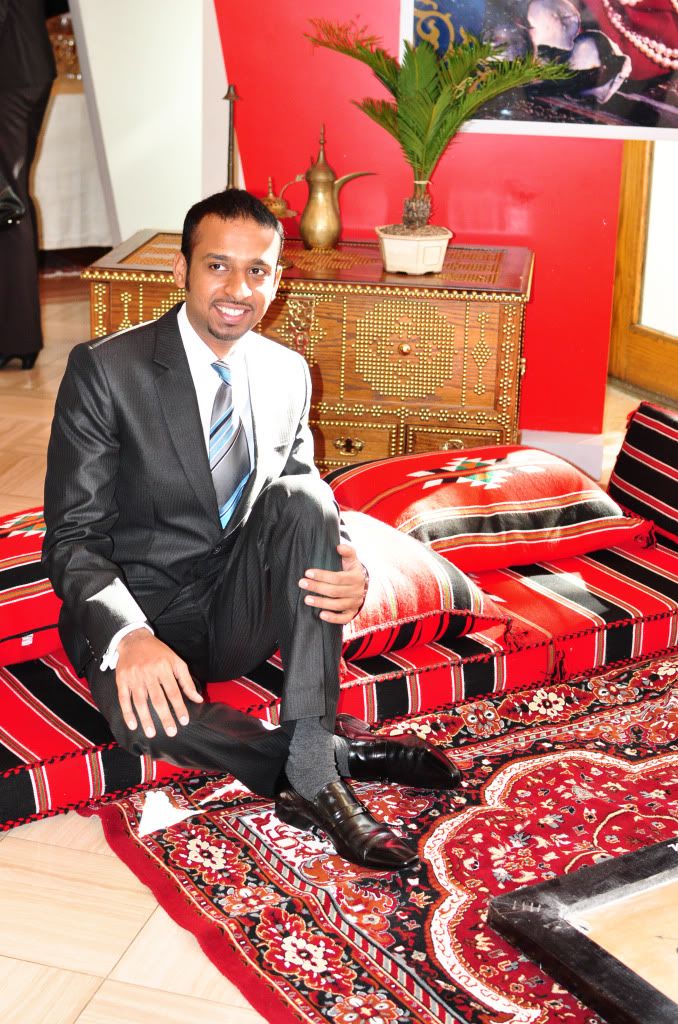 I actually asked an embassy cultural assistant to show us how to sit. I sounds crazy, but we didn't know what to do with our
legs.
When I attempted to sit down (Pam has the pic on
her
camera and I hope to God that image never surfaces because I made a complete fool of myself getting down on those couches) my hip locked up so badly I was writhing in pain.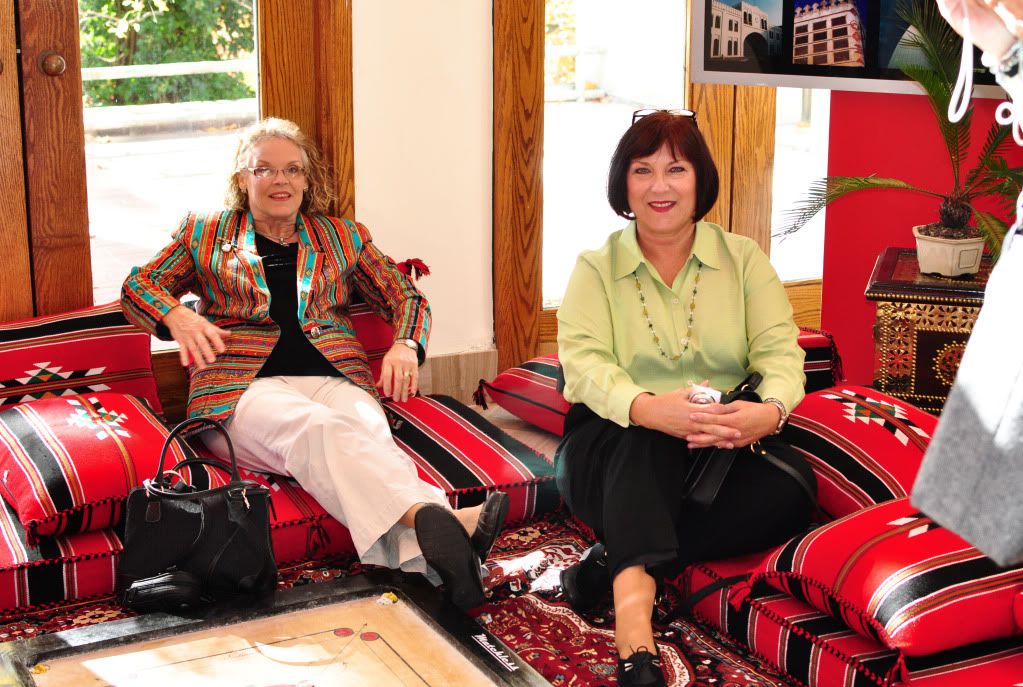 After our sitting lesson Pam & Lois showed me how proper ladies sit. Good job Girls! No, I will
not
be joining you. Thanks, though. My hip will never be the same.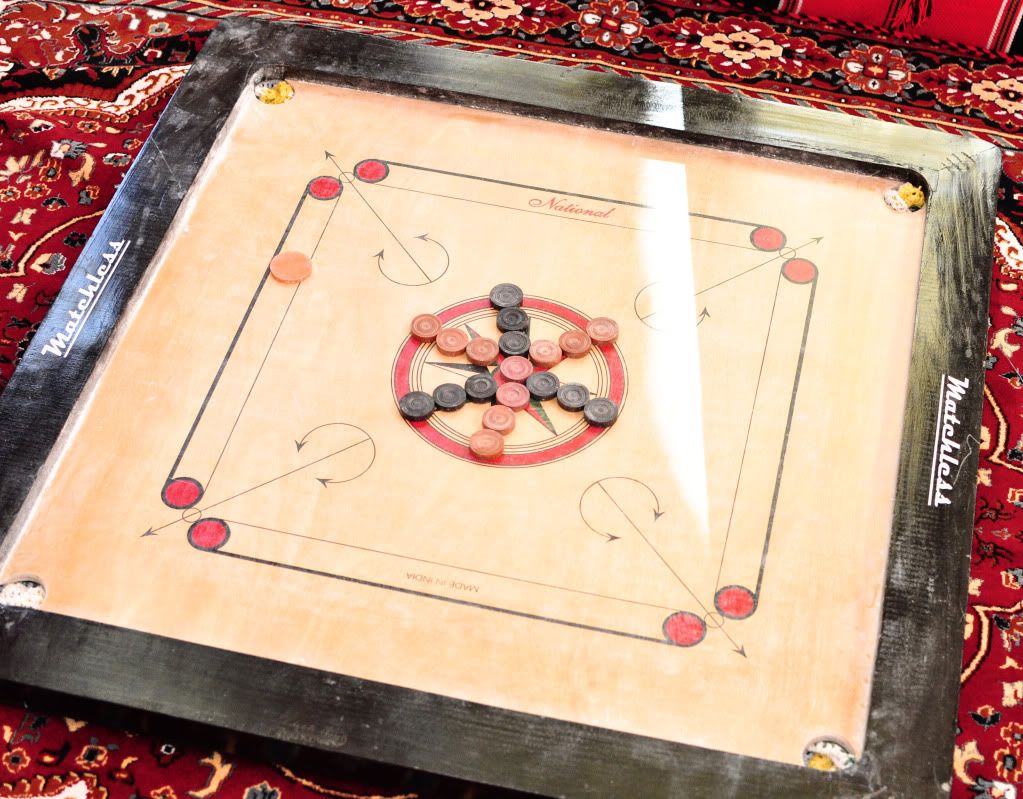 Then the nice gentleman explained this traditional game to us that was unlike anything I was familiar with. Everything was so interesting!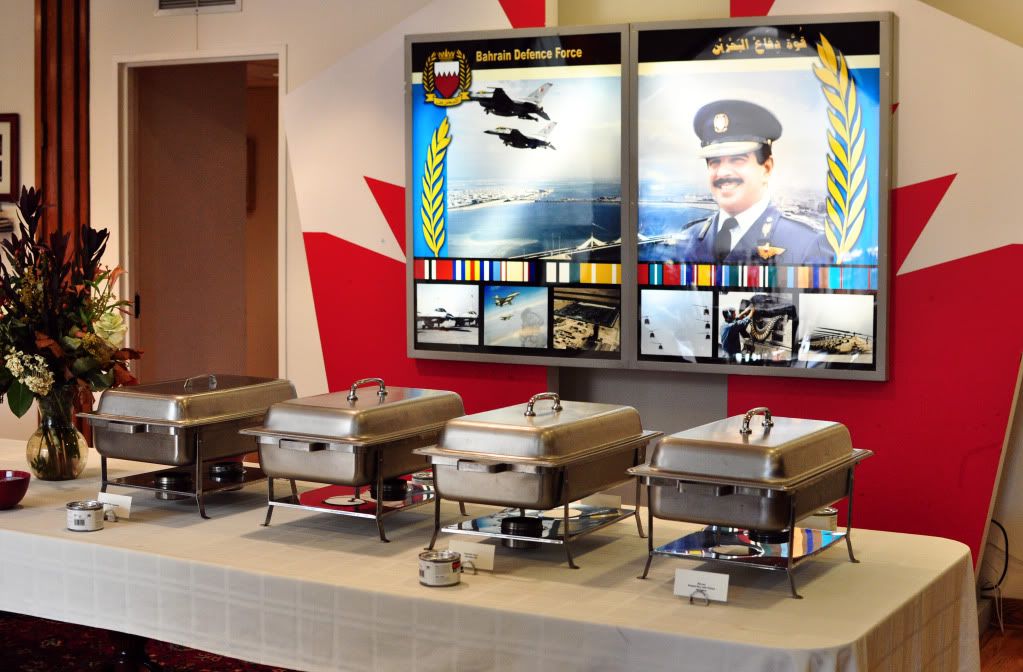 The food was beginning to smell heavenly. That is the King of Bahrain on the wall, by the way. Their country is a constitutional monarchy run on the English model, except that the King of Bahrain is actually
THE
ruler of his country.
The embassy was so generous to us.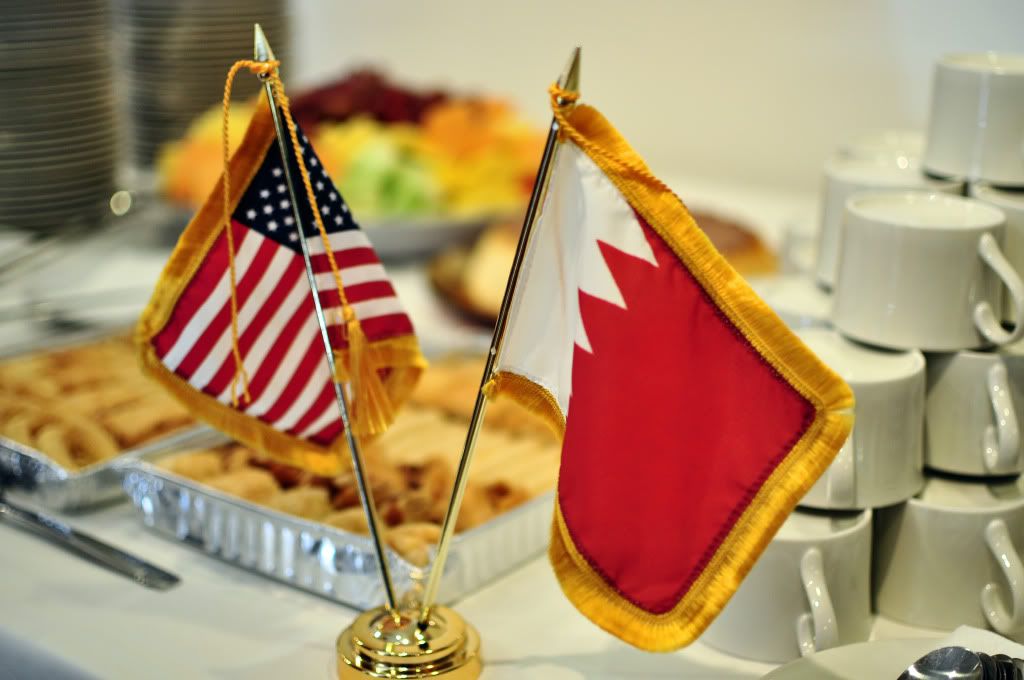 They told us last week, after our tour was set up, that they'd like to treat us to lunch.
It was a big surprise! They served warm pita bread with fresh
hummus
,
Baba ghanoush,
stuffed grape leaves and salad.
This was some sort of chicken rice dish that had raisins and cashews on top. It was amazing!
Have you ever had
Falafel
? It's a patty made with chickpeas or fava beans, served with a yogurt sauce. Yum!
There was also curried vegetables and samosas (little potato & pea filled fried pastry pockets). I spy a Johnny coming down the line......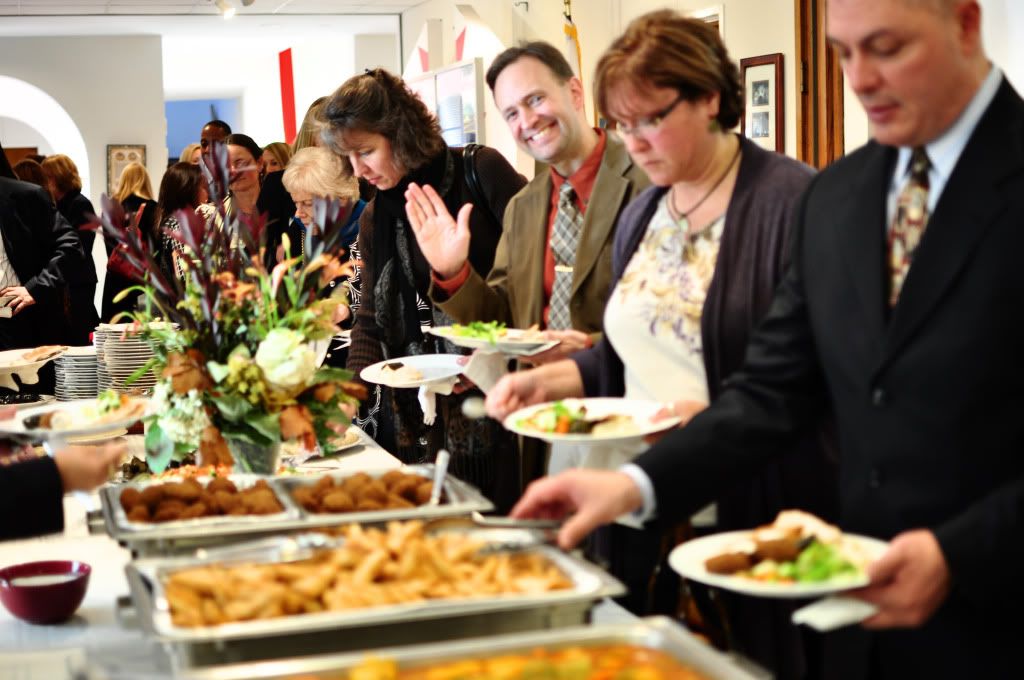 There's my Johnny!
And let me tell you, give him food and he's happy. I caught him in the middle of a bite. Oops.
This is a blurry pic of my food that was very close on my lap. But you get the picture. We tasted
everything,
I've always been shy like that. I know, I eat like a bird.
And then we enjoyed coffee and a creme caramel ~ much like a flan. Heart. Be. Still.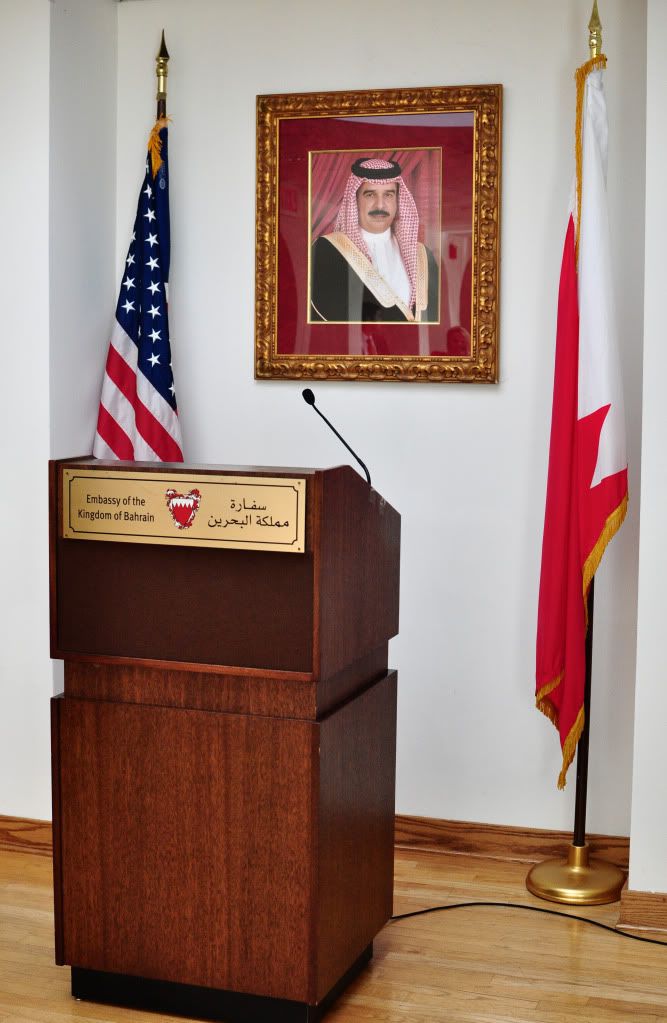 King
Hamad ibn Isa Al Khalifa
has reigned since 1999.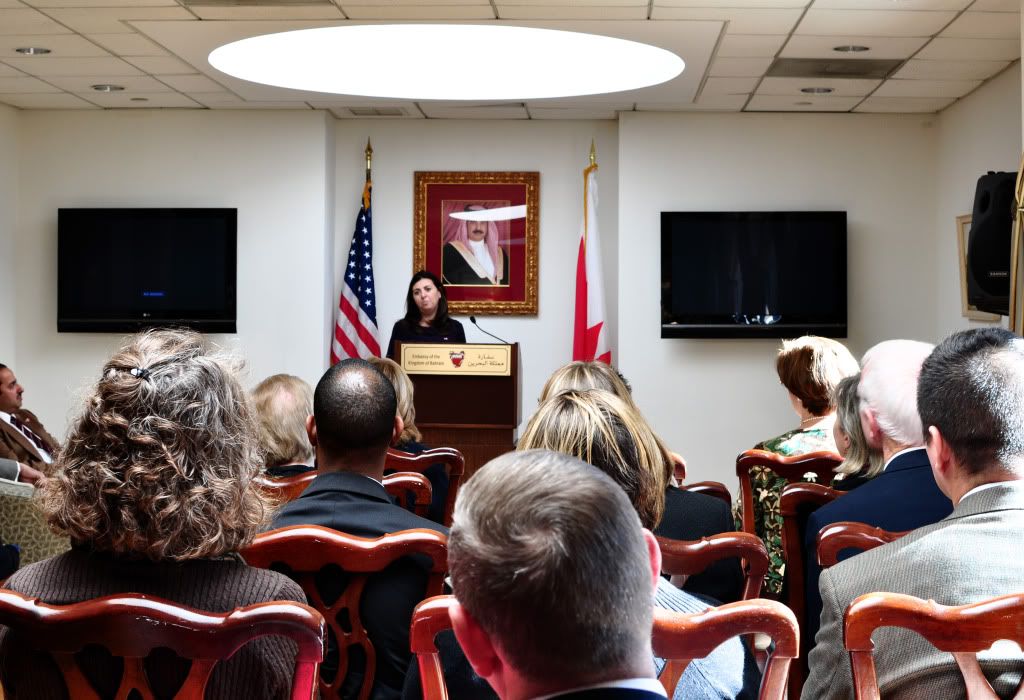 This is my only picture of the
Ambassador Houda Nonoo
speaking to us. I was trying not to stand and/or be disruptive, and I didn't have a zoom lens.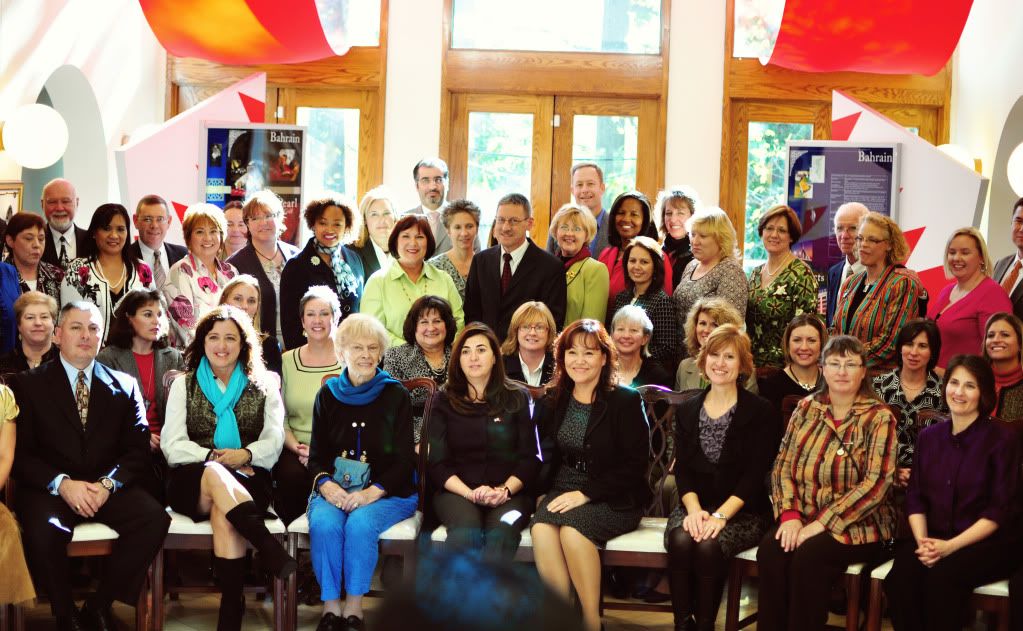 Johnny stood behind the man taking our group picture and took this for me. The Ambassador is in the front row, middle. I'm in the back row, left.
Where's Waldo?
Then I handed my camera over to Pam and asked her to take a picture of me and Johnny outside of the Embassy on our way out and this is what she took:
I particularly like my boots in this picture, don't you?
Let's try again, Miss Pam, only this time look in the view finder.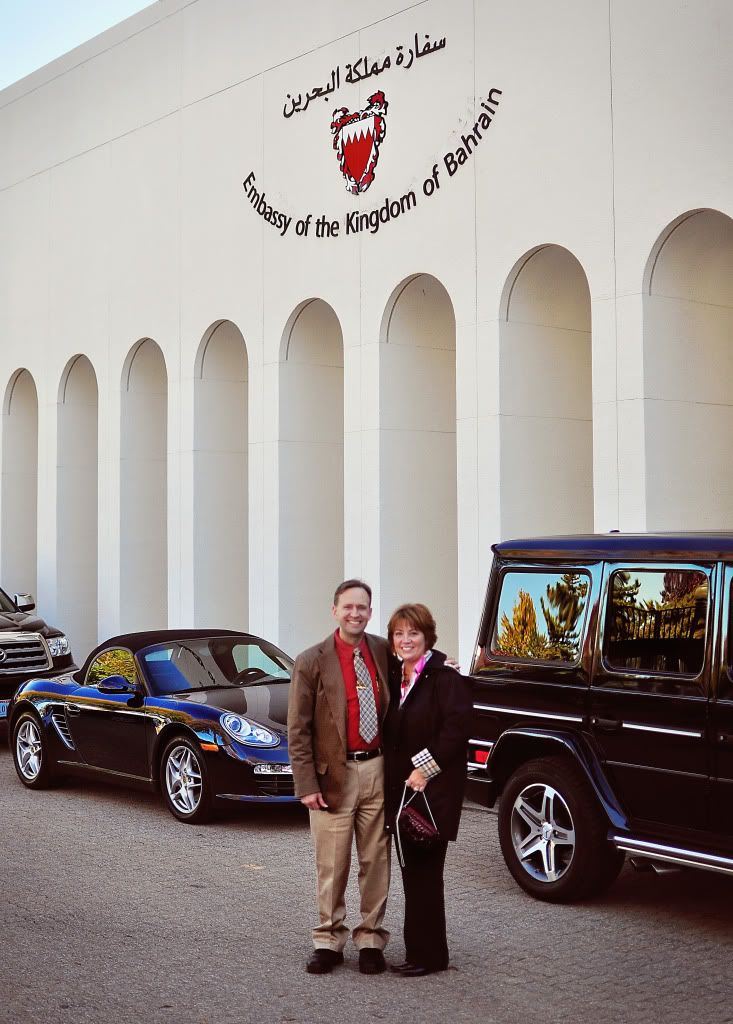 There ya go! Pfew!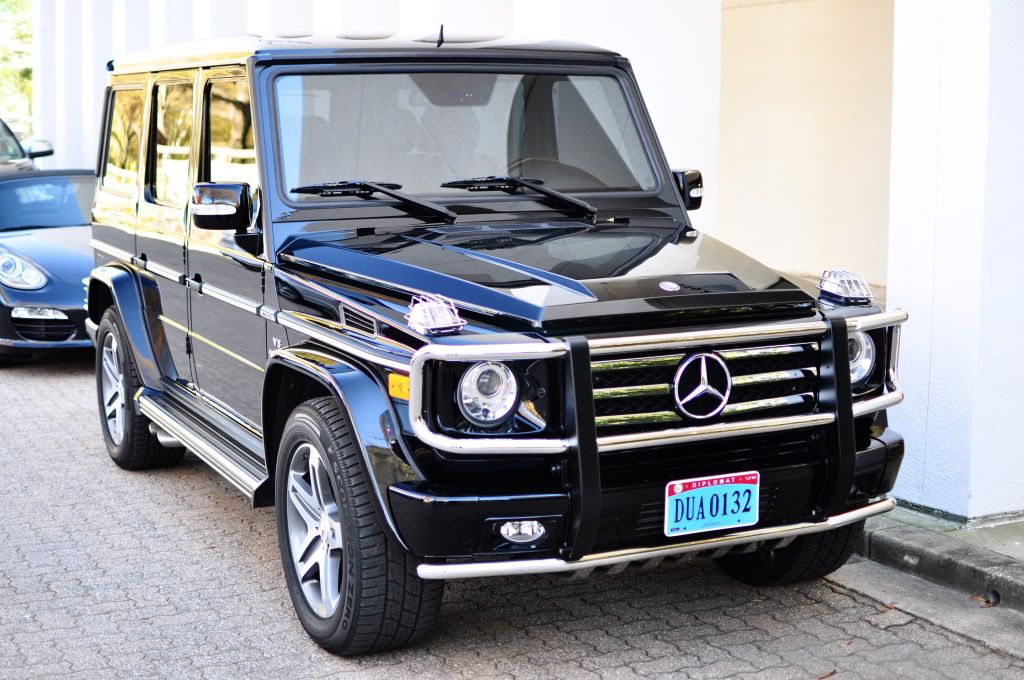 What a fun field trip! Afterwards Johnny & I jumped into our brand new Mercedes....
what?
We didn't
tell
you? It was an early Christmas present! And it came with Diplomat plates.
Or not.
Maybe we just walked the 4 blocks back to the station and took the Metro home.
You decide.