As crazy as life can get sometimes, Johnny always puts a smile on my face and makes my heart go pitter-patter.
STILL! After 13 years together....every year gets more precious.
He also fills my belly with Chipotle. So I love him mucho gusto.
Speaking of PRECIOUS ~ can I just say that I'm in love, love, love with my new Kennith Jay Lane ring.
I got it HERE on QVC and I've worn it every day this week. Even when I'm in my pajamas!
And it's on SALE this Labor Day weekeend!
It's called the "Wild Rose" ring. Kennith designs jewelry for celebrities and the red carpet, but now he has a line for Virginia housewives! I say, "YAY!" The ring comes in other colors, but I just love this white one. My little cell phone pics don't do it justice here.
And really, neither does my "let me try to look like a catalog hand model while I take a cell phone pic with my ultra uncoordinated left hand" pose. I just wanted to share my super cute find before we headed into our weekend.
Oh! Also, this week I was able to design a new (larger 4x6) business post card for one of my girlfriends to put out on her display table, stick on bulletin boards and to hand out to clients. It was a lot of fun! Here's how it turned out ~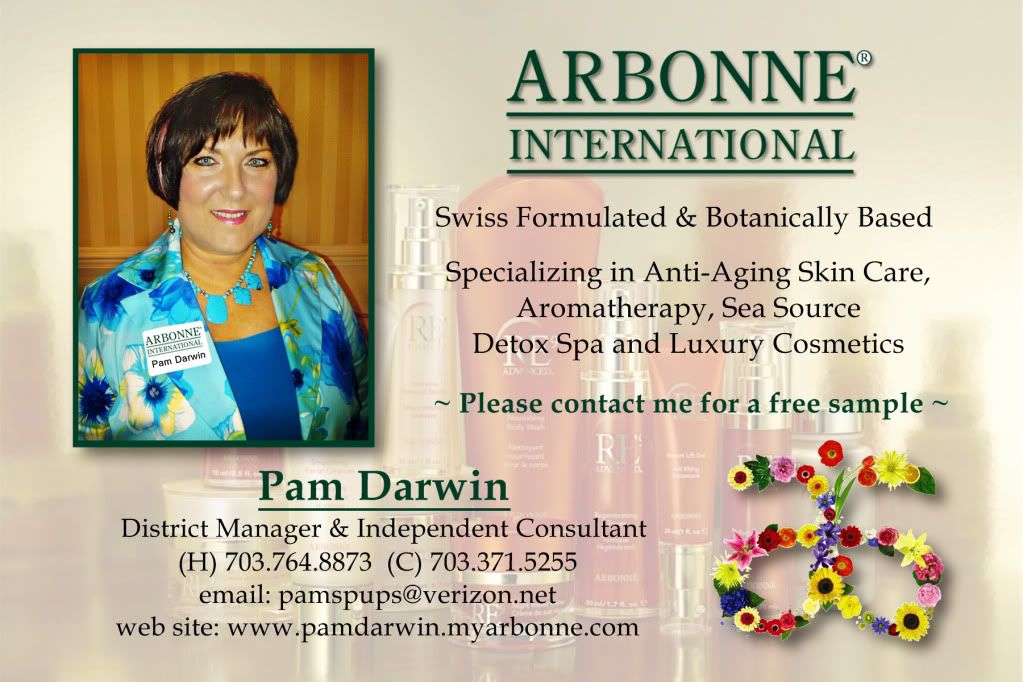 If you need any Arbonne, call my girl Pam. She'll set you up with all of your skin care needs:
HERE
. P.S. The pink stripe in her hair is adorable, she wears it every October for Breast Cancer Awareness Month. Her hair salon does it and donates the $10 to the Susan G. Komen Foundation. Great idea, right? I love it.
Yeah....I'm trying to show my sister how much I love the new t-shirt that she bought me. It says "Every Girl Loves a Sailor" but of course, you'd see that if I had not taken such a wonky shot. One of these days I'm going to learn how to take those cute self cell phone pics that everyone posts. For now, I'll settle on how to (1) remember to say cheeeese (2) put more lotion on my neck (3) add lipstick to that list (4) wear a cute necklace and (5) buy longer arms.
Saturday we're having the kitchen & dining room repainted and the ceilings (finally) repaired/painted after we got the lighting done and my biggest job is to make us mojitos :o)~
Aside from that, the weather is heavenly and we will look forward to our neighborhood Labor Day pool party on Monday. We signed up to help and got tasked with making lemonade, Kool Aide and to bring 4 large watermelons. At the end of the evening we have a DOGGIE DIVE and all of the neighborhood dogs jump in and play (our girls go in the baby pool!) then we close the pool for the season. It's a hoot to watch. I'll post pics next week. And I'll try to catch up on my other "To Do" blog posts in my que.
Happy Labor Day Everyone!!