Dear Cyber Diary, Happy Saturday!
Two weeks ago I said that I was going to show you what I got in a very special box from my father in law, Jack. I said I would show you last week too. I'm here to tell you that you should never, ever listen to me. I'm a total flake and all it takes is something shiny to send me in a whole other direction.
But I have to show you now!!! Do you remember this photo from Miss Madison that I took in Union Station?
You know. Shy Madison. Who did
NOT
jump up on a wall in the middle of Union Station in front of
hundreds
of people and yell, "Aunt Brenda!! Take my picture!!" Nope. She's
waaaaay
to shy for that sort of thing.....and my nose just grew a foot. We really need to work on this child's self esteem.
My ever-so-talented father in law, Jack, who wishes to remain anonymous, is a creator. He sees something and right away thinks "I can do that...and I can do it even better!"
And he does!
He saw this precious photo of our shy little wallflower Maddie and went to work.
I opened the box to find this. Hmmm....you say? What in the world???
TA-DAAAA I say....that's what in the world!!!
Okay, tell me. Is this not the cutest thing you've ever seen? OMG, he even made the little wooden stands himself. And no, Kat. You don't get the second one. Nope. It's not for you. Unless you say please. I'm a sucker for please. But first, here's a small glimpse of your parallel world IF you had had identical twins. Haaaaa! Fine. Since you just passed out, I'll send you one. Mine is already on my hutch for everyone to see.
I also got the cutest, teeniest red apple. My Fall apple. It's precious. And blurry. It's very hard to hold a tiny apple and with the other hand try to take a pic with a macro lens, but I wanted you to see how small it was in stead of putting it on the table. It's all hand made out of glass. How does he do it?
And speaking of jewelry!! Oh, was that just in my head?
Well...thinking of jewelry, look at this: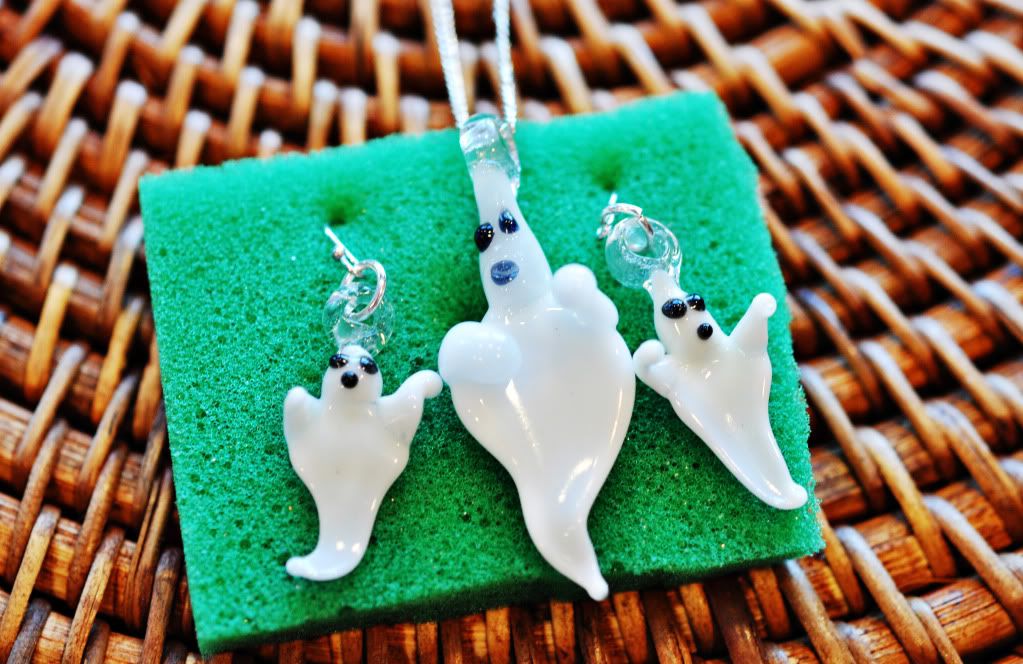 Oh my stars, I'm going to faint. I'm SO ready for Halloween. My pendant and matching earrings are going to hit the town soon, watch out Northern VA!

Those little faces are killing me. Jack, you are precious. I love everything!! I can't wait to wear them.






I'm going to show you all the glass lesson I had with Jack, and the "result" of my incredible efforts ...uuummm.... I promise not to make anyone jewelry in the near future and you'll see why. At least my teacher was perfect. Thanks Jack!!!