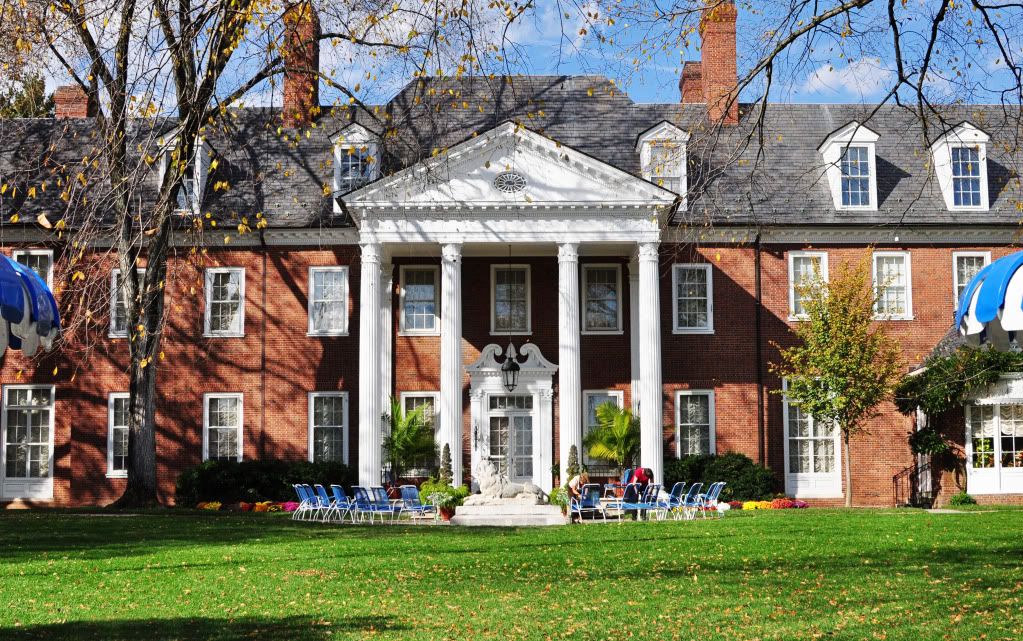 Founded by American collector and heiress to the Post cereal empire Marjorie Merriweather Post, Hillwood Estate, Museum & Gardens is one of the premier art collector's museums in the United States.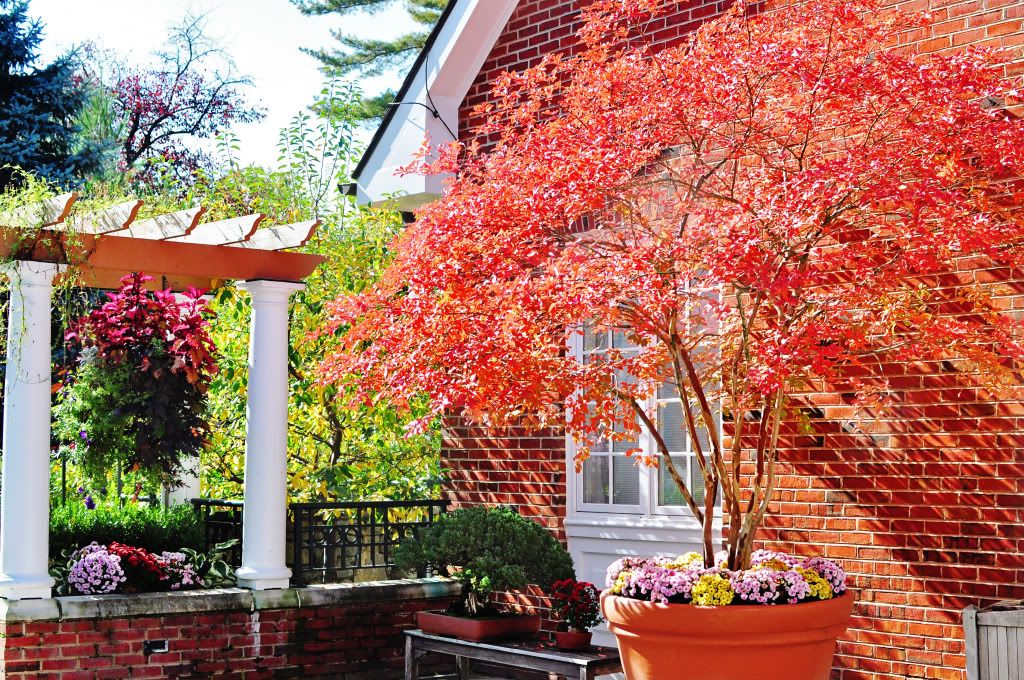 The timing was absolutely
perfect;
Autumn
in Northern VA is my favorite time of year.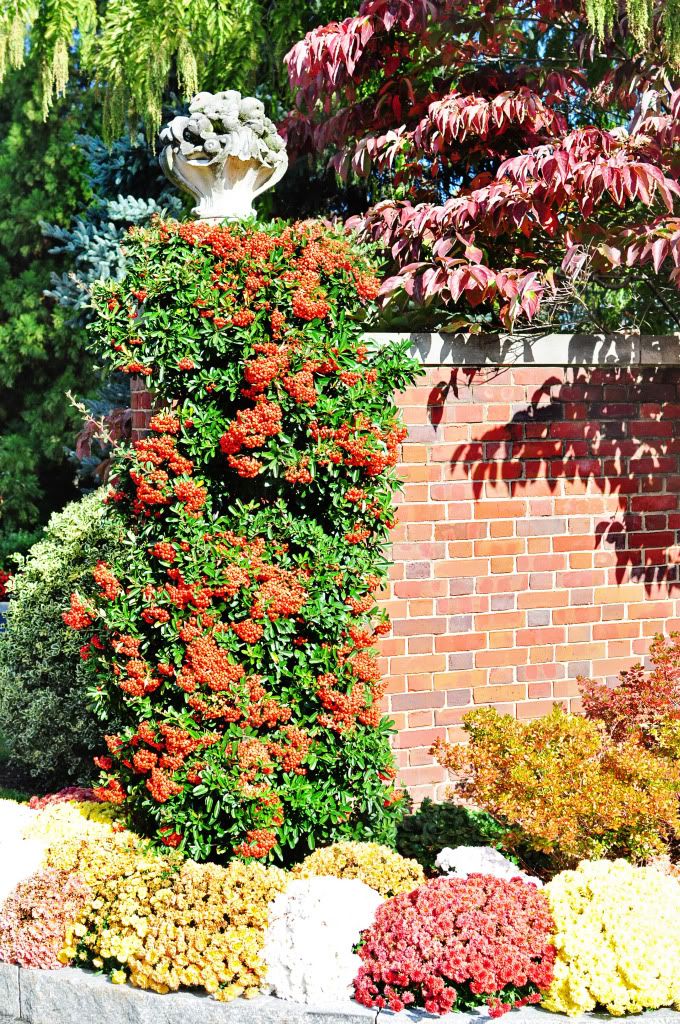 The entire estate was bursting with mums and gorgeous foliage.
The estate employees had a pumpkin carving competition.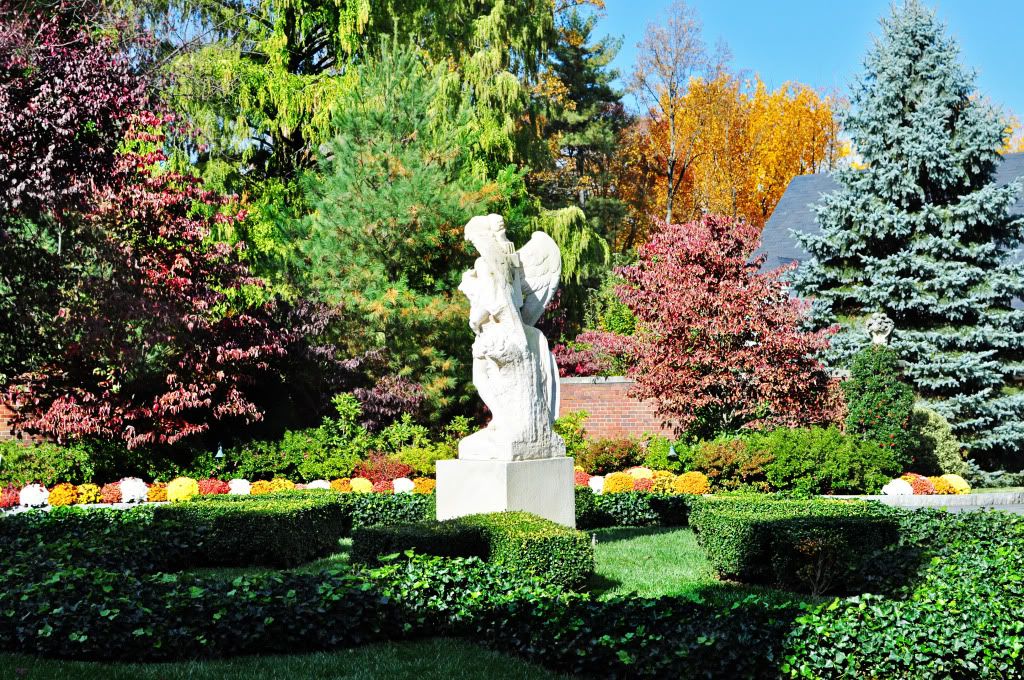 Marjorie Merriweather Post was a perfectionist, as evident in all of her garden designs. She hired a curator to design in the interior of her home because she knew from day 1 that it would be a museum some day.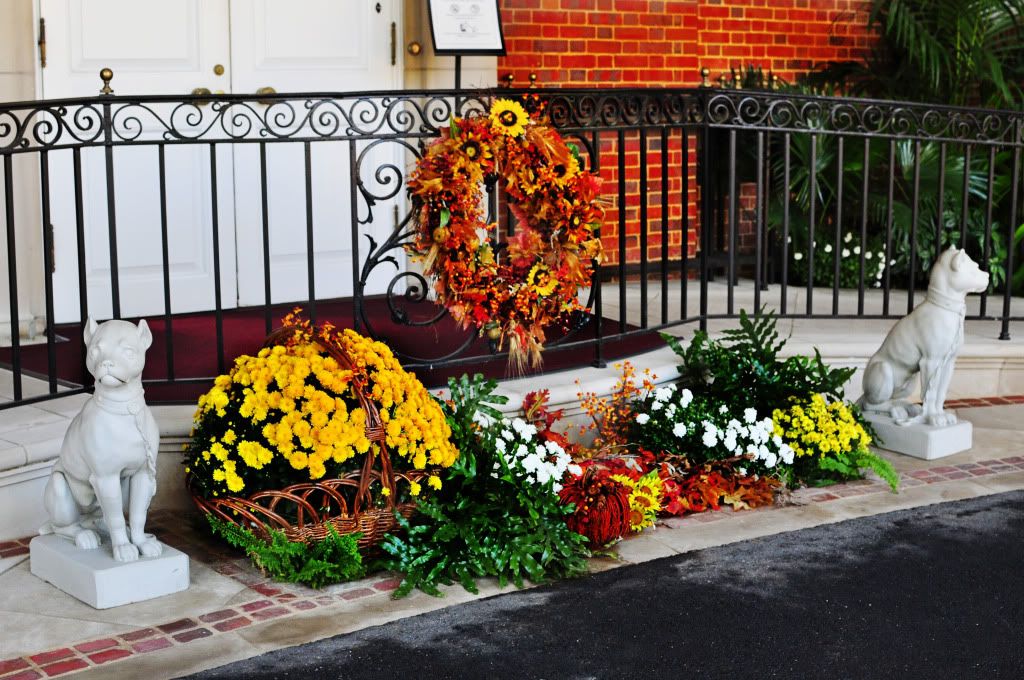 Unfortunately I couldn't take any images past this door. They actually took my camera and gave me a check tag number. DOH!
Even snapping this image of Miss Pam making her grand entrance into the visitor center lobby I was told to put my camera away.
Geeeeze.
We were shell shocked after seeing 1.5 hours of a docent led tour of all of the incredible collections Marjorie had assembled inside her mansion. The textiles, the furniture, the jewels, the dishes/porcelain, Fabergé eggs, religious icons, books....there was NO end to what this woman collected. It was simply astonishing.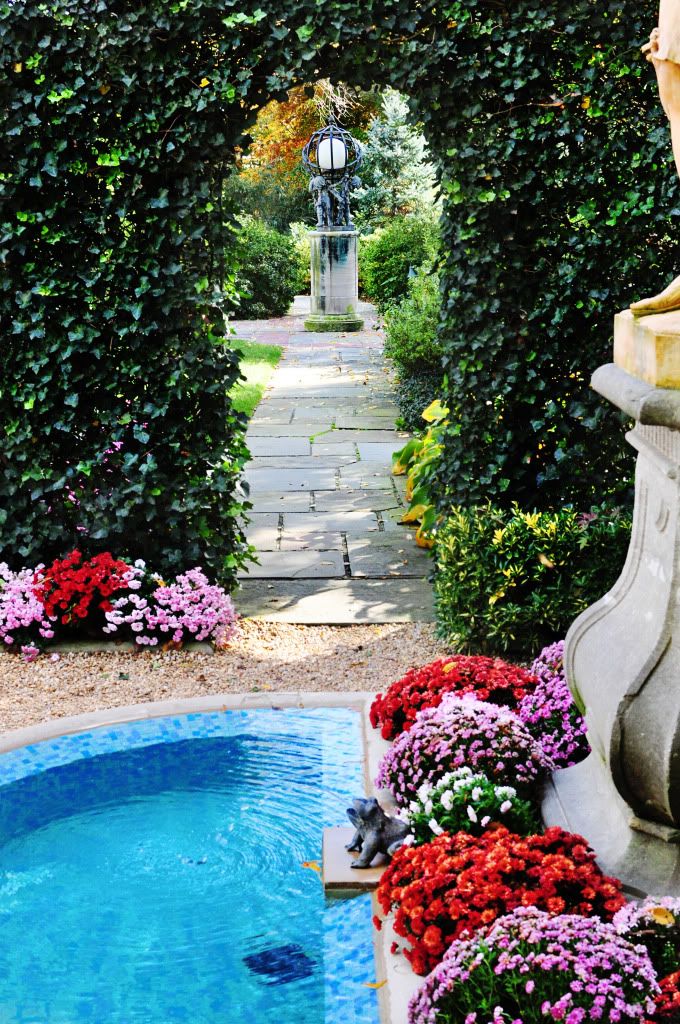 We had to clear our heads with a long walk through the gardens. This little fountain....
.....carried its water along this channel and to this beautiful fountain. The windows upstairs (with the bay window) were Marjorie's bedroom. She looked out onto a pristine garden every day and knew that one day she wanted to be buried in her rose garden.
Here is her final resting place with a beautiful headstone that is art in and of itself.
My favorite part of the entire estate grounds is the Japanese garden.
There's Janelle, Debbie and Mama Kay (at the very top).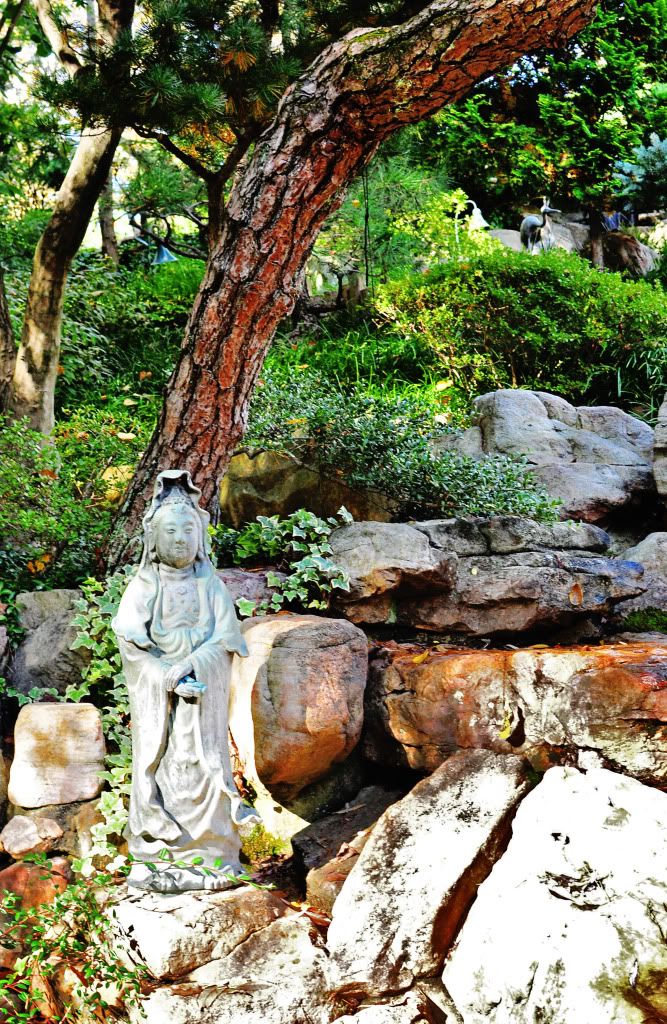 The sound of the waterfall was completely serene.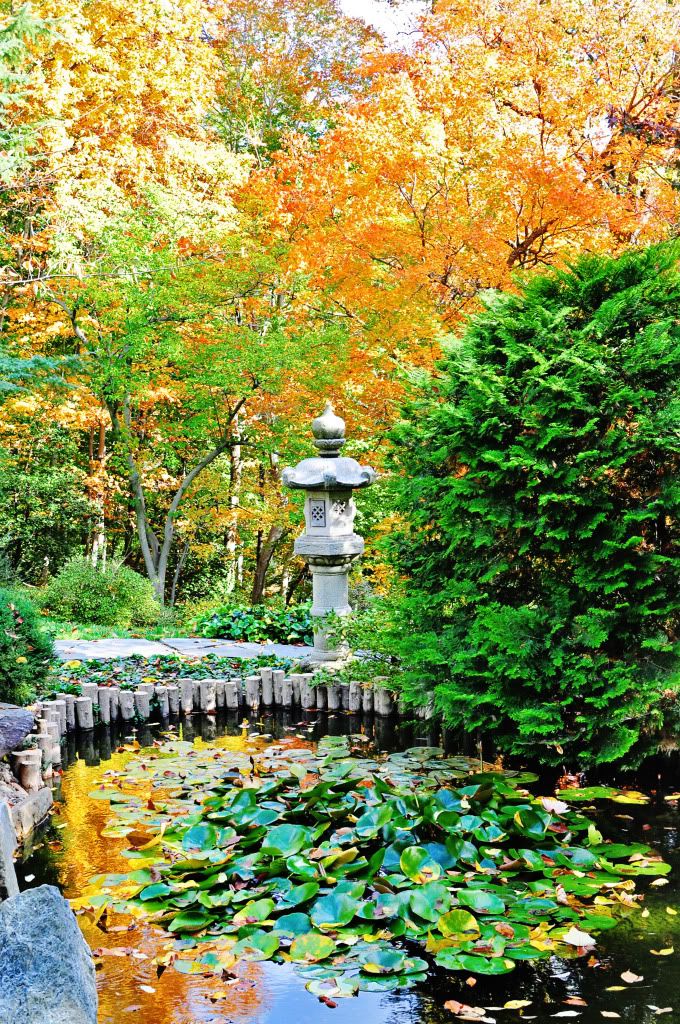 And the Fall colors were simply breath taking.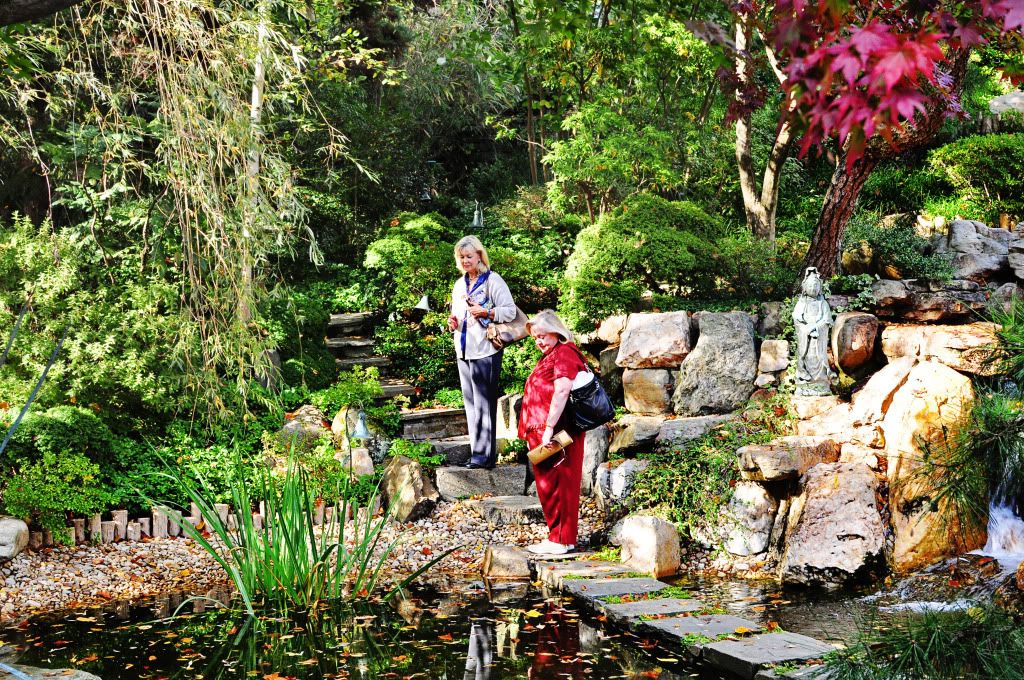 I wish these images captured sound also. You'd fall in love.
Miss Debbie striking a pose :o)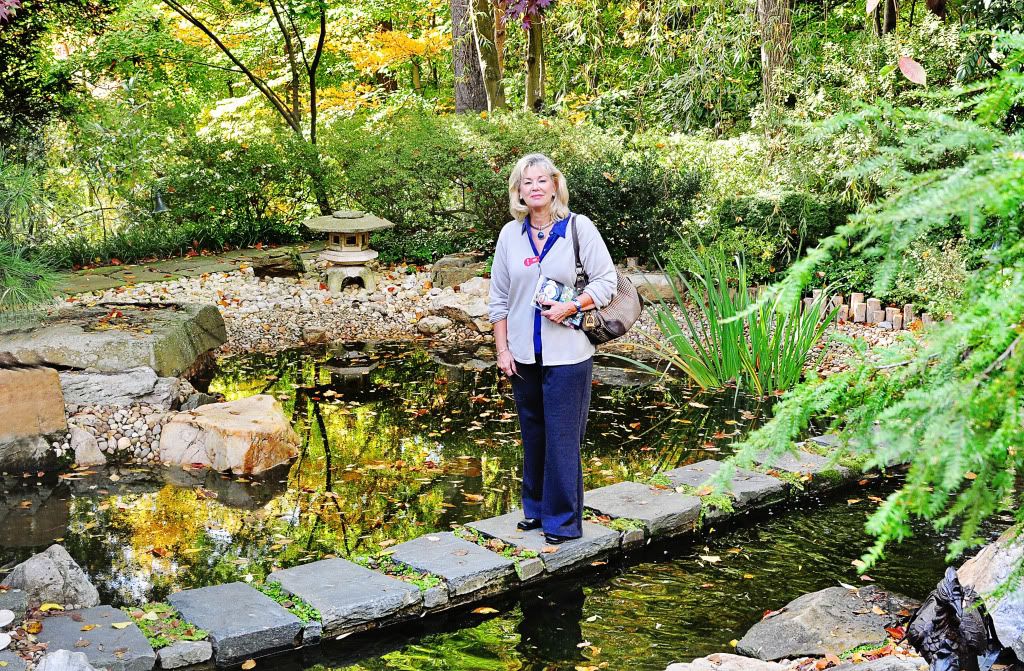 Mama Kay, my East Coast Mommy, always looking so pretty.
The weather happened to be about 75* - a total fluke for this time of year. We got lucky! Here are a few more garden shots: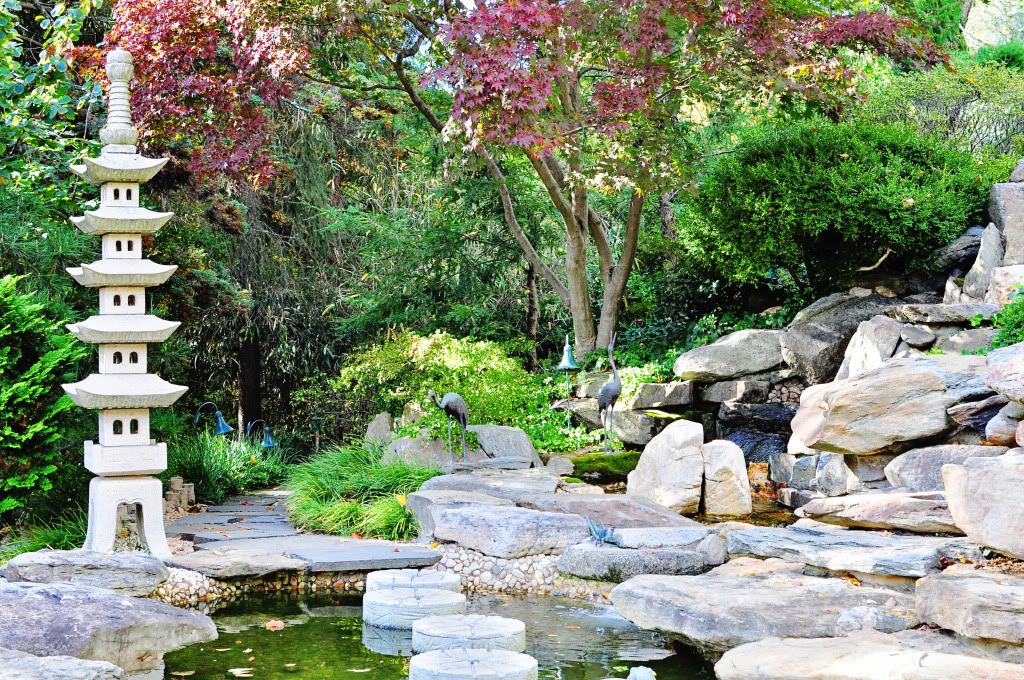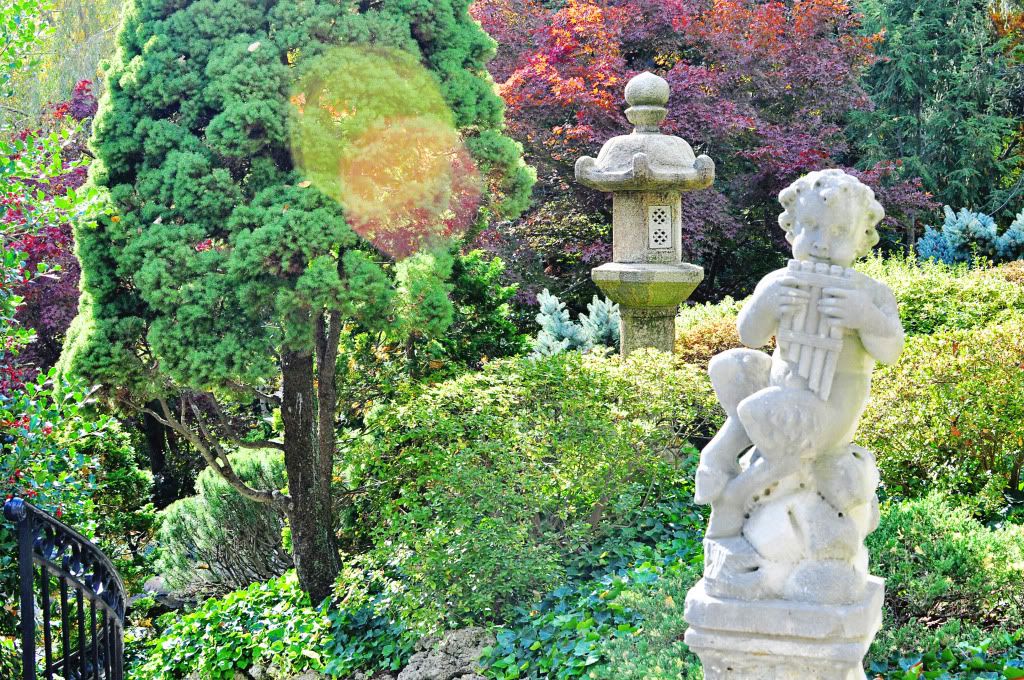 And then I stumbled onto the dearest part of the garden. The pet cemetary. But not in a scary way at all. No Stephen King gore here!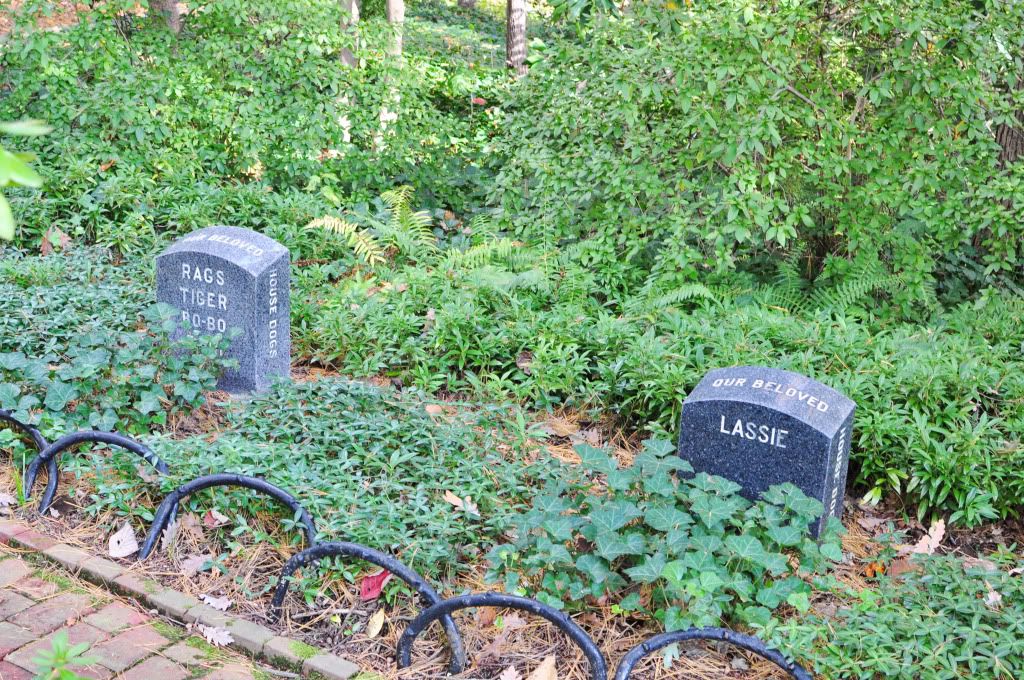 There must've been 15-17 little headstones, each for a beloved family dog.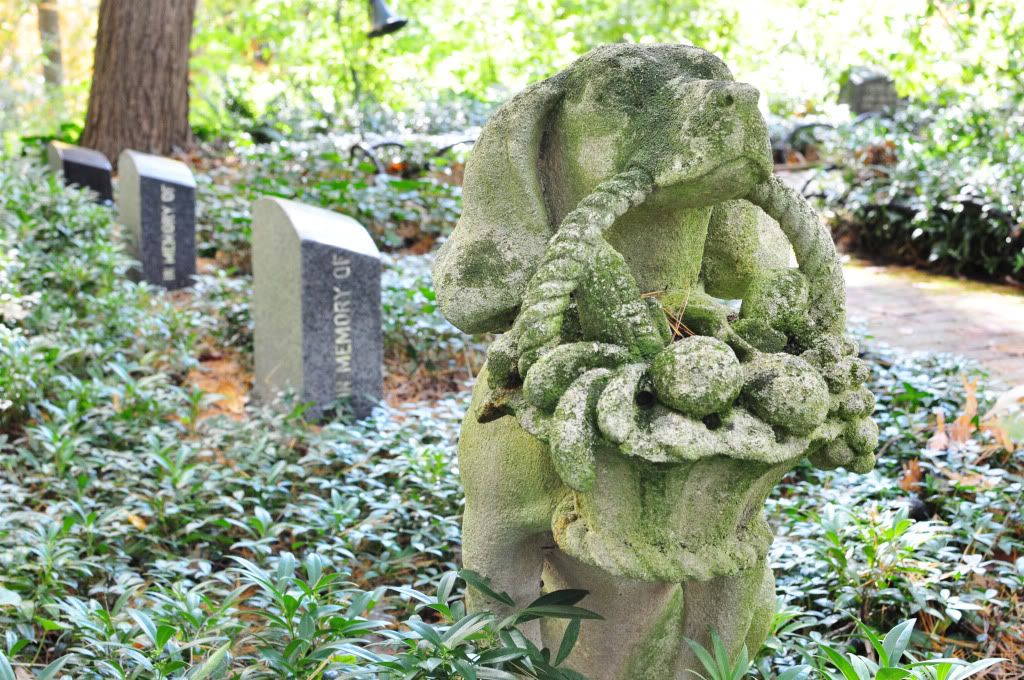 I was completely moved; touched in a way I didn't expect. So sweet and tastefully done.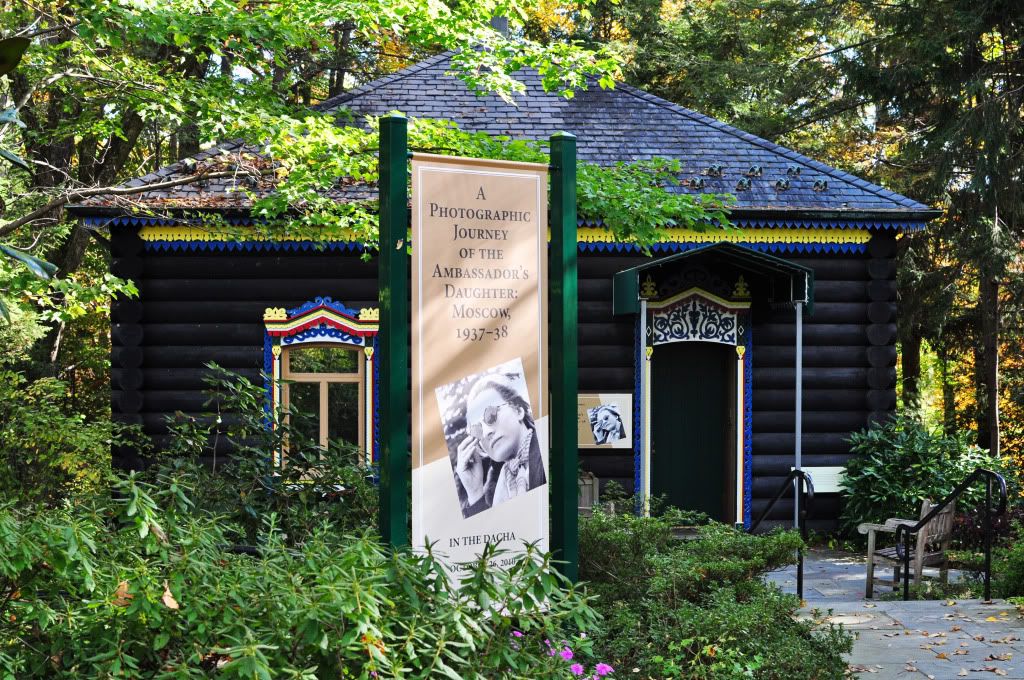 There was a little house on the grounds, called the Dacha, where there was a photography exhibit going on with images of Marjorie's step daughter's memories of living in Russia for 2 years. Her dad, Marjorie's 2nd husband, was an ambassador and that is where many of the collections came from.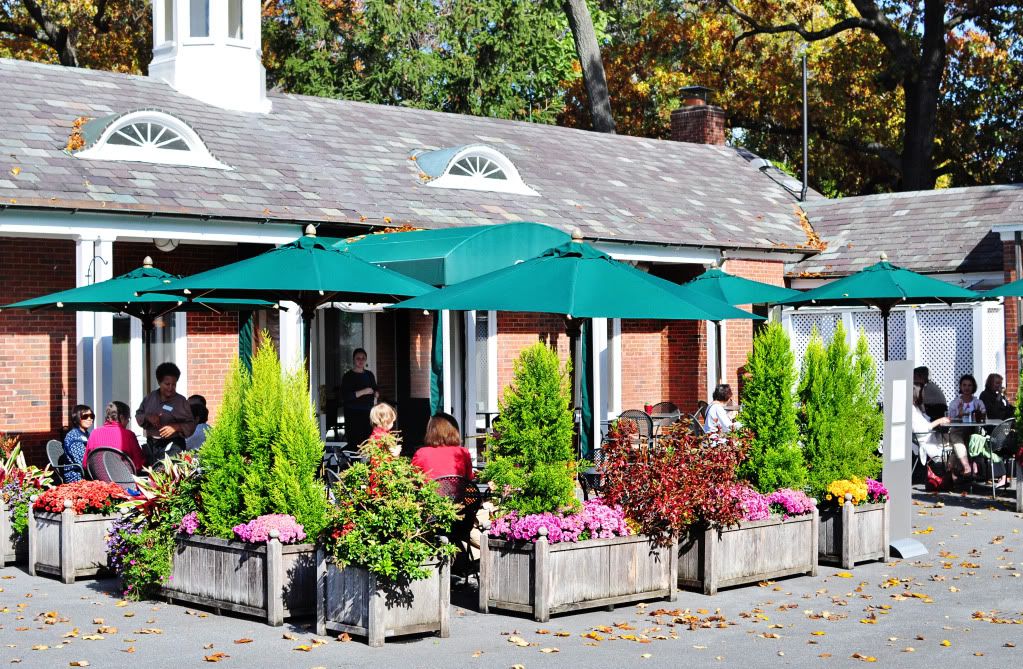 After touring we worked up an appetite and luckily there is a little cafe on the grounds.
My girlfriend Pam & I went over to get a table reserved for the rest of the gals so we could eat. Lunch was delicious! (I do have a picture of it, but I don't want to risk being called a
total loser
so I'll spare you. This time.....)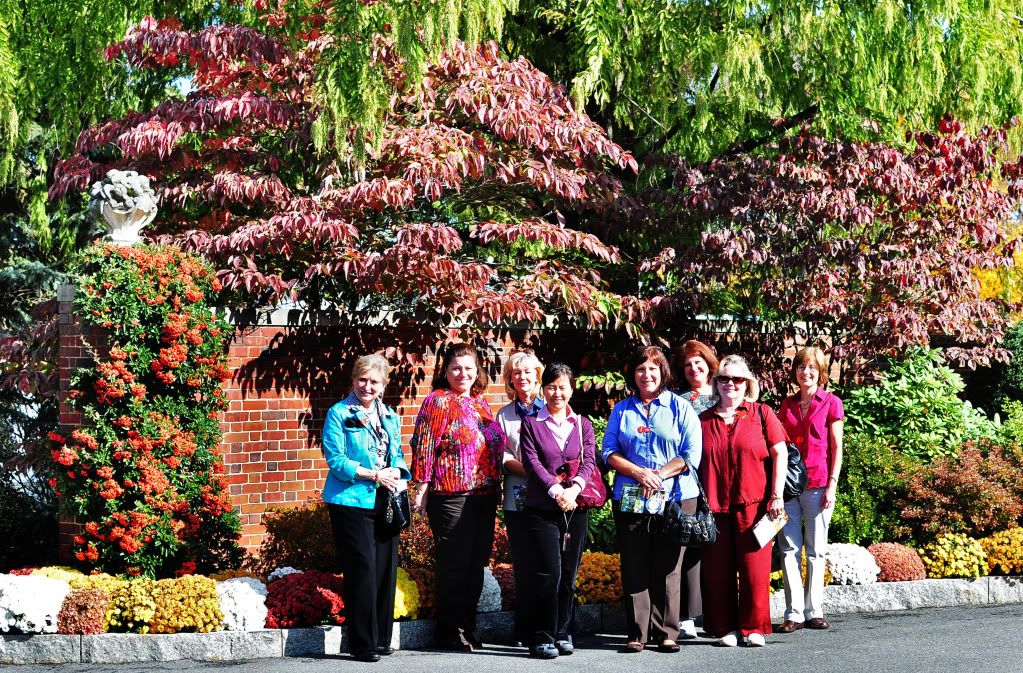 Would you look at these cute gals? And do you see what I mean about Fall popping all over the place and
perfect
weather?!? It was a fun day with the ladies, like always.
I can't wait until next month when we get to go do Thanksgiving dessert tasting! We all make a treat, bring it along with the recipe and set ourselves up for a 3-day sugar high, woo-hoo! I'm so ready!