In our home, we have been dealing with slowly saying goodbye to one of the most special people in our lives, our Gram. I know for certain that she is the sweetest, kindest and most loving person that I have ever met in my life time and.....well, if I continue to type about Gram I will lose my mind today so I have to stop for now. Except to say that yesterday I got to hear her sweet little voice on a cell phone and it was like a ray of sunshine shot directly into my heart. (Thank you, Jack. It meant the world to me.)


I wrote a little bit about Gram
here
so feel free to catch up.....
So, yesterday my Johnny needed to smile. I cannot bear to see my husband sad so I knew exaclty what I could do to make things just a teensy bit better for him, if even just for an hour.


The way to my husbands soul is....you guessed it....
FOOD
. And the simpler the meal, the better he loves it. Lucky for
him
he married someone who loves to cook simple food!
How does FOUR INGREDIENTS sound to you?


How does DUMP CAKE sound to you? Not so good?


These four little ingredients will make you thank all of the angels in heaven: 1 undrained can of pineapple, 1 can cherry pie filling, 1 yellow cake mix of your choice, and 1 stick of unsalted butter (margarine if you are vegan). Preheat your oven to 350*.
Dump the undrained pineapple in a 9x13 casserole dish sprayed with nonstick spray


Spoon the cherry pie filling evenly over the pineapple
-- I missed a photo here so pretend you spread the cake mix evenly over the cherry and pineapple layers. -- I hate when I do
knucklehead
things, oh well. Chalk it up to food blogger 101 mistakes --
Easy so far right? Told you!
Dump, dump and dump. That's the 3 steps we've done. Easy peasy.


Slice the stick of butter (or margarine) evenly


Spread the butter slices evenly over the cake mix that we pretended we had a picture of.
Sorry!
The original recipe called for two sticks of butter, but I can't do it. I think that's a rediculous amound of butter and we're trying to cut back so I put a few dallops of Smart Balance in between the butter as this is the only moisture on the top of the cake. It works very well and the top browns just fine and the taste is not compromised. Trust me.
So this took about 4 minutes tops. Still with me? Good.


Now throw this casserole dish into the oven at 350* for 55 mins-1 hour, until browned and crisp on top. The house will start smelling like a chocolate chip cookie factory in about 20 minutes and your dogs will begin circling the kitchen wondering when they are getting their share of heaven. Mine did :o)
The cherry pie filling will bubble to the top and the surface will be golden brown and crunchy.
Mmmm.....


It's more like a cobbler without any of the work.
Now I just waited for my husband to come home and see his simple little surprise.


Johnny had the right idea!


A cold glass of milk.....oh and might I suggest some vanilla ice cream or whipped cream?
Johnny loved it :o)
xoxo

And I got the smile I wanted, that's all that mattered to me

xoxo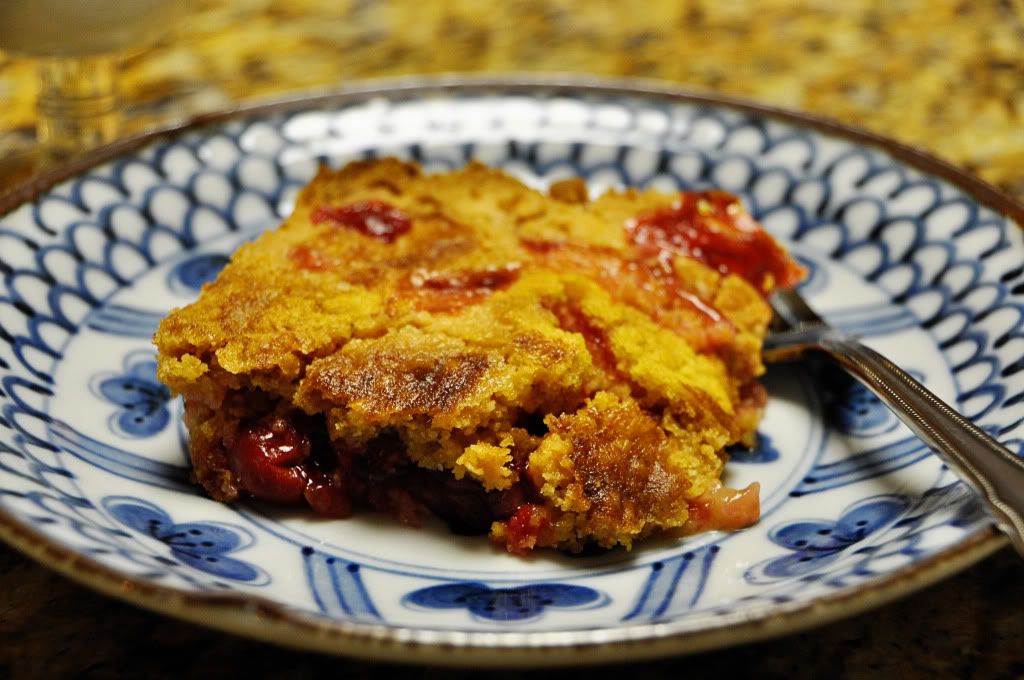 Dump Cake, enjoy! It's as easy as 1, 2, 3, 4....Literally!

By the end of the evening this is all that was left, thanks to the help of Josh & Carey, haha.
Just a hunch, but I'm guessing that Dump Cake is something I need to make again in the near future. Next time I'm going to add some
chopped nuts
on top of the cake mix (under the butter). That will add some nice texture and crunch.

Let me know what you think, I love feedback!