Thank you everyone for your kind words and memories of our little Minnie Mouse. We've been overwhelmed with notes, texts, phone calls (though I've let them go to machine), emails, facebook messages, blog posts, etc.....you all are so kind. You
know
that we were so attached to our girl and were crazy about her.
That puppy really wormed her way around our hearts, squeezed tightly and never let go. She's left her shadows all over the house. I can't move her bed. Not yet. I'm not ready.
It's just so hard to talk to anyone without slinging snot all over the place. I'm still in the ugly cry phase, in a few days I'm sure I'll be more presentable. It's not a pretty sight. Thanks for your patience. But if you see me and my lip starts to quiver change the subject FAST or take cover,
protect your clothes!!
Trust me.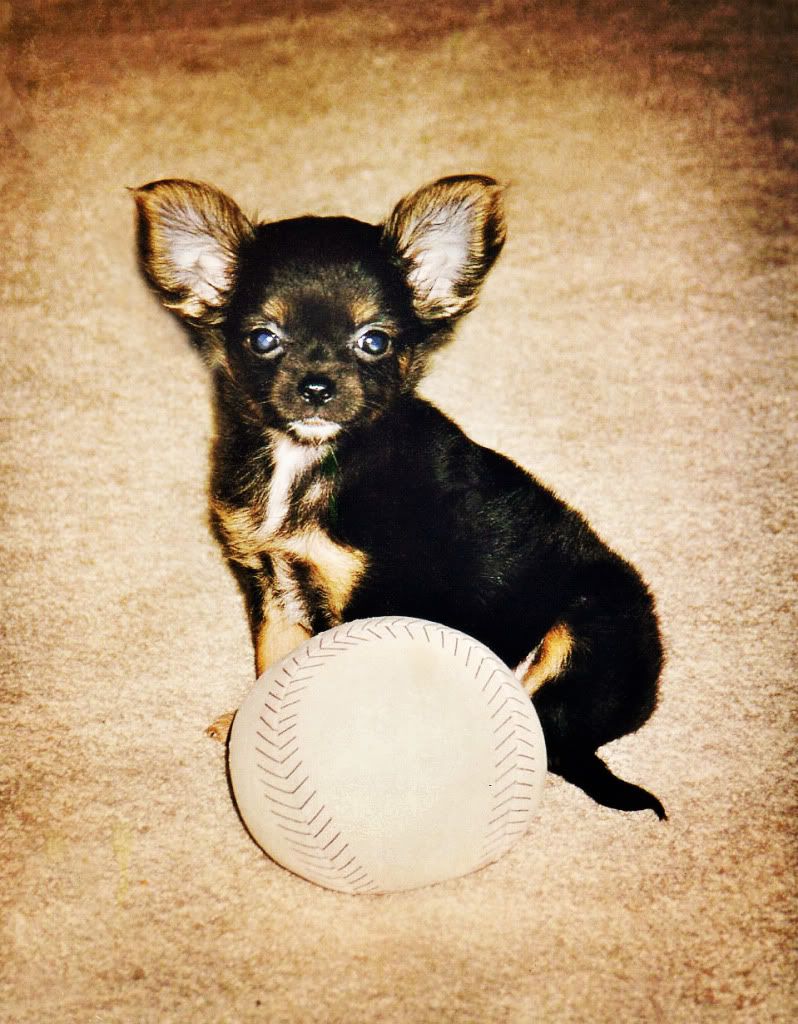 July 25, 1998, her second day at home with us ~ 1.2 pounds Aaawww.....
Oh Minnie, I'm so glad our paths crossed that day in San Diego when I walked by the pet store window and saw you wrestling with that little Yorkie. I watched you play for the longest time, you made me laugh. I dragged Daddy to the window that evening "just to
look
at you" on our way to his birthday dinner and we never got any farther, seems Daddy was hooked too. We ended up eating at the food court while they groomed you and got your papers ready to come home with us. Happy Birthday Daddy! Haha! Boy was
he
surprised! He never
did
get his birthday dinner, but instead he got a warm, fuzzy little girl that gave him unconditional love for 12 1/2 years....
best birthday gift EVER.
We are grieving harder than we both expected we would. It's been a tough weekend & Johnny stayed home from work today because, frankly, we're both a mess. Johnny didn't expect to take it this hard either. But I knew he would. My husband has the warmest, softest, kindest, most loving heart of anyone I've ever met and one thing I knew for sure; he loved Minnie and protected her fiercely.
I just needed to say that, because Johnny, you were a perfect Daddy to Minnie in
every
way. She loved and adored you and she was very lucky and blessed, we all were, when you slid your American Express Card across the pet shop counter that day and said, "Just do it...don't tell me how much, I don't want to know, just do it and let's get her home."
BEST BIRTHDAY EVER.
My sister nicknamed Minnie "Farrah" because of her hair, haha. Farrah would've been
jealous
of your hair, Minnie Mouse! Your wings were awesome and you didn't need any hairspray! Farrah had
nothing
on you.
And so it goes.....I have to learn how to live without her. I still have two beautiful Chihuahua girls who are precious in their own way and have funny little personalities that make me laugh. They'll keep me busy. There is just this big, black hole; a void that is almost palatable right now. When does that go away? When does the pain in the chest subside? When will I get through a day, half a day, an hour without crying? When do I order my size large straight jacket?
When will my heart stop breaking and my world start to take on its new form?
And if this is my dog passing away, please don't tell me what it will be like the day I kiss Josh goodbye in 5 weeks. On second thought. Maybe I should order that straight jacket, just in case.
If you didn't get to see these posts, please take a look ~
Minnie getting her bath - hilarious!
-
http://brendasrosecoloredglasses.blogspot.com/2010/03/oh-minnie-mouse-guess-what-time-it-is.html
Minnie at the cardiologist:
http://brendasrosecoloredglasses.blogspot.com/2010/06/minnie-went-to-cardiologist-today-and.html
Thanks for listening. This is my space to dump it all and to be real. Real isn't always pretty. Through Rose Colored Glasses I know that I am very blessed and I would do it all over again to have the pleasure of being Minnie's Mommy. I have so many pictures (can you say
thousands?
), and memories (Minnie even got to live in Japan for 2 years and go to Cherry Blossom Festivals!). Every day was a gift and I'm extremely thankful no one snatched her up before we did on that auspicious day.
Wherever you are Minnie Mouse, know that you are loved, missed terribly and treasured in our memory always. xoxo